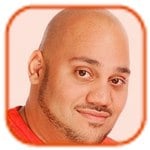 Posted by Andru Edwards Categories: Cell Phones, Design, Google, Handhelds, Videos,
If you are curious about how Google services will work on the Android platform, Eric from Google is here to give us a look. Google products like search, maps, YouTube, Gmail, contacts, calendar, and Google Talk are all included in the Android operating system used by the T-Mobile G1. Basically, you sign in to your Google account once, and all your information syncs to the web. Any changes made on the web sync back to your phone. It's like a free version of MobileMe - yeah, I said it. Check out the video above for a walkthrough of Google features on the G1.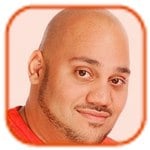 Posted by Andru Edwards Categories: Cell Phones, Google, Handhelds,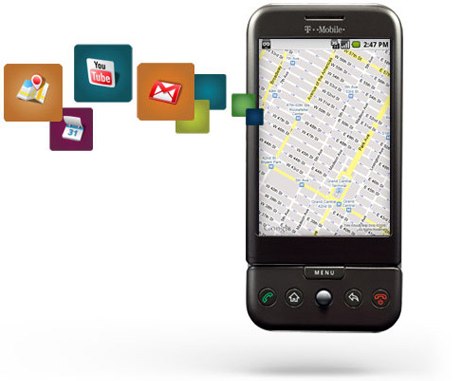 This morning, T-Mobile and Google held the press conference to announce the first phone to officially launch with the Android OS, the T-Mobile G1. You are going to hear a lot of people comparing this one to the iPhone, so let's jump in to the feature set. The G1 sports 3G, Bluetooth, and Wi-Fi, a 3-megapixel camera, is based on a fully open-source OS. The Android OS gives you access to the Android Market (think of that as being similar to the App Store), as well as built-in support for Amazon's MP3 store, for downloading music on the go. Even cooler, in our opinion, are the things that are real firsts in the mobile phone space - Push Gmail, and Google Maps with Street View.
You can pick up the T-Mobile G1 on October 22, at a nice price of $179.99 with a 2-year agreement. If you can't wait to spend the cash, you can even pre-order one now at the G1 website. If you are over in the UK, it's yours in November, while the Netherlands, Austria, Germany, and Czech Republic will have to wait until sometime in the first quarter of 2009.
Read More

| T-Mobile G1 product page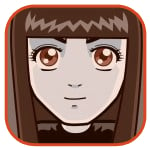 Posted by Sheila Franklin Categories: Corporate News, Google, Internet,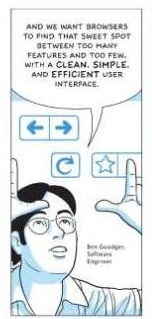 Google announced today that it is launching its new beta browser, named Chrome. Available in more than 100 countries supposedly tomorrow, so far it is only for those with Microsoft Windows. (The company says it is still working on the Mac and Linux versions.) Google's official blog almost apologized for their comic that discussed the joys of their new browser, saying that they tend to "launch early and iterate" and that the mailroom was a bit hasty letting it out. Be that as it may, it took us long enough to get used to Firefox, so we think we will let the hardcores try it first.
Read More

| MSNBC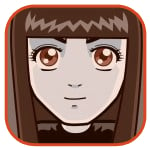 Posted by Sheila Franklin Categories: Google, Internet,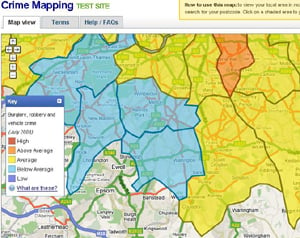 The Metropolitan Police in London have created a computer crime-mapping beta website. With it, users can find local cops, report a crime, and learn about crime prevention, victim support, and details of their local baddies. The Google mapping system also allows for detailed information on number, rate, and other crime figures by zeroing in on specific neighborhoods with a postal code search. While this sounds all well and good on
paper
sight, pity those who find out that their own neighborhood is a red zone.
Read More

| Metropolitan Police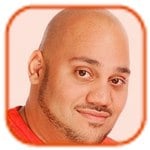 Posted by Andru Edwards Categories: Business Tools, Features, Legal,
Danny Sullivan is the Editor-in-Chief of Search Engine Land, here to talk about search. He talks about how we used to get info. That would be the library, friends, family, and encyclopedia (which weren't written by everyone.) The search revolution started the information retrieval revolution, and the change from that is still underestimated. In 2000, a "Consumer Daily Question Study" was conducted, 74 people recorded all questions they sought answers to, and the majority of respondents used search engines to find the answer to their questions. Search engines were at 32%, while libraries were just 3%.
Today, 58% of people use the internet if they need an answer, while 53% turn to a professional.
Danny brought up a question - if you need the phone number of the Edgewater hotel next door, how would you find it? Most in audience would search Google, one or two would call 411, and less would use the Yellow Pages. 49% of internet users search every day. That is up 30% from 2006. Jumping off the web, location apps on the iPhone is also search, GPS is search, TV is search. These are all different ways that we are able to use search.
As more becomes searchable, and as serch becomes more used, we get collisions between real life and online life.
US Navy building in San Diego that no one really saw from the air until now, thanks to Google Maps. $600,000 will be spent to reshape the building due to concerns.
Google StreetView has some conflicts as well. There are positives and negatives, and Danny gives examples of both.
So what is the balance? Do we let anyone remove anything from Google and other search engines?
Danny is now calling people in the audience, whose phone numbers he pulled off of search. He then asked them about different things in their life that he was able to find using the Internet. Things like Amazon, Flickr, Google, microblogs, etc. It's a valid point to show that you can get a lot of information about someone by just using Google. Aside from "personal" info on web, searches we make are personal. What about the issue where Viacom demanded all the searches done on YouTube in history from Google? Location apps are cool, though now more people know your location. Does Apple know all the places you go by way of your iPhone? Is there even a way to "clear" this data?
The conundrum now is that more is being made searchable, more people are searching and we've hardly figured out the issues.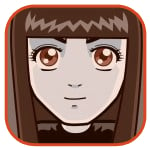 Posted by Sheila Franklin Categories: Corporate News, Google, Internet,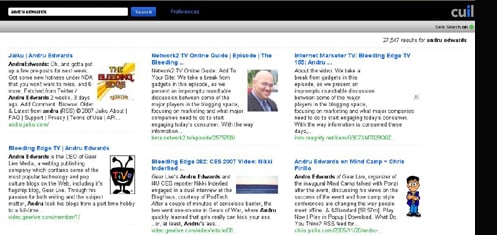 Former Google employee Anna Patterson's search engine is alive. Cuil (pronounced "cool"😉 was released this week and supposedly can search 120 billion Web pages. She says that it is at least 3 times the size of Google, although that company says that they scan 1 trillion. Whoever is right, we like the idea of a search engine that uses actual content rather than ranking quantity and quality of links, as well as one that will not retain our histories or patterns. We gave it a test drive and think that Cuil is indeed very kewl.
Read More

| Yahoo News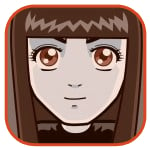 Posted by Sheila Franklin Categories: Google, Internet, Video Games, Videos,
Google has finally launched Lively to try to lure some of those Second Lifers away. The site utilizes avatars and 3D graphics like the other virtual game, and meeting rooms for characters. After the download, you can also display YouTube videos on virtual TVs and show photos in virtual frames. Engineering Manager Niniane Wang wants subscribers to create their rooms in their own interests.
"If you enter a Lively room embedded on your favorite blog or website, you can immediately get a sense of the room creator's interests, just by looking at the furniture and environment they chose."
Note that you have to have Windows Vista/XP with Internet Explorer or Firefox to subscribe. We can't anticipate its success but we did notice that the demo on YouTube already has received over half a million hits.
Read More

| Lively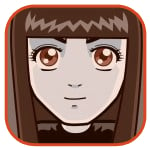 Posted by Sheila Franklin Categories: Cell Phones, Google,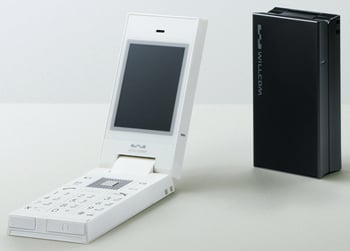 This is the Willcom 9, a new cell phone that is smaller than a business card. Designed to look like a book, it measures 43 x 80.4 x 19.4mm and utilizes Google for search and Gmail. It also features a 2-inch screen with a 320 x 240 resolution with 262,144 colors, a 1.3 megapixel cam, and can hold 24MB memory. We figure people who are really into texting had better have some tiny fingers to work the little bugger.
Read More

| Akihabara News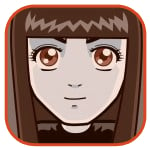 Posted by Sheila Franklin Categories: Cameras, Corporate News, Internet,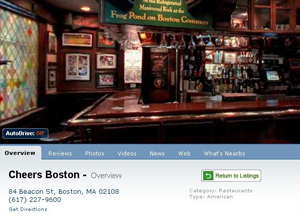 A Massachusetts online company has released the beta Everyscape that takes Google mapping an extra step. When you hit their site, you click on a location and see not only the outside but the inside of tourist attractions, musical venues, museums, etc. Click again and you can get detailed info.
"While Google has focused their technology on building a better map, we wanted to do more and replicate the experience of actually being somewhere," chief executive Jim Schoonmaker said.
The work is being done by "destination ambassadors" that use specialized equipment to map by the mile. It's a nice idea that seems like it has a long way to go.
Read More

| ABC News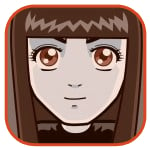 Posted by Sheila Franklin Categories: Editorial, Google, Internet,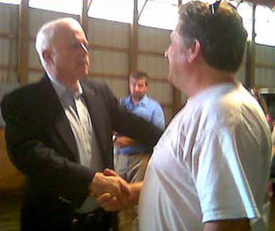 Republican Presidential Candidate John McCain, seen here in a recent trip to a pig roast in Michigan, recently joked around that Googling made his VP search simpler.
"You know, basically it's a Google," he said at a fund-raising luncheon. "What you can find out now on the Internet—it's remarkable."
It seems like the senior senator has finally caught on to the Net. Fortunately for Barack Obama, back in October he had the smarts to hire Facebook co-founder Chris Hughes to head up his online campaign.
Read More

| stuff

© Gear Live Inc. – User-posted content, unless source is quoted, is licensed under a Creative Commons Public Domain License. Gear Live graphics, logos, designs, page headers, button icons, videos, articles, blogs, forums, scripts and other service names are the trademarks of Gear Live Inc.