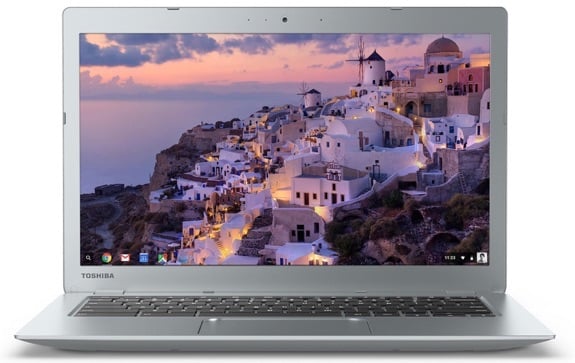 Are today's laptop prices starting to worry you? If you have a laptop that's about ready to hum its last and need a replacement, there are inexpensive and dependable computers out there…if you know where to look. We're specifically talking about Chromebooks, those lightweight laptops that run Chrome OS and come with much cheaper specs than the average mobile machine. Even the best Chromebooks are limited in some ways: Because they can only run Chrome and have very limited storage, most of their work needs to be based in the cloud, on the web, or on more simple apps. However, if you don't need to run any demanding programs or save up a lot of data, they can be a very effective solution to your laptop vs. wallet problem. Here are several of our top picks for the best Chromebooks and why they shine.
Toshiba Chromebook 2 - $400
It's common to expect not-so-impressive specs on a Chromebook, so when one of these computers actually has impressive features, it's worth talking about. This Toshiba Chromebook 2 has a particularly great HD, 1080p screen: At around 13 inches it isn't huge, but it is bright and beautiful, and makes this Chromebook an entertainment device in its own right. The other features include 4GB of RAM, a Core i3 processor, and only 16GB of storage, so remember to take it easy and stream your entertainment instead of downloading it.
Click to continue reading Laptop Prices Got You Down? Here Are the Best Chromebooks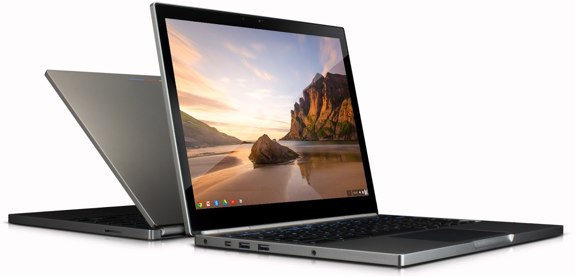 Today Google announced the Chromebook Pixel, a touchscreen notebook that seems to be Google's most confusing product offering. What's so weird about the Chromebook Pixel? We'll get to that shortly--first, let's go through a rundown of the specs.
Google is touting the Chromebook Pixel as the perfect notebook computer for anyone who spends the majority of their computing time in the browser and using cloud services. It's got a 12.85-inch display with a 3x2 aspect ratio, offering 18% more vertical space than a 16x9 display offers. Google is proud of this display, what with its 2,560 x 1,700 pixel resolution with 239 ppi density and 400nit brightness. Oh, and it's also a touchscreen, so you can interact with it directly with your fingertips.
Click to continue reading Google Chromebook Pixel: 1.8GHz, 2560 x 1700 touchscreen display, $1,299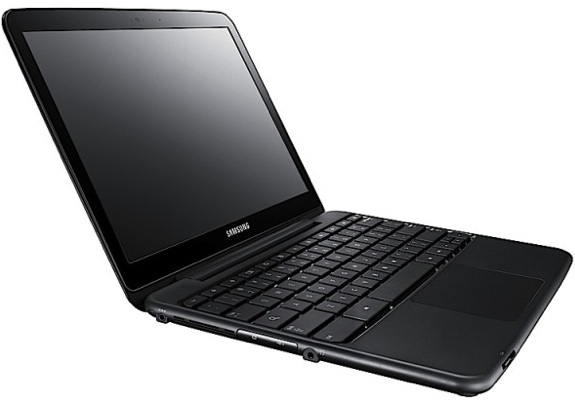 How much does that Samsung Chromebook really cost? According to an iSuppli teardown, the device's bill of materials comes to $322.12.
With the manufacturing cost throw in, the Chromebook costs $334.32 to produce. Despite Google's emphasis on the software, meanwhile, iSuppli finds that it's the hardware that really makes the Chromebook sing.
"As much as Google would like to de-emphasize the role of user hardware, it is the hardware, in fact, that defines the Chromebook and will determine the success of the platform," Wayne Lam, a senior analyst at IHS, said in a statement.
The Chromebook includes "some advanced hardware features not typically found in low-cost notebooks," iSuppli said.
The motherboard is the most expensive part of Samsung's Chromebook, at $86.37, or 26 percent of the total bill of materials. The motherboard includes a 2GB Double Data Rate 3 (DDR) SDRAM, as well as a dual-core Intel Atom N570 processor and a Trusted Platform Module (TPM) for computing security from Infineon Technologies, which is most commonly found on enterprise-level computers, iSuppli said.
Click to continue reading What does the Samsung Chromebook cost to produce?
© Gear Live Inc. – User-posted content, unless source is quoted, is licensed under a Creative Commons Public Domain License. Gear Live graphics, logos, designs, page headers, button icons, videos, articles, blogs, forums, scripts and other service names are the trademarks of Gear Live Inc.