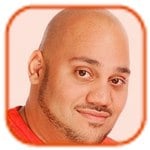 Posted by Andru Edwards Categories: Cameras, Handhelds, HDTV, Women, Men, Techies, Under $250,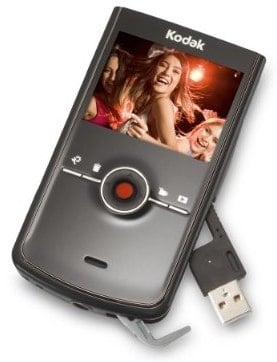 We love how inexpensive it's gotten for people to attain the ability to record high definition video, and we think this category is set to explode this holiday season. Based on this, and you know how much we love video, we've got to recommend the Kodak Zi8 handheld camera. Why? Well, the Kodak Zi8 records full 1080p HD video at 30 fps, and can also take 5 megapixel still images. It incorporates image stabilization as well, which helps avoid that whole Blair Witch shaky cam effect that none of us enjoy, and in a rare move, it even has a microphone jack so you can connect a nice, high quality audio device, if you so choose.
It's definitely a great value for such a small device that packs a nice punch. The Kodak Zi8 typically sells for $179, but you can find it on Amazon for a little less than that.
Honorable Mention:
Flip Mino: It isn't HD, but it's about $60 cheaper than the Kodak Zi8.
Read More

| Kodak Zi8 pocket video camera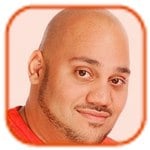 Posted by Andru Edwards Categories: Displays, Household, Wireless / WiFi, Family, Women, Men, Techies, Under $250,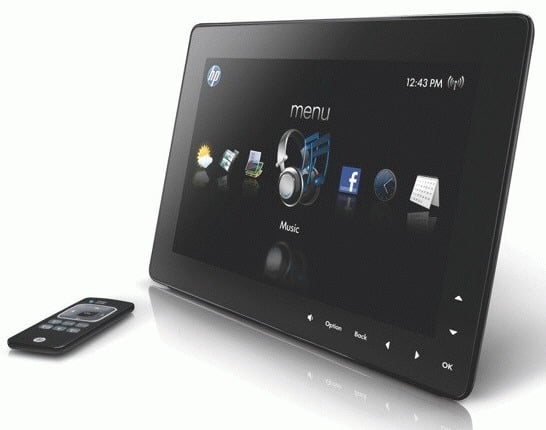 Ever since the HP DreamScreen arrived on the scene, generic digital photo frames have seemed so passe. I mean, the DreamScreen is a digital photo frame on crack, essentially. It's available in 10- and 13-inch sizes, and aside from simply displaying your digital photos, it can stream Pandora (or up to 10,000 Internet radio stations,) set alarms, display your calendar, show you a five-day weather forecast, and even give you a look at your Facebook account so you can see what's up with your peeps. Plus, it incorporates touch into the bezel, and we like touch.
The HP DreamScreen typicalls sells for $250, but Amazon currently has it for $205, a full 18% off.
Read More

| HP DreamScreen 100 on Amazon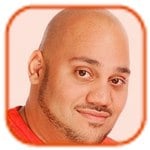 Posted by Andru Edwards Categories: Editorial, Features, Home Entertainment,

Being both an early adopter, someone without a bunch of money, and a gadgetophile is a hard combination to pull off. Back in 1999, that was me as a teenager, and the thing I wanted most that year was a standalone DVD player. Sure, I had the DVD-ROM drive in my Sony Vaio desktop computer, but my monitor was only 15-inches back then, and I had a 28-inch television. Who wouldn't want to watch DVDs on their awesome 28-inch television, with ghetto stereo sound?
That year, my girlfriend at the time decided she would surprise me with a Sony DVD player. If you weren't in the market for DVD players back then, allow me to fill you in. Those $25 deals you are seeing this holiday season on players at Target and Wal-Mart? Yeah, prices have fallen exponentially. My first DVD player sold for $399.99. A serious token of her love, most certainly. I mean, I certainly wouldn't have gotten a DVD player otherwise.
I immediately snapped up The Usual Suspects and a couple of other titles that I don't even remember. I didn't even care, I was just all about the slick new piece of technology.
What about you? Any fond memories of holidays past, where you gave or received an awesome gift? Let us know in the comments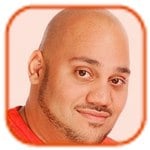 Posted by Andru Edwards Categories: Features, Toys, Video Games, Kids, Teens, Under $100,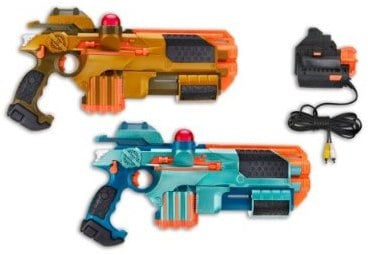 Here's the cool thing about Hasbro's Lazer Tag Multiplayer Battle System - you can play and shoot each other in a group, running around as you normally would during a game of Laser Tag, which is always fun - or you can go it along with the television attachment, which turns the system into a one-player video game where you shoot the bad guys on the TV. The set includes the TV attachment, two tag guns, and two pump-action shot blast attachments. When your hit, a rumble pack makes it obvious, you've got a manual reload button to refill your shots after every ten that you fire, and a shield button. The set retails for $79.99, but we found it for 13% less on Amazon, at $69.96.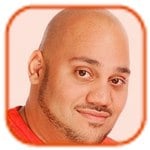 Posted by Andru Edwards Categories: Accessories, Cell Phones, Music, Men, Techies, Under $100,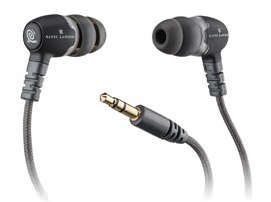 The Altec Lansing UHS306 earbuds are, in our opinion, the best pair of wired earbuds that you can get for the iPhone in the under-$100 price range. You'll find cloth wires that will greatly reduce instances of tangling (which is almost like two gifts in one!) The UHS306 also incorporates both an in-line microphone and in-line volume controls, which means you can use these to listen to your music and for taking phone calls. A switch hook, lapel clip, and mute controls round out these $89.95 earbuds. Even better? We've found them for $56.99.
Be sure to check out more suggestions in our Holiday Gift Guide!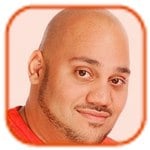 Posted by Andru Edwards Categories: Features, Music, Portable Audio / Video, Kids,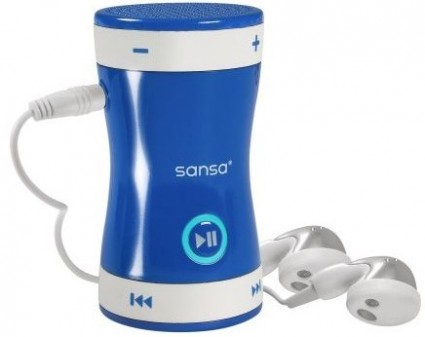 If your children are anything like my three-year old son, then chances are that they are just as familiar with your gadgets as you are. They want to hold them, use them, mimicking you every step of the way. The thing is, gadgets aren't the most affordable things in the world, and children don't seem to understand that. This is where the SanDisk Sansa Shaker comes in - it's a fully-functional flash MP3 player that is meant for little kids. SanDisk did a good job with this one too - just holding it you can tell it's durable. It has two built-in headphone jacks for tandem enjoyment, as well as a speaker if you prefer your children not put on headphones. It's called the Shaker because, when you sake it, you advance it to another track, shuffle-style. It is shaped perfectly for little hands, and has a couple of job wheels for volume and track selection. The device runs on one AAA battery, which will last for about 8 hours of playback. You can pick one up for $30, which holds 512 MB of content (about 120 songs) or opt for the $40 1 GB player, which will hold about 240 tracks. They are available in pink and blue.
Compare prices on SanDisk Sansa Shaker.
Read More

| SanDisk Sansa Shaker on Amazon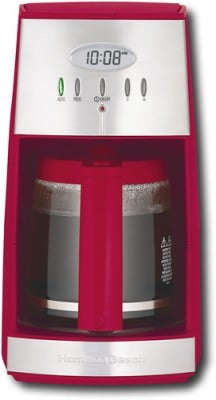 If you are looking for a great gift for the coffee fan in your life that isn't terribly expensive, you should consider the Hamilton Beach Ensemble 12-Cup. This is a product that might make even those who have switched to lattes give drip coffee another look. Don't let the shiny exterior and low price fool you - the Ensemble 12-Cup hits you with rich, smooth brew. It it also compatible with an optional water filter, which costs $10, for those who want to make sure their water is clean. It's available in both black and red. These retail for $49.99, but you can find them cheaper by shopping around.
Compare prices on the Hamilton Beach Ensemble 12-Cup
Read More

| Hamilton Beach Ensemble on Amazon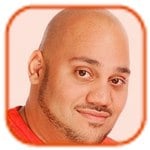 Posted by Andru Edwards Categories: Accessories, Features, Home Entertainment, Music, Men, Techies, Teens,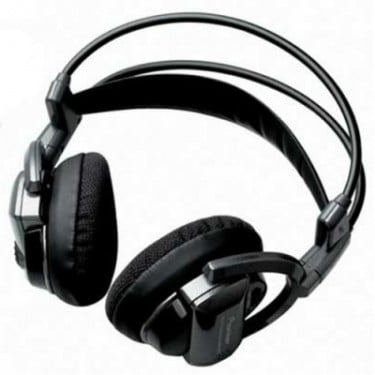 The great thing about surround-sound headphones is that you can enjoy those loud, booming movies while not disturbing anyone else around. One of the best pairs of headhones in this category is are the Pioneer SE-DIR800C models. These deliver nice, clear sound, even in action movies, with no audible distortion to be heard. They also stay comfortable on your ears while you sit through multiple full-length movies - that's a rarity. They may be pricey, but they are perfect for what they are meant to do. They use Dolby Headphone processing to mimic a surround environment, and they do it well. They include a rechargeable battery, which has to be removed in order to be recharged. These run for $399 USD, but can be found cheaper by shopping around. Compare prices on Pioneer SE-DIR800C.
Read More

| Pioneer SE-DIR800C on Amazon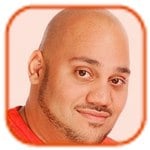 Posted by Andru Edwards Categories: Features, HDTV, Home Entertainment, Men, Techies,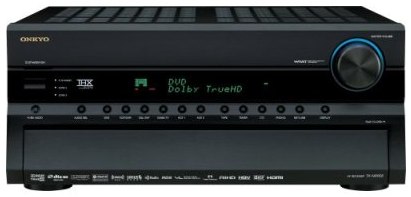 Okay, the holidays are right around the corner. In our continuing effort to hook you up with the best gear, we had to point out the Onkyo TX-NR905. This is a product that has blown us away in our testing.
Let's be clear - the Onkyo TX-NR905 A/V receiver isn't the lightest device in the world, as it weighs in at 54 pounds - but that's just about where the negatives end when it comes to this beast. This thing is like a classic Mustang - all muscle. You can throw anything at it - you know, HD DVD players, game consoles, TiVos, Blu-ray - and expect phenomenal 7.1 surround sound. And we mean pristine. Even better, the TX-NR905 bridges the gap between your entertainment center and the Internet by way of it's Ethernet port. Hook up to the Internet, and you can stream Internet radio directly through this system. Moving on the picture quality - again, top notch all the way here. It will pump out 1080p signals, it supports 24p framerate, and has 2 HDMI outputs along with component out for your HDTV needs. Oh course, this thing is all about the sound. You get 140 watts per channel, and this is the most inexpensive receiver to feature THX Ultra2 certification. Believe me, if you haven't heard it, you will be the envy of your block. Don't worry though, you won't be able to hear the complaints if you crank this thing up. Rounding out the feature set here, it will upconvert all inputs to 1080p, supports multiple zones, and also has HD radio built-in. Retails for $1,999. Compare prices on Onkyo TX-NR905.
Read More

| Onkyo TX-NR905 on Amazon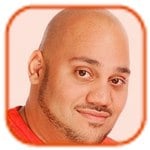 Posted by Andru Edwards Categories: Apple, Music, Portable Audio / Video, Women, Teens,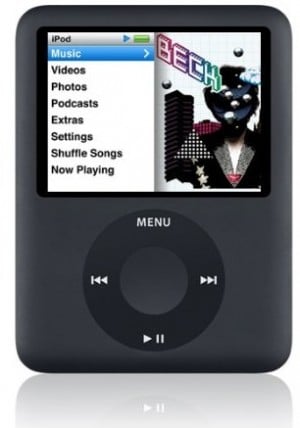 Many were anticipating that the short and stubby iPod nano would be a disappointment when the rumors of the device were running rampant. Once Steve Jobs introduced it, all fears were quelled. Just get one into your hands, and you will no longer be a skeptic. The 2-inch screen obviously isn't the best for watching full-length movies, but for music videos and the like, it's worthy. If you are all about the audio, the nano holds up to 8 GB worth of data. It's thin (0.3 inches), the screen is fantastic, and the battery lasts for 26 hours. Just stay away from Cover Flow on this one - it's sluggish.
Read More

| Apple iPod nano

© Gear Live Inc. – User-posted content, unless source is quoted, is licensed under a Creative Commons Public Domain License. Gear Live graphics, logos, designs, page headers, button icons, videos, articles, blogs, forums, scripts and other service names are the trademarks of Gear Live Inc.