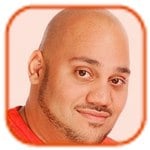 Posted by Andru Edwards Categories: Comedy, Prime Time, Showtime, Features,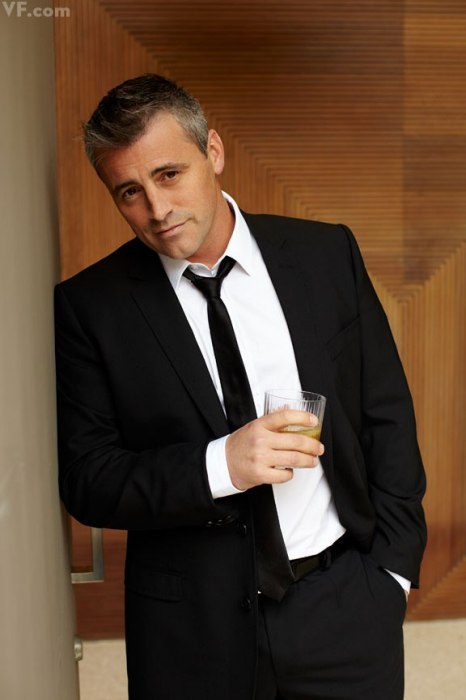 Matt LeBlanc is a "little more together" than his on-screen persona.
The 46-year-old actor plays a fictional version of himself in Episodes, but admits he is noting like his character in real life.
"It's a fictitious character, and you just have to approach it that way. He just happens to have the same name I do. When we were coming up with who the character was going to be, I thought it would be fun - since our salaries were all published during Friends - to make this Matt LeBlanc way, way wealthier than me. You've got this guy completely oblivious to the consequences of his actions; that's fun to play. And he's really damaged, this lost soul, the Matt LeBlanc on TV," the Friends star said. But he added, "I like to think I have my s**t a little more together than that."
Matt, who has a 10-year-old daughter Marina with his ex-wife Mellissa McKnight, is glad he has regained some anonymity since Friends came to an end in 2004: "The weirdest thing was walking into a room, a restaurant, a bar, a movie theater, anywhere there's a lot of people, and everybody sort of stopping what they're doing and taking notice you're in the room. And they know you, or they think they do - they know your name, they know what you do for a living, they know how much money you make, they know where you're from, but they're all strangers to you."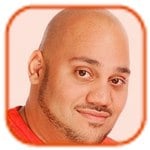 Posted by Andru Edwards Categories: Comedy, Prime Time, NBC, Gossip, Rumors,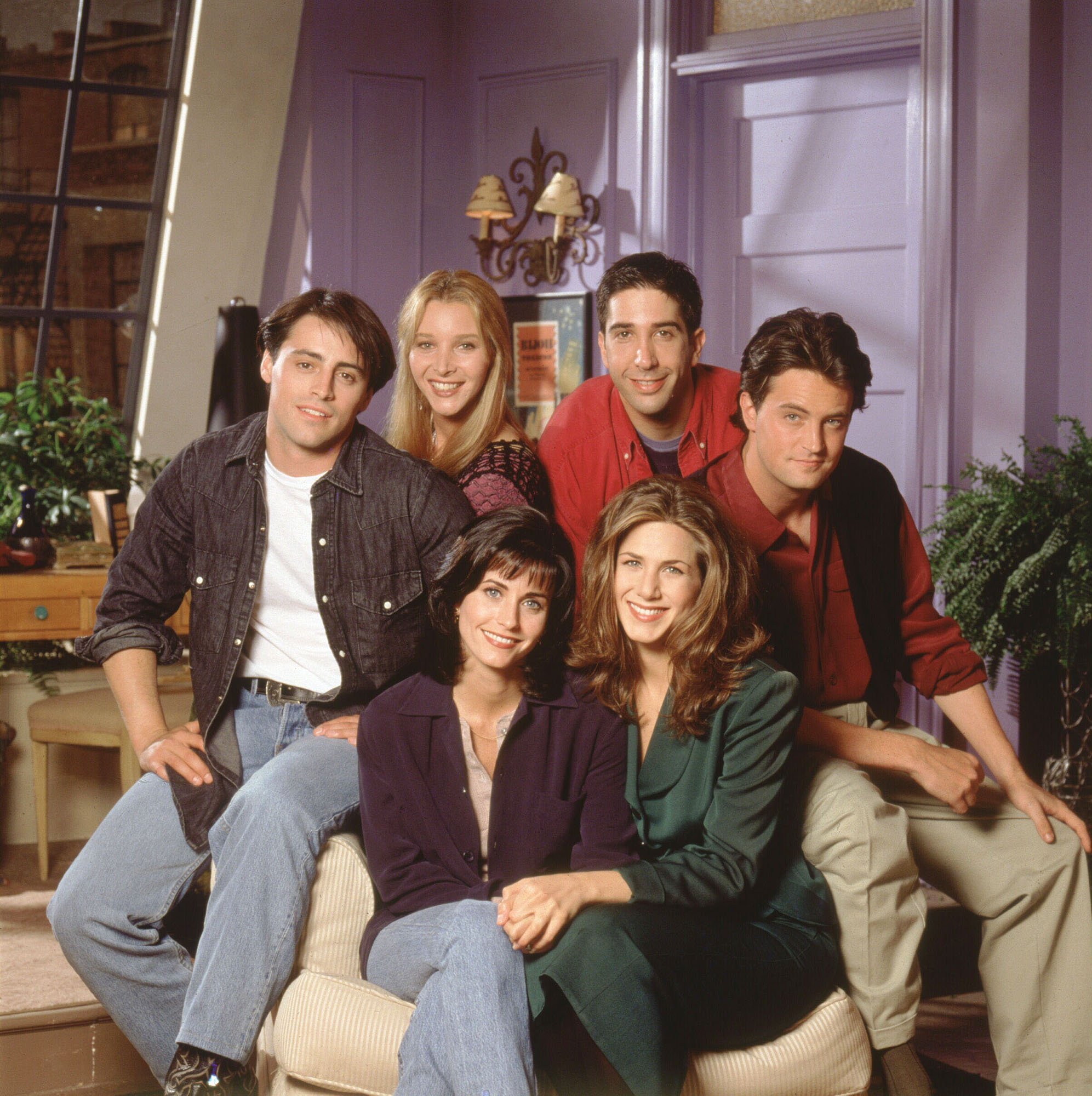 Jennifer Aniston is being "slowly convinced" into a Friends reunion next year.
The We're the Millers actress has enjoyed a huge movie career since the sitcom ended in 2004, but producers are keen for her to reunite with castmates Courteney Cox, Lisa Kudrow, Matt LeBlanc, Matthew Perry and David Schwimmer in 2014.
"Since the show ended in 2004 it's been rare for all six of them to appear in public together. But with next year's 20th anniversary [of the show's launch] it will be unavoidable for them to do something together. It's the perfect excuse to talk seriously about a new project. It's no secret the whole project will be pinned on Jennifer, who's incredibly busy with her movie career. But she's been slowly convinced that a reunion could be a good thing," a source said.
Click to continue reading Jennifer Aniston Being Talked into 'Friends' Reunion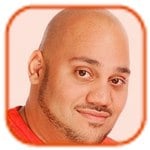 Posted by Andru Edwards Categories: Drama, Cable, Gossip,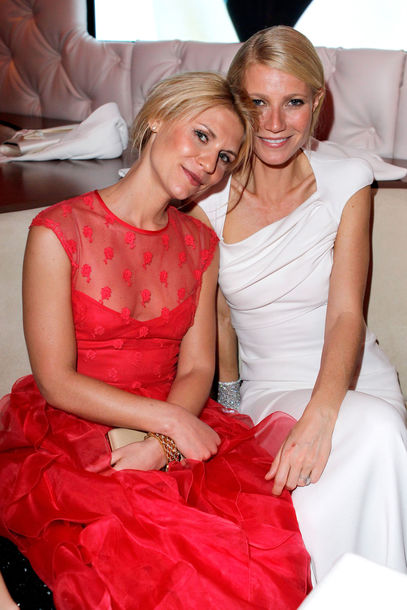 Gwyneth Paltrow wants to work with Claire Danes.
The 41-year-old actress is good friends with the 34-year-old Homeland star, and since they both have similar facial features and are petite blondes, she is hoping they'll have the chance to team up on screen and play sisters.
"Gwyneth has known Claire personally, but casually, for almost 20 years and when Gwyn was in her early 20s and Claire was a late teen actress, they both became famous around the same time in the mid-90s. Much has been made of the pair's similar looks and Gwyneth has finally decided that she and Claire have to find a project where they can play sisters!" a source said.
Gwyneth is said to be keener on the idea while Claire - who is currently starring as CIA agent Carrie Mathison on the third season of hit TV series Homeland - is taking things "one day at a time." The source added, "But for now, this seems like a bit of a one-way street. Claire is a cool customer and doesn't get all worked up about 'dream projects' the way Gwyneth does. She's a 'one day at a time' kind of girl, so no one knows if Gwyneth's dream will come true."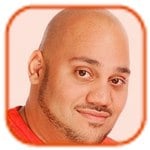 Posted by Andru Edwards Categories: Movies, Break-ups, Hook-ups, Rumors,
Leonardo DiCaprio is helping Robert Pattinson through his recent split from Kristen Stewart.
The Great Gatsby actor wants to help his friend deal with his break-up from his Twilight Saga co-star and has invited him to Miami for the summer. It is said Robert, 27, has been miserable since his on/off relationship with the 23-year-old actress came to an end - and while he is tempted to take a year away from women, Leonardo wants to convince him otherwise.
Click to continue reading Leonardo DiCaprio Wants to Cheer Up Robert Pattinson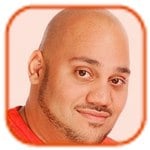 Posted by Andru Edwards Categories: Comedy, NBC, Gossip, Rumors,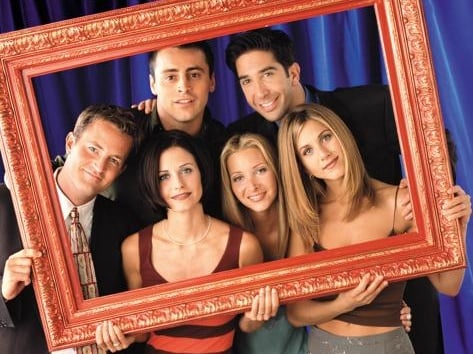 Matthew Perry doesn't want to make a Friends movie in case it is terrible.
The 43-year-old actor played Chandler Bing on the sitcom during its 10-year run and while he loved his time on the show, Matthew is worried a film would disappoint the fans. When asked if a Friends movie was on the horizon, Matthew told ABC News, "I don't think so. It would be terrible to do something and have it not be good. If we did a movie and it sucked, then it would, you know, blemish it."
Click to continue reading Matthew Perry: 'Friends' Movie Would Be Disappointing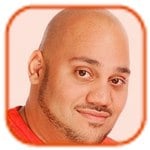 Posted by Andru Edwards Categories: Comedy, NBC, Internet, News,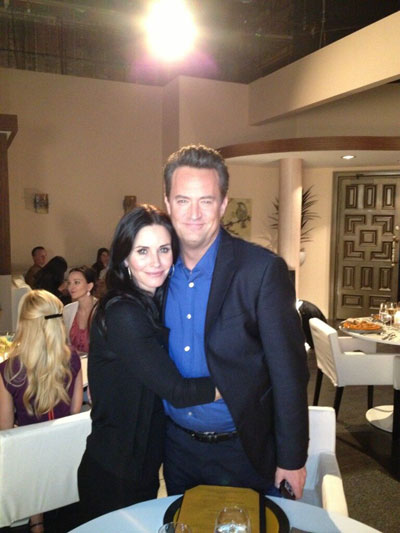 Courteney Cox had a "blast" reuniting with Matthew Perry on his new show.
The former Friends co-stars - who played married couple Monica and Chandler Bing on the hit sitcom - will appear on screen together once again in his new comedy series, Go On, and Courteney loved working with her one-time TV husband again while shooting her guest spot yesterday.
"Shooting GO ON today and having a blast with Matthew! (sic)" she wrote on Twitter. Courteney, 48, later posted a picture of the pair on set, adding, "My first box husband."
Matthew, 43, was also ecstatic to have his former co-star on the set of his series, tweeting, "Courteney Cox shooting Go On today! She is fantastic, obviously. And my desire to show off in front of her is back in full swing! (sic)"
Click to continue reading Courteney Cox and Matthew Perry's Reunion Is a "Blast"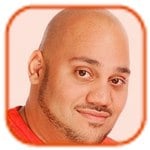 Posted by Andru Edwards Categories: Movies, Music, Television, Features,
Kelly Osbourne is "so proud" of Adele and Robert Pattinson.
The Fashion Police host is friends with both stars and thinks they set a great example to the rest of the UK: "I know Adele from years back and I've hung out with Robert Pattinson in London since I was 19. It makes me so proud of my country that they're all doing so well. Rob was at the Soho House party in LA [after the Golden Globes], and the last time I saw him there, his friend was stealing the toilet roll. Everyone was so happy that Adele won Best Original Song [at the Golden Globes]. Adele is so well-loved. When she hit the red carpet, everyone's mouths dropped - her skin is glowing. I need to get her baby boy present."
Kelly enjoyed working at the Golden Globes in her capacity as a host on Fashion Police, but still managed to take time out to chat with her friends. "The best moment was after Miranda Kerr and Orlando Bloom wowed on the red carpet - they asked my boyfriend Matthew [Mosshart] for a lighter. I know Orlando, so we sat down and had a cigarette and a chat."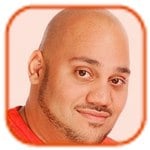 Posted by Andru Edwards Categories: Movies, Music, Features,
Paul McCartney's family gets nervous when Johnny Depp comes to visit.
The Beatles legend says his wife Nancy and his fashion designer daughter Stella McCartney act very unnaturally when the handsome Edward Scissorhands actor stops by his house, and even he feels the need to smarten up for his "special guest."
"John - if I can just drop a name there - comes visiting quite a lot. It's cool. I had my daughter and her husband and the kids staying there recently, and my little one Beatrice. I said to them all, 'By the way, Johnny Depp is coming round.' They all perked up - 'Oh yeah?' I said, 'Yeah, he's coming round tomorrow.' That morning I come into breakfast and the first guy coming in is Mary's husband, and I say, 'You look very smart today.' Then Nancy comes in, she's all smartened up - make-up, you know. Normally, everyone bowls in bleary-eyed. Then suddenly they are all laughing at me because I'm in a waistcoat and I've done it too - subconsciously made a real effort. Everyone, Beatrice, all smartly dressed for our special guest," he told The Sun.
Click to continue reading Paul McCartney's Family Is in Awe of Johnny Depp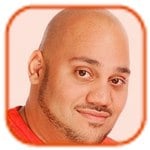 Posted by Andru Edwards Categories: Movies, Music, Television, Break-ups, Dating,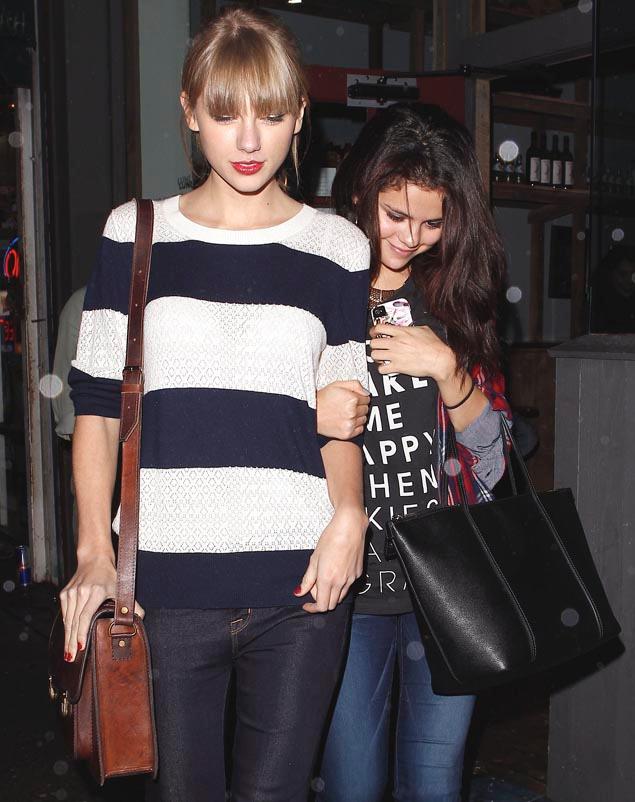 Taylor Swift is reportedly responsible for getting Selena Gomez to get back together with Justin Bieber.
The couple reunited last weekend after the 20-year-old "Love You Like A Love Song" singer's best pal Taylor, 22, reminded her that she is "crazy" about the "Boyfriend" singer, whom she dumped two weeks ago because of trust issues.
Taylor and Selena were spotted on a girls' night out on Saturday night and enjoyed dinner at Osteria La Buca in Hollywood. "When Selena hung out with Taylor she was really stressed out and frazzled about everything with Justin. But Taylor reminded her how crazy Justin is over her and to just try to stay above the fray. The problem between them stemmed from Justin texting other girls. So Selena is embarrassed by what he did because it makes her look stupid, that he would talk to these other girls, and she is also embarrassed that everyone is so invested in their relationship now because of his actions," a source said.
Click to continue reading Taylor Swift Got Selena Gomez to Take Justin Bieber Back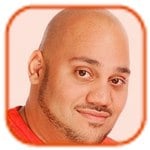 Posted by Andru Edwards Categories: Music, Dating,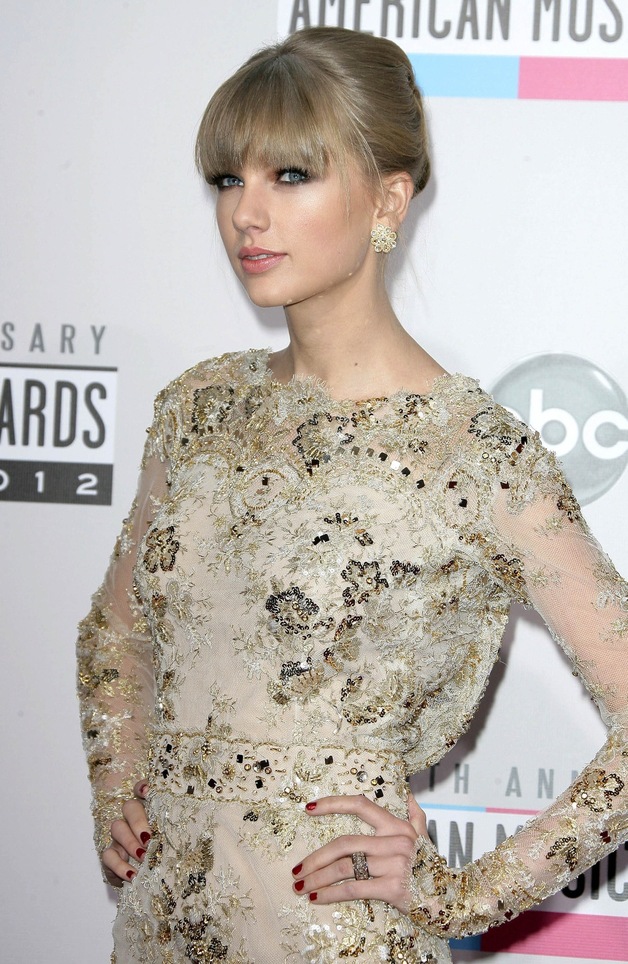 Taylor Swift has a "committee" to vet her new boyfriends.
The "Trouble" singer - who is dating One Direction lothario Harry Styles - makes decisions about her love life entirely based on what her close group of girlfriends think and says they come up with solutions to problems together.
"I am totally a girl's girl! My girlfriends have stopped me from making a lot of bad choices. Your girlfriends are objective, they don't feel the desperate passionate feelings you're feeling. They just see that he cheated on you, he lied about it - and you still consider this as a viable option? We are totally those girls who say, 'He said he wants me back, do I text him back? Do I not text him back What do I do? Freeze him out? Yeah, OK, freeze him out.' It's a committee," she said.
Ladies man Harry, 18, should take notice that Taylor, 22, recently insisted cheating is a total deal breaker for her and she would never put up with a man who strayed. "I can't deal with someone cheating on you. I don't ever want to end up in a relationship that isn't fair ever again," she has previously said.
© Gear Live Inc. – User-posted content, unless source is quoted, is licensed under a Creative Commons Public Domain License. Gear Live graphics, logos, designs, page headers, button icons, videos, articles, blogs, forums, scripts and other service names are the trademarks of Gear Live Inc.