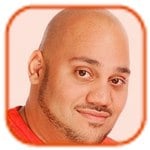 Posted by Andru Edwards Categories: Home Entertainment, Videos,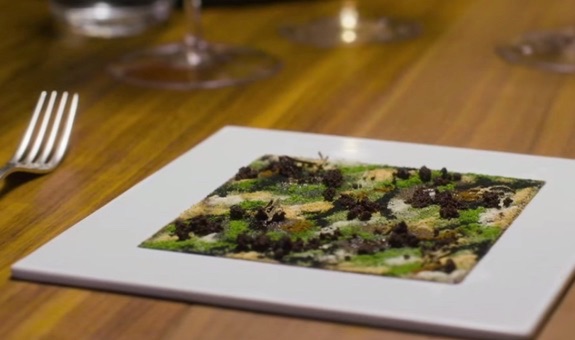 Netflix has announced that it's new docu-series Chef's Table will be debuting as a six-part series and will land on the popular streaming service on April 26th. Chef's Table focuses on six world-renowned chefs, and show them each doing what they do best - making amazing food that is eloquently plated. Here's a list of the chefs that will appear, and the restaurants they represent:
The series is directed by David Gelb, who also directed Jiro Dreams of Sushi. You can check out the trailer after the break.
Click to continue reading Netflix will make you salivate with Chef's Table [Trailer]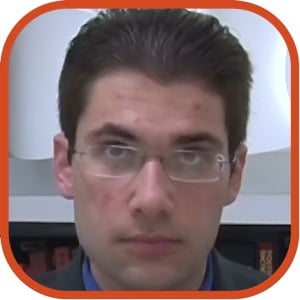 Posted by Ariel Levin-Waldman Categories: Household, Science,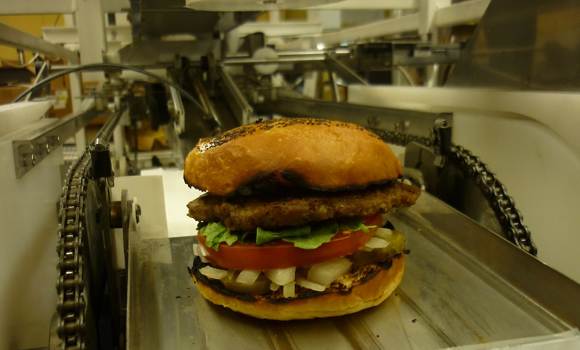 Would you like fries with that, puny human?
Don't laugh, it is a question you might be hearing more of in the near future as more and more industries mull over replacing their workstaff with robots. And it isn't in the far future either. It's already happening.
Every time I walk into a Walmart or a Wegmans I see automated registers. I use them too. Gear Live recently looked at how the modern consumer would prefer to use an app rather than speaking with sales representatives. And a San Francisco company (Momentum Machines) invented an automated burger maker.
According to an Oxford University study, there is a 92 percent chance that fast food jobs will be done by machines within two decades.
When I head news like this, I start preparing my bug-out-bag because robots and apocalypse seem to fit together all to often. But it isn't as grim as it could be if you ask the folks over at CNN. According to them, mechanization of services will only knock a maximum of 10 percent off the workforce.
Wait, 10 percent? Isn't that about one and a half times the current unemployment number? As in the current recession?
Maybe we should have learned something from Terminator. I'll rest easy knowing I have a few decades until a drone with a sorting algorithm can perform field reporting.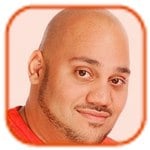 Posted by Andru Edwards Categories: Household,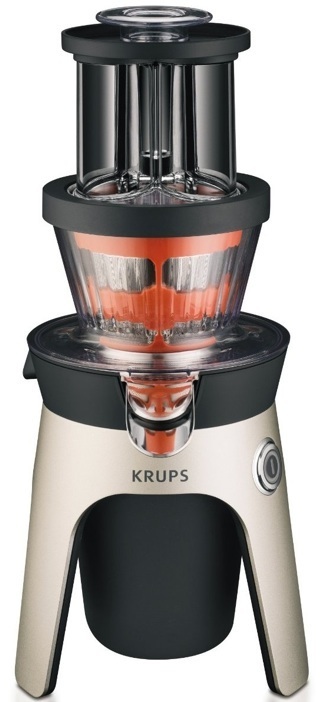 The Krups ZB500E52 Infinity Slow Juicer is all about choice. Do you want some juice, or some sort of delicious breakfast cocktail? No problem. Oh, a smoothie is more along the lines of what you're feeling? Or maybe a sauce? It can handle that, too. You see, the Infinity Slow Juicer boasts two separate stainless steel baskets--one fine mesh for juice, and one with a more coarse grid for thicker smoothies and sauces. The motor is said to be near silent as well, so you can throw together your superfood beverage early in the morning without worry of waking the kids.
You can pick up the Krups Infinity Slow Juicer on Amazon for $279.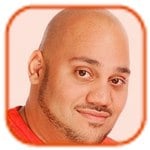 Posted by Andru Edwards Categories: Corporate News, Software, Video Games,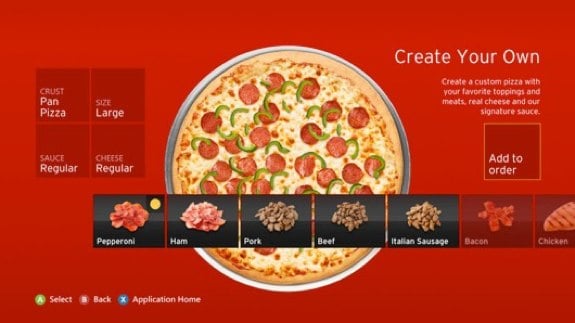 Amazingly, Pizza Hut has announced that it's sold $1 million worth of pizzas through its Xbox 360 app in just the first four months of the app's availability. The app allows Xbox 360 users to place orders for some cheesy goodness right from their game consoles, ensuring that they wouldn't have to pick up the phone and talk to another human being to conduct the transaction.
"It's been a source of unbelievable growth for us," Pizza Hut PR head Doug Terfehr told Polygon. "Just the explosion of people who wanted to download it, experiment with it, play with it with Kinect. As soon as we did one, everyone was contacting us to do the next [one]."
Earlier this month, Pizza hut celebrated the 20th anniversary of the first online pizza order, which took place in 1994 on Pizza Hut PizzaNet. Believe it or not, the large pepperoni, muchroom, extra-cheese pizza was the first item ever ordered online--not just for pizza, but anything. Pretty crazy.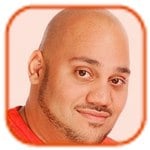 Posted by Andru Edwards Categories: Household, Women, Men, Under $100, Under $250, Under $50, Under $500,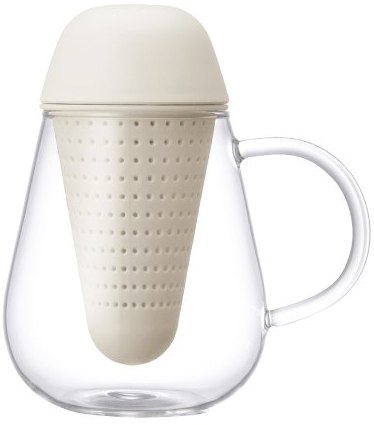 It's the holiday season, and we know that sometimes you want to relax with a warm drink. That's why we're adding the Kinto Pengy Teapot Mug to our 2013 Holiday Gift Guide. It's a small teapot imported from Japan that is more than meets the eye. You see, the Kinto Pengy doesn't just make tea; you can remove the strainer and then use it as a mug. The lid becomes a handy place to hold your used tea leaves after brewing while you sit back and relax.
You can pick up the Kinto Pengy Teapot Mug now from Amazon for $43.
Read More

| Kinto Pengy Teapot Mug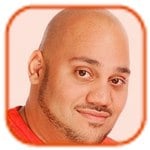 Posted by Andru Edwards Categories: Science, Toys, Kids, Under $100, Under $25, Under $250, Under $50, Under $500,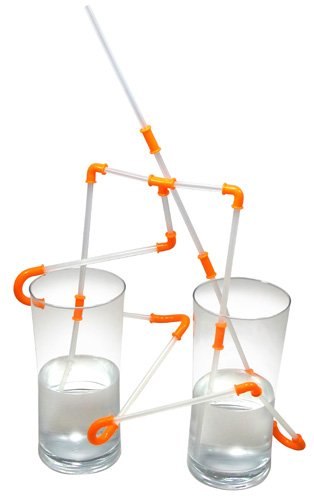 You know how kids love playing with straws, right? Our next 2013 Holiday Gift Guide entry encourages it. The Strawz Constructible Drinking Straw kit takes it to the next level. You'll blow the minds of your kids, as the set lets them drink from multiple glasses at the same time. They're durable too, and can be taken apart and reshaped by your junior scientists again and again.
You can pick up the Strawz Constructible Kit now from Amazon for $11.95.
Read More

| Strawz Connectible Drinking Straw Kit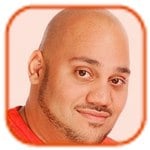 Posted by Andru Edwards Categories: Features, Household, Family, Women, Men, Under $100, Under $250, Under $500,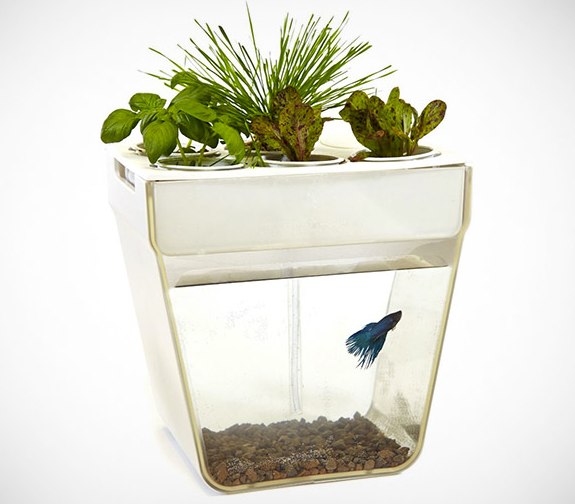 We love finding quirky, cool things that are worthy of being featured in our 2013 Holiday Gift Guide, and the Aquafarm certainly fits the bill. You get a pet and some healthy food, all at the same time. You don't even have to clean up after it! Thanks to magic aquaponics, the plants use the fish waste as food, keeping the water clean. Impressive, right?
You can pick up the Aquafarm from ThinkGeek for $59.99.
Read More

| Aquafarm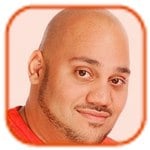 Posted by Andru Edwards Categories: Movies, Television, Features,
Kerry Washington doesn't drink alcohol.
The 36-year-old star admits she only indulges in booze on special occasions as she likes to keep a clear head in every situation, and would rather steer away from the high amount of calories embedded in an alcoholic beverage. Speaking to the New York Post newspaper, she said, "I actually live quietly. Work hard. Get bored easily. Don't drink. Who needs those empty calories? I watch what I eat. I train, do pilates. I drink maybe twice a year."
While the Emmy Award-nominated actress insists she likes to maintain a healthy diet, she previously admitted she suffers from severe allergies to a lot of food types and must travel with an EpiPen - a syringe containing epinephrine used to treat allergic reactions - at all times. "Most people do not know about this but I carry an EpiPen with me almost everywhere I go because I have a lot of food allergies, like fatal food allergies, that if I eat these things, I could wind up dying in an emergency room somewhere. So I always have an EpiPen. It's not sexy, but I'm being honest, I have an EpiPen in my bag," she explained.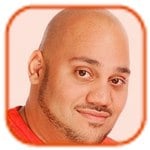 Posted by Andru Edwards Categories: Television, Features,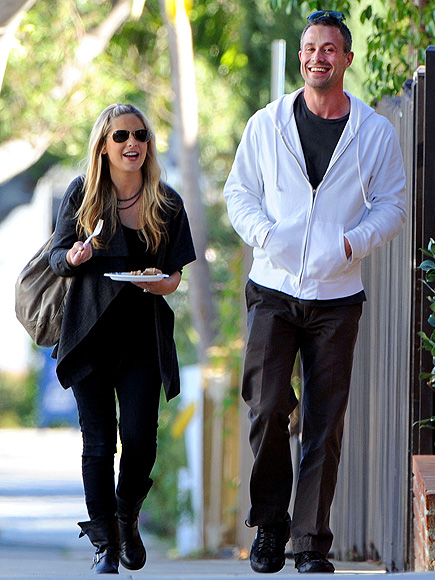 Sarah Michelle Gellar would starve if not for her husband's cooking.
The Buffy the Vampire Slayer actress admits her spouse of 11 years Freddie Prinze Jr. prepares the majority of the meals at home and he even enlists their daughter Charlotte Grace, four, to give a helping hand in the kitchen.
"I have my husband who is so incredibly hands-on. Thank God he can cook or I would probably never eat. We try to make [everything] a family thing, so we'll go to the farmer's market and Charlotte can pick out a piece of fish. And she and Freddie will go to the grill and she pretends to light her little grill."
The 36-year-old starlet, who gave birth to her second child Rocky in 2012, admits it can be tough being a working parent, but says Freddie, 37, and her own mother give her incredible support which has allowed her to return to work on new sitcom The Crazy Ones: "Working with one child was one thing, but working with two is entirely different. I had both my kids' birthdays, they turned four and one in a span of 24 hours, and we moved, and we launched the show."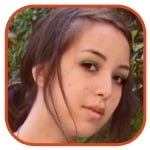 Posted by Robin Paulson Categories: Celebrities, Health & Beauty,
"Now, meeting actresses who such a big part of their job is about what they look like, I feel so lucky to be freed from that prison. I ate cake for breakfast on the day of the Emmys, I ate cake for dinner, my workout didn't require Spanx, and I still feel like I looked better than people expected me to. It was amazing. I could feel the envy of every woman in the Sunset Tower."
- Girls creator/star Lena Dunham talks about the difference between her and most Hollywood actresses when it comes to food.
(Make sure to check out other notable quotes.)
Read More

| V Magazine

© Gear Live Inc. – User-posted content, unless source is quoted, is licensed under a Creative Commons Public Domain License. Gear Live graphics, logos, designs, page headers, button icons, videos, articles, blogs, forums, scripts and other service names are the trademarks of Gear Live Inc.