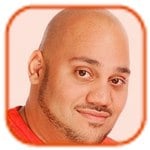 Posted by Andru Edwards Categories: Editorial, Features, Internet,
RealAudio and ultimately Real Video was the original, old school audio and video compression used on the Internet during the early Web 1.0 days. No doubt that Web 2.0's rise in popularity was caused in part by YouTube and the ability for its users to easily send video up to a server and have it transcoded and streamed on the fly - without the need for expensive programs like the RealMedia server set.
YouTube leveraged the Adobe Flash technology, which in its infancy, would show only cartoon like video, then incorporated codec, or software decoding support for television like motion video. This has been the standard for video distribution on the Internet, but requires support for software, and only lately has incorporated decoding within hardware. Notably the iPad and iPhone are two such media devices that do not have flash media decoding support due to a long feud between Apple CEO Steve Jobs and Adobe. Jobs calls flash a CPU hog, and a claims it would cut battery life on his devices from 10's of hours to just an hour if it was supported. Instead, he and many others hope to see HTML5 take a rise to prominence.
In this SXSW 2010 session, Christopher Blizzard, director of developer relations with Mozilla, and Michael Dale, lead developer of the MetaVid project and WikiMedia foundation, go in depth on what HTML5 has to offer as it pertains to video on the web.
Click to continue reading SXSW 2010: Fun with HTML5 video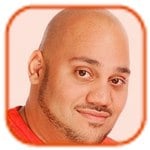 Posted by Andru Edwards Categories: Handhelds, Videos,
At CES 2010, Microsoft gave us a sneak peek at the Windows 7-based HP slate tablet device. We didn't get much info at all, but more has trickled out since then. However, now HP is taking an obvious jab at Apple and the iPad, having released the video above that shows off the slate tablet running Flash and Adobe Air, right on the device. Of course, the highlight here comes near the end, when the person playing with the HP Slate pulls up Hulu and begins watching content right on the device, something that the iPad can't do just yet (although we are hearing that Hulu is working hard to become iPad-compatible.) Hey, one thing the iPad has on the Slate? It has a solid launch date that is just a little over 3 weeks away.
Read More

| AppleInsider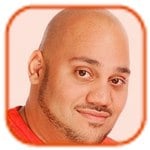 Posted by Andru Edwards Categories: Apple, Handhelds, Software, Videos,
Our pal Robert Scoble sat down with Anup Murarka, the Director of Technology Strategy and Partner Development for the Flash platform, and asked him about his thoughts on the perception that Steve Jobs has been giving to the press and consumers regarding Flash. You know, thinks like that it is a battery killer, crashes all the time, etc. Anup talks about Flash being implemented on mobile devices, their public bug tracker, and the significant enhancements in Flash 10.1 that seem to be overlooked.
It all sounds good, but still, don't expect to see Flash running on your iPad anytime soon.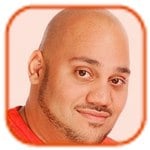 Posted by Andru Edwards Categories: Apple, Handhelds, Home Entertainment, Internet, Rumors,

When Apple introduced the world to the original iPhone, YouTube wasn't part of the equation, but in the weeks leading up to launch, Steve Jobs revealed that YouTube would in fact have a dedicated app built right in to the iPhone and that the company had started the task of re-encoding their videos to H.264 format, which plays nice with the device. Fast-forward to today, and we are hearing similar rumblings as it pertains to Hulu and the iPad.
The biggest complaint we are hearing about the iPad is that it lacks Flash support, which means that a device that seems to be perfect for watching videos on Hulu, has no way to actually accomplish that task. However, it seems that Hulu is already hard at work on an iPad-compatable version of the site. Now, we don't know if this is actually going to be a Hulu app, similar to what YouTube has on the iPhone, or if Hulu is simply switching up it's Flash player and adding support for HTML5. The nice thing here is that Hulu has been using H.264 compression in their videos since the beginning, so the only real change that needs to be made to be iPad-compatable is to allow videos to be played outside of the Flash player, and HTML5 solves that perfectly.
At this point, we wouldn't be surprised if a week or two prior to the launch of the iPad, Apple let's us know that USA-based iPads will ship with Hulu supported from day one.
Read More

| TechCrunch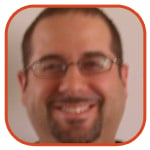 Posted by David Torres Categories: Editorials, DC Comics,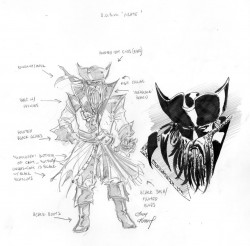 It was announced a few days ago that Bruce Wayne would finally be coming back as Batman beginning in April 2010. The event will take place in a min-series entitled Batman: The Return of Bruce Wayne and it will be written by Grant Morrison. I'm very happy that Bruce Wayne will be returning, but I'm curious as to why both he and Captain America are through the exact chain of events in their lives right now. Both characters saw their side kicks resurrected (Jason Todd and Buck); both were "killed off"; both characters saw side kicks take over the mantle for them (Dick Grayson and Bucky); both are stuck in the past; and both are now trying to make their ways back to the present. What gives? Who's copying who?
Well the idea of resurrecting Jason Todd began during the Hush storyline in 2002, but we didn't see Jason return until 2005. The return of Bucky began around the same time in 2005 as well. Steve was killed in early 2007 and Bruce was killed in late 2008. It was revealed a few months ago that Steve was stuck in time, but Bruce was revealed to be stuck in the past at the end of Final Crisis at the beginning of the year. Since we are fans, we are not privy to which company came up with which idea first, but if it were me, I would try to do something a bit different with my company's character. Also, what good is it for the fans? They will buy it nonetheless, but is it really that interesting to have the same exact thing happen to two iconic characters? What happens when they return?
Click to continue reading Return of Bruce Wayne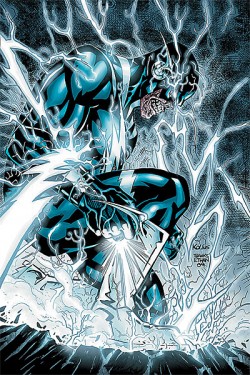 Rating: ****
If you were a fan of the run Geoff Johns and Scott Kolins did on The Flash, this book is for you. I wasn't a fan of Kolins' work on The Flash at first, but the artwork grew on me and the stories that Geoff was pumping out were classic. This issue picks up during the Blackest Night event and after the Flash: Rebirth series.
I was a bit confused by the story in this issue at first because we see that Eobard Thawne aka Professor Zoom the Reverse Flash appears as a Black Lantern, which got me wondering how could he be a Black Lantern if he's been resurrected? Then I remembered that when Zoom returned in the Flash: Rebirth series, he stated that he was from the future after he was resurrected by a friend of Barry's. This is what happens when series get delayed. Flash: Rebirth has yet to end so we don't know what has happens to Zoom at the conclusion to the series. One can assume that he's still alive at the end. Who is the "friend" that resurrects Zoom? My guess is it's Hal Jordan as it seems he will get possessed by Paralax once again in Green Lantern #50.
This series will also focus on the Rogues as they battle the Black Lantern Rogues. Geoff has done a great job in developing the Rogues characters. He really writes them as characters who walk the line between good and evil - especially Captain Cold, my favorite of the Rogues. The current Captain Boomerang Owen Mercer makes an appearance at his father's grave here. I'm sure his father the original Captain Boomerang will be resurrected and we'll be seeing father and son battling it out sometime during this series. Boomerang is buried at the special Rogues cemetery and it is here that a Black Lantern ring find the grave of Zoom and resurrects him as a Black Lantern.
Click to continue reading DC Comics Review: Blackest Night: The Flash #1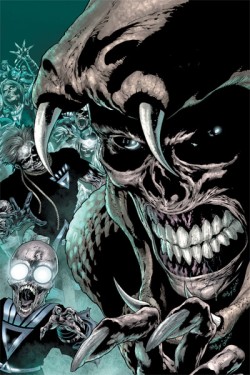 Rating: ***
I'm a bit disappointed in this issue. After the first three issues blew me away and I proclaimed that this series was a future classic in the making, writer Geoff Johns stumbles a bit with this month's issue of Blackest Night. For me, some of Black Lantern Firestorm's dialogue was written poorly in the opening pages. We also jump to Gotham City for no reason other to see Jean Paul Valley aka Azrael resurrected as a Black Lantern while The Scarecrow whines about admiring the fear that the Black Lanterns are able to invoke (he can't get scared because he's used too much of his fear gas). Poor baby. He does have one fear of course - The Batman (cue dramatic Batman music).
This issue mostly focuses on Barry Allen - the Flash and his quest to take the reigns and try to "hold down the fort" here on Earth against the Black Lanterns. He's with the Atom and Mera of Atlantis and he gives them a good pep talk to try to get them to step up and fight back against the Black Lanterns. The Flash then runs across the Earth continuing his pep talk and informing the other heroes of the situation. He tells them that Green Lantern is off trying to destroy the source of the Black Lanterns' power and they have to keep fighting until that happens.
Click to continue reading DC Comics Review: Blackest Night #4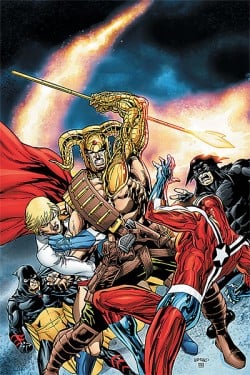 Rating: *** 1/2*
A big improvement from the previous issue. Our story continues with the aftermath of a rogue group of B-level super villains attacking the Justice Society of America. The group was designed by a still unseen leader who hired specific super-villains capable of matching up against each member of the JSA . Also, the All-American Kid was taken over by a mysterious force that made him stab Mr. Terrific. Angered by the situation at hand, Magog and WildCat go at each other and we start from there.
The fight is broken up by the new Dr. Fate and he informs the team that blood is needed to save Mr. Terrific's life. Everyone is to donate as Fate will change everyone's blood to match that of Terrific's blood. The All-American kid is interrogated by several JSAers. The kid swears that he didn't do it even though a video shows him doing it.
Click to continue reading DC Comics Review: Justice Society of America #31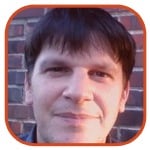 Posted by Mark Rollins Categories: Accessories, Storage,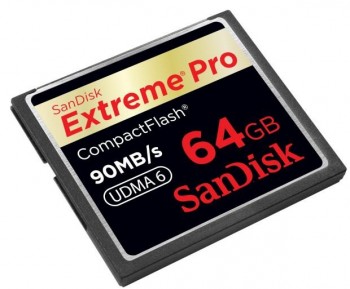 SanDisk has just announced their Extreme Pro Compact Flash memory cards, which have lightning speeds of 90 MB/second. This is double the performance from SanDisk's predecessors, and the storage capacity ranges from 16 to 64 gigabytes. The price of them is $300 for the 16GB and $800 for the 64GB.
Read More

| Sandisk Press Release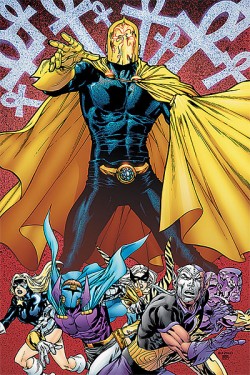 Rating: ** 1/2*
We pick up from where we left off with last month's issue with the Justice Society of America (JSA) all defeated except Stargirl and The Flash Jay Garrick. For whatever reason, Stargirl must not be harmed. The group of miscellaneous stand ready to take out Jay Garrick when he runs away. He runs to go get help in the form of the new Dr. Fate. A while back there were a series of one-shots called the Helmet of Fate as well as the mini-series Countdown to Mystery that saw the return of an all new Dr. Fate. This Dr. Fate is a legacy character named Kent V Nelson and he is the grandnephew of the original Dr. Fate, Kent Nelson. This was all new to me as I wasn't aware that a new Dr. Fate was chosen. This Dr. Fate is able to fool the villains into thinking he's the real deal as far being able to use his powers as well as his predecessor's.
Fate, Stargirl, and Flash hold off the villains long enough as it gives the other JSAers enough time to recover and regroup. The villains see that the tide has turned on them and run off. Magog wants to run after them. Wildcat wants to retreat as Liberty Belle is hurt and they can't seem to contact Mister Terrific. Power Girl agrees with Magog, but appeases Wildcat and splits the team up with some heading back to headquarters, while others head after the villains. Magog is portrayed as being more aggressive here. He's looking at this from a military perspective and wants to stomp out the enemy for good. Something doesn't seem right with him.
Click to continue reading DC Comics Review: Justice Society of America #30
© Gear Live Inc. – User-posted content, unless source is quoted, is licensed under a Creative Commons Public Domain License. Gear Live graphics, logos, designs, page headers, button icons, videos, articles, blogs, forums, scripts and other service names are the trademarks of Gear Live Inc.