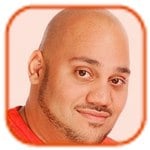 Posted by Andru Edwards Categories: Music, Television, Dating, Clothing, Style, Rumors,
Kanye West has urged Kim Kardashian to take style tips from Duchess Catherine.
The rapper believes his girlfriend of six months - who shot to fame after making a sex tape with her then boyfriend Ray J - could learn a lot from the British royal's "poise and sophistication" along with her conservative style.
Speaking about the duchess - who was previously known as Kate Middleton - a source told the Daily Star newspaper, "Kanye has been urging Kim to tone down her make-up and style her hair in a more conservative style, like Kate. And it's not just Kate's regal look that Kanye wants Kim to mimic. He's also told her that she could learn a thing or two about poise and sophistication from Kate."
Kim recently revealed Kanye has managed to convince her to live her life at a slower pace and focus less on her work and more on her personal life.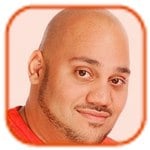 Posted by Andru Edwards Categories: Music, Television, Pregnancies, Clothing, Fashion Police, Style,
Kelly Osbourne thinks that Lady Gaga is pregnant.
The outspoken Fashion Police star shared her observations on the "Born This Way" singer's noticeable weight gain and claimed Gaga - who is dating Vampire Diaries actor Taylor Kinney - has been hiding her stomach lately.
"I think she is pregnant because she has been covering up this part of her body recently and I have been noticing that a lot. And her style has changed and you can't bleach your hair blonde when you are pregnant," she said.
However, Kelly's comments came before Lady Gaga praised marijuana as she lit up on stage in Amsterdam.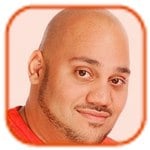 Posted by Andru Edwards Categories: Celebrity Gossip,
Glenn Close keeps her outfits from her TV and film roles.
The 65-year-old actress "hates" shopping and doesn't buy many clothes for herself, so she likes to wear the costumes donned by her screen alter-egos. "I really hate shopping. Maybe a handbag. I don't spend a lot of money on myself. I'm very lucky I can wear some of the costumes from the Patty Hughes character in the series Damages," she admitted.
Glenn has enjoyed a career which has spanned four decades, but she believes social networking website Twitter has had a huge impact on the film industry. The screen icon thinks micro-blogging site has made it harder to get certain types of movies commissioned, meaning independent films face more "challenges" than ever before.
"Studios make their money with Spider-Man and Transformers. The big movies make the money and they can't afford to make the smaller movies because of things such as marketing costs. There will always be independent films and there are the film festivals that are important venues for those movies but it's never going to be easy. It's challenging and I know there's an audience for independent films - but they're not in the 18 to 25 demographic. There are so many different ways to watch films now. If you don't have a movie that's Tweetable in the first five minutes you're told you've got a problem. People are always fascinated by stories. The challenge is there are a lot of things competing for people's attention against films."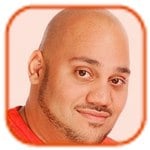 Posted by Andru Edwards Categories: Music, Television, Dating, Clothing, Style, Features,
Kim Kardashian thinks that similarities are "essential" in relationships.
The reality TV star loves the fact she and boyfriend Kanye West have a shared passion for fashion because it means they can have "in-depth" discussions about their careers, and she thinks common interests will be increasingly more important as they get older.
"If I have a design meeting, or he has one, we come back and talk about how our meetings went. It's cool, because you can definitely get more in-depth with someone who actually knows what you're talking about ... So that's been a fun similarity we have. I think it's essential to have similarities. When this whole life is done, and it's just the two of us sitting somewhere when we're 80, you want to have things to talk about that you have in common. I think that's something maybe I didn't value as highly as a quality I cared about in someone."
Click to continue reading Kim Kardashian: Similarities Are Important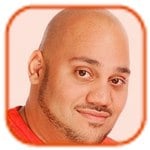 Posted by Andru Edwards Categories: Music, Clothing, Style,
Katy Perry feels she has a split personality.
The "Firework" hitmaker admits her outrageous outfit choices reflect her moods at the time and says that is why her creations are sometimes bizarre because she feels a mixture of emotions.
"My sense of style is like one of those things that change color with mood, always evolving. When I get up, I choose my outfit depending on my state of mind. If it is a 'mixture of many things' it is because I feel many different emotions at the same time, to the point where you feel you almost have a split personality. Basically, in the past, my preferences were always directed towards styles that were daring; the flashier, shinier and imposing the dress the better, this is the reason why I still love the work of Jean Charles de Castelbajac and Jeremy Scott."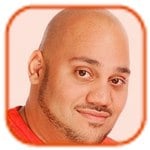 Posted by Andru Edwards Categories: Features, Portable Audio, Videocasts,
We give you a look at the new Monster Diesel VEKTR on-ear headphones, jointly designed by Monster Products and Diesel. The on-ear headphones are a fashion statement that also aims to bring superior sound through the earcups thanks to titanium-coated drivers. We show them off, and also tell you how you can win this pair of headphones from Gear Live simply by subscribing to our email newsletter! These sell for $279 (or $249 on Amazon!), so free is a pretty good deal, good luck to all the entrants!
Big thank you to GoToMeeting for sponsoring the show - be sure to check them out! GoToMeeting with HDFaces provides rich, super-simple collaborative virtual meetings.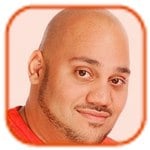 Posted by Andru Edwards Categories: Music, Television, Dating, Clothing, Style, Rivalries, Rumors,
Kim Kardashian's mother fears she is "losing" her to Kanye West.
Kris Jenner is worried her daughter's new relationship with the rapper is taking over her life and she may be willing to put him before her family.
"Kris feels like she is losing Kim to Kayne and she is devastated. She never ever thought Kim would put a man before family, but that's what Kim is doing. Kris and Kayne have really strong personalities and like to be in control. Kim and all the girls are so used to Kris calling all the shots. I think deep down Kim likes having Kayne being in charge. She is used to that role because she grew up with such a controlling mother," a source said.
Kanye has already reportedly had an effect on Kim's style, urging her to be more daring with her outfits. "He thinks she should be more like him, edgy with her choices," a source said.
Click to continue reading Is Kris Jenner Losing Kim to Kanye?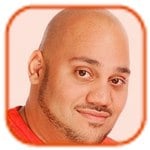 Posted by Andru Edwards Categories: Music, Television, Dating, Clothing, Red Carpet, Style, Rumors,
Kanye West has been giving Kim Kardashian fashion advice. The 34-year-old rapper thinks his 31-year-old girlfriend needs to take her image in a new direction according to an insider.
"Kanye has been having chats with Kim about her style. He thinks she should be more like him, edgy with her choices. He keeps saying she should 'evolve' as a fashion icon," a source told The Sun.
The Keeping Up With The Kardashians star helped run a clothing boutique with her sisters Kourtney Kardashian and Khloe Kardashian as well as her mother Kris Jenner before finding fame. The have since created a successful apparel line named Kardashian Kollection.
Her musician partner, however, thinks Kim needs to be more adventurous with the image she puts out in the public eye. "Kanye says she plays it safe too much so has been trying to pick outfits for her to wear and encourage her to be more daring," the source added.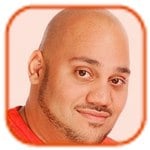 Posted by Andru Edwards Categories: Sports, Celebrity Babies, Clothing, Style,
It pays to be Victoria Beckham's daughter: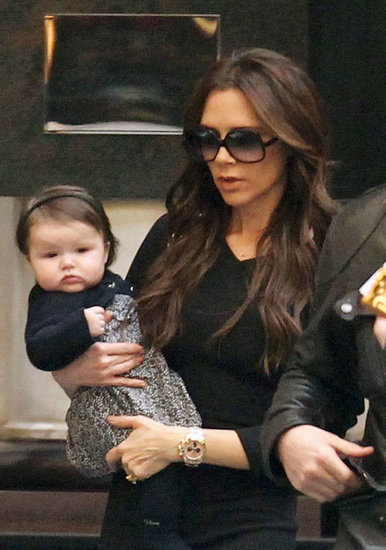 Harper Beckham has been offered a job as the face of a personalized baby gift company.
My1stYears.com has written a letter to the nine-month-old daughter of fashion designer Victoria and footballer David, inviting her to become an ambassador for the brand.
According to Britain's OK! magazine, the letter addressed directly to the trendy tot read, "Both your parents are fashion icons, and we can see no reason why you shouldn't start your own career in the fashion industry even at your young age. Due to child labor laws we cannot negotiate a contract or salary directly with you, that is why your Mummy and Daddy have been copied in on this letter. We are happy to speak with them about your fee; however, we are prepared to pay you a significant amount to be the face of our new range."
Both her parents started their journey to success at a young age, with David becoming a star player at Manchester United aged just 17, while Victoria decided to pursue a music career after watching musical Fame at the tender age of seven.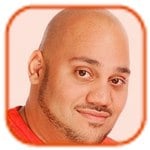 Posted by Andru Edwards Categories: Music, Television, Pregnancies, Clothing, Style,
Jessica Simpson has been dreaming of giving birth in a leopard-print caftan.
The 31-year-old singer - who is expecting her first baby with fiancé Eric Johnson - is due to give birth imminently and has even been thinking about it in her sleep.
I just woke up from a dream that I wore a leopard caftan in the hospital. Fabulous!! Now I need to find one!(sic)" she wrote on her Twitter.
Earlier this week she had to deny she had already given birth after fans began congratulating her. "To everyone who keeps congratulating me on the birth of my baby girl...I'm still pregnant!! Don't believe what you read ladies and gents.(sic)" she wrote.
(FYI - You can also follow VIP Breakdown on Twitter.)
© Gear Live Inc. – User-posted content, unless source is quoted, is licensed under a Creative Commons Public Domain License. Gear Live graphics, logos, designs, page headers, button icons, videos, articles, blogs, forums, scripts and other service names are the trademarks of Gear Live Inc.