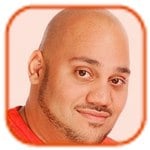 Posted by Andru Edwards Categories: Google, Internet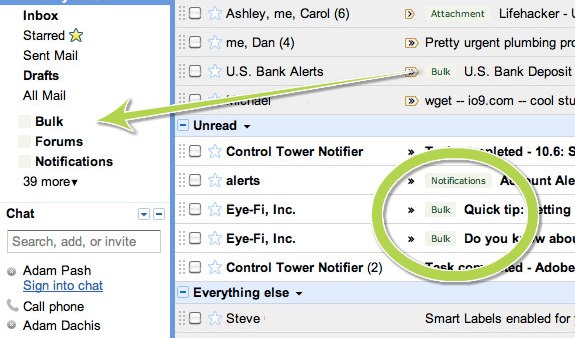 Google on Wednesday unveiled a new option for Gmail that filters messages into bulk, forum, or notification folders.
Smart Labels are a Gmail Labs project that sorts incoming e-mails into three sections: Bulk, which applies to mass mailings like newsletters and promotions; Forums for group mailing lists; and Notifications for e-mails sent directly to you.
Users can replace existing filters and labels with Smart Labels or use them together. To add, enable the "SmartLabels" option in Gmail Labs and hit save. You can further edit your settings on the Filters tab under Settings. "We hope Smart Labels help you more effortlessly get through your inbox," Google said in a blog post.
Click to continue reading Gmail introduces 'Smart Labels' to enhance productivity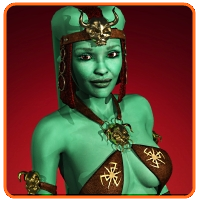 Posted by Patrick Lambert Categories: Business Tools, Corporate News, Social Networks

Facebook today announced a revamp of their messaging system. The new system, which will be released slowly over the coming months, will integrate known ways to contact people into the new Facebook Messages. While they were keen to specify that this isn't email, email is definitively one part of it. The goal of the system is to simplify and streamline messaging between people. Everyone will have the option of having a @facebook.com email address, and anyone will be able to send them messages through email, to that address. Those emails will then show up in their Facebook messages. As users reply, it will be sent back by email. But then, if that person sends them a SMS or IM, it will show up in the same conversation, and same history thread. The system will, behind the scenes, route messages between email, SMS, IM and Facebook messages.
The messaging system will include two folders, the Friends and the Others folder. By default, your friends messages will show up right away, while everything else will show in the Others folder. Users will be able to bring up a message from the Others folder up to Friends if they want to. In the questions part of the announcement, they did say that while this system will include attachments for images and even files like documents and spreadsheets, it will not include voice or video, but it's a possibility for the future. Also, if someone not on Facebook sends you an email, it will show up in the Others folder by default, but can also be brought up to the default one. Finally, forwarding will be available, apparently a feature users requested often.
Read More

| Facebook Live Announcement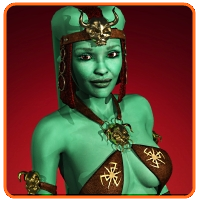 Posted by Patrick Lambert Categories: News, Social Media, Social Networks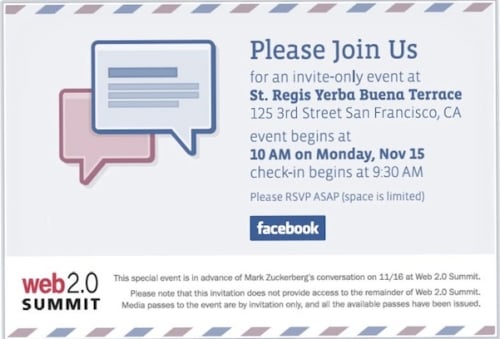 Facebook sent an invitation recently to news agencies for another announcement coming this Monday. While there is no direct mention as to what that announcement is, TechCrunch believes that this may be a major play on a new email service, aimed at competing with Google's Gmail service. Based on the invitation image, it seems likely that the announcement has to do with messaging, since that's what the graphic shows. Then, references to a secret project called Project Titan came up again recently. Finally, just this week, we reported on how Google and Facebook have started an all-out war concerning the exporting of contacts and friends information. It's all still rumors for now, but it will be very interesting to see if a Facebook based email service would take a big chunk out of services like Gmail. Since Facebook has done everything it can to become your primary contacts platform, it would sure make a lot of sense.
Read More

| TechCrunch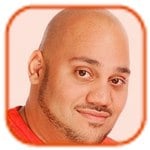 Posted by Andru Edwards Categories: Google, Internet
If you happen to rely heavily on Gmail for your day-to-day work, or even for personal things, you may be scrambling right now, as there is a Gmail outage going on. Twitter has run amuck, with people complaining left and right, and endless cries of "Gmail is down! Oh noes!!". Remember peeps - if you need constant access to your data, you need to have it stored locally on your computer. Use Gmail over IMAP, so at least you always have your archives. Me personally? I use Mail.app in OS X so I always have access to my entire email history. So, just how many of you are severely affected by Gmail being down?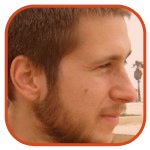 Posted by Brandon Gribin Categories: Productivity, New Apps, $0.99, $1.99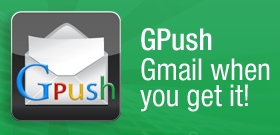 While you can't have true Push Gmail on the iPhone [Editors Note: You can, if you set up Gmail as an Exchange account, but you don't get Push Notifications this way], an app arriving very soon on the App Store will come close to replicating the true experience.
Currently, the iPhone's Mail App pings Gmail periodically, or when you hit refresh, to see if you have any new messages. Push e-mail would be virtually instantaneous - as push notification on the phone is.
GPush is an app that will shoot off push notifications whenever you get new e-mail. You'll then be able to go into your phone's Mail App and see your new e-mail as the Inbox refreshes.
Click to continue reading Push Gmail coming soon with GPush iPhone app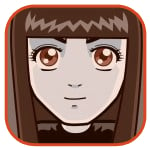 Posted by Sheila Franklin Categories: Accessories, USB, Internet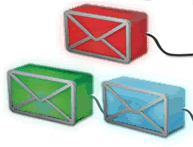 Replace your annoying "You've got mail" announcement with the Email Notifier. When one arrives, the small device lights up and flashes to tell you the good (or not so good) news. Attach to your USB port with no external batteries or power source needed, and use it for both your home and business accounts. The notifier is compatible with Windows 2000/XP/Vista and most POP email services for GBP 13.99 (~$23.00.)
Read More

| Lazybone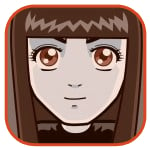 Posted by Sheila Franklin Categories: Internet, Music

Want to keep track of your fave artists' new releases? Blyper will do that for you. Sign up at the beta site, insert musicians' names and they will e- you when each of them has a new single or CD. Decide how often you want to be notified, let your friends know who your picks are and find new artists from others with similar taste. The service is free with online registration.
Read More

| Blyper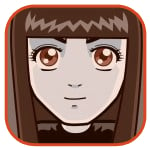 Posted by Sheila Franklin Categories: Internet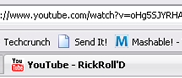 How many times have you tried to send a link to a bud, but either couldn't send it from the site or it never arrived? Dropvine simplifies the process with a bookmarklet. After a free signup, you click on the link and select friends on your contact list (who don't have need an account.) You can add comments on the links so your contacts will know it's you. Hit send and the link arrives in their Dropvine inbox. They are then sent an email notification and can share in your joy.
Read More

| Dropvine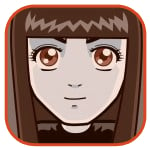 Posted by Sheila Franklin Categories: Handhelds, Hot Deals, Internet, PC / Laptop

Cortado is offering their free SMS2Desk that allows you to send and receive messages via your PC to your BlackBerry OS 4.2.1 or higher through your email. You can also organize with the handy tool. Cortado promises that everything you do will be saved securely. Although you can download the program on a .zip file on your PC, you can get SNS2Desk from your Blackberry. There is a Premium Version that provides multiple SMS sending simultaneously, editable e-mailing, limit to the number of messages sent and SMS confirmation for about $6.00.
Read More

| Cortado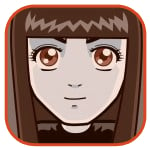 Posted by Sheila Franklin Categories: Internet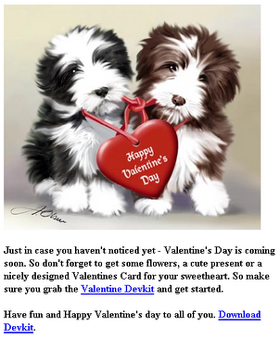 Another virus has reared its cute
ugly head, this time in the guise of puppies for Valentine's Day. Known as the Valentine Devkit, click on it and you will see the pooches and but also download lloveexe.exe, start.exe.or something similar. Be very careful if you decide to create an e-card for the holiday as there are those above as well as fake Hallmark cards that will infect your computer with malware.
Read More

| McAfee Avert Labs

© Gear Live Inc. – User-posted content, unless source is quoted, is licensed under a Creative Commons Public Domain License. Gear Live graphics, logos, designs, page headers, button icons, videos, articles, blogs, forums, scripts and other service names are the trademarks of Gear Live Inc.