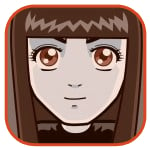 Posted by Sheila Franklin Categories: Storage, Video Games, USB,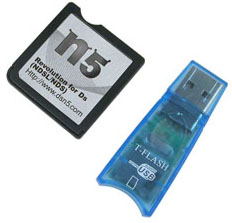 The N5 is an updated version of the R4DS. The second generation storage device supports both Nintendo DS and Lite, needs no booting tool, has a card slot for Micro SD, FAT16 or 32, works by touchscreen or button with auto-detect. It supports rumble pak, memory pak, Moonshell, and has an open I/O interface. Perhaps the best feature is that you can load your cheat codes, not that we agree with that. The 2 x 0.8 x 0.3-inch N5 comes with a TF card reader and application CD and is available for $69.99.
(Thanks, Cassily)
Read More

| vavolo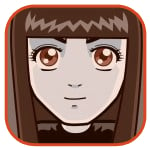 Posted by Sheila Franklin Categories: Accessories, USB, Cell Phones, Handhelds, Storage, Video Games,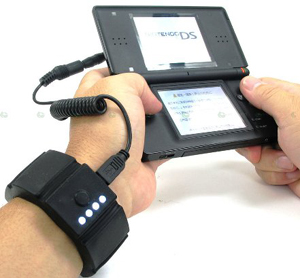 If you are right in the middle of a DS or PSP video game and it looks like your batteries will die before Link does, hook up Thanko's handy Charger Bracelet. It will give your game system up to an extended 4.5 hours of life. The device will also work with cell phones so you don't have to hang up on your spouse/partner/boss until it is your idea. Connect the bracelet by USB to your computer for a recharge. The charger will set you back JPY 4,980 (~$44.00.)
Read More

| Thanko (translated) via <3 yen

Posted by Paul Hamilton Categories: Action, Adventure, Konami, Nintendo DS, PlayStation 3, Wii, Xbox 360,
Koji Igarashi, creator of the popular Castlevania franchise, is featured in an interview with Game Informer where he talks about what's next for the series.
[Next,] I will be working on a DS version, but I am thinking of moving to the home consoles for the future. I will continue to use 2D for the DS version, but I'm still trying to figure out which console to do the home console versions. I think the Xbox 360 would be the best platform for the U.S. market.
Another DS Castlevania wasn't really a bold prediction, but focusing on the 360 is a little unexpected. Igarashi goes on to clarify, "The U.S. market is the biggest market for the Castlevania series, so I will give the first priority to the U.S. market. The platform will be the Xbox 360, since the PS3 isn't doing well everywhere in the world." He does later suggest that he thinks Metal Gear Solid 4 could easily increase the PS3 base in the US which would make it more attractive as a target for a Castlevania game.
As for the Wii, which represents an even larger market than 360, Igarashi says he hasn't quite figured out how to make the gesture controls work with the game saying that the motion for cracking a whip might be too hard on users but some kind of abstraction would be "not so good." "I will have to think about a way to accomplish this," he concludes.
Read More

| Game Informer


Posted by Steve Van Neil Categories: Casual, Electronic Arts, Music, Nintendo DS, PlayStation 2, Portable/Mobile, Trailers,
Ignoring a collective shrug on the part of game reviewers, Electronic Arts has announced that the formerly Wii-exclusive rhythm game, Boogie, is headed to the DS and PS2. EA tells us that the PS2 version will incorporate a music video creator and allow players to record themselves singing along with their favorite pop songs. Meanwhile, the DS version jettisons the karaoke element entirely and revs up the minigame factor. In addition, Boogie DS boasts "the first 3D gameplay on the handheld system," thanks to the snazzy (or not) 3D glasses that will come packed in with the game. Check out the DS trailer above, but only if you can stomach a whole lot of Brickhouse.
Read More

| EA


Posted by Paul Hamilton Categories: Driving, Internet, Nintendo, Nintendo DS, Wii,
Nintendo's popular arcadey racing game, Mario Kart is inevitably coming to the Wii. When it does, a blurb clipped from the Official Nintendo Magazine UK says it will support 16 players in the popular battle mode.
Mario Kart DS solidified the WiFi features of the handheld unit and it's quite possible that the Wii version is being positioned to do the same.
As with earlier versions the Wii Mario Kart will include updated versions of older tracks (in this case Wii translations of DS tracks) as well as all new racing locations. Mario Kart for the Wii is scheduled to be released next spring.
Read More

| Go Nintendo via Evil Avatar

Posted by Steve Van Neil Categories: Corporate News, Microsoft, Nintendo, Nintendo DS, PlayStation 2, PlayStation 3, Portable/Mobile, PSP, Sony, Wii,
According to the latest NPD report, the video game industry generated almost a billion dollars of sales in the month of July. Nintendo's Wii led the charge with an absolutely astounding 425,000 units sold. The Wii was followed by the PS2, which sold 220,000 units. The Xbox 360 sold 170,000 units, once again beating the PS3, which sold 159,000 units. On the portable side of things, the Nintendo DS sold a whopping 405,000 units, while the PSP moved 214,000 units. Overall console sales are up almost 43% from this period last year.
All of this begs the question: Where are people finding the Wii in such great numbers? I haven't seen one in a store since the beginning of the year, but somehow Nintendo keeps selling hundreds of thousands of them every month.
Read More

| Next Generation


Posted by Paul Hamilton Categories: Music, Nintendo, Nintendo DS, Portable/Mobile,
Okay, the game is Hannah Montana. But subtitled "Music Jam," this game looks like a portable Rock Band including recording capabilities, four different instruments, wireless multiplayer and some really cool gameplay. There's really no reason to be ashamed if you end up excited about this game. Except, you know, the teeny bopper license and the fact that any guy over 13 who buys this will get a lot of really suspicious looks from game store clerks.
Still, the guy demoing the game in the video is not a wuss and would totally beat you up, so if he's comfortable playing it, you should be too.
Or, you could hold out and hope that Disney Interactive wisely re-brands this down the road with something a little less emasculating or at the very least a little less "middle school."
Read More

| Infendo


Posted by Chris Pereira Categories: Hardware, Nintendo, Nintendo DS,
If you don't have a DS yet, this Brain Age bundle might be just what you're looking for – included is a copy of Brain Age 2: More Training in Minutes a Day and a DS sports an all-new color for $149.99. As Nintendo describes the new color: "The top half of the new Nintendo DS sports a smooth, glossy Crimson, reminiscent of a dangerous shade of lipstick or a cherry-red sports car. The bottom is a matte black—an Onyx yin that complements the Crimson yang." Uhh, okay.
Brain Age 2 includes 15 new activities, including those that challenge you with math, memorization, and music. (Music? Might want to plug in a pair of headphones to avoid hearing those poor DS speakers.)
The bundle will be available in stores on August 21.

Posted by Chris Pereira Categories: Casual, Microsoft, Nintendo, Nintendo DS, Strategy,
During Comic-Con last week, Microsoft announced that a Viva Piñata title was in development for the Nintendo DS. Apparently, this isn't going to be a Party Animals port (the Mario Party-style Viva Piñata title announced during this year's Microsoft E3 press conference) – instead, it'll be a full on remake of the Xbox 360 game. It'll contain all of the piñata found in the Xbox 360 version, as well as some new ones, as well.
"You'll also be given free rein with an expanded selection of tools and tool actions, upgraded forms of the Journal and Encyclopaedia, and brand new game modes such as Sandbox (for full and easy access to your favourite Piñatas) and Episodes (tying in more closely to the TV series and allowing fans of the show to spend quality time with familiar faces)."
The game will be designed with the unique features of the DS in mind; most specifically, the DS' touch panel.
"Design, nurture, instruct, protect and care for your garden and animals through direct touch. The DS WiFi service also lets you send prime Piñata specimens to your friends, making the act of parading your Doenut around in a humiliating pirate outfit easier than ever."
It'll be interesting to see exactly who gets the publishing rights to the game. Following Microsoft's acquisition, Rare did still release several games on the Game Boy Advance, all of which were published by THQ. And the recently released Diddy Kong Racing DS, developed by Rare, was published by Nintendo.
Read More

| CVG

Posted by Edie Sellers Categories: Casual, Corporate News, E3, Editorial, Hardware, Microsoft, Nintendo, Nintendo DS, PC, PlayStation 2, PlayStation 3, PSP, Wii, Xbox 360,
It always seems a bit silly to declare a "winner" of E3. It's just so juvenile. This is a complex industry that can't be distilled down to the simple question of "who beat whom."
But we just can't help it, can we?
Comparing the three keynotes this year, however, really is a grab-bag of possible outcomes. All three offered something interesting, and picking a single "winner" this year more than ever depends how you define "winning."
My rundown is after the break.
Click to continue reading E3 2007: The Big Three: Who "Won" E3?
© Gear Live Inc. – User-posted content, unless source is quoted, is licensed under a Creative Commons Public Domain License. Gear Live graphics, logos, designs, page headers, button icons, videos, articles, blogs, forums, scripts and other service names are the trademarks of Gear Live Inc.