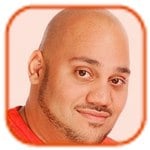 Posted by Andru Edwards Categories: Accessories, Apple, Design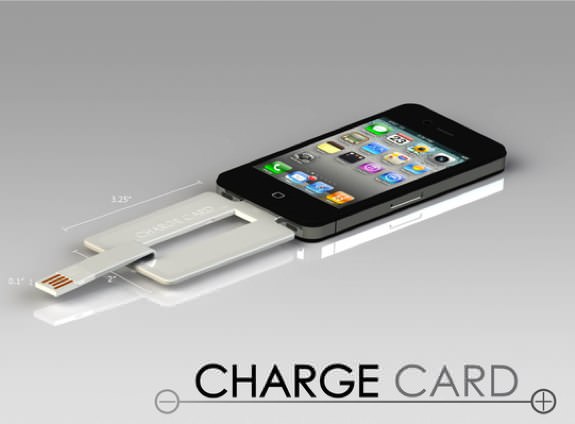 How many times have you been in a situation where your iPhone, iPod touch, or iPad was on the verge of death and you didn't have a charge cable with you to charge it up? It's happened to us more times than we'd like to admit, and that's where the ChargeCard comes in.
The ChargeCard has the standard 30-pin Apple dock connector on one side, and a slim USB connector on the other. It folds up to just about the size of a credit card for easy storage in your wallet. End result? You always have an iPhone charger on you. As long as you have a USB port to plug into, you are good.
ChargeCard is currently a Kickstarter project. They've got 37 more days to reach the goal of $50,000, and it's already at $38,456. If you want a chance to get one of your own, you can pledge $20 to pre-order. If the campaign is successful (and it looks like it definitely will be) you'll receive your ChargeCard when it ships in September.
Read More

| ChargeCard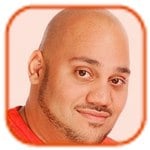 Posted by Andru Edwards Categories: Culture, First Person Shooters, Hardware, Microsoft, Xbox 360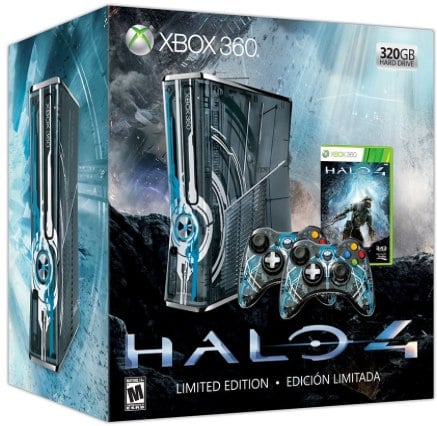 Remember that Halo 4 Limited Edition Xbox 360 console we told you about the other day? Yep, it's real, and it's now availabe for pre-order. The console will sell for $399.99, and will be released on November 6, 2012. You get the Xbox 360 console that decked out in Halo 4 artwork, along with two wireless controllers with artwork as well. The green LEDs are swapped out for blue, and the console has custom sounds from the Halo world. The actual Halo 4 game is also included. Pre-order it now at Amazon.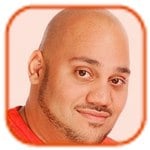 Posted by Andru Edwards Categories: Wearables, Design, Mods / Hacks, Music, Videos
Here at Gear Live, we know just how popular the Beats by Dr. Dre line of headphones can be. After all, when we post about them, those are typically the most read items of the day. However, while they look good and have great endorsements behind them, some people prefer other models of headphones due to the audio profile. What is one to do if the Beats profile isn't the sound they crave, but the Beats look is exactly what they're looking for? One option is to grabs some spray paint and get to work.
Casey Neistat just posted a video on YouTube that shows how he turned a pair of Bose QuietComfort 15 headphones into Beats by Dr. Dre knockoffs. Sure, he may have sprayed over the microphone that the headphones rely on for noise cancellation, but sometimes that's the price you've gotta pay to look good.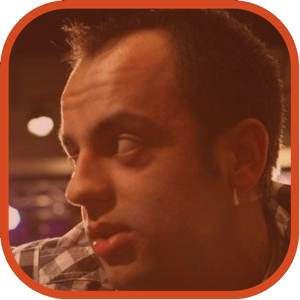 Posted by Andrey Malskiy Categories: Movies, Transportation, Videos
If you're planning on seeing Marvel's next blockbuster hit, The Avengers, get ready to see some movie magic. No, we're not talking about the fight scenes and endless CGI effects, we're talking about the cars featured in the movie—the Acura NSX to be exact.
Like any lead-footed gear-head, we were stoked that Acura was planning on bring the car back into production. The NSX is due to arrive somewhere around 2015, but if you've looked at any calendar lately, it reads 2012. So how could Marvel get its hands on a car that's not out yet, or no where near production ready? We'll, let's just say it took some work and creativity. Check out the video to see how it all came to be.
Click to continue reading Acura NSX Roadster featured in 'The Avengers' before production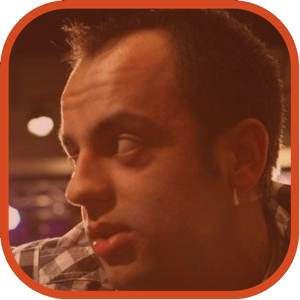 Posted by Andrey Malskiy Categories: Design, Transportation, Videos
The world of racing may be getting a facelift, if Nissan gets its way. Nissan has developed the DeltaWing and set its sights on Le Mans. It'll will be entering the DeltaWing into the 24-hour race, not as a traditional racer, but as a demonstrator. Nissan will be showing off what racing could look like in the future.
The beauty in this futuristic design is that its half the weight of a traditional Le Mans racer and has half the aerodynamic drag as traditional racers as well. Though it's a funky design, we like seeing companies thinking outside the box and innovating on traditional schematics.
Alongside the Le Mans debut, Nissan will be releasing a barrage of YouTube videos showing off different aspects of the racer. Here is the first of many tests the DeltaWing will be put through. Enjoy the "Wind Tunnel" clip after the jump.
Click to continue reading Nissan DeltaWing racer test at Sebring (video!)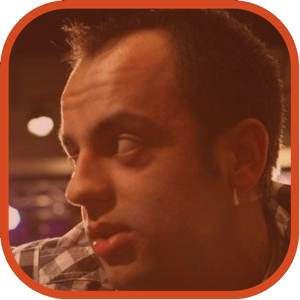 Posted by Andrey Malskiy Categories: Design, Transportation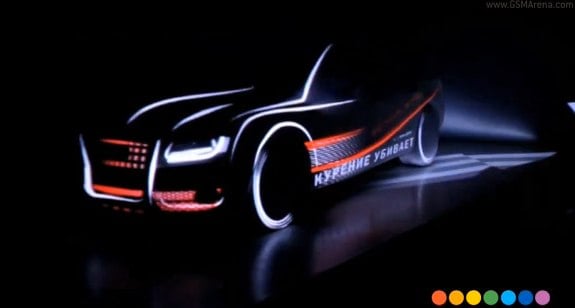 Though the technology is beyond me, the use of projection mapping in auto shows is clearly a win.
With the help of a Russian marketing team Radugadesign (Translation: RainbowDesign), Audi has incorporated projection mapping into its showcases. Though Audi's showcase is far more complex than 'The Lamborghini Project,' which also used projection mapping, the man-hours behind the project look mindbaffling.
However, as slick as it looks, the point of the presentation is a bit over our heads, other than promoting individualism and Marlboro. Yes, the cigarette company. The relation between the two companies confuses us, but the two working together can sure produce a sick showcase.
Click to continue reading Projection mapping is the future of showcasing
Read More

| Autoblog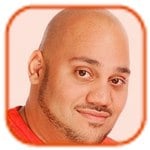 Posted by Andru Edwards Categories: Action, Culture, Hardware, Kinect, LucasArts, Microsoft, Xbox 360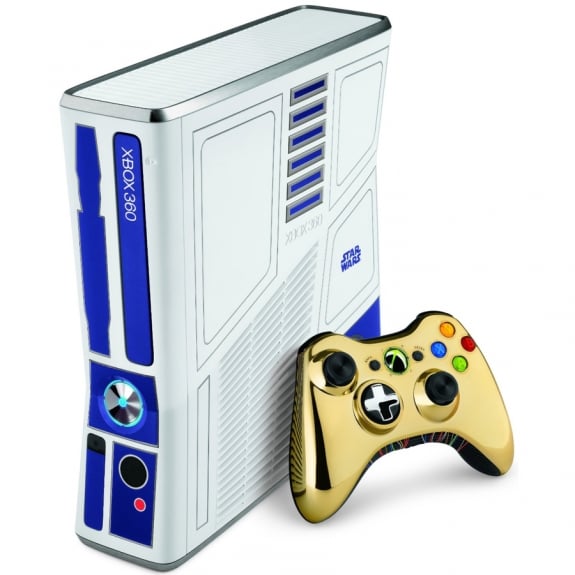 What you see here is an R2-D2 inspired Xbox 360, along with a C-3PO Xbox 360 controller, and you'll find these as part of the Star Wars Kinect bundle that was revealed by Microsoft at Comic-Con. Also included in the bundle is a white Kinect sensor, Star Wars Kinect, and Kinect Adventures. The console also includes a 320 GB hard drive, which is a first for the Xbox 360 line. The console itself has custom R2-D2 sounds rather than the standard Xbox 360 chimes. You can pre-order these now, and they'll be shipping in the fall for $449.
Read More

| Star Wars Kinect Bundle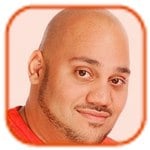 Posted by Andru Edwards Categories: Design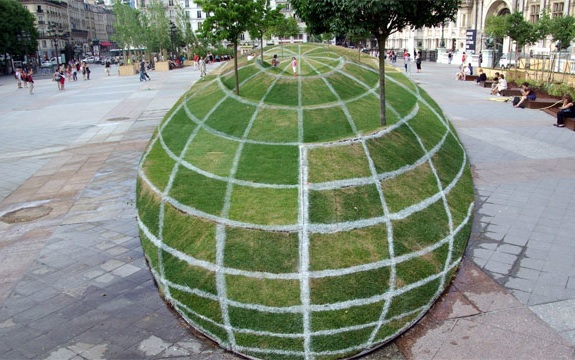 When looking at this patch of lawn head on, it looks like a sphere just sitting in the middle of the plaza at Paris City Hall. But it isn't. Look at it from the side and you realize that it is just heavily designed grass at an angle. This was designed by Francois Abelanet. It covers 1500 square meters and took 90 gardeners five days to put together.
Read More

| Paris Website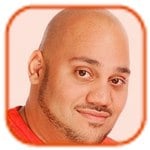 Posted by Andru Edwards Categories: Google, Internet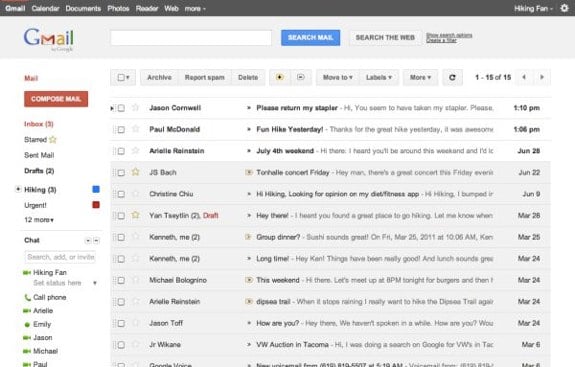 Gmail is set to get a redesign that brings it in line with the the visual UI of Google+. While the final redesign hasn't been pushed out yet, you can still apply it to your current Gmail setup using a theme that Google has made available. Simply log in to Gmail and go into your theme settings and choose either "Preview" or "Preview (Dense)" to apply the new hotness. What do you think of the new layout?
Oh, and it looks like Google Calendar picks up the redesign as well.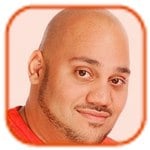 Posted by Andru Edwards Categories: Accessories, Apple, Cell Phones, Design, Rumors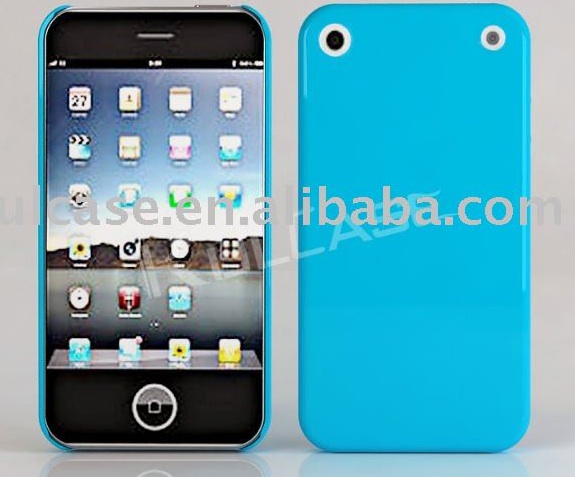 What's purported to be an "iPhone 5" case with an edge-to-edge screen has surfaced at Asian trading site AliBaba.com, Electronista reported Saturday.
The listing on Guangdong, China-based Kulcase's trading site shows the front and back of what it claims to be the "Newest design crystal case for apple iPhone 5g." The unconfirmed case mockup is colored teal—we;'re guessing that odd choice doesn't make Apple's final cut for the iPhone 5—a;nd; has the flash component moved away from the rear camera, which would be a change from earlier versions of the iPhone.
The steady drumbeat of rumors about Apple's plans for the iPhone 5 seem to have fallen off in the past few weeks. But in March and April, speculative stories about delays, a faster processor and the like were flying off the shelves.
One thing that lends some credence to the AliBaba.com sighting is that Apple has already had trouble keeping its case designs for new products under wraps, notes AppleInsider.
Click to continue reading iPhone 5 case design shows edge-to-edge display, moved camera flash
© Gear Live Inc. – User-posted content, unless source is quoted, is licensed under a Creative Commons Public Domain License. Gear Live graphics, logos, designs, page headers, button icons, videos, articles, blogs, forums, scripts and other service names are the trademarks of Gear Live Inc.