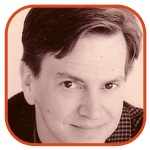 Posted by Tom Mason Categories: Editorials,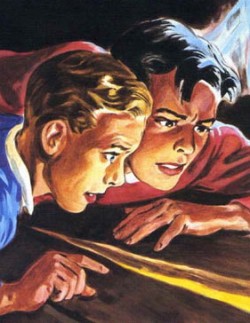 The "Burly Boys" is not quite a description of my pals Gerard Jones and Will Jacobs, the creators of The Trouble With Girls and writers of multiple books and comics, together and separately. But it is the title of one of their new projects. Jones you might know from his stints at DC and Dark Horse, or you might know him as the author of Eisner Award-winning Men of Tomorrow, the critically acclaimed history of the early days of comic books. Together with Jacobs, they've written for The National Lampoon and wrote the books, The Beaver Papers and The Comic Book Heroes.
They're at it again with The Burly Boys, the adventures of Flint and Chip Burly, junior detectives, innocent and naive junior detectives, who find themselves in San Francisco during 1967's famed Summer Of Love, where they're investigating the disappearance of their old school chum Lucy Diamond. Here's a little taste:
Click to continue reading Will Jacobs & Gerard Jones: The Burly Boys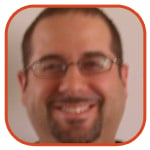 Posted by David Torres Categories: Reviews, Marvel Comics,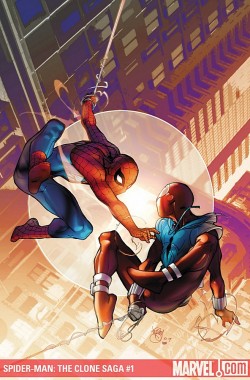 Rating: ***
Finally, Marvel will be returning to the infamous Clone Saga storyline with a mini-series that is set to tell the story of the Clone Saga as it was meant to have been told. As I've mentioned before in previous posts, I was a big fan of the Clone Saga when it first began and have always liked the character of Ben Reilly. So this week, issue one of the revisited Clone Saga storyline hit the stands, and while it did not blow me away, I was entertained. Two of the writers working on Spider-Man back in those days have come on board to tell the tale: Tom Defalco and Howard Mackie.
Before I go into my review for this issue, I must profess my love for the Spider-Girl title in which Defalco worked on. Defalco's Spider-Girl/M2 universe sprang from the stories that were created during the Clone Saga, and he was able to make a grown up Spider-baby May Parker work well along with continuity of those storylines. Marvel completely abandoned the characters for years in the regular 616 universe until the upcoming Who was Ben Reilly? storyline that we'll see next month in Amazing Spider-Man.
Click to continue reading Marvel Comics Review: Spider-Man: The Clone Saga #1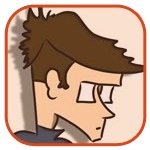 Posted by Kris Madden Categories: Interviews, Movies, DC Comics,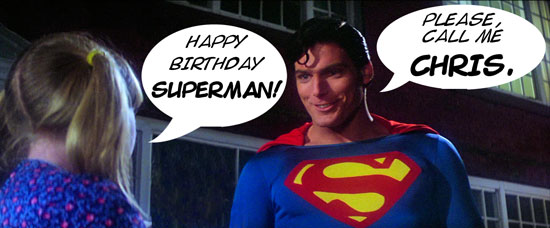 While many actors have donned the classic red cape and blue tights, none have immortalized Superman more than Christopher Reeve. Today, Comix 411 pays tribute to the actor and the legacy he left behind on the day of his birthday. His foundation is "dedicated to curing spinal cord injury by funding innovative research, and improving the quality of life for people living with paralysis through grants, information and advocacy."
Per The Christopher & Dana Reeve Foundation:
On September 25th, Christopher Reeve would have celebrated his 57th birthday. This will be both a solemn occasion and a joyous one, a time for us to remember the friend we lost, and to honor him by redoubling our efforts to carry on the remarkable work he began.
Here are three videos wiith the actor over the course of his life.
Click to continue reading Happy Birthday Christopher Reeve From Comix 411
Read More

| The Christopher & Dana Reeve Foundation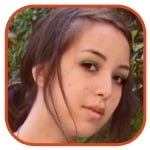 Posted by Robin Paulson Categories: DC Comics,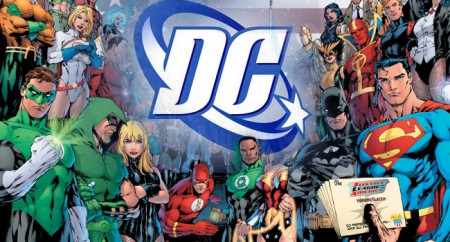 In the wake of the $4 billion purchase of their nemesis, Warner Bros. has decided to restructure its own comic book branch.
"This is the structural iteration of what we have been trying to accomplish for a long time. We think it is important for Warner Bros. to exercise appropriate control over these properties, because they are highly valued assets of our company," said Warner Bros. Chairman Barry Meyer.
Diane Nelson, brand manager of the Harry Potter franchise, will be in charge of restructuring the now-named DC Entertainment unit.
Most DC comics fans are surprised at this new surge of energy for the company. Considering characters like Wonder Woman, the Justice League, and the Flash have been cooped up in who-knows-where, it's amazing to think that Warner Bros. has had DC for forty years.
Click to continue reading Warner Restructures DC
Read More

| LA Times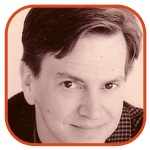 Posted by Tom Mason Categories: Editorials, DC Comics,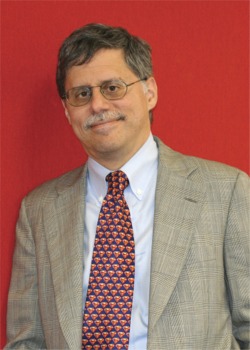 A day in the life of the newly-unemployed comic book president.
9am: Launch new blog: FormerDCPresident.blogspot.com.
9:15am: "Office of Paul Levitz. Paul speaking." "Hi, it's Paul." "This is Paul." Practice answering own phone.
9:30am: Conference call with Jemas, Alessi, Jeanette, Shooter and Rosenberg. Make plans for regular poker game.
9:45am: 3 emails from Mark Millar. Not my problem. Delete-delete-delete.
10:20am: How's this iPhone thing work again?
11am: Drop by DC. Place Carlin in charge of E. Nelson Bridwell's ashes.
11:15am: Talk to Bob Wayne. Get added to comp list.
11:30am: Human Resources…inhuman resources…could be title for new mini-series.
Noon: Lunch with Diane. Try to explain all the different Robins and Batgirls to her. She keeps getting Streaky the Supercat and Comet The Super-Horse mixed up. Should I even mention Beppo?
Click to continue reading PAUL LEVITZ'S DIARY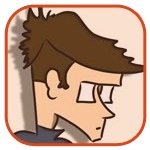 Posted by Kris Madden Categories: Editorials, Reviews, DC Comics,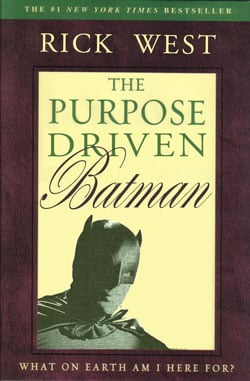 This is just too funny. The novelty book mirrors Rick Warren's Purpose Driven Life forty-day outline for understanding Batman's purpose in life. Rather than trying to say something clever about it, I decided to post chapter excerpts from the book. So, here they are:
Day 1: It All Starts With Batman

It's not about you, it's about Batman.

Or rather it's about thinking you're Batman. When you believe in a symbol, you become greater than what you actually are. As Batman said, "As a man I'm flesh and blood I can be ignored I can be destroyed but as a symbol, as a symbol I can be incorruptible, I can be everlasting." Or to quote Descartes, "I think I'm batman, there I am Batman".

For long years, Bruce Wayne traversed the globe looking for his purpose, coming up empty handed. It wasn't until he believed in something bigger than himself, that his life changed from being driven, to purpose driven…
Day 11: Becoming Batman

You're journey to becoming Batman, begins by arming yourself with knowledge you will need, at a later time, to escape from inescapable situations. As Batman says, "Fore-warned is fore-armed" and "An opportunity well taken is always a weapon of advantage."

Remember that with all the technology available to you, it will not always be able to save you. As the caped crusader once told his sidekick, "I'm afraid we're not going to get much help from the Batcomputer, Robin. It can't go back to prehistoric times." More often than not, Batman relies on his superior education and training to see him through various villainous snafus.

In following Batman's example, learn about the dangers of common every day items; as Batman said, "Bartender, a bit of advice. Always inspect a jukebox carefully. These machines can be deadly." Batman maintains this frame of mind, because "He who knows how to fear, Robin, knows how to proceed with safety.' A translation from the Latin."...
Day 19: Cultivating Useless Knowledge That Will Later Be Useful

As Batman, you must not only be well versed in common knowledge, but also in un-common knowledge. This includes learning ancient culture's uncommon dates and times, such as, "Oda wabba simba", which is, "Six o'clock in our nomenclature. In the 14th dynasty, the hour of the hyena. The time when ancient Egyptian super-criminals invariably struck!"

Memorization of an umbrella gun's mechanical functions and operations can also be handy, when needed to thwart villains. This deeper understanding of unusual weaponry physics, could save your life, as it has saved Batman's many a time. In one instance, he explained his foreknowledge to Robin, saying, "I observed the recoil of that umbrella gun. Obviously, its angular momentum was inadequate for the mass of a real bullet." ...
Day 28: Understanding Batman

Batman lives his life by a moral code of uprightness and persistent pursuit of truth and justice in all of his acts. He put it best, when he says, "In the end, veracity and rectitude always triumph." He places emphasis on being early, rather than late, saying, "Better three hours too soon than a minute too late." Always remembering there was "No time to tarry, lest we forget, lives are at stake."

In this way, Batman lives his life consistently ahead of the curve, prepared for whatever life may throw at him. In understanding how Batman prepares for life, we understand how he lives life. Let us not forget, "He who hath life hath time. A proverb worth remembering."...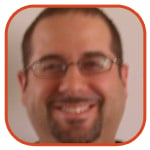 Posted by David Torres Categories: Reviews, DC Comics,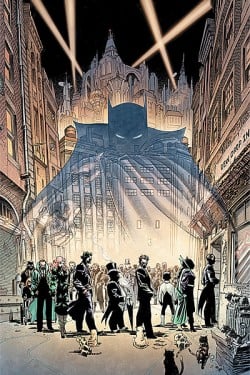 This month's issue of "Batman" is a big one. It's part one of the two-part storyline, "Whatever Happened to Caped Crusader" which is written by Neil Gaiman and illustrated by Andy Kubert. This story is an homage to classic Alan Moore Superman story "Whatever Happend to the Man of Tomrrow?" Does Gaiman live up to the story? In my opinion no, but it's still a pretty good story with fantastic artwork by Andy Kubert. DC has really dropped the ball in regards to the Kubert brothers. Both of them have not had long runs on books and have been regulated to short stints or covers. I hope this changes in 2009.
As for this story, it's kind of like the stories that Grant Morrison has been telling over the past few months with "RIP" where it's not your normal run of the mill Batman story and everything feels abstract or like a dream. The only difference here is I didn't like what Grant Morrison was doing with his Batman stories, but I do like what Gaiman is doing here in the beginning of this story.
Click to continue reading DC Comic Review: Batman #686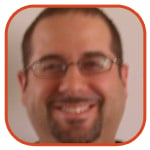 Posted by David Torres Categories: Reviews, DC Comics,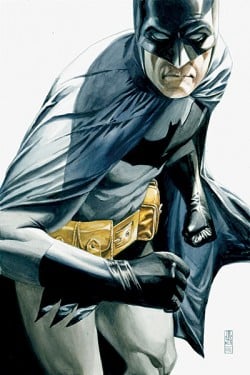 "Final Crisis" is garbage. There I said it Grant Morrison fans. I can't believe there are people who defend this man and say his work on "Batman" and "Final Crisis" has been great - they're not. But that's not why we're here. We're here for a review of the 6th issue of the "Final Crisis" mini-series which features the final fate of Batman.
For those of you who haven't read it yet, do not read any further. I can't review this issue without revealing that piece of information.
Click to continue reading DC Comics Review: Final Crisis #6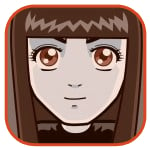 Posted by Sheila Franklin Categories: Cell Phones, GPS, Misc. Tech, Portable Audio / Video, USB,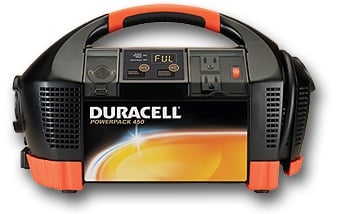 Next time you experience a black out, wouldn't it be a fine thing to have someone to comfort you during the experience? The Duracell Powerpack 450 with Voice acts a a portable power source for laptops, cellies, GPS devices, small appliances and other electronics as well as a night light. The stand-alone works for AC, DC and USB powered devices. Best of all, the quiet powerpack talks you through jump starting your car or using its air compressor. Find it for ~$129.00, depending on the retailer.
Read More

| Duracell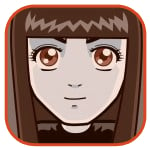 Posted by Sheila Franklin Categories: Internet, Misc. Tech,

For those of you who just can't wait for another gadget to shift time, Sling Media's Slingbox Tuner allows you to control and watch basic cable, including on-demand and and pay-per-view, on your PC or mobile device anywhere you can access the Internet. The Slingbox is also available in an AV model for your digital cable, satellite, or DVR system. Go for the Pro Slingbox and hook up with your entire HD home entertainment system (up to 4 devices), although you will lose your high-definition once you hit the Net. The Slingbox Tuner and AV models are available online and in retail stores at an MSRP of $189, while the Pro (pictured) goes for $250.
Read More

| Sling Media Press Release

© Gear Live Inc. – User-posted content, unless source is quoted, is licensed under a Creative Commons Public Domain License. Gear Live graphics, logos, designs, page headers, button icons, videos, articles, blogs, forums, scripts and other service names are the trademarks of Gear Live Inc.