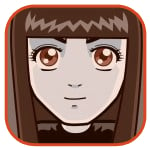 Posted by Sheila Franklin Categories: PC / Laptop, Transportation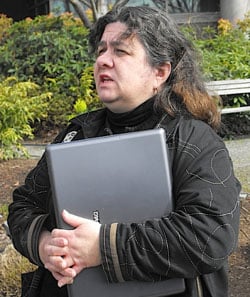 Next time you get in your car, remember to leave your laptop in the trunk or under a seat belt. Canadian Heather Storey was involved in a fatal collision with a tow truck while in her Volkswagen. Forensic experts believe that she might have survived the crash if her laptop, which was in the back seat and flew at her, hadn't hit her in the back of the head. Heather had previously used the device to let her mom, (pictured here with the offending item,) know that she was leaving on a business trip.
Read More

| Surrey Leader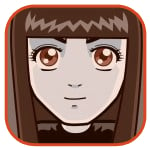 Posted by Sheila Franklin Categories: Corporate News, Transportation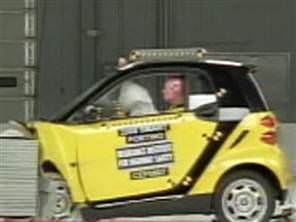 We were happy to find out that the new Smart Car did well during its recent crash tests. The 8 foot car received the highest rating in both front-end and side impact testing. It received the second highest rating for rear crashes. Adrian Lund, president of the IIHS that conducted the test, said that a small car may be safer in congested urban areas, where crashes occur less often.
"All things being equal in safety, bigger and heavier is always better. But among the smallest cars, the engineers of the Smart did their homework and designed a high level of safety into a very small package," Lund said. Looking at the results, it's even a smaller package now.
Read More

| CNN


Posted by Paul Hamilton Categories: Action, Driving, Electronic Arts, PlayStation 3, Xbox 360
Tom Bramwell has a preview for the upcoming Burnout Paradise that is surprisingly thoughtful and critically considered as far as previews go. He discusses the challenges faced by Criterion Games in re-inventing a popular series practically from the ground up and asks some pertinent questions where they ought to be asked. For example, when the topic of the Crash mode comes up and Criterion mentions that they have scrapped the original concept of the popular mode, Bramwell presses the point, getting Criterion rep Matt Webster to confess they don't yet know exactly how it will all work out:
Asked whether they're opting for a Burnout 3 approach of trying to manoeuvre the car in slow motion between power-ups and Crashbreakers, or a Burnout Revenge "golf swing" of perfect start and target cars, Webster admits it's not all there yet. "We're still throwing ideas around. I think we'll be talking about it more in the coming weeks."
The preview isn't about sticking it to the Burnout devs, though, it reads more like a fan of the series seeing drastic changes and slowly coming to the realization that if executed properly, these could make for a remarkable game. Among the more exciting aspects of Criterion's open-world approach to Burnout is the focus on seamless online play that works the way most gamers prefer, by putting the folks in your Friends list first.
Burnout Paradise is scheduled to hit shelves early next year for Xbox 360 and PS3.
Read More

| Eurogamer


Posted by Chris Pereira Categories: Bungie, First Person Shooters, Xbox 360, Xbox Live
This week will showcase the first substantial change to Halo 3's matchmaking playlist. Team Training is going bye-bye in order to be replaced by Big Team Training – 6v6 games of the objective and slayer variety on High Ground and Valhalla. Luke Smith also stated on Bungie.net, "… we've made some slight tweaks to the Team Skirmish playlist that should add greater variety in the opponents you'll face." If only that meant no slayer games in the skirmish playlist. Slayer is not an objective game! Go play Team Slayer if that's what tickles your fancy.
In unrelated news, later today (May 23), some sort of proverbial flip will be temporarily switched between the hours of 10 a.m. and 1 p.m. PST. It supposedly should have no impact, but Frankie warns of what may potentially happen:
Should your game encounter a rare crash, your Xbox 360 will give you an alert screen, explaining that it's uploading data to Bungie servers. We actually need this data, and we need your cooperation too. Although you probably won't see that screen, if you do, let it finish uploading the data. It may take some time – upwards of 10-20 seconds and perhaps longer. So we beg your patience. When the process has completed correctly this is the message you'll see, "File upload complete. Visit http://www.bungie.net/forums/halo3beta for more information (safe to reboot)."
Read More

| Bungie.net

Posted by Yuan Zhao Categories: Apple, PC / Laptop

Big companies do listen to complaints after all. Due to the comments of numerous MacBook users began suffering from sudden and inexplicable shutdowns, Apple has created a page to address the issue on the website. "If your MacBook is shutting down intermittently, please contact AppleCare for service." While not particularly helpful, this means that Apple is addressing the issue and will hopefully have a solution (or at the least, an explanation) soon.
TUAW has been carefully documenting reports of this problem and has put together an explanation for the system crashes, linked below.
Posted by Christopher Sasaki Categories: MMORPG, PC, PlayStation 2, Xbox 360
According to a report on PSO-World, Sega's launch of their latest in the Phantasy Star series, Phantasy Star Universe has been rescheduled for October. The game went on sale this past weekend, but server problems have forced Sega to pull the Japanese game servers offline as of September 3. Sega has issued an apology letter to gamers, and stated that 30-day free trials will be reset when the game re-launches. In PSO-World's translation of the letter, Sega will re-open the Network Mode Service on September 6. During September, Sega will be trying to troubleshoot and fix any issues with the online service. On October 1, Sega plans to have the service fully back online, and all free trials will start counting down on that date. Hopefully, Sega can work through their problems quickly; the game is scheduled to ship in the US on October 24, 2006 for the PC, Xbox 360, and Playstation 2.
Read More

| PSO-World

© Gear Live Inc. – User-posted content, unless source is quoted, is licensed under a Creative Commons Public Domain License. Gear Live graphics, logos, designs, page headers, button icons, videos, articles, blogs, forums, scripts and other service names are the trademarks of Gear Live Inc.