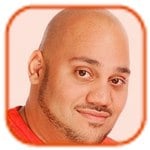 Posted by Andru Edwards Categories: HDTV, Home Entertainment,
Comcast is set to show off the next evolution of their Xfinity TV offerings, which they are calling Xfinity Spectrum, tomorrow at NCTA 2011. We've gotta say, Comcast has been long overdue for a revamp, and it's nice to see that the company is looking to step things up in a major way. As you see in the video, things are much more integrated and easier to navigate. You're even able to share things about your viewing habits with Facebook, and of course this is likely the way that Comcast will bring Skype to your television. No word yet on how long it'll take to roll these boxes out, or when it will start, but let's just keep our fingers crossed on that one. Hit the video above for a look at the new hotness.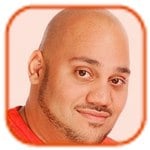 Posted by Andru Edwards Categories: Home Entertainment, Internet,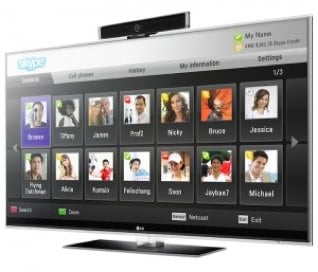 Today, Comcast and Skype announced a partnership that will let Comcast customers make and accept wide-screen, high-definition video calls (as well as communicate via instant messages) through their television sets.
Skype on Comcast will let users identify incoming Skype calls via caller ID, accept incoming calls while watching TV, and import friends and colleagues' contacts from Facebook, Outlook, Gmail, and smartphone address books.
The Skype service will be delivered to Comcast customers via a combination of an adapter box, video camera, and a special remote that will let them input text as well as control their televisions. The other party does not need any special equipment beyond what is normally needed to use Skype.
Click to continue reading Comcast to bring Skype video calls to Xfinity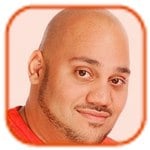 Posted by Andru Edwards Categories: Corporate News, Home Entertainment,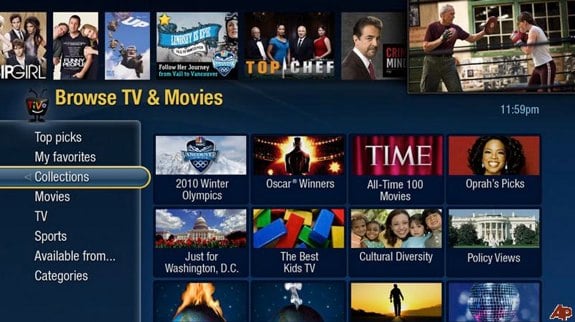 If you're a TiVo Premiere owners with Comcast Xfinity service, you've got one more reason to be excited, as the companies have announced that they're bringing Xfinity On Demand programming directly into the TiVo Premiere interface. One of the main gripes many have with TiVo is that, if you want to enjoy On Demand and Pay-Per-View content, you still need a cable box from your provider, since the TiVo can't access that stuff. This agreement changes that a bit. Soon, if you are one of the many Xfinity customers out there, you'll be able to browse the On Demand content right on your TiVo. They don't make mention of PPV specifically, but even if that isn't a part of this, you can always order those by phone as well. Given those two facts, this will make it possible for a TiVo Premiere box to serve as your only cable box, which can knock off as much as $20 per month from your cable bill, depending on your location.
Of course, since both TiVo and Comcast and two of the slowest moving companies in existence, this is going to be a slow, gradual rollout. They are going to start with the largest markets, with the first expected to be the San Francisco Bay Area, with additional markets to follow. No timeline or anything has been given.
Any Xfinity customers excited about this?
Read More

| TiVo Blog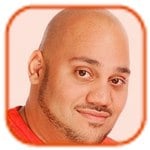 Posted by Andru Edwards Categories: HDTV, Home Entertainment,

Comcast has launched its long-awaited (by some) 24-hour 3D channel, Xfinity 3D. This adds to Comcast's other 3D offerings like ESPN 3D, the 3D events channel, and the 3D on demand movies. The channel launched with broadcasts of a Kings of Leon concert and the NHL Heritage Classic 2011 hockey game.
You can expect 3D nature documentaries, animated features, concerts, sporting events, and performances, although the schedule doesn't look to include too many hit movies or concerts at the moment. That said, this could be similar to years ago when a few HD channels were first lit up with nature shows and soccer games, giving HDTV owners something to watch. What do you think? Will dedicated 3D channels spur sales of 3D television sets?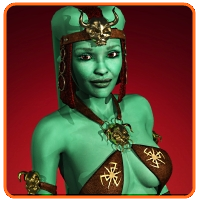 Posted by Patrick Lambert Categories: Broadband, Home Entertainment, Internet,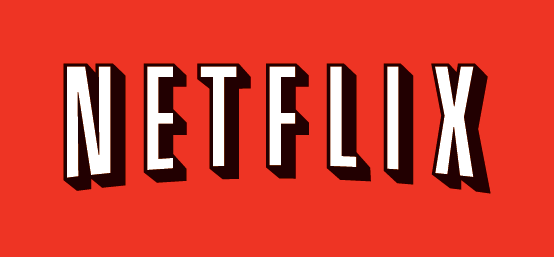 Netflix published a very interesting set of charts showing the performance of various networks in Canada and the US. Taking only HD content, they rate each network based on how much throughput they can achieve, or how much bandwidth they can provide to their customers over the length of a streamed movie. While the Canadian Internet providers are very close to each other, there are major differences for the US. If you're streaming video or high demand data online regularily, Netflix or otherwise, this may give you a good indication on which carrier fares better. Hit the break for a look at the numbers.
Click to continue reading Netflix rates broadband providers in US and Canada by bandwidth performance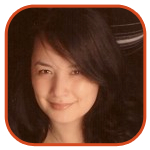 Posted by Veronica Santiago Categories: Drama, Prime Time, Reality, Sci-Fi/Horror, Sports, ABC, Cable, HBO, MTV, The Hills, Gossip,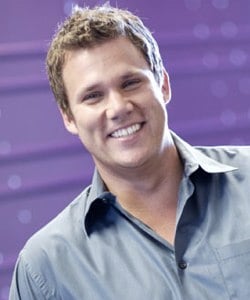 -Who says nice guys finish last? It was revealed in a recent Bachelor special that Bob Guiney got the most play during his run on the show. "I think he was 5 1/2 women," executive producer Mike Fleiss claimed.
-Ted Koppel wasn't interested in hosting This Week, but how about Christiane Amanpour? According to a report, the CNN reporter is currently weighing an offer made by ABC.
-Comcast is going all out for Tiger Woods' long-awaited return to golf. For the first time, the Masters will be offered in 3D on a designated channel and online.
-It's now time to put Season 2 of True Blood in your Netflix queue. HBO has just announced the hit series will return for Season 3 on June 13.
-Couldn't they just ban him for life? An insider claims Spencer Pratt has been banned from The Hills' set for six weeks after threatening a producer. He'll reportedly undergo anger management training.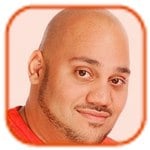 Posted by Andru Edwards Categories: Broadband, Corporate News,

In a puzzling move, Comcast announced today that they are going to be rebranding their broadband services under a new moniker: Xfinity. Seriously. Starting next week, Xfinity TV, Xfinity Internet, and Xfinity Voice will be rolled out to current Comcast customers in 11 markets, those being: Boston, Philly, Baltimore, DC, Chicago, Portland, Seattle, Hartford, Augusta, and Chatanooga, along with parts of the Bay area. Don't expect any changes in the actual services you receive, this is just a name change, similar to when CableVision rebranded their services under the Optimum banner.
Expect a marketing blitz in the markets named above to start next Friday, including TV ads during the Olympics, print, and radio spots.
Read More

| Comcast Voices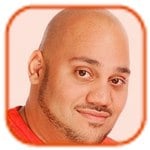 Posted by Andru Edwards Categories: Gizmatic, Short Bytes, Features, HDTV, Home Entertainment, Internet, Podcasts, Videocasts, Videos,
We've been fans of the Verizon FiOS Internet service for about two-and-a-half years now, and as soon as FiOS TV was available for Gear Live HQ, we were first in our area to subscribe to that service as well. Aside from the uncompressed signal that they send through, the service has some features that make it truly unique, like the integration of Facebook and Twitter right on the DVR. I had some of my friends over to show off FiOS TV, and we had the cameras going to capture it all. Hit play for a look at what went down. If you're curious about Verizon FiOS, be sure to hit up the Facts on FiOS site for details.
A big thank you to Verizon for helping make the party happen!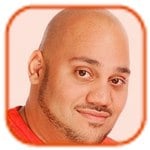 Posted by Andru Edwards Categories: Broadband, Corporate News, Internet,
If you're in Reno and you use AT&T as your broadband Internet provider, you're now unfortunately the latest victim of this whole capped bandwidth nonsense that seems to be taking hold across the US. It started when Comcast implemented a 250GB per month cap on October 1. Now word has hit that metered billing of between 20-150GB per month is going to be tested in Reno on AT&T's DSL network. If you are a new customer who'll be apart of the trial, depending on the speed tier you choose, you'll get a cap somewhere between 20 and 150 gigabytes per month. If you're an existing customer, you'll be chosen to be a part of the trial if your monthly bandwidth happens to exceed 150GB in a month.
The trend is something we are vehemently against, so I figured I'd ask one of the Verizon PR reps that I know on Twitter, Kevin Laverty, if we should expect a similar announcement from Verizon, after another Verizon rep said no. His answer:
That's an affirmative - Verizon has no plans to cap bandwidth on either its FiOS or High Speed Internet/DSL services.
It doesn't get much clearer than that. It'll be a nice bullet-point for Verizon if they can say that FiOS is not only faster, but also is completely uncapped as far as usage goes.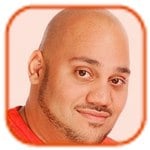 Posted by Andru Edwards Categories: Broadband, Features, Home Entertainment, Household,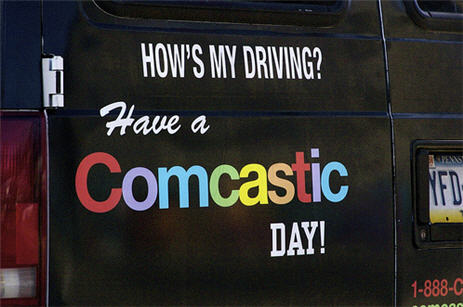 Update: Within two hours, I got a call from a Comcast representative who stated that, since the payments were made by credit card automatically, there is no reason they can't credit it back to that credit card. She went on to tell me that they'd process the refund tomorrow. Very cool. However, I wonder what the response would have been if we hadn't been paying by credit card, and instead used ACH transfer from a bank account. In any event, the Comcast folks on Twitter really are listening, and really are aiming to put out fires. Good stuff.
This morning I opened mail from Comcast, which, to my surprise, showed that I was two months late on paying up. I thought that was odd, since I kicked Comcast to the curb for Verizon FiOS two months ago. I called and got it taken care of, to find that I was owed $72 and that it would arrive in 6-8 weeks. Kind of annoying, but no big deal. Then they called me back, to tell me that I had another active account that has been auto-debiting from one of my accounts. That one was to have been cancelled back in May. Once that was straightened out, the damage was that Comcast owes me a cool $772. I asked when I'd receive it, and they said 6-8 weeks. I thought that was fairly crappy, being that when I cancelled the services, I also revoked Comcast's right to take any money from my private accounts. I threw up a gripe on Twitter, and a few minutes later, Comcast's Twitter customer service went into full effect. Gotta give them props for that. They asked me to email them the details, so they could look into it. You can read the email I sent them, after the break. Feel free to chime in with your thoughts. We will update with any progress made on this, let's see how customer service on these Web 2.0 Internets works. [Photo Credit]
Click to continue reading Comcast overcharges me by $772 on two cancelled accounts, offers support via Twitter - UPDATED
© Gear Live Inc. – User-posted content, unless source is quoted, is licensed under a Creative Commons Public Domain License. Gear Live graphics, logos, designs, page headers, button icons, videos, articles, blogs, forums, scripts and other service names are the trademarks of Gear Live Inc.