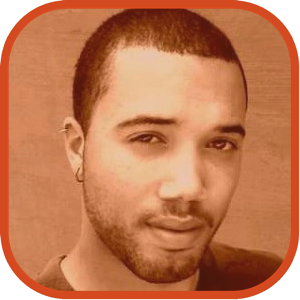 Posted by John Kilhefner Categories: Wearables, Misc. Tech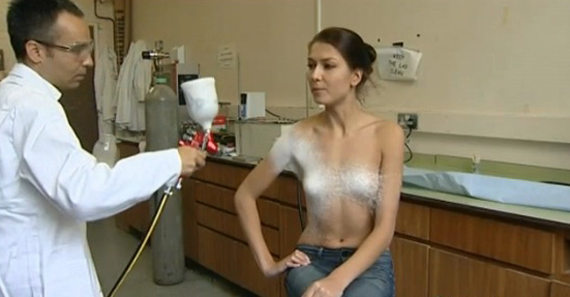 Scientists at the Imperial College London have devised a way for you to give your clothes that authentic skin tight look that seems to be all the rage these days, with a product called Fabrican. With a simple spray can that looks like any old aerosol can, you will be able to spray a shirt directly onto your body. The amazing aspect of it all is the fact that the material is actually a cotton/polyester/plastic blend that dries up and can be removed from the skin in a non messy fashion. You can even wash it after you take it off and wear it again. We've got video of Fabrican in action after the jump.
Click to continue reading Fabrican Spray-on clothing
Read More

| Fabrican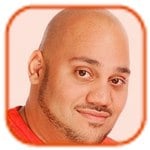 Posted by Andru Edwards Categories: Announcements, Design, Features, Internet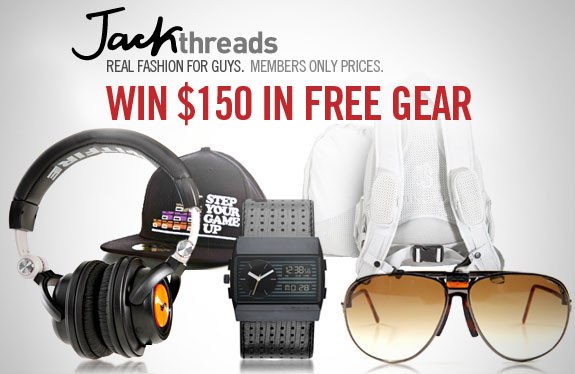 Have you heard of JackThreads? In case you haven't, they're a super cool clothing site offering discounts of at least 50% off some of the hottest brands in streetwear, surf, skate, and contemporary fashion. All sales are super limited, normally lasting just a couple days, and you've gotta have an invite to even join the site to get access to the goods. We've teamed up with JackThreads to bring invites to all our readers, and even better, you'll get $5 in credit added to your account that you can spend right away if you so desire. That was cool and all, but then we thought we could take this a step further, and now we've got a full on contest going on. We are going to give away $150 in JackThreads credit to one of you entrants. Here's how it's going down:
Here's how to enter:
That's it! Remember, you've gotta be a JackThreads member, and you've gotta be following the Gear Live Twitter account so that we can send you a DM if you're the winner. This one is only open to residents of the US and Canada. We will be announcing a winner on September 24, so you've got til Friday to qualify.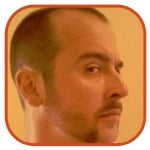 Posted by Finnian Durkan Categories: Wearables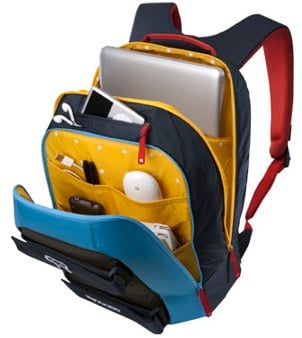 Paul Rodriguez has accomplished a lot in his skateboarding career. He was the 2002 Trans World Skating Rookie of the Year, won an X-Games Gold medal in Street Skating in 2005 and also became the first pro-skater to be sponsored by Nike. Combine all of these things with the fact that his father is famous comedian Paul Rodriguez, Sr. and it is not surprising that P-Rod is branching out to areas beyond grinding rails and landing kick-flips. Enter Incase and the Paul Rodriguez Signature Collection. Started in 2008, the current line features a new version of his signature skate pack that can accommodate up to a 17" MacBook Pro. Featuring a reinforced notebook compartment, a dedicated iPod pocket with headphone port, a concealed back panel zippered pocket to secure important documents and heavy-duty, water-resistant YKK zipper pulls with closed-seam construction the P-Rod Skate Pack ensures that whatever you put inside it will be protected from most anything that you or any inevitable multiple-crashes can throw at it.
Read More

| Incase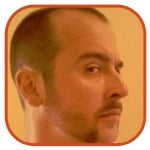 Posted by Finnian Durkan Categories: Wearables, Music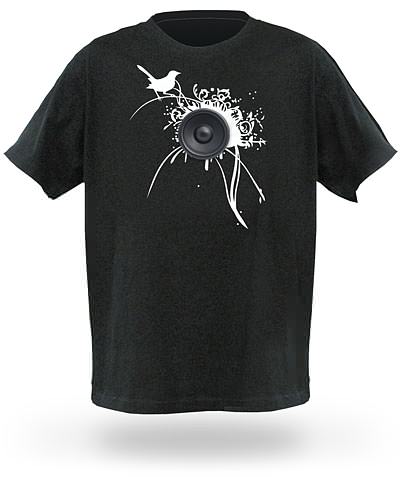 I know, the title is a little mundane; it was either that or 'how to torture others with your terrible taste in music' but that wasn't very product-descriptive. Not only can you use this shirt, complete with embedded speaker and pocket-remote, as an attempt to turn yourself into Jack Spade from 'I'm Gonna Get You, Sucka!' but you can also use their pre-loaded sound-effects to pepper your work-day with fart noises and boing-boings. It's all your choice. Only $30 and 4AAA batteries and you're off to the very annoying races.
Read More

| Personal Soundtrack Shirt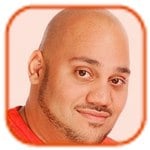 Posted by Andru Edwards Categories: Apple, Wearables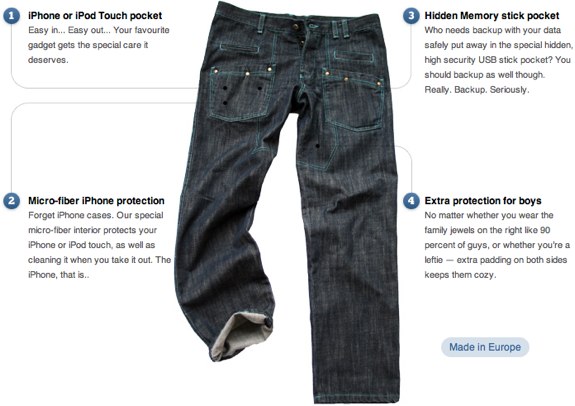 If you're looking for something with a SCOTTEVEST flair, but made with denim, take notice of what WTFJean has going on. They make jeans with specially-fitted pockets, lined with microfiber, meant to house your iPhone or iPod touch. In addition, they even have pockets meant to hold on to USB sticks, which we guess the pockets on your regular jeans are no good for? Oh, also, while they're available in both male and female versions, if you're a dide, it goes you some frontal padding for protection. Huh.
Anyhow, these will be on sale on May 2nd for $80.
Read More

| WTFJeans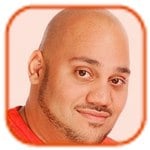 Posted by Andru Edwards Categories: Wearables, Videos
Please, someone explain to me why you'd need a Necky, because I am just not seeing it. What is wrong with the regular clothes that we already have, and have used for generations? Why do you need a chestplate that is fashioned out of cheap cloth to stay warm in the winter? Huh?? Answer me!! It's a scarf, not a freaking bow tie. Learn how to wear one, Necky enthusiasts!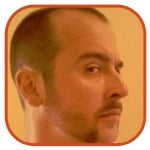 Posted by Finnian Durkan Categories: Accessories, Wearables, Design, Misc. Tech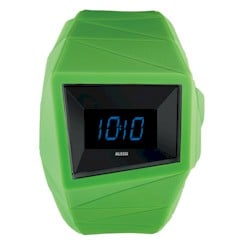 Will Alsop has been designing buildings and public spaces in chic European locales for decades - Hamburg, Marseilles and London to name a few. Recently he has begun lending his designing eye to Alessi, an Italian design firm responsible for a wide range of products too high-end and/or cerebral for me to understand much less afford.
One thing that I do understand, though, is my need for ironic/retro kitsch - and nothing says retro kitsch quite like a neon green polygonal watch. If you are looking for something cool and ergonomic that reminds you a bit of the 80's yet don't want to wave your nerd-flag too high with calculator watch then this is the timepiece for you. At $118.48 (83 Euro) it is a small price to pay for a modernized piece of your childhood… if you were a child in the 80's. Wow, having to preface that makes me feel old. Now where is my Prince - Purple Rain concert t-shirt?
Read More

| Unequalled Magazine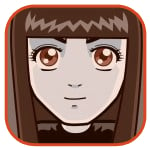 Posted by Sheila Franklin Categories: Wearables, Science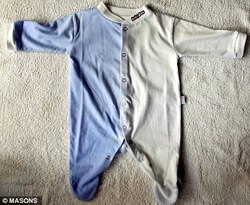 Any first time parent knows the panic when their newborn appears to have a fever and drives their physician crazy with constant calling, only to be told a simple solution or to calm down. Chris Eberjer came up with Babyglow, clothing that changes color when the baby's temperature is rising. Available in blue, pink and pastel green, the garment turns white when the temp is over 98.6º. They will become available in October for £20 (~$35.00) per pack. Until then, if your baby's face looks redder than normal, that might be an indication that something is wrong.
Read More

| Babyglow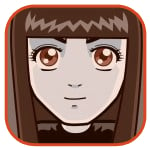 Posted by Sheila Franklin Categories: Wearables, Internet, Misc. Tech, Movies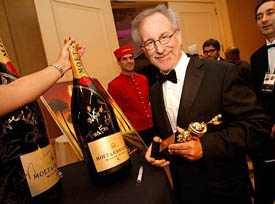 Fans of Steven Spielberg, Ludacris, Bradgelina, Mickey Rourke and Tina Fey can own a piece of their idols with the Stars for a Cause Auction May 28 in LA. Jewelry, clothing and posters are all up for bid from Golden Globe winners as well as bottles of champagne signed, appropriately enough, by the likes of Paul Giamatti and others. Sign up online if you would like to be part of the event and you could be the owner of William Shatner's designer shoes, although he did withdraw his "celestial" cufflinks.
Read More

| Stars for A Cause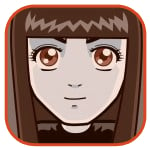 Posted by Sheila Franklin Categories: Wearables, Movies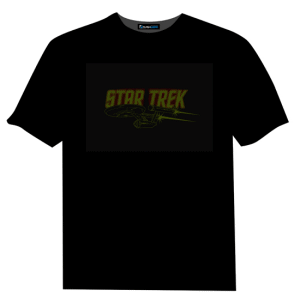 It didn't take long for makers of flashing t-shirts to come up with one for the new Star Trek movie. Although you cannot beam up with it, it should probably scare any Klingons or fashionistas away. The battery pack is in the cotton shirt's lining, is removable for washing and needs 4 AAA batteries (not included.) Choose from medium, large or extra large and live long and prosper in the officially licensed shirt that will cost you 29.95 GBP (~$46.00.)
Read More

| Gadgets

© Gear Live Inc. – User-posted content, unless source is quoted, is licensed under a Creative Commons Public Domain License. Gear Live graphics, logos, designs, page headers, button icons, videos, articles, blogs, forums, scripts and other service names are the trademarks of Gear Live Inc.