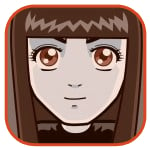 Posted by Sheila Franklin Categories: Home Entertainment, Misc. Tech, Videos,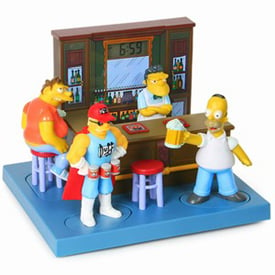 Wake up with Moe, Barney, Homer and Duffman. This new Simpsons digital alarm clock, at a size of 128 x 175 x 148mm, has the four drinking buddies saying 3 phrases each to get you up in the morning. You can rearrange them to select which figure will wake you in your hungover state. If you can't make it, push the bar stool for an extra snooze. Battery operated, Moe's Tavern clock is available for £29.35 (~$43.35.)
Read More

| Drinkstuff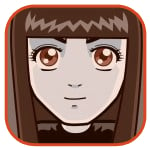 Posted by Sheila Franklin Categories: Home Entertainment, Misc. Tech,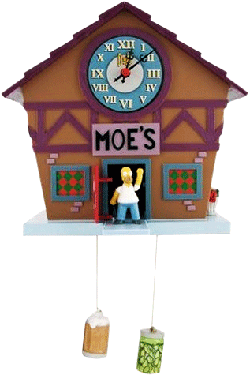 Another Simpsons gadget has hit the market. The Homer Talking Cuckoo Clock is about 21.5 x 23cm and runs on 4 AA batteries (not included.) When the hour strikes, Homey leaves Moe's Tavern just long enough to shout "Woo Hoo" however many hours it is. Fortunately, the timepiece is light sensitive so you don't have to listen to him at night. This gives him enough time for a couple more Duffs before the next morning. The clock is available for $49.31.
Read More

| Lazy Bone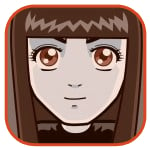 Posted by Sheila Franklin Categories: Misc. Tech, Science,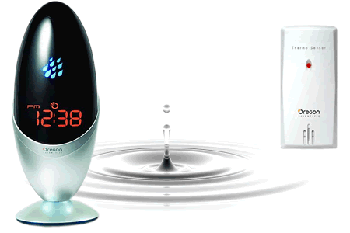 Want to know what the weather will be like when you get up in the morning without listening to a real human? The Oregon Weather Light Clock has 3 illuminated icons to give you a reading of sunny, cloudy, and rainy. Wave your hand and you get both Atomic time and in and outdoor temperatures. Set it on auto-toggle display and it will do just that. With LED backlighting, the rocket clock can be set for 12 or 24 hour time with either Celsius or Fahrenheit measurement. It comes with outdoor sensor and is available for £49.99 (~$100.00.)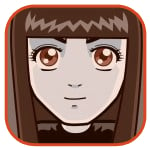 Posted by Sheila Franklin Categories: Misc. Tech, Science, Videos,
We have seen some fairly strange timepieces in our time but this one has really lived up to the description. The Corpus Clock took a team of 8 about 5 years to create and was recently unveiled by Stephen Hawking on the Corpus Christi College campus. Inventor John Taylor said he wanted to "make timekeeping interesting." The clock's face is 4 ft. wide and gold plated. The grasshopper (aka Chronophage, which means time eater) atop it munches a minute every 60 seconds. Run by an electric motor, it will supposedly run for 25 years.
Read More

| BBC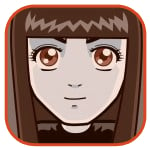 Posted by Sheila Franklin Categories: Home Entertainment, Household, Misc. Tech,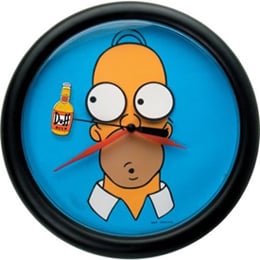 Watch Homer watch the Duff with the Simpson's Wall Clock. Officially licensed, the clock is about 9.5-inches in diameter and needs 1 AA battery to run (not included.) While we find the timepiece moderately amusing, we would have preferred that instead of simply rolling his eyes, he drooled a bit and, when the minute hand reached 12, moaned "Beer.." With a 1 year warranty, the Homer Clock is available at your local Quicky Mart or online for £12.95 (~$25.25.)
Read More

| otherland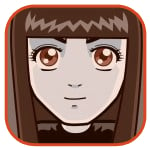 Posted by Sheila Franklin Categories: Household, Misc. Tech,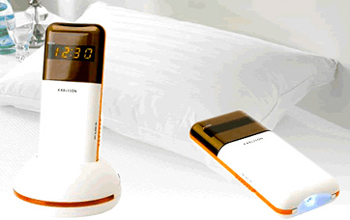 Can't stand noisy alarms? The Vibrating Alarm Clock goes under your pillow or blanket and it will shake you into submission. It also works by audible mode and has a built-in light so that you can shut it off in the dark. Karlson's timepiece can be set with the sliding cover so that you won't roll over and accidentally set it off. It also features a snooze mode and comes with its charging base and adapter at a $49.31 price. Those fearful of earthquakes should probably pass on this one.
Read More

| Lazybone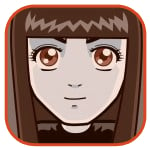 Posted by Sheila Franklin Categories: Household, Misc. Tech, Science,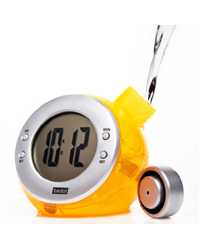 Life doesn't get much simpler than this. The eco-friendly Water-Powered Clock from Bedol works when electrodes harvest energy from the water. You simply pour salted water into it to get it to run. At a size of 4 x 3 1/2, this timepiece is a step up from a solar-powered one. At the price of $16.00, you get your choice between orange, green, charcoal, or blue. Just remember to carry a receptacle next time you hit the ocean so that you can tell your buds you are saving the planet.
Read More

| Bedol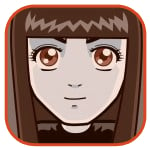 Posted by Sheila Franklin Categories: Design, Misc. Tech,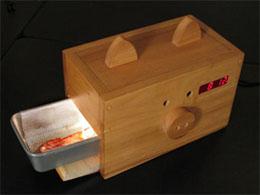 This clock is just a bit to far fetched for those of us that don't do breakfast. Place a frozen piece of bacon in the slot of Wake n' Bacon before you hit the sack, and the clock goes off 10 minutes before you want to get up. When the alarm hits, the clock sends a signal to a small speaker that reroutes it to a relay, then to two halogen lamps. The result is that you awaken to the smell of cooked pig. Designer Matty Sallin is thinking of adding calendar aware to his prototype so it will not go off on weekends and holidays. We think he should add a self-cleaning feature and perhaps something that would ensure we don't get food poisoning.
Read More

| Matty Sallin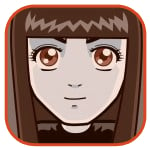 Posted by Sheila Franklin Categories: Household, Misc. Tech, Toys,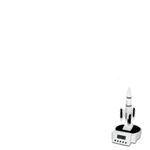 The Rocket Launcher Alarm Clock will please any fan of rocketry or those who can't face early mornings. Set the time and alarm on the LCD display and, at the designated time, the countdown begins. If you don't turn off the alarm, the soft-headed rocket goes off. It will keep going until you get up and grab the flying bugger. The clock displays time in a 24 hour format, has a plastic base, and needs 4 AA batteries (not included) and an included LR44 battery. Get ready for early a.m. lift-off for $29.95.
Read More

| Latest Buy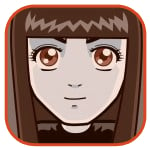 Posted by Sheila Franklin Categories: Accessories, USB, Misc. Tech,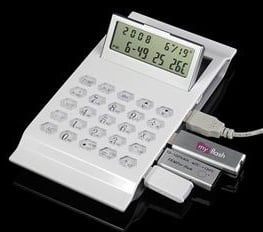 Here's another double-duty hub. The 2.0 USB 3-Port Hub comes with a calculator. It also has a built-in thermometer, a 12/24 hour World Clock, a calendar, an alarm, timer, and time announce. The device supports Windows 2000/XP/Vista and, at a size of 180 x 99 x 22mm and a weight of 149g, the hub comes with its own cable at a price of $19.00. Now that we think about it, it is more like quadruple-duty.
Read More

| brando

© Gear Live Inc. – User-posted content, unless source is quoted, is licensed under a Creative Commons Public Domain License. Gear Live graphics, logos, designs, page headers, button icons, videos, articles, blogs, forums, scripts and other service names are the trademarks of Gear Live Inc.