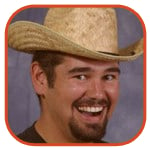 Posted by Patrick Phelps Categories: Misc. Tech, Music, Videos
What do you get when you combine a bunch of bored creative-types, a large warehouse and 49 microwave ovens? A Christmas song, hello!
Actually, we're not so sure they were bored - the people over at ideas agency AKQA put an enormous amount of planning into producing this little holiday greeting and here's some of the attention it deserves. Watch the video above and marvel.
Read More

| GIZMODO


Posted by Dennis Velasco Categories: Editorial, Features, Family, Kids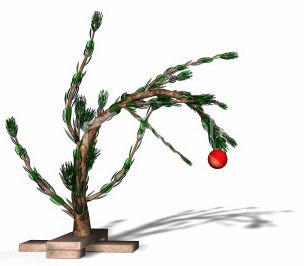 Growing up the way I did - barely getting by, fully understanding what hard times meant, and dealing with some messed up family stuff - we never really made Christmas a big deal. At least, it never really was to me. For example, one year we couldn't afford a Christmas tree (but when we did, we kept that thing for like a decade), my mom made us get some fallen twigs outside our apartment and she delicately wrapped them up in tin foil. We put it in a green vase and I think my sister actually tried decorating it by coloring the tin foil red and green. Ah, youth. Well, I couldn't totally blame her for her attempts to make something bad into something good, afterall, she had a perm and actually thought it looked cool. But, heck, it was the mid-80s, so the poor choice made by my nine-year-old sibling could be forgiven in retrospect.
In all honesty, the last Christmas I remembered before this particular one I'm about to tell you about when I was eleven, was when I was five. I got a whole bunch of Micronauts and this huge plastic Spider-Man doll that had a grappling hook, which was supposedly a web that he could "climb." Mind you, I don't blame my parents for any of this lack of remembering several years in between as they always did their best, God bless their hearts, and I'm glad my sister was always in the Christmas spirit, but I knew what was up. Okay sure, I was a Holden Caufield without knowing I was at the time, but whatever. I dealt with it. You couldn't fool me, I tell ya.
But, this particular Christmas, I got fooled.
Click to continue reading Holiday Gift Guide Flashback: True Christmas Spirit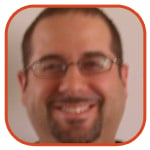 Posted by David Torres Categories: Editorial, Features, Toys, Kids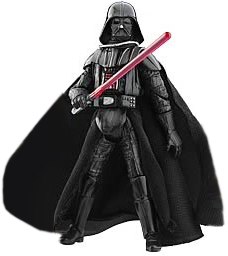 I was nine years old and I was a huge Star Wars fan. I was looking forward to Christmas like every kid and I hoped to get a ton of Star Wars stuff.
Christmas morning finally came and back then I would try to sneak out of bed at four or five in the morning so I could start playing. Sometimes I would get caught and I was told to go back to bed, but I always came out later after the coast was clear.
That Christmas I woke up early and quickly ran to the living room to start opening my presents. Every gift I opened was a toy. I don't remember all of the stuff I got, but as I said it was all toys!
I went searching to the back of the tree to see if there was anything I missed and I found a present in the shape of a rectangle. This meant it was shirt box – clothes! Ugh. I tossed it back and buried it under some of my sibling's presents.
Click to continue reading Holiday Gift Guide Flashback: A Dark Lord Christmas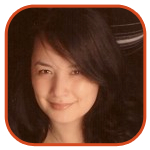 Posted by Veronica Santiago Categories: Editorial, Features, Household, Women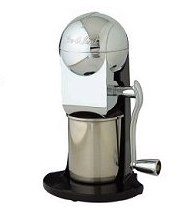 Purchasing gifts for a loved one is often difficult, especially when expectations are high. So, gentlemen - if you're struggling to find the perfect present for a significant other, please let me share a story about one of my most "memorable" gifts.
Back in 2001, my then-boyfriend (now husband) and I had our 1st real Christmas together. Although it was technically our second time celebrating the holiday, I didn't really count the first. Since we had only started dating weeks beforehand, I didn't anticipate much. But after a whole year together, I was curious to see how well he knew me. Apparently not as well as I had hoped.
To be fair, I did receive two gifts that day. The first was a beautiful green necklace. (Thankfully, it did not come attached to a Benny Bear.) And while I appreciated the tasteful choice in jewelry, the item was unfortunately not the thing I remember most about that December 25. It was a completely random selection still waiting in the wings: the ice crusher.
An ice crusher that my boyfriend/husband saw in Pottery Barn and thought was "cool" and "very pretty." (Granted - the Metrokane Ice-O-Matic did have a nice art deco design.) An ice crusher I didn't know I needed. An ice crusher my husband's coworker told him NOT to buy. (She said it wasn't exactly a "romantic" choice.) An ice crusher that said "crush my heart" and "ice queen" all at the same time. An ice crusher that up until last night (when I reminded my spouse of its existence), hadn't seen the light of day in years.
So in case you missed the lessons from my cautionary tale, let me list them out for you:
"Pretty" things don't necessarily make good gifts.
Don't ever buy your loved one something YOU want.
Products that require manual labor should never be given, unless it's something they requested.
If you ask another woman for a second opinion, please heed her advice.
Read our Holiday Gift Guide, and let us help you.
Happy Holidays!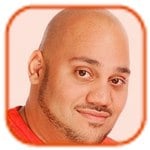 Posted by Andru Edwards Categories: Editorial, Features, Home Entertainment

Being both an early adopter, someone without a bunch of money, and a gadgetophile is a hard combination to pull off. Back in 1999, that was me as a teenager, and the thing I wanted most that year was a standalone DVD player. Sure, I had the DVD-ROM drive in my Sony Vaio desktop computer, but my monitor was only 15-inches back then, and I had a 28-inch television. Who wouldn't want to watch DVDs on their awesome 28-inch television, with ghetto stereo sound?
That year, my girlfriend at the time decided she would surprise me with a Sony DVD player. If you weren't in the market for DVD players back then, allow me to fill you in. Those $25 deals you are seeing this holiday season on players at Target and Wal-Mart? Yeah, prices have fallen exponentially. My first DVD player sold for $399.99. A serious token of her love, most certainly. I mean, I certainly wouldn't have gotten a DVD player otherwise.
I immediately snapped up The Usual Suspects and a couple of other titles that I don't even remember. I didn't even care, I was just all about the slick new piece of technology.
What about you? Any fond memories of holidays past, where you gave or received an awesome gift? Let us know in the comments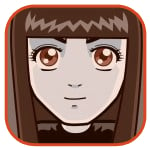 Posted by Sheila Franklin Categories: Corporate News, Internet, Misc. Tech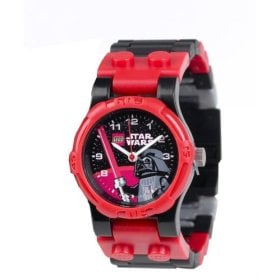 Amazon has announced that it has had its best Holiday Season yet. Some of its most popular items were the Nintendo Wii, "Super Mario Galaxy" and "Call of Duty 4" video games, "Harry Potter and the Order of the Phoenix" DVDs, Garmin GPS, Canon PowerShot digital Elph cameras, Timex heart rate monitor watches, Samsung LCD HDTVs, and Lego Kids' Star Wars Darth Vader watches. They claim their busiest day was December 10, when over 5.4 million items were ordered. That equals 62.5 items per second!
Read More

| I4U News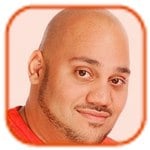 Posted by Andru Edwards Categories: Features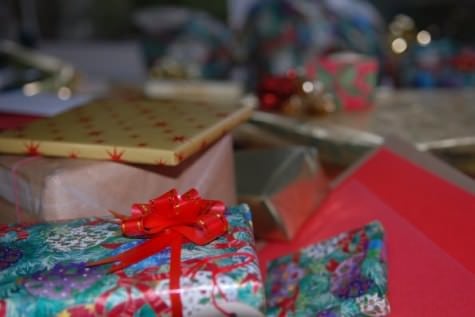 You know how much we love living vicariously through others, so we just HAVE to know - what did you guys get this year? What was waiting under the tree, ready to delight you with it's awesome gadgety wonders? Let us know in the comments - we're listening!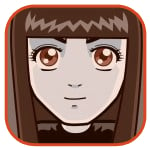 Posted by Sheila Franklin Categories: Editorial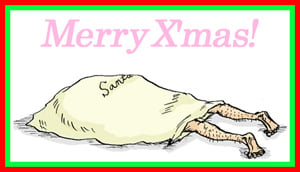 There are lots of last minute ways to send e-greetings on line, making the necessity for actual cards and gifts unnecessary in this electronic age. We wonder if this will replace tips and bonuses for your mail carrier, FedEx deliverer, and the guy who sells you roach coach sandwiches. We found these cards created by someone who apparently gets as moody as we do around this time of year. For those of you who want to send anti-cards, the comments may not be explicit in the translation, but we figure you will catch the drift. By the way, ho-ho-ho from us to you. Have a great Holiday and thanks for reading.
Read More

| Daily Portal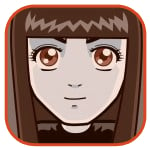 Posted by Sheila Franklin Categories: Household, Movies, Toys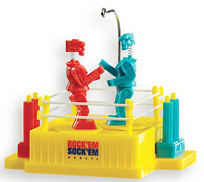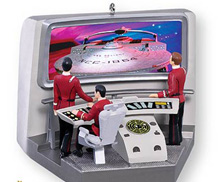 Last minute tree trimming at our house usually consists of popcorn strings until the dog eats them. We wish we had gotten a Hallmark Keepsake Rock 'em Sock 'em Ornament. At least we would have had a fighting chance. At a size of 3 1/4 x 2 3/4-inches, push their buttons and their arms punch and heads bounce just like their life-size counterparts. It comes with a greeting card for $15.00.
For your trekkor friends, pick up the Star Trek II Keepsake. This one is 3 x 2 1/2-inches, has sound and flashing lights, and will set you back $28.00. We expect that if you wait (since it is probably closed today,) you can pick one up for sale when you return that cheesy Nut Bowl that your mother-in-law found at the back of the store in the markdown aisle.
Read More

| Hallmark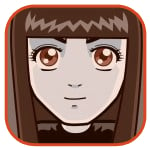 Posted by Sheila Franklin Categories: Design, Hot Deals, Internet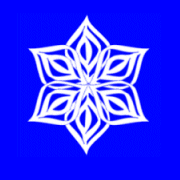 You have just realized that your buds are do anytime and you just had to finish "testing" their new electronic toys before wrapping them. You know that not only do you not have any wrapping paper left, your kids are bugging you that they don't have anything to do after you spent your last cent on them. Combine both projects and send the kidlets to Paper Snowflakes. They can download wrapping paper, create gift tags, make snowflakes out of coffee filters, and even play a few games.
Read More

| Paper Snowflakes

© Gear Live Inc. – User-posted content, unless source is quoted, is licensed under a Creative Commons Public Domain License. Gear Live graphics, logos, designs, page headers, button icons, videos, articles, blogs, forums, scripts and other service names are the trademarks of Gear Live Inc.