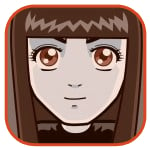 Posted by Sheila Franklin Categories: Corporate News, Editorial, Transportation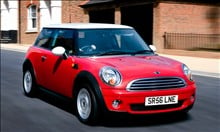 Hybrid Technologies removes internal combustion engines from cars and turns them into electric vehicles. Founder Richard Griffiths is trying to convince people to think of battery power as a high-end option. High-end indeed. Griffiths takes such cars as the Chrysler Crossfire, the PT Cruiser, and MINI Cooper and makes them hybrid. The result will be a $65,000 MAXI Cooper, which can run 120 miles on a charge and go from 0 to 60 mph in 6 seconds.
Here's the rub. Griffiths plans on initially selling his electric cars through Wal-mart at a starting price of ~$35,000.00. We are not sure what that means unless he believes that the shopping place of the "everyman" will convince us to spend twice the cost. We have two questions. If the cars do not sell at that inflated price, will Wal-mart roll back their prices? And if so, will the cars be made in sweat shops like most of their clothing?
Read More

| MSN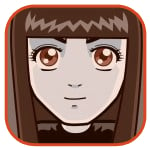 Posted by Sheila Franklin Categories: Design, Misc. Tech, Transportation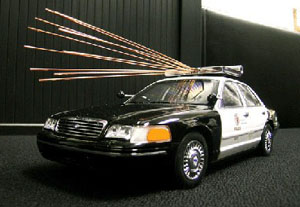 If you saw the movie "2 Fast 2 Furious," you will probably recognize the electromagnetic system that can stop vehicles. Researchers at Eureka Aerospace are creating a device that is about 7 x 3 feet and weighs 200 lbs. Attached to a car or aircraft carrier, it sends out pulsing microwave radiation to disable the microprocessors that keep the car engine going. Chief Exec James Tatoian says that the system may be available for security purposes within 18 months. That gives us less than two years to beat out those speed traps or buy a car made before 1972, which was when electronic control modules were first placed in them.
Read More

| ABC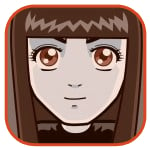 Posted by Sheila Franklin Categories: Design, Misc. Tech, Science, Transportation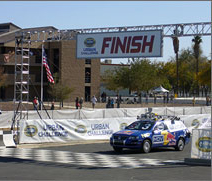 This past weekend, the Defense Department's Urban Challenge 2007 took place in the desert between LA and Las Vegas. Driverless, the computer-run vehicles had to maneuver around neighborhood streets and obstacles at a deserted AF base. Although "Junior," Stanford's 2006 Volkswagen Passat station wagon diesel, crossed the finish line first, the grand prize went to the Tartan Racing team, based on safety as well as speed. Stanford was second, followed by team Victor Tango. This time, 6 of the 11 finalists crossed the finish line. We can see why the military would be interested in this technology, especially when you consider its shock value application. Check out a video we shot of the Carnegie-Mellon team qualifying for the DARPA event.
Read More

| USA Today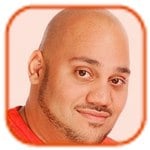 Posted by Andru Edwards Categories: Gizmatic, Short Bytes, Design, Features, Podcasts, Transportation, Videocasts
When General Motors contacted us about bringing us up to their Proving Grounds in Milford, MI, we jumped at the chance at getting to visit what we figured would be an awesome place. We were right - General Motors' Milford Proving Grounds was the industry's first dedicated automobile testing facility when it opened in 1924. It covers 4,000 acres, and over 4,800 staff work in its 107 buildings today. The proving ground includes the equivalent of 132 mi of highway-quality roads for vehicle testing. Some roads are open only to drivers who have passed special performance driving training.
We got a first-hand look at the new StabiliTrak technology that GM will be making a standard feature on all their vehicles in a couple of years, which aims to give drivers a lot more stability during sudden turns and avoidance maneuvers. In addition, GM gives us some tips on how to maintain control of your vehicle, even in extreme (and often unsafe) conditions. Check out the video for all the goods, and leave us any driving tips you may have in the comments.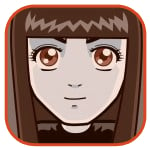 Posted by Sheila Franklin Categories: Misc. Tech, Toys, Transportation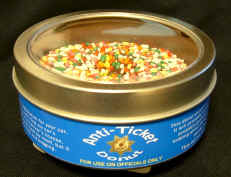 We have all made some of those traffic errors and gotten tickets that might have been ignored with the proper bribery. The Anti-Ticket Donut is designed for those occasions. When the police officer asks you to produce your registration and license, reach right into your glove compartment and offer him/her the chocolate ($8.75) or sprinkled ($9.95) treat-in-a-tin. Of course, the donut is made of plastic, but we figure you can always stop at Krispy Kreme for the real thing if you are heading towards a known speed trap. Besides, it would make a great gift for your uncle, Chief Wiggum.
Read More

| Product Page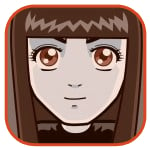 Posted by Sheila Franklin Categories: Corporate News, GPS, Misc. Tech, Transportation

By 2009, if they are done dealing with the UAW, GM will be equipping its new vehicles with a system that will aid police to remotely stop high-speed chases. In cooperation with OnStar, who can already track devices and help cops find stolen vehicles, it will also issue a signal that remotely slows the car down to idle speed. OnStar is free initially for owners of GM automobiles that have them built in, but must pay for the service beginning with the second year. OnStar says that about 60% continue to subscribe after that first year. In light of the price of new vehicles and fuel, we are not surprised that many decide to opt out and spend the extra on gas.
Read More

| OnStar


Posted by Paul Hamilton Categories: Action, Driving, Electronic Arts, PlayStation 3, Xbox 360
Tom Bramwell has a preview for the upcoming Burnout Paradise that is surprisingly thoughtful and critically considered as far as previews go. He discusses the challenges faced by Criterion Games in re-inventing a popular series practically from the ground up and asks some pertinent questions where they ought to be asked. For example, when the topic of the Crash mode comes up and Criterion mentions that they have scrapped the original concept of the popular mode, Bramwell presses the point, getting Criterion rep Matt Webster to confess they don't yet know exactly how it will all work out:
Asked whether they're opting for a Burnout 3 approach of trying to manoeuvre the car in slow motion between power-ups and Crashbreakers, or a Burnout Revenge "golf swing" of perfect start and target cars, Webster admits it's not all there yet. "We're still throwing ideas around. I think we'll be talking about it more in the coming weeks."
The preview isn't about sticking it to the Burnout devs, though, it reads more like a fan of the series seeing drastic changes and slowly coming to the realization that if executed properly, these could make for a remarkable game. Among the more exciting aspects of Criterion's open-world approach to Burnout is the focus on seamless online play that works the way most gamers prefer, by putting the folks in your Friends list first.
Burnout Paradise is scheduled to hit shelves early next year for Xbox 360 and PS3.
Read More

| Eurogamer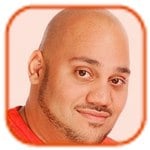 Posted by Andru Edwards Categories: Design, Features, Mods / Hacks, Transportation, Videocasts, Videos
Read More

| The Bleeding Edge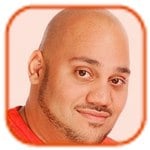 Posted by Andru Edwards Categories: Full Episodes, Gizmatic, Hack Attack, Design, Features, Transportation
We visited one of the fifty or so groups participating in the DARPA Urban Challenge during one of their qualifying rounds. In case you are unaware, the DARPA Urban Challenge is a charge given publicly to groups who are capable of designing and proving the technology for autonomously driven vehicles. Carnegie Mellon University teamed up with GM to create an autonomous SUV they call "Boss." In order to participate in November's 60-mile urban driverless race, they need to pass this benchmark. Check out the video to see Boss pull perfect three point turns and beautifully follow traffic rules - even at four way stops with other cars. We're crazy excited to see this technology come alive in our society. The team from DARPA is darting back and forth across our country qualifying and disqualifying entries. Some of the remaining companies and teams will bring us autonomously driven cars during our lifetime, its amazing how close we already are.

Posted by Chris Pereira Categories: Driving, Electronic Arts, Nintendo DS, Nintendo Gamecube, PC, PlayStation 2, PlayStation 3, PSP, Trailers, Wii, Xbox, Xbox 360
On the heels of EA's new Madden video comes this brief look at the newest Need for Speed title, which we know next to nothing about - not a title or even the platforms it'll be released on. The video is entitled "Damage," and if you take a look at the video, you'll agree that it's an appropriate name. One of the features in the new NFS is apparently going to be the ability to rip your car to shreds in an accident, Burnout-style.
Like the Madden video before it, the game certainly looks pretty, but hopefully the game will play as well as the competition. As the video alludes, there apparently will be some sort of announcement on May 31 at the official Need for Speed website, and we'll get word of whatever that might be to you as soon as it's made available.
© Gear Live Inc. – User-posted content, unless source is quoted, is licensed under a Creative Commons Public Domain License. Gear Live graphics, logos, designs, page headers, button icons, videos, articles, blogs, forums, scripts and other service names are the trademarks of Gear Live Inc.