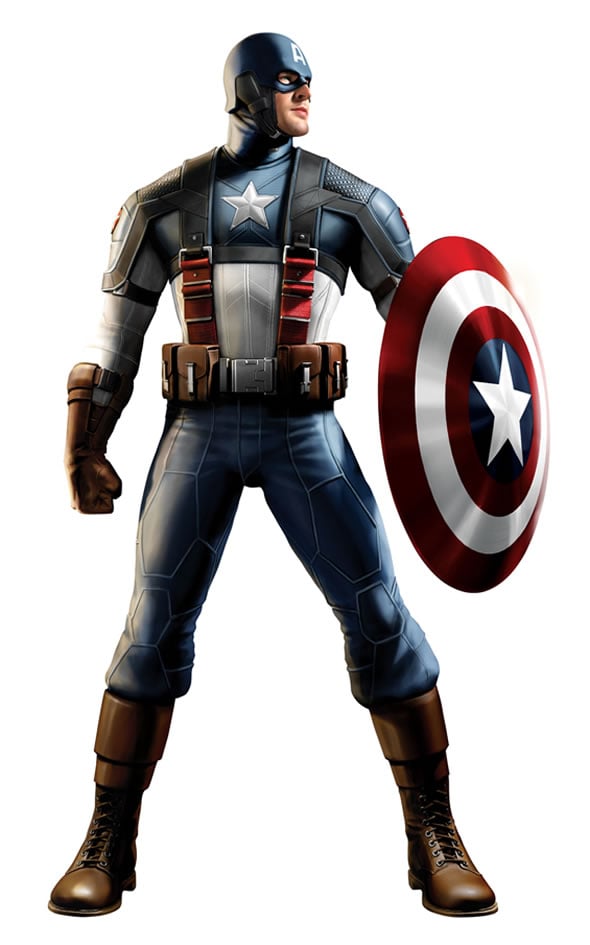 To some people's surprise (that would be me, if you're asking), Marvel Comics made an excellent movie about Captain America.
Who'd've thought that the shield-slinging WWII hero would translate so well to the screen? It's so good, that they may wait at least 8 years before rebooting it.
But for those that watch the movie a second or third time (that would be me, if you're asking), there are some surprises lurking in the margins.
Here then, are the Top 10 Surprises In The New Captain America Movie:
10: His shield is made out of Reb Brown's career
9. It's not just the skull that's red
8. The Falcon calls the studio every day. "I'm in the sequel right?"
Click to continue reading Top 10 Surprises In Captain America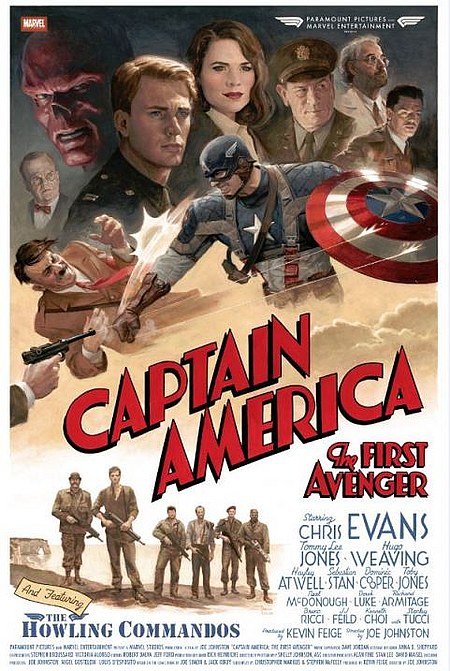 I don't collect movie posters, but I could easily make this one my first.
[Artwork: Captain America movie poster, © Marvel Comics]
Read More

| Cap Poster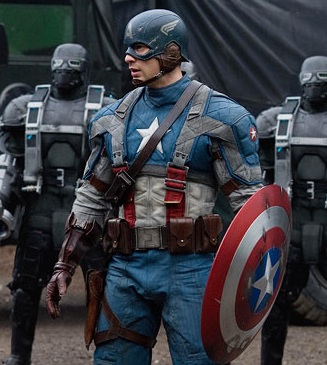 And so it begins!
Marvel Comics, the Marvel Comics in White Plains, NY that works out of the Disney Publishing offices, is looking for a Designer to join the Disney Consumer Products team, in the Disney Publishing Worldwide division.
You'll need 3+ years of book design experience with the usual get-along and problem-solving skills.
And here's what you'll be working on:
Marvel Origins (Evergreen) Design work of future picture books, readers, an 8x8s, including increasing pub plans of titles based on origins original art work.
Marvel (Movie-Tie-ins) Design work of increasing pub plans for future releases: Captain America, Avengers, and Spider-Man.
Click to continue reading Comic Book Jobs: Marvel Comics (White Plains)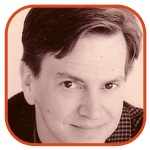 Posted by Tom Mason Categories: Editorials, Marvel Comics,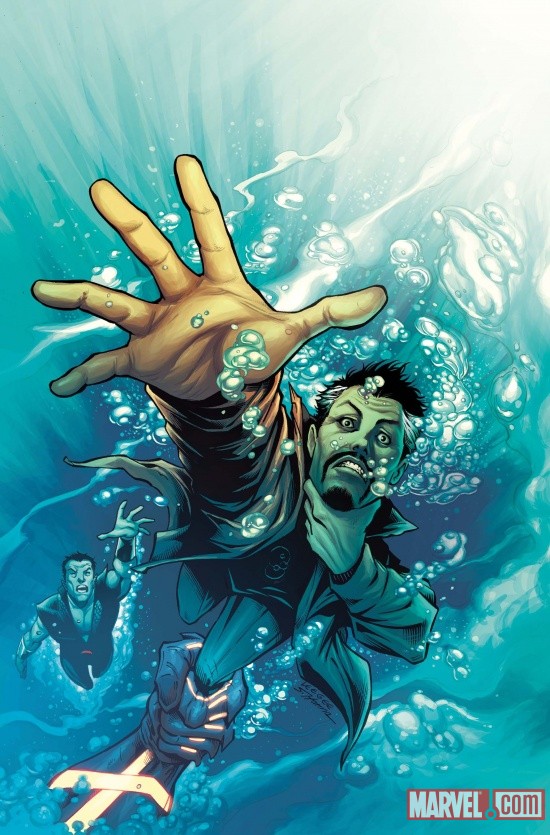 Greetings and welcome to the weekend. Let's read!
Toth: Animator Michael Sporn showcases a lot of great Alex Toth art from Dell Comics. Bonus: includes side-by-side comparisons of Toth's b&w pages with the much lower-quality printed copies. Nice.
Bunn: Chris Arrant at Collecting Comic Books has a nifty interview with Cullen Bunn, writer of the upcoming Fear Itself: The Deep.
Cap: Novelist James Reasoner reviews The Trial of Captain America: "Under Brubaker's guidance, Captain America continues to be one of the best comics out there today."
Cartoons: Cartoonist Dan Rosandich gets himself a shout out from the Los Angeles Times Pressmens 20 Year Club.
Plop!: Diversions of the Groovy Kind has an old classic from Steve Skeates and Sergio Aragones.
Comics: We all knew that Nick Fury was a Sergeant and an agent of S.H.I.E.L.D. Did you know he was a fan of the comics? Mike Sterling reveals all.
Click to continue reading Weekend Reading: Alex Toth, Nick Fury and Doug Wildey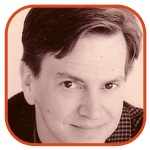 Posted by Tom Mason Categories: Editorials, Movies, Reviews, Marvel Comics,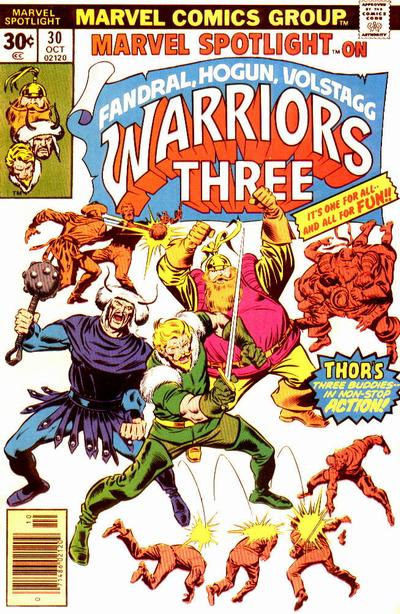 Have you seen the new Thor movie yet? And if not, why not?
Of the summer's four big comic book movies - Thor, Green Lantern, Captain America and X-Men: First Class – it's the one with the distinguished pedigree (Kenneth Branagh! Sir Anthony Hopkins! Natalie Portman!) and one of the least likely super-hero movies besides Ant-Man or Metamorpho.
Curiosity alone makes it worth $10.
Having said all that, there were still a number of things about Thor that surprised me. Here's my Top 10.
10. It's not just his hammer that's called Mjolnir
9. Cameo by Stan Lee Media
8. His real name is "Sore"; he has a speech impediment
7. Shout out to Kirby; that's Kirby Carruthers, the assistant lighting director
6. Natalie Portman should be in every movie. Just sayin'.
Click to continue reading Top 10 Surprises in Thor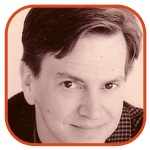 Posted by Tom Mason Categories: Interviews, Movies, Reviews, IDW Publishing,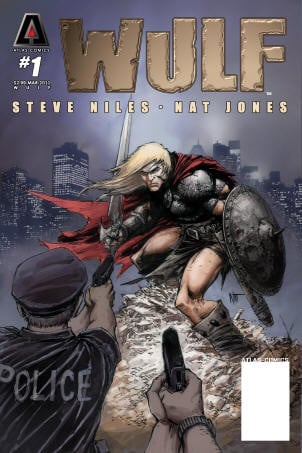 So, so sorry to hear that Dwayne McDuffie passed away earlier this week. I hate it when a good guy and a terrific writer goes too soon - from his work at Milestone Media, to his animation writing on Ben 10 and other series, it felt like he had a lot more to say that I wanted to read and see.

Rich Johnston at Bleeding Cool had a nice reminiscence of his interactions with Dwayne.

And Heidi MacDonald at Comics Beat also weighed in with some very nice thoughts.

Tom Spurgeon at The Comics Reporter has a round-up of various links to posts about Dwayne. Condolences to his family and his many, many friends on their loss.

Also sad to hear that comics historian Bill Crouch has passed away.

CG: Animation historian Michael Barrier does not like computer animation a technique "creating mechanical, manipulative series of films that don't capture the magic of the yesteryear."
Click to continue reading Weekend Reading: Dwayne McDuffie, Bill Crouch and Wulf The Barbarian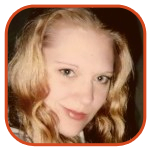 Posted by K.C. Morgan Categories: Paramount, Action, Adaptation, Adventure, Trailers, Upcoming Releases,
Super Bowl XLV was peppered with commercials for cars (which most of us can't afford, given the economic climate) and movies (which we can afford, but we've got to be convinced it's worth it first).
But, there were two movie trailers that managed to shine above all the rest. It's almost time to meet two of Marvel's new-old superheroes, and you can whet for your appetite for action with their new trailers. Follow the jump to see the trailers for the new Thor and Captain America movies.
Click to continue reading Captain America, Thor Trailers Revealed During Super Bowl
Read More

| Perez Hilton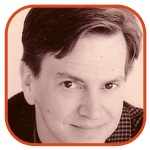 Posted by Tom Mason Categories: Editorials, Interviews, Movies, Reviews, DC Comics, Dynamic Forces, Independent,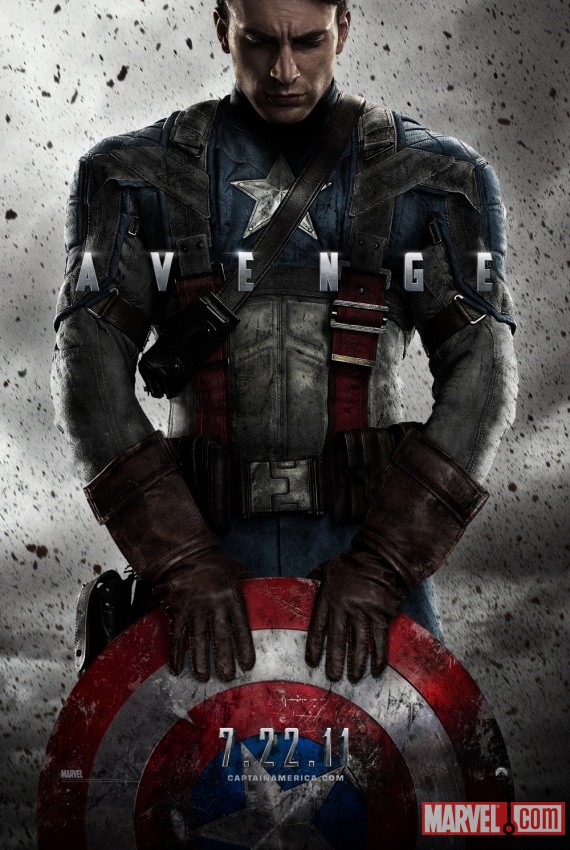 The new teaser image for the upcoming Captain America movie is out. Looks like the art director grew up reading Image Comics. Now let's see what you can read:

Heroes: Robin Brenner at Early Word, a site for librarians, has a rundown on superhero graphic novels. "Superheroes For The Uninitiated" focuses on the big names from the MU and the DCU, but she promises a future installment that goes outside Marvel and DC.

Bat: It's been Bat-Week at Tor.com all week. If you've missed it, it's all still there in all its Bat-goodness. Nick Abadzis is there and so is Gotham City: 14 Miles editor Jim Beard.

British: Beano artist Lew Stringer has news of a new, independent graphic novel from England called Armageddon Patrol, a "what if" that poses the question "what if super-heroes fought the Vietnam War?" I gotta get one of these.
Click to continue reading Weekend Reading: Batman, Doctor Who And Captain America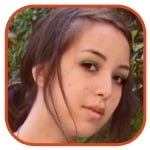 Posted by Robin Paulson Categories: Movies, Marvel Comics,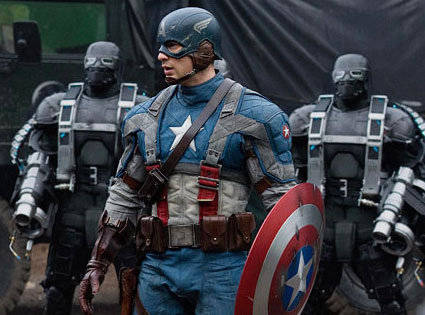 You know that when the shiny, new Spider-Man reboot reveals a first look at its costumed hero before you do, you're a little late to the party.
Finally, Marvel Entertainment released the first image of Chris Evans in complete red, white, and blue Captain America garb. While it's clearly an altered derivation from its comic book counterpart, I much prefer this modernized uniform with the obvious, borrowed pattern and design (was I the only one who couldn't contain giggles at the sight of Ryan Reynolds as Green Lantern?).
What do you think of the 2011, real life Captain America?
Read More

| E! Online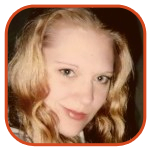 Posted by K.C. Morgan Categories: Paramount, Action, Adaptation, Adventure, Upcoming Releases,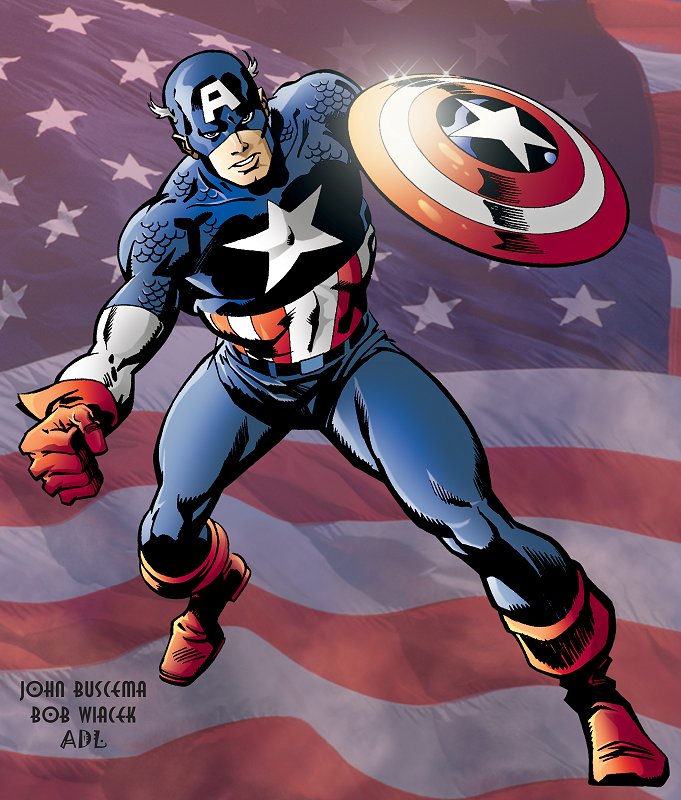 This is the first look we've had of Chris Evans in Captain America: The First Avenger, and it's not half-bad … though, a little different from what many comic book fans were expecting.
The new costume looks more like a flight suit than the superhero's iconic spandex get-up, but that's been done on purpose.
"You can't really take him serious in his flag pajamas," director Joe Johnston explained to Entertainment Weekly in a past interview.
Read More

| Entertainment Weekly

© Gear Live Inc. – User-posted content, unless source is quoted, is licensed under a Creative Commons Public Domain License. Gear Live graphics, logos, designs, page headers, button icons, videos, articles, blogs, forums, scripts and other service names are the trademarks of Gear Live Inc.