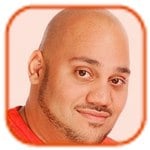 Posted by Andru Edwards Categories: Gizmatic, Short Bytes, CES, CES 2007, Features, Home Entertainment, Videocasts
While on the monorail coming back from CES we interviewed Larry. He's here in Las Vegas for CES because he is a home theater enthusiast. He wants to know if Blue-ray or HD-DVD will win in the format war - what do you think?
Posted by Michael Cardiff Categories: Corporate News, Culture, PlayStation 3, Rumors
We all knew that Sony hoped the PS3 would be the Trojan Horse to get Blu-Ray into homes across the world. But I don't think anyone could've expected that we'd be forced to play some Blu-Ray discs on the PS3 only. the good folks over at PSXExtreme have noted that the Blu-Ray movie "The Descent", currently plays only on the PS3 - those of you with your $1,000+ Sony or Pioneer Blu-Ray movie players are out of luck.
According to Sony, the problem is based on the fact that the production company for the disc, Lion's Gate, decided to include some Java-based special features on the disc, which only works on the PS3 console. However, this is apparently preventing non-PS3 Blu-Ray player owners from viewing any part of the disc, which seems like a rather strange problem.
Sony is working on a fix for this issue, though at this time we're not sure whether that would be a replacement Blu-Ray disc that, you know, actually plays on Blu-Ray players, or a firmware upgrade for their players. Either way, it's not a good piece of news for the format.
Read More

| PSX Extreme

Posted by Christopher Sasaki Categories: Accessories, Hardware, PlayStation 3
The Playstation 3 Bluetooth remote is starting to appear in retail stores, according to online reports. A member of the NeoGAF forums was apparently able to purchase the remote from an EBGames in Richmond, VA. The remote retails for $24.99. Physically, the device looks fairly slim. Those consumers that play a Blu-Ray movies often will welcome the dedicated buttons on the remote. Given that the Playstation 3 relies on Bluetooth for its controllers, this may be the only dedicated remote available for a while. There are a couple of larger pictures available in the forum post.
Read More

| NeoGAF

Posted by Christopher Sasaki Categories: PlayStation 3, Trailers
Sony just updated the PlayB3yond website with a new video, "Higher Definition" that touts the console's support for 1080P resolutions and Blu-Ray for additional storage. While 1080p has been hotly debated across the Internet, and some have doubted whether the 50 GB offered by Blu-Ray will make an impact in this generation of video games, Sony's marketing really knows how to make a compelling advertisement for both.
Read More

| PlayB3yond

Posted by Michael Cardiff Categories: Internet, Rumors, Xbox 360, Xbox Live, Xbox Live Marketplace
Rumors are circulating that, in addition to playing HD-DVD movies, the Xbox 360 will soon be a digital entertainment hub for downloadable video content. This sounds like something that would take a lot of time and infrastructure, but who knows - those are two things MS definitely has in spades. Plus, by avoiding the HD-DVD/Blu-Ray format war, Microsoft could puts Sony in a tough position. Either Sony has to start offering downloadable movies as well (thus cutting into their hopes for Blu-Ray), or the Xbox 360 just starts looking a little stronger in the features list.
SHSIBAE has learned that Microsoft will begin offering downloadable HD movies later this month. At launch time– rumored to be around Nov. 22–over 1100 hours of video will be available to rent or purchase through an XBOX 360 connected to XBOX Live. Feature length movies will require a ten minute caching period before viewing, which should be just long enough to make some popcorn, grab a beer, and find your favorite blanket.
We'll definitely be looking for some sort of non-denial denial from Microsoft, but it never hurts to dream, eh? The idea of downloading movies to your Xbox 360 and watching them minutes later sounds amazingly sweet.
Read More

| MaxConsole.net

Posted by Michael Cardiff Categories: Hardware, PlayStation 3, Rumors, Xbox 360
It's been a few hours since we've heard some new bad press rumblings about Sony's seemingly ill-fated PS3, so let's fill that void… This time, it's not-so-unbiased blogger Ozymandias, a.k.a. gaming strategist for Microsoft Andre Vrignaud. He reports on some technical details of the PS3's Blu-Ray drive, pointing out that its read speeds, even for standard DVD discs, will be slower than those on the already-released Xbox 360.
Says Ozy:
At GDC Europe last year Sony mentioned in their presentation that the PS3 Blu-ray drive would have sustained peak transfer rates of 36 MBit/s (4.5 MB/s) at 1x speed. Since then it appears that the drive has been upgraded to a 2x drive, which would enable transfer rates of 9 MB/s. Assuming a full 50 GB Blu-ray disc, at this speed you'd need just over 90 minutes to read the entire disc through memory. Of course, you can't fit all of that data into system memory at the same time, so you'll either be streaming a great deal (hard even with faster optical drives) and/or caching data to the hard drive. There's a reason the PS3 is so expensive - once Sony committed to Blu-ray as a corporate strategy, they were also forced to bundle the hard drive in every box to help mitigate slow disc data transfer rates.
For comparison, the Xbox 360 uses a 12x DVD drive, which can load at about 16 MB/s, making Microsoft's read speeds about 2x greater. In recent days, this has lead to an online blogging argument, between Ozy at MS and Mark Deloura at Sony, about the importance of this comparison. Still, they seem to agree on the fundamentals of the mathematics.
Says Deloura:
"Admittedly, Blu-Ray looks dicey from several non-capacity angles. Blu-Ray movies require a 1.5x Blu-Ray drive, or 54Mbits/second. Sony announced that PS3 uses a 2x BD drive, which is 72Mbits/second or 9MB/second. The Xbox360 uses a 12x DVD, which should give it about 16MB/second. That is significantly faster for games and will result in shorter load times. And that 12x DVD drive should be a whole lot cheaper. (Note that the PS3 drive will do 8x DVD, and even that is faster than 2x BD.)"
First the official Playstation magazine editor states she doesn't want the PS3, now former Sony execs are agreeing that the PS3 is too slow?? What's next—Kaz Hirai admitting that Dead Rising is his favorite game ever?!?
Posted by Christopher Sasaki Categories: PlayStation 3
At a recent Blu-Ray demonstration in Japan, Sony showed off a little of the interface and video playback for the Blu-Ray capabilities of the Playstation 3. Famitsu managed to get a shot of the interface, and it looks largely like an expansion of the PS2 DVD playback UI, or perhaps an enhanced UMD playback UI from the PSP. Sony is apparently shooting for 75 Blu-Ray titles within the year in Japan, and average retail is targeted at 5000 Yen, or about $42 US. Sony also discussed the BD Java features of the player, as well as the Internet-based BD Live content.
Read More

| Famitsu

© Gear Live Inc. – User-posted content, unless source is quoted, is licensed under a Creative Commons Public Domain License. Gear Live graphics, logos, designs, page headers, button icons, videos, articles, blogs, forums, scripts and other service names are the trademarks of Gear Live Inc.