Posted by Sparky Categories: Google, Internet, Misc. Tech, Software,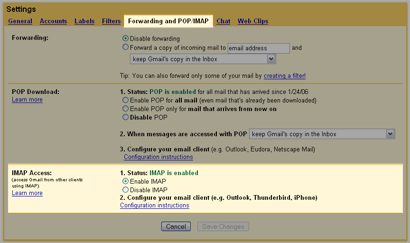 Gmail, Google's popular web based email solution is likely about to get IMAP features - a welcome addition for email power-users. It appears that some users are seeing options to IMAP-enable their account in the settings page. This will help Google's service compete with Yahoo Mail which has offered IMAP access for some time now.
We don't yet have the option on our accounts here at Gear Live, but we definitely look forward to trying it out. If your account has the new option, be a pal and leave a comment to let the world know what you think.
Read More

| Download Squad


Posted by Paul Hamilton Categories: Activision, First Person Shooters, PC, PlayStation 3, Release Dates, Xbox 360,
Robert "402" Bowling from Infinity Ward has posted about some upcoming changes to the Call of Duty 4 beta on his blog. The most significant announcement is the closing of the beta on September 30th, but he also revealed that two days prior the level cap, which has been at 16 for a couple of weeks after being lifted from the initial cap of 11, will go up to 25. That gives beta testers only two days to jump from 16 to 25 before the beta closes down in anticipation of the game's release November 5th.
Part of the post hinted that CoD4 had gone gold, but Bowling refused to come right out and say it, saving the announcement for more official channels. He did say that Infinity Ward had received congratulations from the Sony of America and the Xbox 360 certification team, which leaves little room for doubt that the game is in the final stages before shipping.
The beta has been an excellent marketing tool for Infinity Ward since the strength of the game is quite evident from the limited, multiplayer-only test version. Even though the game is likely gold, the beta continues for developers to continue gathering data for the inevitable title upgrades and expansion packs. The raising of the level cap so close to the end of the beta is, speculatively, due to the launch of a certain multiplayer juggernaut a few days prior.
Read More

| Fourzerotwo's Blog


Posted by Paul Hamilton Categories: Corporate News, First Person Shooters, Release Dates, Xbox 360,
Microsoft has known how important Halo 3 will be to their success this generation since before they even announced the Xbox 360. Halo 2 sold $125 million on the first day, but then the original Xbox was just struggling for recognition in the wake of the PS2 juggernaut. Now the 360 holds a tenuous lead in installed base and isn't selling the way Microsoft may have hoped. If it's possible Halo 3 may have become even more important to Microsoft's strategy than they originally hoped. Fortunately, they've been planning ahead.
In an article released today on Brand Week, the calculated ten-month marketing efforts behind Bungie's trilogy finale is dissected starting from the Starry Nights TV spot launched last November through the public beta this spring/early summer. They talk about the Project Iris viral campaign and the efforts they've gone to secure strategic branding partners. This has included the Mountain Dew Game Fuel limited edition soft drink that comes plastered with Halo 3 imagery plus a total of $5 million from Pontiac to help push the launch of the game on September 25.
And they aren't done yet. Microsoft will begin the full blitz with the new Believe campaign that will lead up to the launch taking place at midnight in over 10,000 stores to give Halo fans a chance to grab the game as soon as possible. It's an interesting read about the science behind building a monster.
Read More

| Brand Week via Kotaku

Posted by Paul Hamilton Categories: Action, Downloadable Content, PlayStation 3, PlayStation Network,
Dylan Jobe from the Warhawk team has posted a lengthy FAQ on the PlayStation blog where he clarifies, among other details, how the player-hosted matches will work. Essentially, the system tests the host's connection speed and makes a determination based on that about how many players the game will support, 8, 16, 24 or 32. From the FAQ:
[W]e… do a really quick series of bandwidth tests to determine how many players you will be able to handle. We spent quite a bit of time looking at the bandwidth requirements to make sure that the games that you host are not out of your league with regard to the bandwidth needed. We got a lot of comments during the BETA about players that were hosting 24 or 32 player games when they didn't have the bandwidth to do so. This resulted in pretty crappy game experiences sometimes. Our updated bandwidth requirements should resolve a lot of this and we'll be monitoring it and changing them if we need to… If you're at school (college dorm or something) on a network you'll probably be hosting up to 32 players, but the net is what the net is and you all know how it can change like the weather. If you have a really bad connection, then you will be hosting eight or 16 players.
He also talks about how there will be no way to run the retail version without the disc in tray, the fact that there will be clan support and that there is split-screen play but you can only have one headset active at a time on a given console, plus a lot more.
Read More

| PlayStation Blog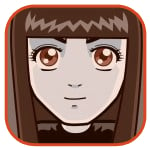 Posted by Sheila Franklin Categories: Household, Internet, Misc. Tech,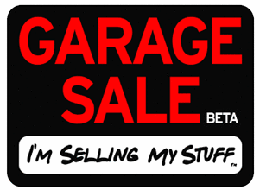 No sooner have we updated you about the latest additions to Facebook than we find that Buy.com has opened up a Garage Sale on the social networking site. The application allows users to buy and sell items on their profile page. The site will process the sales and reimburse sellers via PayPal or check minus a flat 5% commission for items sold, as opposed to eBay's listing and final transaction fee.
Chief Executive Neel Grover feels that Garage Sale encourages users to spend more time looking at and connecting to other profiles, which makes any deal between them more personal. While there is no real haggling ability as yet on the FB beta site, people can email bids to each other. Anyone want to buy some swampland in Florida?
Read More

| Post-Bulletin


Posted by Lolita Beckwith Categories: Internet,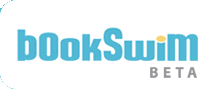 Netflix is the granddaddy of the rent-by-mail craze, making it tres easy to rent DVDs and video games without stepping off your curb. Now comes BookSwim, with the same paradigm: create a queue of books to read, wait for them to be shipped to you, send them back when done so your next title can be sent out. No shipping or late fees, and keep the books as long as you want. BookSwim claims to have over 150,000 titles, and plans range from $20 USD (3 books at-a-time) to $36 USD (11 books!). We're curious to see if BookSwim takes off, as it faces stiff competition from a little something called the Public Library, which we hear is free. But, if you live far from the library, BookSwim could be worth a shot.
Read More

| BookSwim


Posted by Chris Pereira Categories: Casual, Corporate News, Internet, PlayStation 3, Sony, Wii,
GameVideos has posted a video of an interview with Sony Computer Entertainment's Phil Harrison, head of worldwide studios, which took place during this year's E3. 1UP.com's Sam Kennedy and EGM's Dan Hsu talk with Phil about Home, LittleBigPlanet, Madden's 30 FPS woes, the Wii's success, and more.
Be forewarned that if the pronunciation of the word "beta" as "bee-tah" irritates you, you may want to skip the portion pertaining to Home.

Posted by Chris Pereira Categories: Bungie, First Person Shooters, Microsoft, Release Dates, Xbox 360, Xbox Live,
Oh, Halo 3 beta, how I will miss you. We had such good times together. Whether it was VIP on Snowbound, Territories on Valhalla or 1 Flag CTF on High Ground, you never failed to entertain me. The countless kills with the Spartan Laser were never any less satisfying than my very first one. Headshots, ohhh the headshots; the way you would fling the recipient's body backwards. The satisfying noise spike grenades would make when sticking to someone. Intense firefights, bubble shields, endless bouts of profanity-filled gaming – you were only a beta, a simple beta, yet few things could measure up to the experience you served up each and every time I played a game.
In fact, you mean so much to me, I've written you a Haiku. I hope it has the correct number of syllables, because I'm far too depressed to do the appropriate research.
Oh Halo 3 beta
Man cannons are so so silly
Please don't change their sweet names
RIP Halo 3 beta. September 25 cannot possibly come soon enough.

Posted by Chris Pereira Categories: Bungie, Features, First Person Shooters, Xbox 360, Xbox Live,
The Halo 3 Beta has been available to the public for nearly two weeks, and with well over a hundred games between the two of them, editors Chris Pereira and Kyle Ulrich have a discussion about the experience thus far - what they like, what they don't, what needs to be changed, and more.
Kyle: First off, the graphics. While the beta looks good, it's absolutely clear that what is there is merely a foundation for what the finished product will become. A lot of people have been quick to criticize the game for looking too similar to Halo 2, without taking into consideration that the majority of the assets that we're seeing in this beta - the levels, weapons, and character models - have been finished for months, as early as last October. Particle effects are nonexistent - grenades and muzzle fire lack flourish. From my perspective, we're going to be looking at almost an entirely different game come September. I'd imagine that there are layers and layers of polish that have yet to be implemented. Believe.
Chris: You're right. Bungie is the type of developer that waits until the last moment to slap on that extra layer of gloss that makes everything oh-so-pretty. And unlike many games, gimmicky bloom effects aren't what make Halo look good. And after all, this beta isn't a tech demo; don't expect it to wow you with its graphics.
Kyle: The gameplay is an entirely different story, though. Even in this early, unfinished stage, the balance is remarkable. Nothing feels particularly unusable and the power weapons are exactly what they should be: hard to use, one-hit skill kills. Everything from the recoil of the sniper rifle to the shortening of the Shotgun's ammo chamber make major strides at leveling the playing field. The even smattering of spray and prays and one-shots coalesce and riff off each other beautifully. For my money, an unfinished product has never played so marvelously. Also, the tweaking of the objective game types shakes things up well. Territories is simply awesome.
Click to continue reading Chatlog: The Halo 3 Beta: Two Weeks Later

Posted by Chris Pereira Categories: Bungie, First Person Shooters, Xbox 360, Xbox Live,
This week will showcase the first substantial change to Halo 3's matchmaking playlist. Team Training is going bye-bye in order to be replaced by Big Team Training – 6v6 games of the objective and slayer variety on High Ground and Valhalla. Luke Smith also stated on Bungie.net, "… we've made some slight tweaks to the Team Skirmish playlist that should add greater variety in the opponents you'll face." If only that meant no slayer games in the skirmish playlist. Slayer is not an objective game! Go play Team Slayer if that's what tickles your fancy.
In unrelated news, later today (May 23), some sort of proverbial flip will be temporarily switched between the hours of 10 a.m. and 1 p.m. PST. It supposedly should have no impact, but Frankie warns of what may potentially happen:
Should your game encounter a rare crash, your Xbox 360 will give you an alert screen, explaining that it's uploading data to Bungie servers. We actually need this data, and we need your cooperation too. Although you probably won't see that screen, if you do, let it finish uploading the data. It may take some time – upwards of 10-20 seconds and perhaps longer. So we beg your patience. When the process has completed correctly this is the message you'll see, "File upload complete. Visit http://www.bungie.net/forums/halo3beta for more information (safe to reboot)."
Read More

| Bungie.net

© Gear Live Inc. – User-posted content, unless source is quoted, is licensed under a Creative Commons Public Domain License. Gear Live graphics, logos, designs, page headers, button icons, videos, articles, blogs, forums, scripts and other service names are the trademarks of Gear Live Inc.