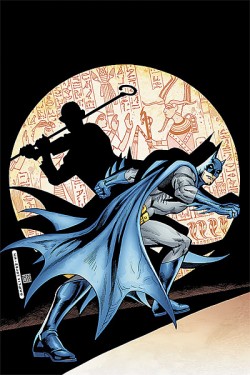 Rating: ***
This months issue of "Batman: Confidential" is a continuation of the first appearance in comic book form of the 60s television show Bat-Villain King Tut. As I mentioned in my post on part one of this storyline, this King Tut is different in appearance than the one on television show. Which is fine, since today's Batman doesn't really need to fight a big fat guy. He's got the Penguin for that.
To recap, employees of the Gotham City museum are being targeted by Tut. He's speaking in riddles as he commits the crimes, which results in the Riddler wanting to take him down just as much as Batman. So much so that the Riddler escapes from Arkham to take Tut out .
The artwork provided for this storyline is done by veteran artist Jose Luis Garcia-Lopez. I wasn't reading DC back when Garcia-Lopez was at his peak, but it's nice to see him get some work at his age (He's 60). It's too bad veterans like Jose aren't getting more work. His work reminds me of when I first started reading Batman when Jim Aparo was the main Bat-artist.
Click to continue reading DC Comics Review: Batman: Confidential #27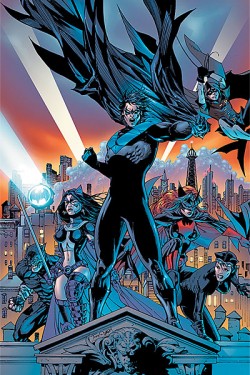 Rating: *** 1/2*
When I first heard that artist Tony Daniel would be doing the writing chores for the DC mega miniseries "Batman: Battle for the Cowl," I groaned. I groaned because I felt that a inexperienced writer like Daniel should not be given the task of writing this major miniseries. I already had it in my head that this series was going to be a let down - boy was I wrong. The first issue of "Batman: Battle for the Cowl" is an absolute winner. I know its cliche, but from the first page to the last, this issue delivered in a big way for me.
As any reader of my previous blogs on Batman, you know that I have not been happy with what Grant Morrison has been doing on "Batman" - particularly the recent "RIP" storyline. I felt the story was a big let down and by no means lived up to the hype DC was giving it. After reading this issue, I wish DC would give the job of writing "Batman" to Daniel, but unfortunately Morrison will be returning to the title after this series is over.
Since Batman's "death" in "Final Crisis," we have seen Gotham City slip deeper and deeper into chaos. This issue reveals that Nightwing has now become the leader of The Network which brings together all of the heroes who are allies of Batman or who have operated in Gotham in the past. Daniel also brings in Knight and Squire from Morrison's Batmen of all Nations storyline. The reintroduction of the Batmen of all Nations is one of the few things that I've liked about Morrison's run. I particularly like Knight and Squire and I would love to see a miniseries focusing on them set in the UK.
Daniel continues what Denny O'Neil started in his recent storyline of Nightwing refusing to take on the mantle of the Batman and being insecure about even thinking about doing so as he feels he's not worthy to even step in his shoes. I'm assuming that's something the editors of Batman want as a theme in the Bat-books right now. I'm not crazy with that direction as I feel Dick should be a hell of a lot more confident and sure of himself and want to take on the roll to honor his surrogate father.
Click to continue reading DC Comics Review: Batman: Battle for the Cowl #1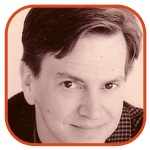 Posted by Tom Mason Categories: Editorials,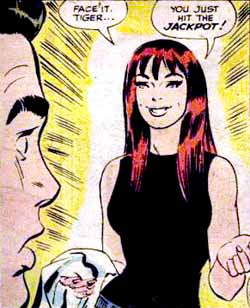 The weekend is upon us again and the internets have delivered a bounty of excellent reading. From Peter Parker's love life to Cyanide And Happiness. Check 'em out.
BRIAN MICHAEL BENDIS: Paul Morton over at Bookslut has a great interview with Brian. Mostly it's about his work on Ultimate Spider-Man but there are a couple of detours, including Alias and Jessica's relationship with Luke Cage. Here's a nice Bendis quote about Peter Parker's love life: "Doing my initial Spider-Man research, in going back and reading everything, [I found] for a sad sack this guy was getting laid left and right. This guy had more girlfriends than I ever had in high school. Betty Brant was hitting on him. MJ, Gwen. There were girls everywhere. There is an element of Peter that sees himself a certain way. But the reality is that he's doing much better than he thinks."
CYANIDE AND HAPPINESS: As hard as it might be to believe, The New Yorker has a touch of the hip in them. They sent one of their staffers to the recent New York Comic Con and scored an oh-so-brief interview with the guys from Cyanide and Happiness. You won't learn much, but it's good for a couple of laughs. After you read the interview, be sure to click on over to the Explosm website for greater goodness.
STARLOG: The old fan favorite is still being published (though it's $7.99 a copy on the newsstand – if you can still find a copy and a newsstand). Better still, they're finally back up on the internets. It's a subset of the Fangoria website, but they're just getting started and they have a nice Comics Scene section that looks like it'll expand over time. Starlog has an impressive backlog of material – great articles, profiles, interviews and more, and it would be great to see some of that fun stuff online.
MARVEL COMICS: I would totally buy a Marvel comic that looked like this.
BATMAN: This guy loves him. (Warning: this is graphics heavy so if you're backwards enough to still have dial-up, ye have been warned)
That's all for now, have a great weekend and don't forget to say thanks to the internets whenever you see them.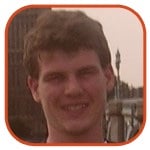 Posted by Todd Matthy Categories: Interviews,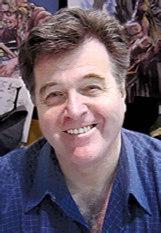 With New York Comic Con having just passed earlier this month, I've decided to bring to you this gem from last year's convention. Here is an interview I conducted with the legendary, Neal Adams. Unfortunately, I was not able to publish this interview until now. (I'm sorry, Neal) But, Neal is so interesting that an interview from last year is too good to let sit idle. So, without further ado, Neal Adams.
Click to continue reading An interview with Neal Adams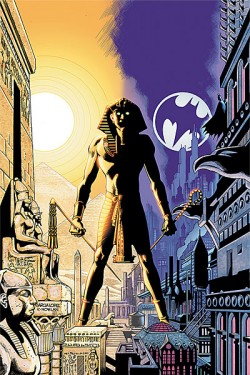 In my previous reviews for "Batman: Confidential", I've talked about how much I've enjoyed the previous storyline. The previous storyline dealt with Batman's first effort to bring the Joker in for booking and it was great. I read the advanced solicitations for this issue a while back and how DC would be introducing the 1960s Batman television show villain King Tut into comic book continuity and I decided I had to check out how they would do it. Well, although the character is much different from the television show, I really enjoyed this first issue of the King Tut storyline.
In the television show, King Tut was a Egyptologist named Professor William Omaha McElroy who worked for Yale University. After hitting his head, the professor developed amnesia and began to believe that he was King Tut reincarnated. I think the reason DC didn't go with a character similar to the television show was not because the character was so campy, but because DC kind of already has a character who acts like this in Maxie Zeus.
In this issue, King Tut is going around and killing people and he's doing it while saying some riddles. This causes Batman to go visit The Riddler in Arkham Asylum to see if he is somehow connected or even behind these murders. The Riddler denies that he's involved and he offers Batman is help to catch him. Batman of course turns him down as he doesn't trust the Riddler.
Tut has killed two people already and the Riddler provides Batman with a clue to the next victim. Batman is too late and the victim is dead. Batman heads back to Arkham to confront the Riddler again about his possible involvement in these crimes, but he finds him missing from his cell.
This story is being written by Nunzio DeFilippis and Christina Weir - the writers who wrote for Marvel Comics' "New Mutants" and "New X-Men". This team is very underrated and they write some good stuff. The art is provided by veterans Jose Luis Garcia-Lopez and Kevin Nowlan. It's nice them getting some work. I don't even remember the last book Garcia-Lopez worked on.
If you're big a big Batman fan like I am, pick this up and have some fun.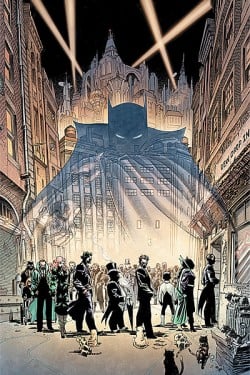 This month's issue of "Batman" is a big one. It's part one of the two-part storyline, "Whatever Happened to Caped Crusader" which is written by Neil Gaiman and illustrated by Andy Kubert. This story is an homage to classic Alan Moore Superman story "Whatever Happend to the Man of Tomrrow?" Does Gaiman live up to the story? In my opinion no, but it's still a pretty good story with fantastic artwork by Andy Kubert. DC has really dropped the ball in regards to the Kubert brothers. Both of them have not had long runs on books and have been regulated to short stints or covers. I hope this changes in 2009.
As for this story, it's kind of like the stories that Grant Morrison has been telling over the past few months with "RIP" where it's not your normal run of the mill Batman story and everything feels abstract or like a dream. The only difference here is I didn't like what Grant Morrison was doing with his Batman stories, but I do like what Gaiman is doing here in the beginning of this story.
Click to continue reading DC Comic Review: Batman #686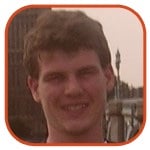 Posted by Todd Matthy Categories: Reviews, DC Comics,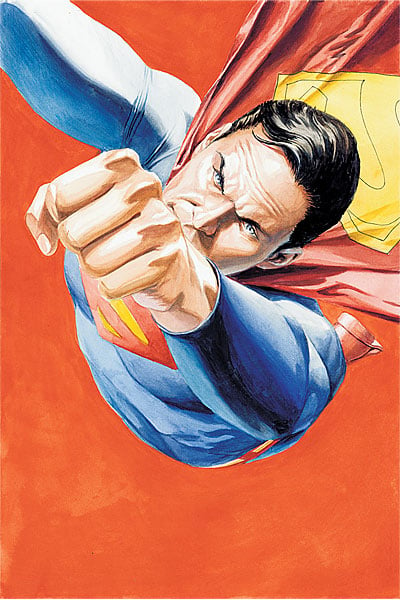 I really don't know what to say. Final Crisis 7 is a perfect summary of the Final Crisis series. It reads like a plate glass window smashed by a sledgehammer. Every scene is a piece of shattered glass that tries to re-assemble itself back into a window. Whether it was successful or not is your opinion (by the way, check out Dave and Joel's opinions). I apologize for the jumpy nature of this review, but this issue is going to require a lot more re-readings before I comprehend everything.
Click to continue reading Final Crisis 7- My Take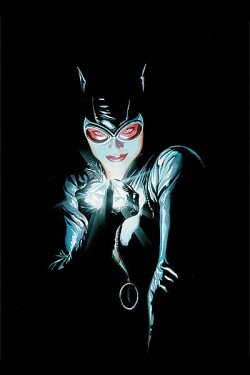 Another solid issue by Paul Dini. Dini was one of the masterminds behind "Batman: The Animated Series". When it was announced that he was going to write for Batman, I was thrilled. Although his run has not lived up to my expectations, his run has still been quite good. This issue continues the "Faces of Evil" storyline that began in "Detective Comics".
If you read part one of this story and the "Heart of Hush" story before that, you know that Tommy Elliot aka Hush has had his face surgically altered to look like Bruce Wayne. Catwoman has sworn revenge over the incident in where Hush stole her heart - literally. She gets revenge by stealing all of the Elliot fortune and leaving Tommy penniless.
Because he looks like Bruce Wayne and Bruce is missing, Hush takes advantage and uses this to score some cash - unfortunately for him he wasn't expecting to meet up with Catwoman again.
Spoilers….......
Click to continue reading DC Comics Review: Batman #685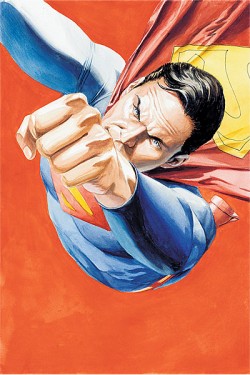 At the end of my review for "Final Crisis" #6, I said that I wasn't going to pick up the last issue of the series. However, since I write for Comix 411 in my spare time and I'm always looking for something to write about and I decided to bit the bullet and buy it so I can give my review. So what can I say about "Final Crisis" #7? Well…I didn't like this one either. I just don't get why some people think this has been a good story.
I consider myself to be a fairly intelligent person. I graduated from college with a degree in English; I received a masters degree in library science; I can follow along when something is a little bit deep, but I don't think this story was at all deep or even just over my head. I just think this was a bad story.
As with my previous review, I will be talking about some details within this issue. If you don't wish to be spoiled, do not read any further.
Click to continue reading DC Comics Review: Final Crisis #7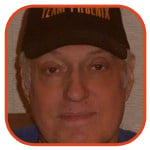 Posted by Joel Rosenberg Categories: Editorials, DC Comics, Marvel Comics,
Here we are again. The Tuesday Preview has hit three in a row. Couldn't do it without you.
Some interesting books this week. In Batman 685 I am sure we will learn everything we have to know about Bats. Again, I recommend anyone trying to follow this continuity to read Bubba's comment for a clear viewpoint on our caped hero. Justice Society of America 23 should either wrap up the Gog storyline or start another. And the biggies, Final Crisis 7 and Revelations 5 - all will be cleared up. Grant Morrison reveals all. Comic readers head for tall buildings.
On the Marvel side we start with the always great Captain America. My best book of the year soldiers on. One of my new favorites is Hercules. Here is a hero that chases every woman in every story that he appears in, but with a grin on his face. And yet he seems to succeed and, as a spill over, the 7th (or 8th) smartest man in the world seems to be getting something out of his palling around with Herc. New Avengers 19 debuts and should contain the Dark Reign Saga. The only worry is that we are going to have too many Avengers teams, but I am sure we'll never get to 50. Wow, 50 Avengers Initiative teams and 52 DC Universes. Lots of characters huh? And In Ultimate Spider-Man 130 we may continue killing off characters from Ultimatum. Or not.
© Gear Live Inc. – User-posted content, unless source is quoted, is licensed under a Creative Commons Public Domain License. Gear Live graphics, logos, designs, page headers, button icons, videos, articles, blogs, forums, scripts and other service names are the trademarks of Gear Live Inc.