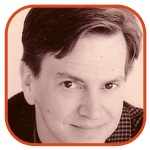 Posted by Tom Mason Categories: Editorials,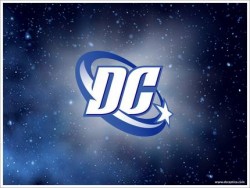 BATMAN needs your help! So does SUPERMAN. And AQUAMAN. And even GREEN LANTERN could use a little bit. What's going on? Is it some sinister plot? A new multi-title crossover? Or worse, another relaunch an old favorite? Nope. It's DC Comics and they appear to be looking for someone just like you. According to the Time Warner website, there are two positions available in DC's New York offices. One pays, and the other doesn't, not even in Target gift cards.
Let's go to the free job first: A CREDIT-ONLY INTERNSHIP at DC COMICS CREATIVE AFFAIRS department. It's a general office-duties sort of gig, with a lot of organizing and database searches, but it has an awesome perk: you'll get to read incoming movie scripts and treatments for upcoming DC-based movies. Oh, and you'll be in charge of organizing the mysterious and thrilling "comic book closet."
So if you're heading into your Junior or Senior year of college and want to move into the creative end of film and television business, this sounds like an easy A on your report card. But it's also a hugely confidential non-paying position, so don't ask, don't tell.
Now for the paying gig: A COORDINATING EDITOR for the DC EDITORIAL DEPARTMENT. You'll be setting up a ton of meetings with the various DC departments, manage the DCU schedule, and reassign the work of late creators, as well as being the primary DCU contact for talent relations. You'll also be in charge of coordinating all the stuff for Diamond's Previews catalog, supervise the credit-only interns (see above listing) and coordinate with the Comics Code Authority (hey, they're still around?).
There are a lot of requirements, but one of the cooler ones is the ability to travel to various conventions, presumably on DC's dime, unless you have your own super-powers. Good luck, job-seekers!
Both jobs were posted in mid-April so time may already be running out. Get that resume polished and in.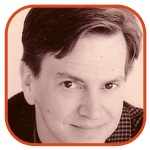 Posted by Tom Mason Categories: Editorials,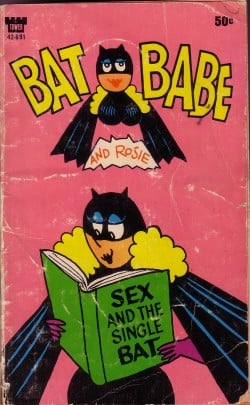 Who is Batbabe? Good question. The Batman TV series – the one with Adam West and Burt Ward - took the nation by storm for a brief time in the 1960s. The success of it inspired a number of cheap knock-offs where putting "Bat" in front of anything smelled like a license to print unlicensed money. Batfink, anyone?
Hence, Batbabe and Rosie. Tower Books (#42-691) released this cheap paperback in 1966 in an obvious attempt to cash in on the craze: Batbabe and Rosie are a cartoony female version of Batman and Robin. Most of the humor in each of the double-page spreads of cartoons is of the corny late-50s and 60s variety, with strong sexist overtones. Batbabe has man trouble, her mother nags her about getting a boyfriend, she frets about her hair and falls for the kind of guy she's always punching out, etc. The art is competent, stylized and looks quickly drawn.
But who is Bob Rite, the credited creator? The copyright is in his name so he must have been someone, yet a Google search of Bob Rite, Robert Rite and Batbabe turned up nothing except a couple of copies for sale. So who was he, where did he come from and where did he go? Tower Books also published Tower Comics, home of the T.H.U.N.D.E.R. Agents by Wally Wood and Samm Schwartz (and lots of others) from 1965-1969. So in theory it could be someone from that part of the company, but who knows? If you do, leave your Bat-thoughts in the Bat-comments.
(Illustration: The cover to my worn-out copy of Batbabe and Rosie, picked up at a library book sale.)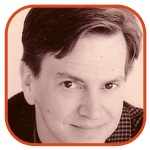 Posted by Tom Mason Categories: Interviews,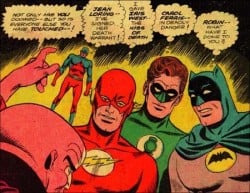 Ah, the joys of Stumble! It's like channel surfing yet I can do it with the click of a mouse and unlike channel surfing, I can always find something worthwhile. One of the things I Stumbled Upon was a strip called Batman's 24-Hours that made me laugh out loud. I followed a few links and it lead to the creator, Eric Feurstein, which lead to a brief chat.
TOM: How did you get started as a cartoonist?
ERIC: All I wanted to do as a kid was draw. My first comics were basically ripped-off Far Side cartoons. I got a little older and started ripping off Garfield. In middle school, my brother and I made a MAD magazine clone called Abnormal that we wrote and drew. We sold it in the school store (after getting it approved by the principal!) and it was pretty awesome. We made a few issues and I don't think I drew another comic until college.
TOM: Your thesis adviser at the School of Visual Arts was Gary Panter. What was that like and what advice did he give?
ERIC: He's an awesome guy. It was many years ago that I had him but he was really supportive and honest.
TOM: How did Batman's 24 hours originate?
Click to continue reading WEBCOMICS WEDNESDAY: Eric Feurstein on Batman, Gary Panter & Guitar Hero!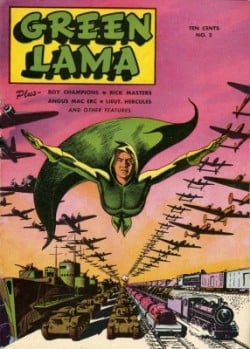 Lots of great stuff this week on the internets. Here's a few things to occupy you 'til Monday.
THE GREEN LAMA: The Green Lama was created as a Shadow imitator in a story for a 1940 pulp magazine called Double Detective. It was written by Kendell Foster Crossen. The character made the leap to comics later that year in Prize Comics #7, then jumped to his own title in 1944, still written by Crossen. One of my favorite blogs, Killer Covers Of The Week, has a terrific overview of Crossen's work and his pseudonyms, and his career as a detective novelist who also wrote for the TV series' 77 Sunset Strip and Perry Mason. Now that GL is in the public domain, he's currently appearing in Project Superpowers, from Dynamite Entertainment, courtesy of Jim Krueger and Alex Ross.
MAD MAGAZINE: Senior Editor of MAD, Joe Raiola, recently made a stop at the Everett Public Library (Washington) to talk about "The Joy Of Censorship." HeraldNet – the online news service for Snohomish County has the details.
Click to continue reading WEEKEND READING: Green Lama, MAD Magazine, Dollhouse, and Blazing Combat!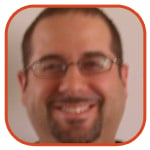 Posted by David Torres Categories: Editorials, DC Comics,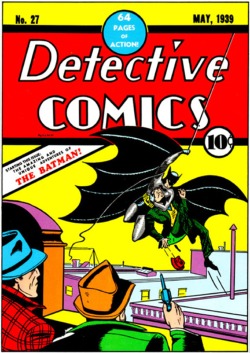 According to the publication "Chase's Calendar of Events", "Detective Comics" # 27 hit newsstands on May 1, 1939. Wikipedia has it as May 2nd, but since I'm a librarian, I'm going to go with Chase as a more reliable resource. Instead of going through a history of Batman and talk about such things as the 60s TV show and the recent Chris Nolan Bat-films, I've decided to take a more personal approach. I mean lets face it, as a comic fan you know the history of Batman already. For you older fans you've experienced it first hand. Some of you are old enough to remember watching the 60s TV show when they first aired on ABC. So I will discuss my experiences with the character.
I will be 35 years old this July. So I have been alive for half of the 70 years that Batman has been in existence. My first experience with the character did not come with a comic book. It came with a TV show. I was introduced to Batman with the old Hanna-Barbera Super Friends cartoons. In these cartoons, Batman was far from the cool character that we would eventually see in later years. In fact, the Super Friends Batman was pretty lame. The character was portrayed as being just about helpless if he didn't have his utility belt. Still, I liked him and Robin and I liked super hero cartoons in general. Looking back at these old cartoons with my oldest son who is four, I do not enjoy them because they are quality stories and adventures. I enjoy them more for nostalgia purposes and laugh to myself at how lame some of the things are on those old shows. But had it not been for the Super Friends, I never would have been introduced to the character.
At the same time these cartoons were on Channel 11 here in NYC, they also would air re-runs of the 1960s Batman TV show. Again, Batman was not the cool character that he is today. Adam West's interpretation of the character was of course very campy. A young man who works in my library as a page looks at old clips of the show on YouTube and wonders how this show was successful and I said that this is all we had; this was all we knew about Batman.
I was not aware of what was going on with the comics at the time I was watching these shows. I did not begin reading comics until about 1984 and then I was only reading Marvel Comics. I picked up an issue of Batman sometime after I started collecting and the book didn't really interest me. I don't really remember why, but it wasn't until 1989 and the first Tim Burton Batman film that coaxed me into giving Batman comics a second look. I vividly remember leaving the Valentine theater in the South Bronx on Fordham Road. My friend Elliot's grandmother worked there as an usher and we were able to get in and see free movies. I enjoyed the movie and wanted to continue the Bat-experience so I decided to go to my comic book store that was located just down the block.
Click to continue reading Happy 70th Birthday Batman!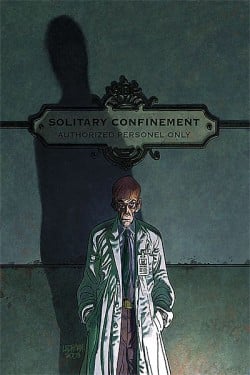 Rating: ***1/2*
I've been picking up the "Battle for the Cowl" (BFTC) one-shots and mini-series that have been coming out. Normally I don't pick up all of the spin-offs of event books, but because it's Batman, I've been getting them. Some of it's been good and some of it's been bad. I wasn't expecting much from the Arkham Asylum one shot so I was happy to have really enjoyed this story after I read it. I enjoyed it so much I decided to write about it.
This issue reminds me a lot of one of favorite comic stories, "Arkham Asylum: Living Hell" by Dan Slott. In this story, Slott introduces a slew of unknown residents of Arkam Asylum including Humpty Dumpty and Jane Doe. The writer of this issue of this BFTC one-shot David Hine sort of picks up where Slott left off and introduces a few characters of his own.
In the story, Arkham Asylum has been destroyed. It was destroyed and most of the inmates are now on the loose thanks to the Black Mask (see the BFTC mini-series). The director of Arkham Asylum, Dr. Jeremiah Arkham has returned to the ruined asylum to try and find some of the inmates who were not in the general inmate population. These inmates include: No Face, Mirror Man, and the Hamburger Lady. What's interesting about these new characters are as of right now, they don't seem to be threats to anyone. They just seem to be mentally ill people. Now that may change - especially from what we see in the ending of this story. Maybe these characters were introduced as new villains for the new Batman and Robin debuting next month. I don't know.
Click to continue reading DC Comics Review: Battle for the Cowl: Arkham Asylum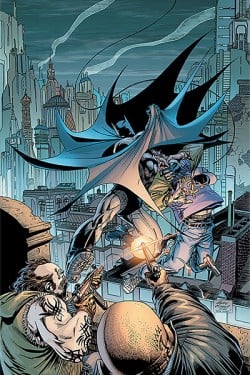 Rating: ***1/2*
Part two of "Whatever Happened to the Caped Crusader" is finally here. After a long delay, we see the conclusion of the so-called last Batman story. Is it really the last story? Of course not. The story of Batman does not end here. It is simply a new beginning. A new beginning for Bruce and a new beginning for the world of Batman.
In the coming weeks, we will see a new man take over the role of Batman with the end of "Battle for the Cowl". Then we will see this new Batman, along with a new Robin, fight crime as the new dynamic duo. But before all of this happens, we have the conclusion to this story. I enjoyed the first chapter of this story. It continued the surreal type of storytelling that we saw Grant Morrison present with his RIP storyline. I think the difference in this tale and that one is that although it was surreal, I still understood what was going on in "Whatever Happened" and I enjoyed the overall story. I didn't have to reread it the way I did with RIP.
In "Whatever Happened to the Caped Crusader" Batman is dead - or at least he appears to be. A funeral is being held in Crime Alley with all of his friends and enemies coming to pay their respects. Batman is viewing all of this with a mysterious stranger. Part one ended with Batman trying to figure out what's going on. So what is going on here? Lets see…......
Click to continue reading DC Comics Review: Detective Comics #853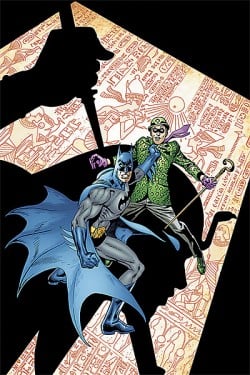 Rating: ***
The final part to the King Tut storyline is here. This was a very good story. It's funny after reading this story, I almost wish DC went with the funny 1960s version of King Tut, but as I said before DC has Maxie Zeus to fit that role so it would be redundant here.
The Riddler and Batman continue to match wits as they work together to take down King Tut. When we last saw them, it looked like the were caught in Tut's trap and died in an explosion - obviously they escaped. Similar to the old movie serials we are shown exactly how they escaped just prior to the explosion. I like the relationship here between Batman and the Riddler. I think writers Christina Weir and Nunzio DiFilipis do a better job of this pseudo good Riddler than what Paul Dini was doing in over in "Detective Comics".
Jose Luis Garcia-Lopez is still a master with his artwork. Some great action sequences that help tell the story. Batman and Riddler save the day and send King Tut off to jail. However, by the looks of the things, this will not be the last time we see Tut as he now has a queen to help him rid Gotham of Batman.
"Batman: Confidential" continues next month with the return of the creative team of the previous story arc Andrew Kreisberg and Scott McDaniel. They team up once again to to tell the story of the police officer who has gone insane thanks to the actions of the Joker. See you next month for the beginning of the two-part storyline entitled: "Bad Cop."
Rating: *** 1/2*
This was another great issue of the "Battle for the Cowl" (BFTC) mini-series. As readers know, Tony Daniel provides the artwork as well as the story for this mini-series and he continues to do a great job. The story so far has not only lived up to the hype, but in my opinion it has surpassed what I thought we'd get here. As I mentioned in my previous blog about the first issue, I thought giving Daniel the task of writing this story was going to be a mistake. Most of the time big events tend to let me down, and I really get excited when they don't let me down.
This series is a must read for Batman fans. Although Bruce Wayne does not appear in this story, he is here spirit. The foundation of what Bruce believed in and what he stood for is the center of the story. Who will continue his mission?
The story hasn't had any real surprises so far. Its been pretty straight forward in the direction it's heading with Nightwing becoming Batman and Damian becoming Robin. It's almost too much like getting hit over the head and saying that this is exactly what will happen. However, you never know, there could be a turn coming and maybe Tim Drake becomes Batman. Who knows.
The story picks up where we left off in the last issue with the gun totting Batman aka Jason Todd, attacking Nightwing and Damian.
Click to continue reading DC Comics Review: Batman: Battle for the Cowl #2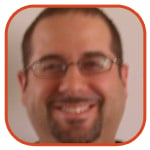 Posted by David Torres Categories: Editorials, DC Comics,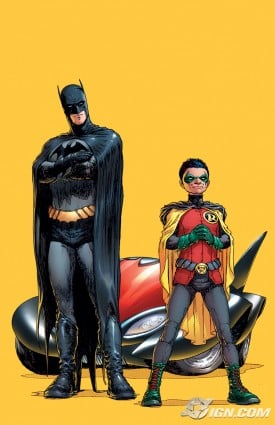 According to IGN.com there are some big changes in store for the Batman titles post-Battle for the Cowl. In June we will see some new series premiere and the traditional Bat-titles get new creative teams. Here is the list: "Detective Comics," "Batman," "Batman and Robin," "Red Robin," "Gotham City Sirens," "Batman: Streets of Gotham," and the "Outsiders." I also saw on a message board over at CBR that Batgirl will be getting her own series again. The CBR message board also posts who are the creative teams behind each book.
The good news for me is that Grant Morrison is off "Batman". The bad news is that he's being replaced by Judd Winick. I've enjoyed stuff that Judd has written in the past. His work on "Exiles" and "The Outsiders" was good - particularly the "Exiles" that book rocked and hasn't been good since he left. However, I was not all impressed with his previous work on Batman. Why DC didn't just give the "Batman" title completely to Tony Daniel as he's staying as artist I don't know. Maybe it would be too much to handle? I love what Daniel is doing on "Battle for the Cowl". "Detective Comics" will be written by Greg Rucka and will feature Batwoman - I'll check out the first issue, but I'm not a big fan of Greg Rucka so I may end up dropping it. I also could care less about Batwoman.
Although Grant Morrison will be leaving the "Batman" title, he will be staying in the Bat-universe and will be launching a new monthly series entitled "Batman and Robin" along with his usual artist collaborator Frank Quitley. According to IGN, this title will be the "flagship" of the Batman titles. I'm not happy with that statement as I feel the original title of any group of comic books should be the flagship title. The flagship title for Batman should be and always be "Detective Comics".
Click to continue reading My Future with the Batman titles
© Gear Live Inc. – User-posted content, unless source is quoted, is licensed under a Creative Commons Public Domain License. Gear Live graphics, logos, designs, page headers, button icons, videos, articles, blogs, forums, scripts and other service names are the trademarks of Gear Live Inc.