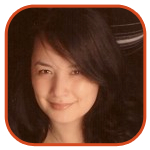 Posted by Veronica Santiago Categories: Warner Bros, Sequels, Casting, Celebrity Gossip, Rumors,
Of all the rumors heard about the next Batman sequel, there's at least one that could pan out.
While promoting the upcoming release of Public Enemies, Johnny Depp addressed talk about another possible Christian Bale collaboration. Although there are no current plans to have Johnny play an updated version of the Riddler (Jim Carrey brought the character to life in 1995), the Oscar nominee said he might be willing to give the role a shot.
Click to continue reading VIDEO: Johnny Depp Talks About Riddler Rumors
Read More

| MTV Movies


Posted by Alex Lifschitz Categories: Action, E3, PlayStation 3, Reviews, Xbox 360,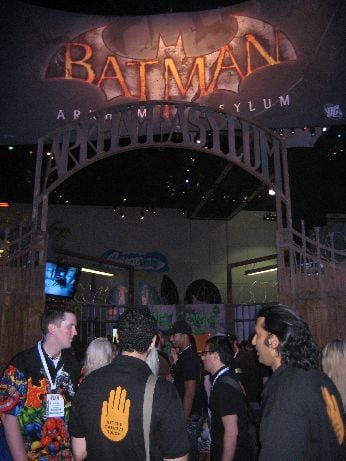 God dammit, Warner Brothers, how the hell am I supposed to come into this convention without any bias when you set up a demo center like this?
They brought in their own little slice of Arkham Asylum to display the latest Batman game to attendees of E3 '09, and while it took for-f*cking-ever to get a turn to play it on the 360, it was well worth the wait.
Hit the jump for our impressions of Batman: Arkham Asylum.
Click to continue reading E3 2009 Idle Speculation: Batman: Arkham Asylum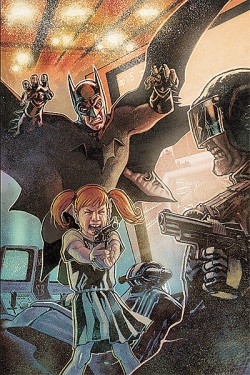 Rating: *** 1/2*
This month's issue of "Batman Confidential" is a big improvement from last month's issue. Last month we got part one of a two part story entitled "Bad Cop" by Andrew Kreisberg and Scott McDaniel. This was a sequel to Kreisberg's story which appeared in "Batman Confidential" earlier in the year. As I said, part one was a disappointment to me, but this issue ups the ante with a tense stand off between Jim Gordon and Bad Cop with Gordon's daughter Barbara caught in the middle.
Kreisberg is kind of creating his own separate Bat-Universe that I wouldn't mind seeing continue. In his first story he brilliantly told the story of the first time Batman brought the Joker into Gotham PD for booking. I'd like to see some other "first" stories that he could write. Has there been a Jason Todd Year One yet? I think Kreisberg could do some great stuff with Jason.
In the last issue the former police officer Geoff Shancoe had escaped from Arkham and assumed the identity of the villain Bad Cop. He's angry about the death of his wife at the hands of the Joker and takes it out on rookie cops at the Gotham Police Academy where Montoya is located. Both Batman and Shancoe's former partner confront him. Bad Cop wants to die. He's too distraught to want to live after everything that has happened and figured by committing a viscous crime he could get killed in the process. Neither Batman or Shancoe's former partner oblige him of his wishes. So Bad Cop goes another route.
Click to continue reading DC Comics Review: Batman Confidential # 30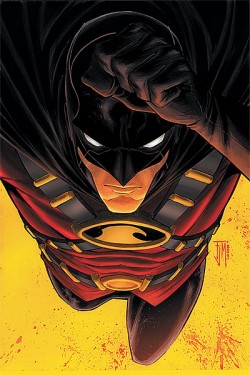 Rating: ***
When it was announced that there would be a new Batman and Robin, a guessing game began. When a teaser image was released, we all made the assumption that the new Batman would be Dick Grayson and that the new Robin would be Damian Wayne. DC tried to keep the guessing game going, but in the end, we were all right. When the announcement came that a "Red Robin" title would be launched, with a new person behind the mask we made the assumption it was Tim Drake aka Tim Wayne. Well, guess what, we were right again!
I've revealed that in my opening paragraph because I don't feel its worth it to continue teasing that information or say beware of spoilers. We knew it was coming and now Tim is Red Robin with the quest to find his presumed dead mentor: Bruce Wayne.
This was a good issue, but not a great start to the series. I think the reason why I'm interested in collecting this book is because of the character of Tim Wayne. Tim has developed into arguable the best character DC has created in over the past twenty years. He's developed from this young, intelligent, and innocent boy who discovered the identity of Batman, to this man who seems to be not only capable of taking over for Batman, but he could be an even be a better Batman than Bruce could ever be.
Click to continue reading DC Comics Review: Red Robin #1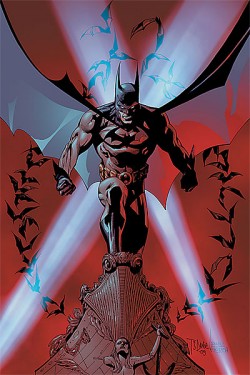 Rating: *** 1/2*
When DC announced the new direction they would be going with in the Batman books, I wasn't happy. With this new direction would come a new monthly book called "Batman and Robin" which would be written by Grant Morrison. I wasn't happy. Then came the news that Judd Winick would take over the "Batman" monthly title. Still not happy. I thought to myself, that I probably may end up not reading any of the Batman books that DC would be publishing for the foreseeable future or until Bruce Wayne returned as Batman. Well, if you read my review from last week, you know I was very surprised and absolutely enjoyed "Batman and Robin". So what about Judd's first issue of "Batman," well, DC is two-for-two in my book as I absolutely loved this week's issue of "Batman".
The story is an epilogue to "Batman: Battle for the Cowl" and it shows some of the events that lead up to where Grant Morrison's story begins in "Batman and Robin". The issue shows various moments where members of the Batman family and the super hero community deal with the news of Bruce's death. Some very moving scenes were done here, particularly the one in the cave with Alfred. I'm not a huge fan of Ed Benes's art work, but he does a good job here with some moving visual images that set the tone of everyone's feelings concerning Bruce.
As I said, there are some powerful moments in this book as we see Dick Grayson breakdown and cry over the death of Bruce Wayne, but the most moving scene come from Alfred. Superman and Wonder Woman return Bruce's cape and cowl to give to Dick and Tim in the Batcave. As they discuss Bruce's death, Alfred enters the cave with some refreshments for everyone. Superman asks him if he's alright and Alfred's response is, "Am I all right? No, sir. I am not. My son has just died." I'm not sure if this sentiment was ever expressed by Alfred in any other comic, but for Alfred to say that about Bruce was dead on. Thank you, Mr. Winick. Bruce Wayne was orphaned, but he gained a father in Alfred from a very early age and Alfred has watched his "son" grow up to be a great man. I was happy to see that moment expressed here.
Click to continue reading DC Comics Review: Batman #687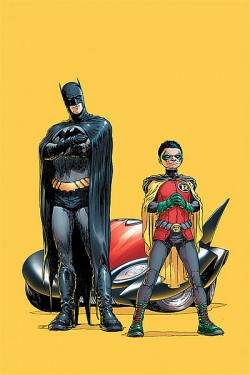 Rating: *** 1/2*
The new era of the Batman begins today in Grant Morrison and Frank Quitely "Batman and Robin". As any reader of Comix 411 knows, I have not been kind to Mr Morrison and his work on the "Batman" title and the miniseries "Final Crisis" over the past year. Where many readers and other comic book reviewers have given him praise, I have been one of the few who have disliked the stories that Mr Morrison has laid out before us. I made a promise to myself that if I didn't like the first issue of "Batman and Robin," I would drop it immediately and not even give it a second chance. Maybe it's because I wasn't expecting to like it, but for whatever the reason, I will be collecting this title because this first issue was great!
I can't believe I'm saying this, but I really liked the story that Grant Morrison has set up here. It's different. It's certainly not the Batman we have known over the years and not simply because of the new people in the roles of Batman and Robin. The one negative thing about this book is Mr Quitely artwork. I'm not a huge fan of Frank Quitely. Although there are certain times that I've seen him draw some cool images, overall his work on a full 22 page comic usually leaves me wanting a much more traditional artist's interpretation of comic characters - someone like Andy Kubert. I know Mr. Quitely will not be penciling every issue of "Batman and Robin" because he's slow and can't keep up the monthly pace of a comic book so I hope DC will give Andy a shot to fill in. I do like the splash page where Mr Quitley has the new Batman and Robin jumping out of the flying Batmobile. Yup, the new Batman and Robin have a flying Batmobile. There's that and more.
Lets begin….
Click to continue reading DC Comics Review: Batman and Robin #1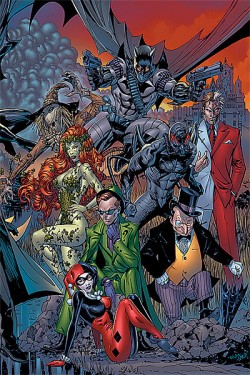 Rating: ***
The conclusion to "Batman: Battle for the Cowl" is here. I enjoyed the two previous issues of "Battle for the Cowl" immensely, but for some reason this issue left me wanting more. I'm not sure what else I wanted or expected from this issue, but the issue was a bit of let down. This is of course the storyline which names the new man to take over the role of Batman. For months now we have all assumed that the man who takes over is Dick Grayson aka Nightwing the first Robin and that the new Robin will be Damian Wayne Bruce Wayne's illegitimate son. At the end of the issue, everything seems to be revealed as far as who's the new dynamic duo. Who are they and what did we see in this issue? Lets find out!
Click to continue reading DC Comics Review: Batman: Battle for the Cowl #3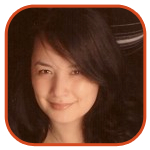 Posted by Veronica Santiago Categories: 20th Century Fox, Disney, Lionsgate, Paramount, Sony, Weinstein Company, Action, Animation, Classics, Drama, Horror, Period, Political, Science Fiction, Sequels, Comedy, Thrillers, Home Entertainment, Lists, New Releases,
Here are some of the DVD and Blu-ray options available this Tuesday:
3 Days of the Condor: Blu-ray
Batman: Blu-ray
A Bug's Life: Blu-ray
Changing Lanes: Blu-ray
Enemy at the Gates: Blu-ray
Fanboys: DVD
The Friends of Eddie Coyle: DVD
Lion for Lambs: Blu-ray
The Machinist: Blu-ray
Man Hunt: DVD
The Man Who Shot Liberty Valance: DVD
My Bloody Valentine 3D: DVD, Blu-ray
Click to continue reading This Week on DVD and Blu-ray: May 19, 2009
Read More

| Amazon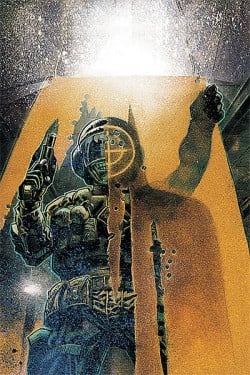 Rating: ** 1/2*
A bit of a disappointment this time around for the creative team of Andrew Kreisberg and Scott McDaniel. I've been raving about the writing that Kreisberg had been doing with his previous story arc in "Batman: Confidential" which was entitled "Do You Understand These Rights?". This was a great story that presented a retelling of the first time Batman captured the Joker and brought him in for booking at Gotham Police headquarters. The Joker that Kreisberg portrayed in his story was fantastic; funny and evil at the same time; the way you would like to see the Joker in any comic book story. The peanut murder was a classic! I highly recommend picking this story arc as a trade or going to your local comic store to get the back issues.
I was looking forward to the "Bad Cop" storyline because it's a direct sequel to the "Rights" storyline and Kreisberg and McDaniel have returned to tell the tale. This wasn't a bad story, but it also wasn't a great story. If you're a Batman addict, I would recommend it as it maybe one of the few Bruce Wayne/Batman stories we maybe seeing for a while. If you can do without Bats, then I would pass.
Click to continue reading DC Comics Review: Batman Confidential #29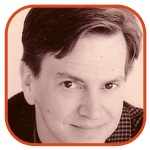 Posted by Tom Mason Categories: Editorials,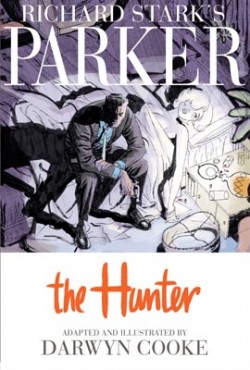 Lots more great fun on the internets this week: Darwyn Cooke's adaptation of Richard Stark's (aka Donald Westlake) The Hunter, the craziness of Tintin, a bit of Bosko, The Family Circus (no, really!) and some silly Star Trek stuff with Simon Pegg. Let's get the linking party started:
DONALD E. WESTLAKE & DARWYN COOKE: The late Donald E. Westlake was one of America's greatest crime writers. He wrote some great stand-alone novels like Kahawa and The Ax, as well as caper novels featuring John Dortmunder, many of which became movies: The Hot Rock, Bank Shot). Under his Richard Stark pseudonym he wrote some critically-acclaimed hard-boiled crime novels featuring Parker (many of which were made into movies: Payback with Mel Gibson and Point Blank with Lee Marvin). Both Payback and Point Blank are based on the same novel, The Hunter. Tom Spurgeon of the blog Comics Reporter has an interview that's a must-read for Westlake/Stark/Parker fans. Spurgeon interviews Darwyn Cooke about his upcoming IDW adaptation of The Hunter. Ed Brubaker guest-stars in the interview.
STAR TREK: Simon Pegg of Shaun of the Dead and other fun films, gives an interview to the BBC where he talks about playing Montgomery Scott in J. J. Abrams' Star Trek, and also playing on of the Thompson Twins in Steven Spielberg and Peter Jackson's adaptation of Tintin. Here he is talking about having his own licensed action figure: "As a fan of those things as a kid, I had plenty of action figures. To actually be one is a great joy, well, it's five - two Shaun of the Dead, a Doctor Who one and two Star Trek figures. Yes, I play with myself regularly."
TINTIN: This is from a couple of years ago, but it's still hard to figure out who's nuttier, Herge or his creation Tintin. Fortunately, Spencer Cook has the illustrated details, and it's hard to argue his point. It's easy to laugh with him though!
TINTIN II: And while Tintin may or may not be crazy, at least one of his fans is rich enough to part with a cool million to buy some original art. The Scoop at Diamond Galleries has the scoop.
BOSKO: Bosko was an animated series character created by Hugh Harman and Rudolph Ising whose cartoon adventures "mirrored" whatever his competitor Mickey Mouse was doing over in his Walt Disney Cartoons. Over at David Gerstein's Ramapith, he's posted some fun samples of a Bosko comic strip that's well worth taking a look at.
THE WORST COMIC BOOK ARTIST?: Steve over at Booksteve's Library has an interesting historical question. He's posted what he thinks may be the worst-drawn comic book story in history (or at least the Silver Age) and he needs help identifying the artist. Help a blogger out if you can. And read the whole thing while you're over there; he's posted the entire story. It's a Secret Agent X-9 tale, but it bears no resemblance to the work of Archie Goodwin and Al Williamson.
LELA DOWLING: Here's a book that fell through the cracks because its target audience isn't necessarily the comic book fan, it's beekeepers. Regardless of whether or not you're a bee lover or bee hater, there's some great cartooning here. When you get to the cover icon, click it and check out some of the insides to Uncle Buzzy's Big Fat Book O' Bee Cartoons.
Click to continue reading WEEKEND READING: DONALD WESTLAKE, BOSKO, TINTIN & STAR TREK!
© Gear Live Inc. – User-posted content, unless source is quoted, is licensed under a Creative Commons Public Domain License. Gear Live graphics, logos, designs, page headers, button icons, videos, articles, blogs, forums, scripts and other service names are the trademarks of Gear Live Inc.