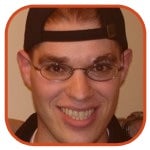 Posted by Jeffrey Harris Categories: Editorials, Reviews, DC Comics, Marvel Comics
USA Today recently got the scoop about the latest issue of The Amazing Spider-Man #583, appearing on store shelves today. In the issue, Spider-Man gets to team up with the next President of the United States, Barack Hussein Obama. The story penned by Zeb Wells, Todd Nauck, and Frank D'Armata will depict the Chameleon trying to thwart Obama's inauguration. The issue will be sold for a cover price of $3.99, and the limited-edition cover by artist, Phil Jimenez, will be limited to half the printing run.
Preview panels from USA Today show Obama going up to Spider-Man and performing a legendary fist-bump to end all fist-bumps as Obama expresses his fandom and support for Spider-Man. Reflecting on the incident, Spider-Man thinks, "I can't shake the feeling that if I hadn't showed up, he would have handled the Chameleon all by himself. Guess it's time to head back to New York. It looks like Washington is in capable hands." Joe Quesada, Editor-In-Chief of Marvel Comics, was excited about Obama having a cameo in a Spider-Man comic after the President-Elect said he was a fan of Spider-Man in an Entertainment Weekly pop-culture survey. Obama's then opponent, Senator John McCain, only mentioned liking Batman, the flagship character of Marvel publishing rival, DC Comics.
The mainstream media outlets and the overt love over Obama getting elected is hardly a secret. But this appearance just feels so blatantly overt with Spidey basically hero-worshiping Obama in the story. Yeah, Obama could've handled Chameleon because everyone knows Obama has had training sessions with Captain America like Spider-Man. Also, if I was Spider-Man, I would be telling him to watch out for Norman Osborn, who is now in charge of HAMMER in the Marvel Universe in the fallout of Secret Invasion. Just saying, if Obama trusts Spider-Man and the admiration is for real, "Mr. President, the guy in charge of HAMMER is a psychopath and admitted former super-villain that's killed a ton of people. Might want to do something about that."
Just saying.
Read More

| USA Today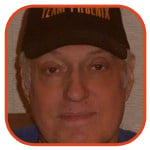 Posted by Joel Rosenberg Categories: Editorials, DC Comics, Marvel Comics
Welcome to what I hope will be a series of Tuesday previews to let you know what to look forward to on comic day.
Tomorrow, Amazing Spider-Man 583 comes out with a variant cover and a five-page Obama back-up story. The variant cover is a one of fifty so, as usual, I didn't get any. And, as usual, I have people coming out of the woodwork to buy it. Luckily Marvel is coming to my rescue by issuing a second printing variant next week and I will have plenty. Of course what this does to the resale value of the original variant is anyone's guess.

X-men Manifest Destiny should be here tomorrow to make up for the screw up of last week. Those miscover books were up immediately on E-Bay, but they tell me the real book will be free to me to make up for it, but as they are not on my invoice I won't know until they get here. Destiny?
Also appearing is Adam, Legend of the Blue Marvel 3 and the first two have been pretty good.
On the other hand, there is Death Defying Devil which is part of Project Super Powers. They could call it Hard to Read Devil because the entire series makes it difficult to follow this storyline, but we'll give it another try.
Final Crisis 6. What can I say? When Final Bar Mitzvah comes out I will comment.
And last but not least is Mad Magazine. I know everyone thinks I am old and senile (Thanks Dennis; ED: No problem, buddy. Hahaha.), but compared to the past Mad this is horrible and not funny. Pick up a few Mad trades if you don't believe me.
And to cap everything off we have Obama trading cards. Now I once asked a distributor why cards don't come out before the movie opens? It would be great to sell cards before an anticipated hit (Iron Man) or bomb (The Spirit) comes out, but I was informed that movie cards contain scenes from the movie so they don't want to give away spoilers. But folks only buy the cards for the inserts anyway. Bikini swatches and kiss cards from Benchwarmers and costume cards and autographs from Iron Man are big hits. They say there are inserts in these cards and I am wondering what they are.
That's all for this preview. Tune in next Tuesday for our hopefully second installment.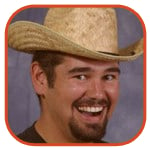 Posted by Patrick Phelps Categories: Handhelds, PC / Laptop
He may soon be the 44th President of the United States, but security concerns and record-keeping laws mean that Barack Obama is unlikely to become the first e-mailing president.
When the President-elect is sworn in 64 days from now, we expect that his advisers will insist that he hand over his favorite little gadget, his BlackBerry. Not only are there serious concerns about e-mail security (if it's connected to the internet, it can be hacked), he also faces the Presidential Records Act, which means that all correspondence must be put in the official record and is ultimately subject to public review and possible subpoenas. Although he could, theoretically, craft an Executive Order allowing BlackBerry use — or e-mail in general — there are plenty of aides who can deal with electronic communication for him, likely making presidential BlackBerry use unnecessary.
Obama is, however, sending a clear signal that he is venturing into new, uncharted territory; for the first time, the weekly Democratic radio address has been released as a web video on YouTube (up top) — it will also continue to air on the radio and the President-elect plans to publish these weekly updates through the transition and then from the White House. We're hoping this will encourage more Americans to take an active, well-informed role in the political process — and rumor has it that in those future presidential videos there will be one previously absent device gracing the historic presidential desk: a laptop computer. Only time will tell.
Read More

| MSNBC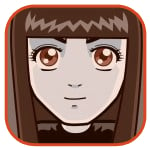 Posted by Sheila Franklin Categories: Internet

Moving right along, Pres-elect Barack Obama already has his own new official site. Change.gov features a countdown to the inauguration, updates on what he is doing and asks for input on personal stories concerning the election and the road you took to get there. There is also information concerning his future policy, agenda and a page to apply for a gig in the new administration. Sadly, there is no news yet about the puppy, which Obama claims is the topic of about 50% of the emails he receives.
Oh, and for an added tidbit, Obama's site runs on ExpressionEngine - the same publishing tool we use here to run Gear Live. We recommend it to anyone.
Read More

| Change.gov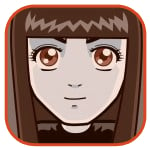 Posted by Sheila Franklin Categories: Action, Mods/Hacks, Nintendo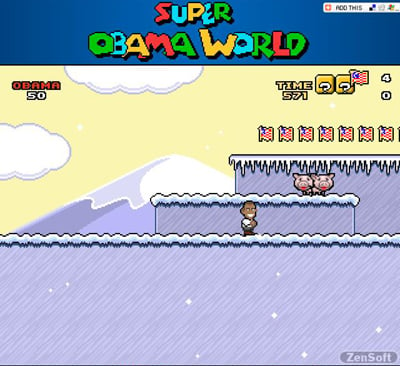 What better way to celebrate Barack Obama's becoming the President-elect than with a round or two of Super Obama World? Played similarly to Super Mario, the ZenSoft game features pigs and flags and John Phillip Sousa's Stars and Stripes Forever. The game is free for all and if you are a hardcore Barack/Mario fan, there are t-shirts to go with them. Creators Robert Sundling & William Jacobson will be releasing additional levels that will include Arizona, Illinois and D.C.
Read More

| Super Obama World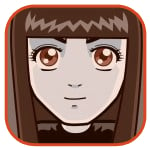 Posted by Sheila Franklin Categories: Internet, Video Games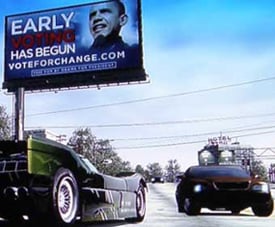 We already have seen evidence of advertising in video games. Still reaching out to techie voters, the Obama campaign now has a billboard in the Xbox 360 game Burnout Paradise. Any advertiser can buy space, including those with presidential ambition. On the other side of the fence, the McPalin group has sent a letter to YouTube complaining that the site doesn't consider fair use in videos before taking some of them down. You can read the entire document at Techdirt.
Read More

| The Raw Feed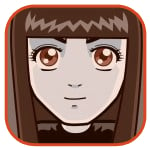 Posted by Sheila Franklin Categories: Apple, Handhelds, Internet, Portable Audio / Video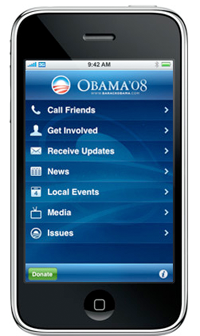 We already know that the Obama campaign is pretty savvy when it comes to the Internet. His team has further proved their point with the Obama '08 free iPhone application. Features include getting stats, connecting with other "friends" receiving local and national news, finding events, viewing videos and photos and finding out how O'Biden (thanks for that one, Sarah) feels about the issues. Available at iTunes App store, the application works with the original and iPhone 3G and iPod touch, and needs the 2.0 software update.
Read More

| Barack Obama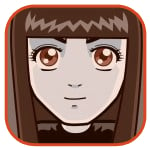 Posted by Sheila Franklin Categories: Home Entertainment
We are sure that by now everyone has seen the incredible impression that Tina Fey did on last week's SNL, but you might have missed a performance on MadTV last weekend of Keegan-Michael Key doing Barack Obama. While we couldn't find the original skit, we did manage to grab a clip by Young Hollywood.com interviewing the "Fauxbarack." Eerie, isn't it?
By the way, don't you think that Peggy Hill looks a lot like Sarah Palin, too?


Read More

| MADtv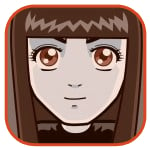 Posted by Sheila Franklin Categories: Editorial, Music, Portable Audio / Video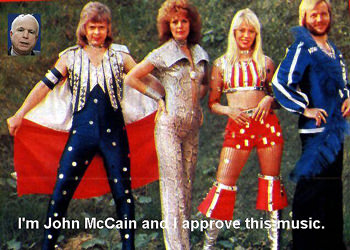 The two Presidential candidates were asked what was on their top ten play list. Barack Obama listed "Ready or Not" by the Fugees, "What's Going On" from Marvin Gaye, and Springsteen's "I'm On Fire" as his top three, while John McCain said that "Dancing Queen" and "Take a Chance on Me" by ABBA, as well as Roy Orbison's Blue Bayou" were his faves.
Somewhat related (not really, we just wanted to share,) Rolling Stone has claimed Rick Springfield's "Jessie's Girl" the top karaoke song of all time, no doubt prompting the singer to come out of the shadows for over 20 years and release his new album, Venus in Overdrive.
Read More

| Blender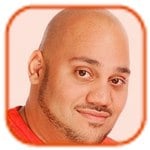 Posted by Andru Edwards Categories: Cell Phones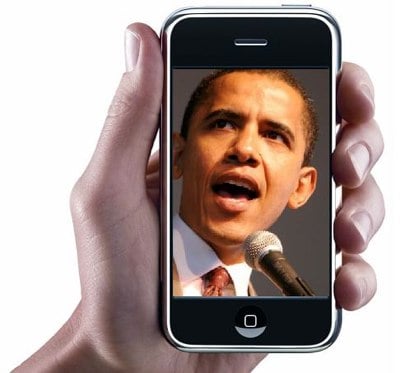 Whether you like him or you don't, you have got to hand it to Barack Obama and the things his campaign is doing to reach potential voters and get them engaged. Case in point, his using SMS as a marketing tool. You see, Obama is set to announce his running mate between now and the Democratic Convention. That's a given. However, instead of just leaving it at that, he is inviting his supporters (or, really, anyone) to sign up so that they can get an email and/or SMS the moment that the announcement is made. From the site:
Barack is about to choose a running mate, and he wants you to know first. You have helped build this movement from the bottom up, and Barack wants you to be part of this important moment.

Sign up today and we'll send you an email announcing Barack's running mate.

You can also text VP to 62262 to receive a text message on your mobile phone.
How's that for using today's technology to reach out? Meanwhile, McCain is still trying to grasp just what the Internet is.
Read More

| Obama VP SMS Sign up

© Gear Live Inc. – User-posted content, unless source is quoted, is licensed under a Creative Commons Public Domain License. Gear Live graphics, logos, designs, page headers, button icons, videos, articles, blogs, forums, scripts and other service names are the trademarks of Gear Live Inc.