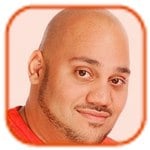 Posted by Andru Edwards Categories: Apple, Cell Phones, Wireless / WiFi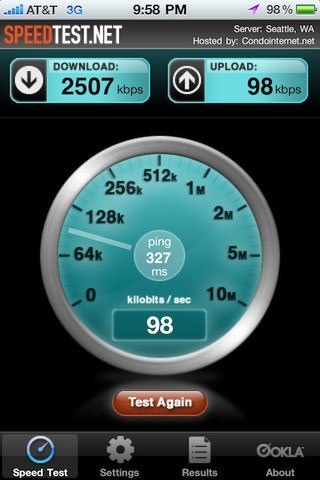 Over the past couple of days, many AT&T customers have been wondering if the company had imposed a new speed cap on uploads for devices that supports HSUPA. Many iPhone 4 users were reporting that their upload speeds had dropped significantly, down to the levels of previous iPhone devices, as you can see in the speed test above. As it turns out, AT&T says this is a software bug in some of their Alcatel-Lucent equipment, and that they are working on a fix:
AT&T and Alcatel-Lucent jointly identified a software defect — triggered under certain conditions – that impacted uplink performance for Laptop Connect and smartphone customers using 3G HSUPA-capable wireless devices in markets with Alcatel-Lucent equipment. This impacts less than two percent of our wireless customer base. While Alcatel-Lucent develops the appropriate software fix, we are providing normal 3G uplink speeds and consistent performance for affected customers with HSUPA-capable devices.
Unfortunately, no word on when that fix will be deployed.
Read More

| AllThingsD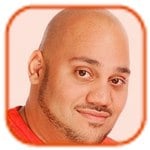 Posted by Andru Edwards Categories: Apple, Cell Phones, Corporate News, Handhelds, Wireless / WiFi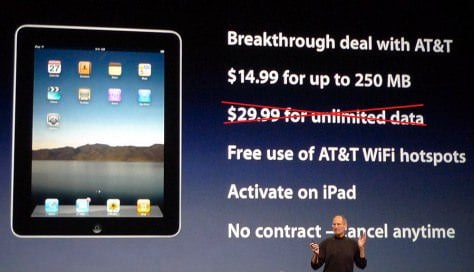 Remember that AT&T iPad 3G data plan bait-and-switch that we were so upset about a few weeks ago? Well, it turns out that many people felt the same way as there's now a class-action lawsuit filed against Apple and AT&T due to the situation. Specifically, the plaintiffs in the nationwide suit claim that both Apple and AT&T "deceptively promoted" that they could start and stop the iPad 3G plan at any time, and switch between the unlimited plan and the 250MB plan. Now customers who opt for the unlimited plan cannot switch back to a limited plan, or start and stop service at will, as originally promised.
Hit the link below to check out the details from law firm Lieff Cabraser, and if you have thoughts on the issue, you can submit them through their contact form.
Read More

| Lieff Cabraser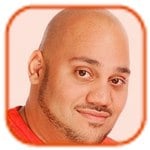 Posted by Andru Edwards Categories: Cell Phones, Editorial, Wireless / WiFi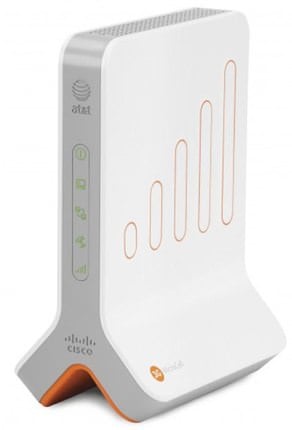 You know, back when AT&T announced that calls made through their 3G MicroCell device would count against your minutes, we were kind of appalled that they'd charge for a device that helps them appropriately cover their service area, and then charge you for using said device to make calls, when the device routes its data through your home broadband connection that you already pay for. We were appalled, but not surprised.
However, today we are absolutely shocked at the latest tidbit of 3G MicroCell related news, as it has now come out that AT&T is also going to charge data used through the device (again, data that is going through your home broadband connection that you already pay for,) against your AT&T wireless data plan. Think about that for a moment, and let it sink in. AT&T, because they seemingly can't get their act together and provide proper coverage, needs to sell the 3G MicroCell as a means to make up for the difference. You pay $150 to buy the MicroCell, which improves the signal in your home because it uses your much faster broadband connection. That should be the end of the story—but it's just the beginning.
Click to continue reading ATT wants to charge you for letting them use your broadband connection that you already pay for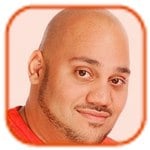 Posted by Andru Edwards Categories: Apple, Cell Phones, Corporate News, Handhelds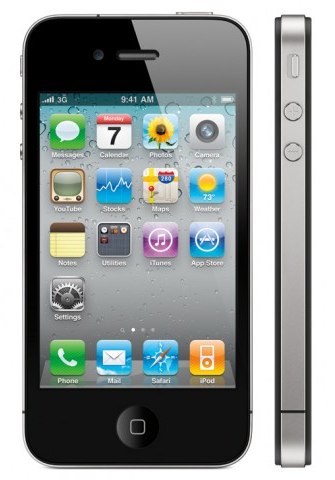 Apple just announced that, in the first day of iPhone 4 pre-orders, when all was said and done they had 600,000 units reserved. All of a sudden it becomes crystal clear why people had problems placing an order for the new Apple smartphone, seemingly from the moment it went on sale all the way through…well…right now. Demand for the iPhone 4 is seemingly about ten times higher than what we saw for the iPhone 3GS. Both Apple and AT&T are sold out of day one pre-orders, so if you want to be certain that you'll get an iPhone 4 on June 24th, you are going to want to line up at one of the other third-party retailers selling iPhone 4 at launch.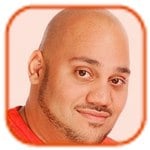 Posted by Andru Edwards Categories: Apple, Cell Phones, Rumors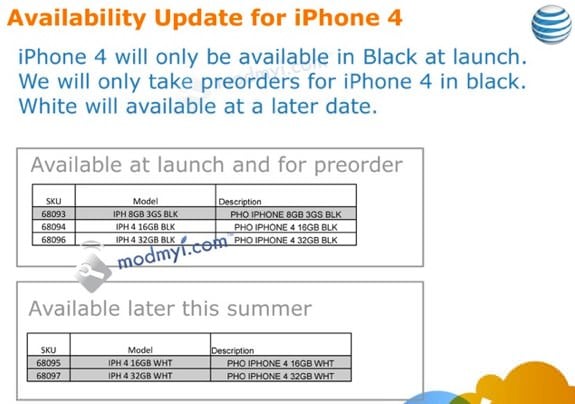 So tomorrow is when pre-orders start for the iPhone 4, and it looks like an internal AT&T document shows that the carrier won;t have any of the white iPhone 4 units in stock at launch. As you can see in the image, if correct, you'll be able to get an iPhone 4 or iPhone 3GS in black from AT&T at launch. You can also pre-order these models starting tomorrow. However, the white iPhone 4 won't be available from AT&T until "later this summer."
We are gonna assume that, if true, this will be the case with other third-party stores that will be offering the iPhone 4 on launch day as well. Stores like Wal-Mart, Best Buy, and Radio Shack will all sell iPhone 4 on day one, but if AT&T won't have white for launch, we are guessing that Apple is keeping the white ones to themselves. In fact, Deutsche Telekom just announced on Twitter that they won't have the white iPhone 4 at launch either. That means you'll need to pre-order from Apple for delivery, or wait in line at an Apple Store.
UPDATE: As it turns out, even Apple won't have white iPhone 4 units available at launch!
Read More

| MMi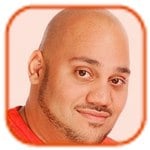 Posted by Andru Edwards Categories: Apple, Cell Phones, Corporate News, Handhelds, Videos
We broke down the iPhone 4 AT&T upgrade pricing along with the method for easily checking your iPhone upgrade eligibility for you a few days ago, but we figured we'd share the video that AT&T put together on the subject as well. Basically, it's that odd "Seth the Blogger Guy" from AT&T talking about what you can expect as either a current or new customer as it pertains to iPhone pricing and eligibility, as well as the new DataPlus and DataPro plans.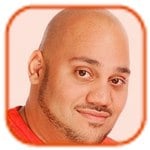 Posted by Andru Edwards Categories: Apple, Cell Phones, Handhelds, Mods / Hacks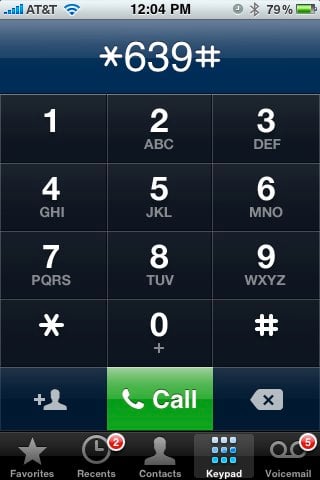 With the launch of the iPhone 4 just two weeks away, many are wondering if they are eligible for the upgrade pricing on the handset. If you are on a family plan, it gets especially tricky, because AT&T doesn't qualify all the phones on a family plan for an upgrade as soon as they do the main line on the account. Or, you just may not have your upgrade date at the top of your head. Fear not—there is a very easy way to find out if you are eligible for an upgrade, and what price you'll pay for an iPhone 4 at launch, if you choose to buy one.
Simply dial *639# on your AT&T mobile phone (iPhone or otherwise,) and within a few seconds, you will receive a free SMS message from them letting you know your upgrade status. Simple!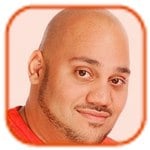 Posted by Andru Edwards Categories: Apple, Cell Phones, Handhelds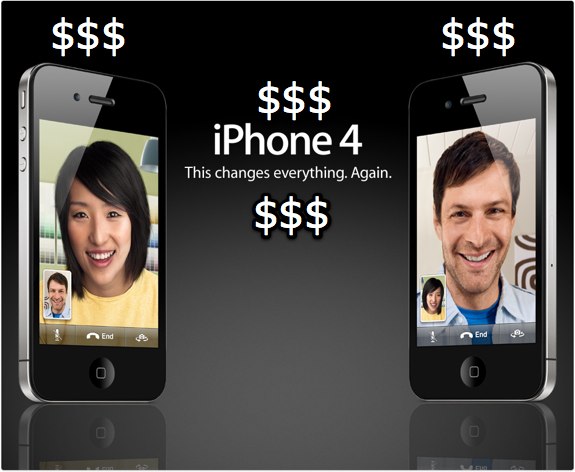 Okay, we've now got the skinny on what it will cost you to buy an iPhone 4, regardless of what situation you are in and your existing contract status. Here's the breakdown:
If your upgrade date is anytime from now through December 31, 2010, you qualify for an early upgrade and get best pricing on the iPhone 4. That means you can buy the 16GB model for $199, or the 32GB model for $299 with new two-year contract.
Now, if your upgrade date is January 1, 2011 or later, then you qualify for an early update price, which is $399 for the 16GB model, and $499 for the 32GB iPhone 4 with new two-year contract.
Lastly, there are those who just don't want to be tethered to AT&T, and would rather just buy the phone outright with no commitment. That's fine too. If that's you, then you'll pay $599 for the 16GB model, or $699 for the 32GB model.
So there you have it—you've got two weeks to decide!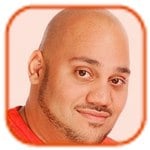 Posted by Andru Edwards Categories: Apple, Editorial, Features, Handhelds, Wireless / WiFi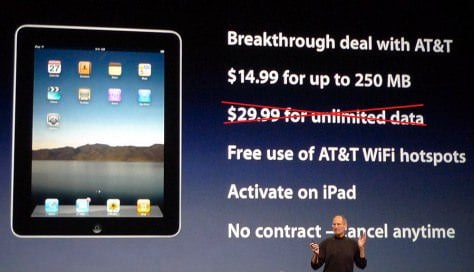 After having a couple of days to let the absolutely ridiculous bait-and-switch that AT&T just pulled on Apple's iPad 3G customers sink in, I've come to the conclusion that one, or both, of these companies needs to do something for the customers that just got screwed.
In a nutshell, when Apple announced the iPad, there was the Wi-Fi-only version, and there was the 3G version. The big draw with the 3G model was that it had a very reasonable unlimited data plan for $29.99 for 30 days of access. You could start and stop at any time, no contract required. Let's not fool ourselves here—this plan was a major selling point for the 3G iPad. However, in just three days—just a little over a month after the iPad 3G went on sale—that unlimited plan goes away and is instead replaced with a $25 plan that allows you just 2GB of data. A true bait-and-switch if we've ever seen one.
Click to continue reading How Apple and ATT can fix the iPad 3G pricing bait-and-switch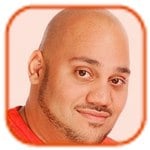 Posted by Andru Edwards Categories: Apple, Cell Phones, Corporate News, Handhelds, Wireless / WiFi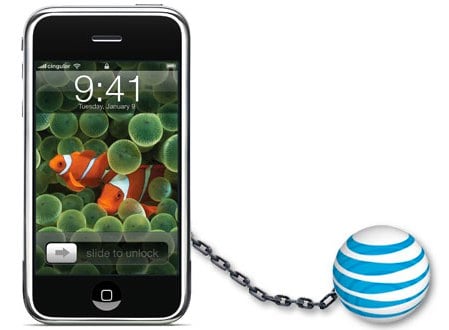 So, earlier we told you all about the new AT&T data plans, and mentioned that if you were currently on an unlimited plan, you could keep it, and AT&T will just consider you grandfathered in. Now here is where it gets interesting—after three years, AT&T has finally announced a tethering plan for the iPhone, which will go live with iPhone OS 4.0 is released. The thing is, if you wanna use it, you must leave your unlimited data plan behind, even though the tethering cost is an extra $20 per month. Instead, you have to move to the DataPro plan, which is $25 per month for 2GB of data, and $10 for each additional gigabyte of data used if you go over.
Now, read that again. AT&T is going to charge you $20 for the privilege of tethering. That $20 doesn't get you any extra data usage—you are still relegated to the 2GB of data that you get from your $25 per month. In other words, AT&T is charging you a fee to use the data you already paid for. That is completely ridiculous. If you pay $25 for 2GB of data, and blow through all 2GB on your iPhone, that is cool with them. However, if you pay $25 for 2GB of data and blow through it while tethered to your computer, they expect you to pay an extra $20, even though on their end, you've used 2GB of data—no more, no less—in both scenarios.
This is obviously asinine to anyone on the outside of AT&T looking in. The fact that AT&T wants to charge you an extra fee just because you want to use the data that you;ve already paid for in a certain way just screams that they don't understand true customer service. If you are grandfathered in with unlimited usage, they won't allow you to pay the $20 tethering fee. If you switch so that you can tether, the fee is just there to make them more money—and you can never go back to your unlimited plan once you leave it.
© Gear Live Inc. – User-posted content, unless source is quoted, is licensed under a Creative Commons Public Domain License. Gear Live graphics, logos, designs, page headers, button icons, videos, articles, blogs, forums, scripts and other service names are the trademarks of Gear Live Inc.