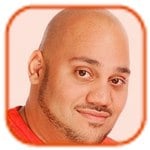 Posted by Andru Edwards Categories: Apple, Portable Audio, Portable Video, Videocasts,
In this third episode of Unboxing Live, we take a look at the newly released 5.5G 80GB Apple iPod. While not a major upgrade by any stretch of the imagination, this is the highest-capacity iPod ever released, and it has a couple of neat software features that other units don't have, along with a much brighter screen.
Let us know what you think, or what you want us to unbox next!
Posted by Michael Cardiff Categories: Corporate News, Hardware, Portable/Mobile, Retro,
Well, it looks as though all of those rumors of Apple trying to hire games industry professionals may not have been all that far off. Today, during the "It's Showtime" keynote at the Yerba Buena center in San Francisco, Apple announced that they will be releasing iPod-compatible versions of Tetris, Zuma, Mah-Jong, Texas Holdem, Cubis 2, and other games on the iTunes store for $4.99 a piece.
It's not clear whether these games will only be compatible with the iPod phat yet, or if they'll also work with the nano. However, Steve J did mention that all of the games should be compatible with the 5G video iPods y'all already have. This is good news, since Apple also announced during their presentation that they're updating the whole iPod product line - including a "5.5G" video iPod with 60% brighter screen, iPod nanos in colored aluminum enclosures, and a re-designed iPod Shuffle. We'll update this story with more information as it becomes available on the Apple website.
UPDATE 1: Apple's website has been updated, indicating that the iGames are compatible only with the 5G iPod or the newly-released 60% brighter 5.5G iPods. iPod nanos are not supported. We've downloaded some of these games from the iTunes Store (went very smoothly - this is Apple after all) and will have full reviews up shortly. It's looking like at least some of these are worth the $5.00 download.
Read More

| AppleInsider

Posted by Janie Franz Categories: Dinner, Recipes, Fruit, Vegetarian, Frying,
Everyone has a favorite apple recipe. This one is mine. Coming from Tennessee, my mother loved pork (pork chops, fried ham, fried slices of pork loin). She always fried up a pan of apples to eat with the pork. I also fry apples to serve with pork or potato pancakes.
INGREDIENTS:
3 apples
3 Tbls. butter
Salt to taste, optional
Preparation: You can peel the apples if you wish. Core the apples and slice thinly. Melt the butter in a small iron skillet. Put the apples in and cook over low to medium heat, covered, for 10 minutes. Turn the apples so that they all have a chance to be basted in the butter. Cook the apples, without the lid, letting the slices caramelize in the butter. Watch carefully so that the slices do not burn. Some people just want the apples cooked through. Others, like myself, appreciate the caramelization on the apples.
Posted by Janie Franz Categories: Preparation, Baking, Shopping, Food Trivia, History, Fruit, Vegetarian,
There are many different varieties of apples available today. Some are old favorites and others are a bit more difficult to find.
Lady or Api apple. One of the oldest varieties, this apple dates from the first century A.D., but is not readily found in most supermarkets. Gourmet shops or fruit sellers in large cities often stock this sweetly tart apple. It is a small red or yellow apple with a red blush and is great for desserts and sauces. Because of their small size, Lady apples add a lovely touch to fruit baskets or are used as a garnish. They are available during the winter.
Click to continue reading A Guide To Different Apple Types
Posted by Janie Franz Categories: Food Trivia, History, Fruit, Vegetarian, Europe,
Apples have been enjoyed by human beings since at least 6500 BC. Small burnt apples have been found in archaeological sites around lakes in Switzerland. There are wild apples or crab apples found in most countries of Europe, including as far north as Norway. It is thought that the first apple trees originated somewhere between the Caspian and the Black Seas. The Wild Apple, native to Britain, is the ancestor of all modern apple trees. The Romans grafted their premium varieties, including some from France, onto this wild stock
Though small, bitter, wild Crab Apples were present in the New World when the Pilgrims came to America, they wrote home for seeds and cuttings from England. This established the early apple strains in New England. Later, colonists brought apple trees to plant in Virginia and throughout the Southeast.
Legend tells of a Massachusetts man, Johnny Chapman, who traveled throughout what was then the West (Ohio, Indiana, and Illinois) in the early 1800s, planting apple trees. There is also a tale of a London sea captain who brought seeds to Washington state in 1820 that are reputed to be the initial stock for the booming Washington State apple industry.
Nearly 8,000 varieties exist today, but only about 100 are grown commercially in this country. New varieties are being discovered as chance seedlings or intentional cross-breeding. Of the commercial crop, 61 percent are eaten fresh, 21 percent are made into juice or cider, and 39 percent are processed into a variety of apple products.
[Photo courtesy of the NY Apple Association]
Posted by Janie Franz Categories: Health, Science, Food Trivia, Fruit, Vegetarian,
The old adage, "An apple a day, keeps the doctor away," may not be just something our grandmother's told us. Apples, members of the rose family, are portable nutrition packages that are quite tasty.
Apples have been found to reduce the risk of stroke and Type II diabetes and to improve bowel function. Flavonoids, abundant in apples, help prevent the growth of prostate cancer cells, and phytochemicals in the skin of apples seem to inhibit the reproduction of colon cancer cells. Two recent studies indicated that eating five apples a week helped lower the risk for respiratory diseases like asthma. Apples also help protect arteries from plaque build up, and eating two apples a day or drinking a 12 ounce glass of apple juice reduced the effects of cholesterol. Also, pectin and other acids in apples help aid digestion. That's why apples are great served with rich foods like pork or lamb or duck.
Apples have more nutrients if eaten raw with their skin, but they should be washed thoroughly. Just under that wonderful colored coat lies half of the Vitamin C content of the apple. The skin also has lots of fiber and is the source of the apple's characteristic fragrance.
A raw medium apple (two and a half inches in diameter), eaten with the skin, has only 80 calories, 5 grams of fiber, and is a great source of potassium. It also contains calcium, phosphorus, iron, and Vitamin C and A. The apple is composed of 80-85 percent water, 5 percent protein, and 10-15 percent carbohydrates. It also is sodium free and fat free.
Apples also are 25 percent air. That is the reason why they float when you put them in a tub of water at Halloween parties and dunk for them.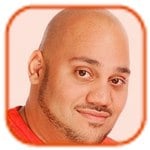 Posted by Andru Edwards Categories: Apple, PC,
Dan Benjamin shares his unboxing photos of the new Intel powered iMac:

See the whole Flickr set here.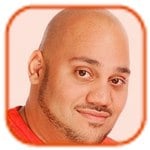 Posted by Andru Edwards Categories: Features, Mods / Hacks, PC / Laptop,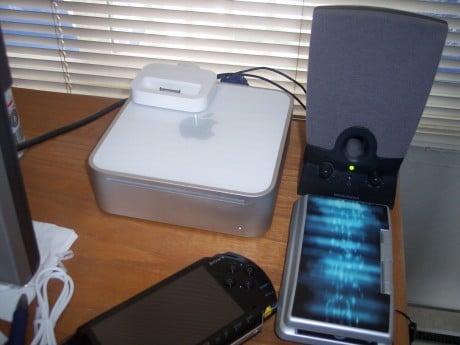 Recently I picked up a PowerBook, and while I expected it to be "okay", I did not expect to fall in love with OS X the way that I have. I am completely smitten. So much so that I had to pick up a Mac mini so that I would have a desktop Mac solution (and because it just calls your name when shopping at the Apple Store). The 80 GB version struck my fancy, but soon I realized that I am not one that enjoys playing mouse cursor beach ball all that much. The mini had half a gig of RAM in it, but the 4200-RPM drive was just holding me back. It was time to upgrade to a 5400 RPM 100 GB drive. Rather than taking it in to a service center where they would overcharge me, I did it on my own. If you want to upgrade your Mac mini's hard drive, read on for our tutorial which takes a look at backing up your data, replacing your hard drive, and restoring your data.
Click to continue reading HOW TO: Back Up And Upgrade The Mac mini Hard Drive
© Gear Live Inc. – User-posted content, unless source is quoted, is licensed under a Creative Commons Public Domain License. Gear Live graphics, logos, designs, page headers, button icons, videos, articles, blogs, forums, scripts and other service names are the trademarks of Gear Live Inc.