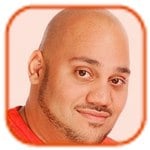 Posted by Andru Edwards Categories: Full Episodes, Gizmatic, Apple, Features, HDTV, Home Entertainment, Movies, Music, Podcasts, Software, Videocasts, Videos,
Yesterday, Apple released Apple TV 3.0, the first "major" release for the device in about two years. The company has often referred to the Apple TV as a hobby, as opposed to a real business. That said, there are a few nice additions that can be found in the Apple TV 3.0 update, so we give you a full walkthrough of the device, giving you a sampling of some of the new hotness.
Some of the standout features are the obviously redesigned home screen. Instead of the centered grid, you get a full screen menu that makes it easier to navigate right to the content that you want. I mean, it's nice, but it seems to be the biggest visual upgrade to the device, which we think is in need of a hardware refresh. You also score Genius DJ playlist abilities, nice for parties and such, but I rock a Sonos system, so it doesn't really appeal to me personally. Same goes for Internet radio, but it is there as a feature, and it's nice. The one we like is the addition of iTunes Extras and iTunes LP content. We are fans of the iTunes LP, so being able to see it on an HDTV, which is where we think it shines, is also "nice."
If you are picking up on a trend, you win. This whole 3.0 business is, in a word, "nice." It isn't anything more than that. It brings the Apple TV in line with other Apple products, allowing it to do things that other devices can do, and it gets a UI refresh, and the Helvetica font. All well and good, but let's hope that next time around we get some decent new hardware. In any event, hit the play button for the full tour.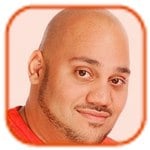 Posted by Andru Edwards Categories: Apple, Design, PC / Laptop,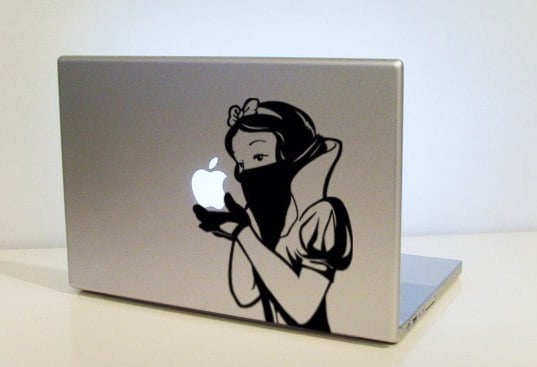 When I first saw the Snow's Revenge MacBook Pro image that you see above, I thought it was a clever and unique etching. When I realized that it was simply just a $15 vinyl applique, I bought on immediately. I mean, seriously, how cool is it to see a seemingly dark-sidish Snow White holding on to a glowing Apple? Just saying.
Oh, and speaking of Ms. White, be sure to peep our Snow White and the Seven Dwarfs Blu-ray review over in our movie section, FilmCrunch.
Read More

| Etsy via 9 to 5 Mac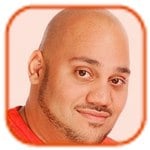 Posted by Andru Edwards Categories: Apple, Rumors,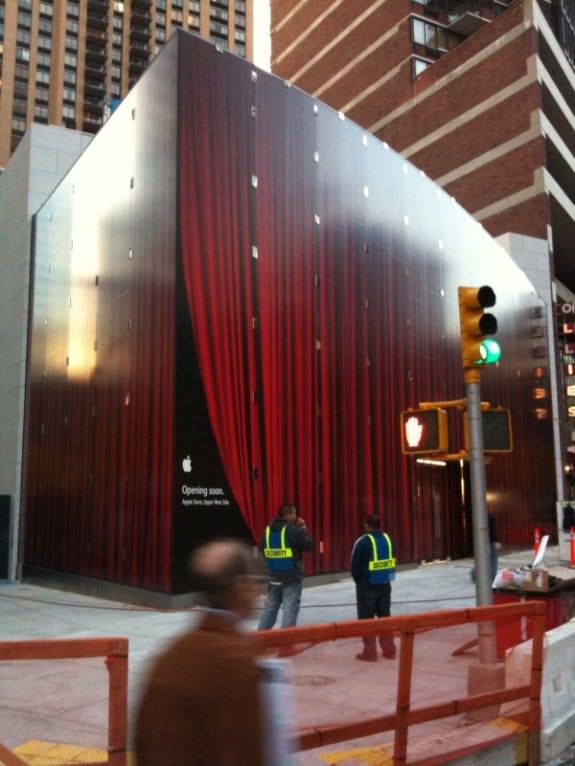 Apple has finally removed the curtain scaffolding that was in place to hide the construction of their new Upper West Side Manhattan Apple Store location. Of course, in typical Apple fashion, the unveiling leaves even more mystery to unravel, as the entire face of the new store is covered in a vinyl curtain, along with an "Opening soon" message. Luckily, we shouldn't have to wait much longer to get a look at the newest store, which many are saying will be the most impressive in the entire Apple Store chain. The Upper West Side Apple Store is located on the northwest corner of Broadway and 67th street, right near Lincoln Center.
We've got one more shot of the store, a mockup, of what the store should look like after the curtain is removed.
Click to continue reading Apple readying 67th St Upper West Side NYC store
Read More

| CNET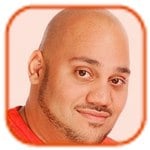 Posted by Andru Edwards Categories: Apple, PC / Laptop,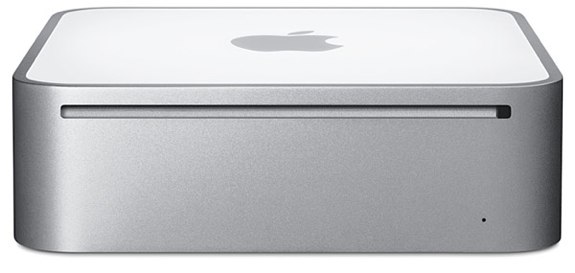 Apple has updated the Mac mini today, giving the two configurations that were previously available a nice bump in the specs department, and also adding a third to the mix, that being a Mac mini server. Starting with the $599 Mac mini, it now sports a 2.26GHz Core 2 Duo processor (previously it was 2GHz,) 2GB RAM (previously 1GB,) and a 160GB HDD (up from 120GB). Next step up from there is the $799 Mac mini, which has a 2.53GHz Core 2 Duo, 4GB RAM, and 320GB HDD.
As for the new server version, it sits in the same enclosure as the other Mac minis, but has no optical drive. Instead, they throw in a second hard drive. So for $999, you get a Mac mini that includes two 500GB drives, includes Snow Leopard Server, 2.53GHz Core 2 Duo processor, 4GB RAM, and GeForce 9400M GPU. Definitely a good idea for a small business where an Xserve might be overkill, or even an advanced home network solution. The new Mac mini is available now.
Read More

| Mac mini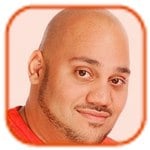 Posted by Andru Edwards Categories: Apple, Design, PC / Laptop,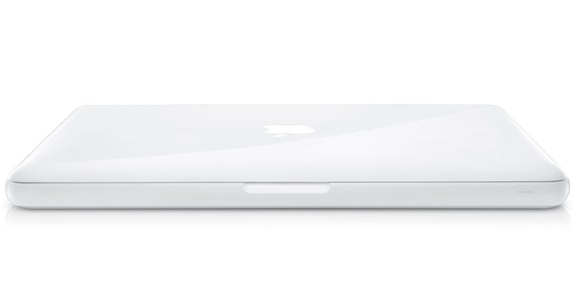 Apple's got more goodness for us today, with their new unibody MacBook. You know, their 13-inch white notebook that seems to have been neglected for the better part of a year? There is much more to this than just a move to the unibody enclosure. The MacBook still starts at $999, and now ships with a 13-inch LED-backlit display, glass multitouch trackpad, and a built-in non-removeable 7 hour battery. On the inside it's got a 2.26GHz Core 2 Duo processor, 2GB RAM, NVIDIA 9400M GPU, and a 250GB hard drive. The underside is changed as well, now sporting a non-slip rubberized surface. The new MacBook is available now.
Read More

| MacBook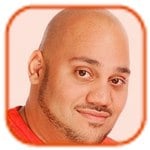 Posted by Andru Edwards Categories: Accessories, Apple, Home Entertainment, PC / Laptop,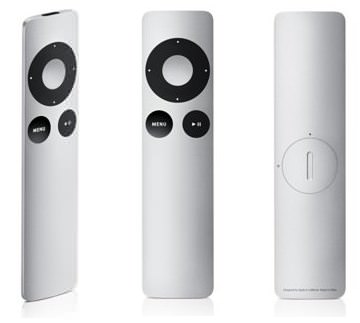 Apple has just released an updated Apple Remote, the first time the remote has been redesigned since its initial release. As you can see, the remote gains an iPod-like click wheel, and the play/pause button is now on its own. The remote supports iPod and iPhone when docked in the iPod Universal Dock, and also supports any Mac that has a built-in IR receiver. Apple says nothing about the Apple TV, but since it has an IR, this should naturally work there as well. You can order one now for $19, and it'll ship in 2-4 weeks.
Read More

| Apple Remote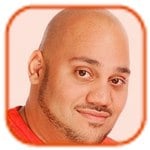 Posted by Andru Edwards Categories: Apple, PC / Laptop,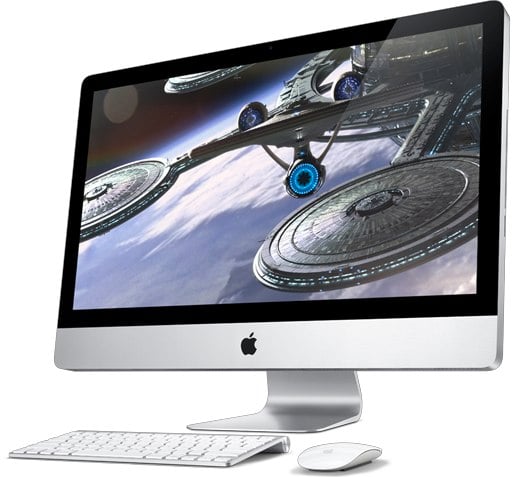 Apple continues with today's slew of updates with the new iMac (on sale now,) which sees a bunch of improvements. First, it comes in two new sizes, 21.-inch and 27-inch widescreen 16x9 LED-backlit displays, which have a 178-degree viewing angle. The 27-inch model rocks a 2,560 x 1,440 resolution, while the 21.5-inch model checks in at 1,920 x 1,080 (1080p.) Standard with these iMacs are the Apple wireless keyboard, and the brand new Magic Mouse - so the iMac has gone completely wireless. Both models gain an SD card slot, and the 27-incher also has a video in port, a first for the iMac.
As far as price goes, the introductory model starts at $1,199 and gets you the 21.5-inch display with 3.06GHz Core 2 Duo, NVIDIA GeForce 9400M graphics, 4GM RAM, and a 500GB hard drive. For $300 more, you get a 1TB drive, and the ATI Radeon HD 4670 graphics card. The 27-inch model starts at $1,699 with a 1TB drive and ATI Radeon HD 4670 graphics card. Lastly, there is a $1,999 27-incher that sports a 2.06GHz quad-core Core i5 processor and ATI Radeon HD 4850 graphics card. That one won't ship until next month, but all the rest are available now.
Read More

| Apple iMac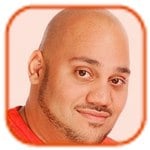 Posted by Andru Edwards Categories: Accessories, Apple,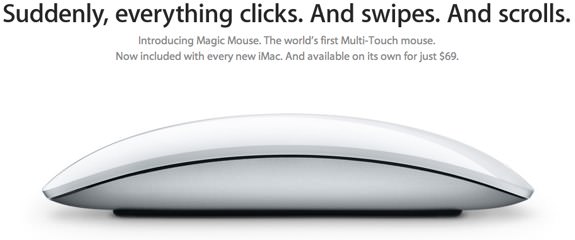 The Apple Magic Mouse is finally here, replacing the oft-despised Mighty Mouse. So, what's makes this new mouse so magical? For starters, there are no moving parts, other than the actual button. Yeah, the whole mouse is a button, but you can do the right-, middle-, and left-click. You can also scroll with a swipe across the acrylic surface of the mouse, and it also supports a bunch of the multitouch gestures you are used to using on Apple notebooks, two-finger swipes and all. The Magic Mouse is wireless, supporting Bluetooth, and the battery lasts a whopping four months. You can pick one up today for $69.
Read More

| Apple Magic Mouse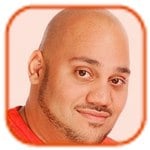 Posted by Andru Edwards Categories: Accessories, Apple, PC / Laptop, Rumors,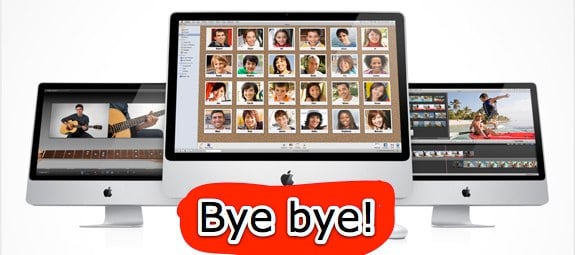 Well, between the Barnes & Noble Nook and this piece of news, tomorrow is shaping up to be pretty exciting. Our boy John Gruber is making it known that it's his belief that Apple is going to be releasing a bunch of new hardware tomorrow. What's on the a-frienda? Well, for starters, a much needed update to the plastic white MacBook line. You know, the one that get left all to its lonesome when the aluminum MacBooks went Pro? The Mac mini should also see a spec bump, including one version that runs OS X Server. Definitely interesting, I'd love to see how they position that one.
More interesting, though, are the claims of an "impressive" iMac redesign. We've been hearing so many rumors on where the iMac is going to go that we'll have to wait and see what comes out of Cupertino tomorrow. At the very least, they'll be thinner - but we're not holding our breath for Blu-ray support.
Even more interesting are the mention of two currently unreleased products. The first being the Magic Mouse, a replacement for the Apple Mighty Mouse that would sport a multitouch surface. We can definitely see that happening, and being included with the new iMac line. The Mighty Mouse needs to be replaced, and a multitouch mouse would play nicely with Snow Leopard. There is also mention of a multitouch trackpad add-on for desktop Macs, like the iMac, Mac mini, and Mac Pro. It certainly sounds intriguing, and would give desktop Macs the full functionality set that are found on the notebooks.
Of course, we will have all the details for you tomorrow when things start popping off!
Read More

| Daring Fireball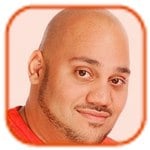 Posted by Andru Edwards Categories: App Store News, Free Apps,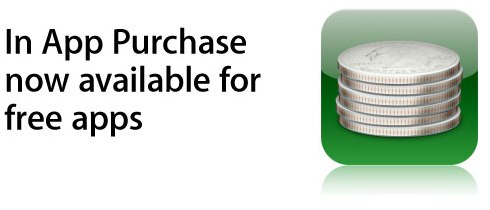 It took Apple a while, but finally, in-app purchases are allowed to be used in free apps. Why is this exciting? Well, previously, only apps that had a price were allowed to include an in-app purchase model. That means that games like Tap Tap Revenge 3 has to cost at least $.99 if the developer wanted to sell you add-on packs. This is also the reason that you see so many demo, or "Lite" versions of apps in the App Store. Now, you can download a demo version of an app, and upgrade to the full version while playing the free version. We'd love to see apps like Shoot It! get on board with this as well, as we think the freemium model is the sweet spot in the App Store.
© Gear Live Inc. – User-posted content, unless source is quoted, is licensed under a Creative Commons Public Domain License. Gear Live graphics, logos, designs, page headers, button icons, videos, articles, blogs, forums, scripts and other service names are the trademarks of Gear Live Inc.