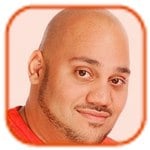 Posted by Andru Edwards Categories: Apple, Rumors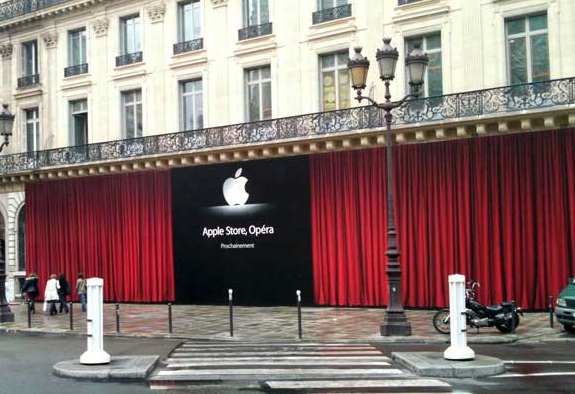 Is Apple planning something for the tenth anniversary of the Apple stores?
According to a source cited by The Boy Genius Report, it is.
What's interesting isn't that the company allegedly plans something for the Thursday the 19th anniversary, but that it apparently is going to celebrate right through the weekend.
Some of the plans include a Saturday to Sunday overnight shift, apparently to restock the store, new hardware, and mysterious black curtains to hide whatever's inside.
Click to continue reading Does Apple have special plans for the 10th Anniversary of the Apple Store?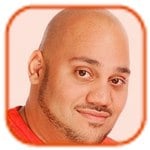 Posted by Andru Edwards Categories: Full Episodes, Gizmatic, Apple, Features, Handhelds, Podcasts, Videocasts, Videos
As usual, the Gear Live crew was near the front of the line as we waited for the iPad 2 to go on sale. Apple closed their doors about an hour before launch, and we started recording when the curtain came down. Get a look at the in-store festivities, which involves a lot of clapping and high-fives, followed by our in-store unboxing of a white iPad 2 with 3G, along with a Smart Cover demo.
You can pick up the iPad 2 from the Apple Store Online.
Big thank you to JackThreads for sponsoring the show - be sure to check them out, we've got exclusive invite codes that give you $5 to use towards anything you'd like.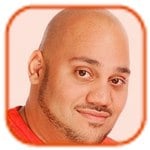 Posted by Andru Edwards Categories: Apple, Corporate News
Hours after a massive earthquake measuring 8.9 on the Richter scale struck Japan, an Apple store in Tokyo kept its doors open to hundreds of nearby victims, and instructed stranded employees and their families to stay overnight at the five-story flagship store.
A moved Kevin Rose, founder of Digg, posted two anonymous letters from "an admitted [Apple] fanboy" and Apple store employee in Japan, who wrote at length about Apple's calm, humanitarian response to the quake.
"[With] the phone and train lines down, taxis stopped, and millions of people stuck in the Tokyo shopping district scared, with no access to television, hundreds of people were swarming into Apple stores to watch the news on USTREAM and contact their families via Twitter, Facebook, and email," the letter read. "The young did it on their mobile devices, while the old clustered around the Macs. There were even some Android users there. (There are almost no free wifi spots in Japan besides Apple stores, so even Android users often come to the stores.)"
"Staff brought out surge protectors and extension cords with 10s of iOS device adapters so people could charge their phones & pads and contact their loved ones. Even after we finally had to close 10pm, crowds of people huddled in front of our stores to use the wifi into the night, as it was still the only way to get access to the outside world."
Click to continue reading Kevin Rose applauds Apple's Japan response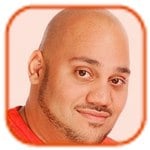 Posted by Andru Edwards Categories: Apple, Handhelds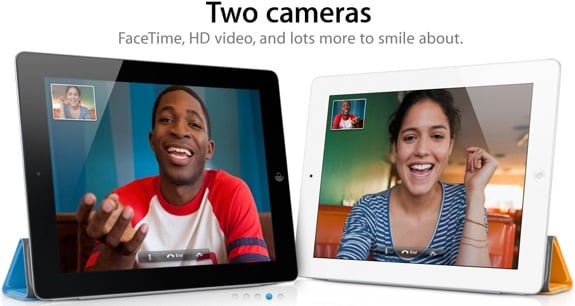 SXSW 2011 brings 20,000 early adopters to downtown Austin, Texas every year, but this year the Apple iPad 2 was going on sale at the exact same time. What is a gadget-loving, Web professional to do? Apple made things a little easy by opening a temporary "pop-up" store just a few blocks from the convention center. On Friday, the lines were around the block. Today, it is just another busy, Apple retail store.
Sales at the pop-up store were brisk despite the fact there are two other Apple stores in Austin, which do about $30 million in combined annual business. The demand for the iPad 2 is driven partly by the fact that Apple didn't accept pre-orders on the device, forcing would-be early adopters to brave the lines at retail stores.
Click to continue reading iPad 2 is the star gadget of SXSW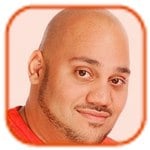 Posted by Andru Edwards Categories: Apple, Corporate News, Handhelds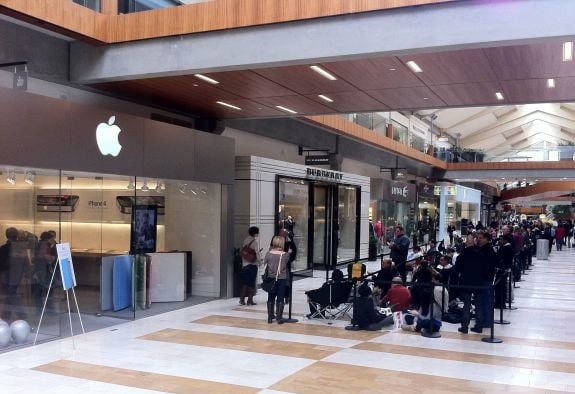 At 5:10pm ET, an Apple employee suddenly shouted, "Everybody start cheering!"
And the crowd roared as Russian tourist Alex Shumilov, 29, bounced up the stairs of the New York City's flagship Apple store on Fifth Avenue, clasping two white iPad 2 boxes in each of his hand.
After camping outside the store for 28 hours, through more rain than shine, Shumilov became one of the first people in the world to own an iPad 2. It's quite a story to tell when he returns home to Moscow this Sunday.
"I'm a bit tired," he said, while grinning from ear to ear. "But I came all the way here for the iPad. I got two white ones. Everyone is waiting for white!"
By 4:30pm ET, the line for the iPad 2 outside the Apple Store was more than a mile long. It filled the public pavilion (we felt sorry for neighboring F.A.O. Schwartz), wrapped around the block, and continued along one side of the next block.
According to several Apple employees, the line began to pick up around 2pm. Bottles of water were distributed to the early goers, but what most really craved were stools.
Click to continue reading Surprise! iPad 2 launch draws crowds at Apple Stores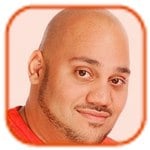 Posted by Andru Edwards Categories: Apple, Handhelds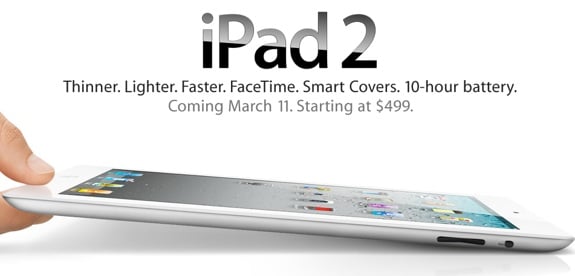 Taking a page from Verizon's book, Apple announced Thursday that the iPad 2 will be available online starting at 4am Eastern time Friday.
Unlike the first iPad, Apple did not offer a pre-sale for the iPad 2. The next-generation tablet will be available in Apple Stores, as well as Best Buy, Target, Walmart, and AT&T and Verizon Wireless stores at 5pm local time, but those who are truly eager for the iPad 2 can get up at 4am (or 1am on the West Coast) to place their order.
Apple said that customers who purchase the tablet in-store will get a free personal setup service, which will assist with e-mail and apps.
The Wi-Fi version of the iPad 2 will sell for $499 for the 16GB model, $599 for the 32GB model, $699 for the 64GB model. The iPad 2 with Wi-Fi + 3G will be available for $629 for the 16GB model, $729 for the 32GB model and $829 for the 64GB model. It will come in white or black, and Apple will sell versions that run on the Verizon or AT&T networks.
In the App Store, Apple will add iMovie and GarageBand for iPad for $4.99 each. The new iPad 2 Smart Cover will also go on sale Friday in a variety of polyurethane colors for $39 or leather for $69.
Click to continue reading Apple iPad 2 online sales start Friday at 1:00 AM PST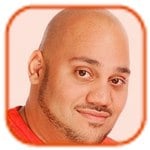 Posted by Andru Edwards Categories: Apple, Corporate News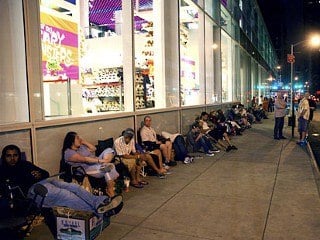 For all you South by Southwest Interactive attendees distraught at the prospect of missing out on the Apple iPad 2's launch at 5pm on Friday, you're in luck. According to an Austin newspaper, Apple is opening a pop-up store tomorrow just for you.
A leasing agent told Austin's The Statesman that Apple is retrofitting a 5,000 square foot temporary store in the Scarbrough Building on Congress Avenue in downtown Austin. Apple is said to have leased the space for two weeks. Construction apparently began on Wednesday, and the windows are still covered with black vinyl.
"They came in town on Monday, did a quick tour, found a spot, and they're in there working and will open by Friday," Rance Wilemon, a partner at Plat.Form Real Estate told The Statesman. "We would have loved to have had them" in the Second Street District. "They're just a great draw."
Click to continue reading Apple opening pop-up store at SXSW for iPad 2 launch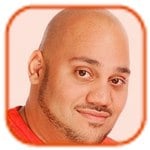 Posted by Andru Edwards Categories: Apple, Corporate News, HDTV, Home Entertainment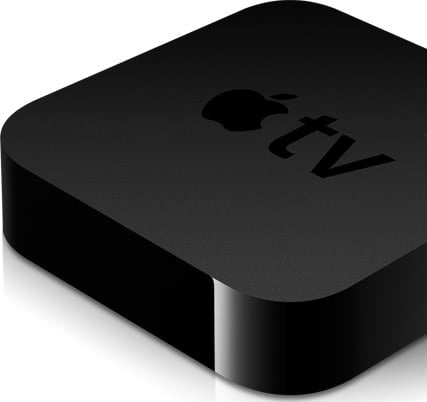 Did you order one of those new $99 Apple TV units that Apple announced at their fall music event? If so, you may wanna keep an eye on your inbox, because the company has been sending notices to some customers letting them know that their orders have been delayed by 2-3 weeks:
"Our records indicate that when you placed your order you paid for upgraded shipping," Apple wrote in the emails. "Due to a delay, we may have not been able to meet our delivery commitment."
We're guessing that this is a case where more people were interested in picking up the $99 box than Apple had expected to be able to send out before September finishes out. However, if you go to the Apple TV page on the Apple Store, it still shows that the device will ship within this month.
Read More

| Apple Insider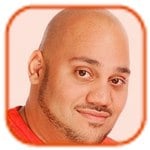 Posted by Andru Edwards Categories: Accessories, Apple, Cell Phones, Features, Handhelds, Video Games, Videocasts
Yesterday we gave you our full iPhone 4 line-waiting experience video, but we know that some of you just wanna focus on the device itself, so this video is for you. We give you a look at the iPhone 4 as we open it up at the Alderwood Mall Apple Store in Lynnwood, Washington. We give you a look at the phone, compare it to the iPhone 3GS, and give you a look at the iPhone 4 dock and iPhone 4 bumper case as well.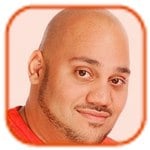 Posted by Andru Edwards Categories: Apple, Cell Phones, Handhelds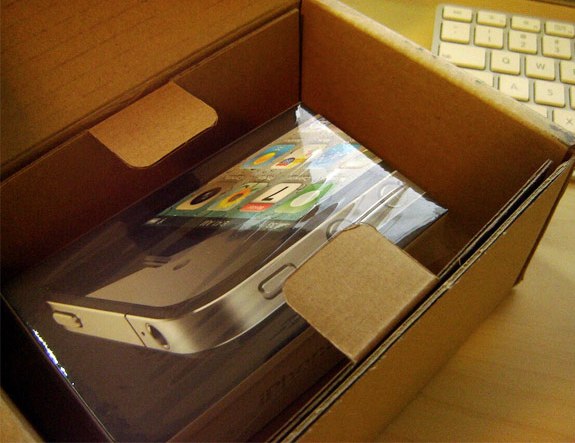 Well, look what we have here—it turns out that this year Apple has decided not to have FedEx hold on to deliveries of the iPhone 4 until release day (they did this with the iPhone 3G and 3GS,) and is instead letting deliveries happen naturally. The result? Some lucky folks are reporting that they've received their iPhone 4 today, two days before they go on sale at Apple retails stores and other third-party locations. Others have a delivery date set for tomorrow, giving them a one-day head start on all that FaceTime goodness.
So, what about all of the others who opted to reserve at a store and wait in line? Looks like it's gonna remain that way. We must say, though, it's kind of a low blow by Apple. The fact is that just about everyone who reserved and will be waiting in line for hours at an Apple Store to pick up the iPhone 4 opted to do so in order to be one of the first to have the device. Seriously, they aren't there because they need help importing their contacts or installing apps. Now that iPhone 4 units are being delivered, it would have been cool of Apple to start sending emails to those who reserved, letting them come in and pick up their iPhone 4 starting today, saving those customers from lining up in the wee hours of the morning.
Read More

| MacRumors

© Gear Live Inc. – User-posted content, unless source is quoted, is licensed under a Creative Commons Public Domain License. Gear Live graphics, logos, designs, page headers, button icons, videos, articles, blogs, forums, scripts and other service names are the trademarks of Gear Live Inc.