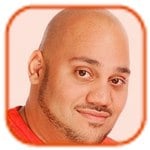 Posted by Andru Edwards Categories: Disney, Animation, Family, DVD Reviews,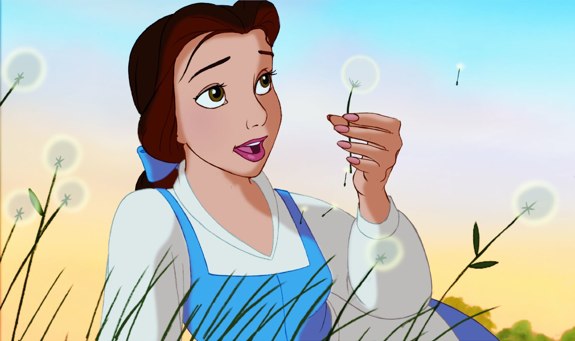 Wanna know how impressed we were with Beauty and the Beast on Blu-ray? Well, there are still plenty of folks out there who doubt that there is any real discernible difference between a Blu-ray disc and a DVD as far as looks are concerned, but we'd bet if you sat them down in front of this classic, they'd be sold immediately.
Click to continue reading Beauty and the Beast Blu-ray review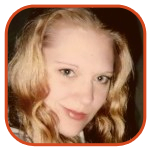 Posted by K.C. Morgan Categories: Animation, Comedy, Music, Prime Time, FOX, Gossip,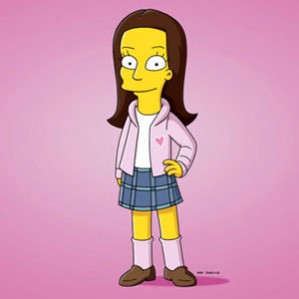 FOX is finally releasing more deals about the Glee-Simpsons crossover, which will kick off the 22nd season for the animated series - and we've got the pictures to prove it.
Follow the jump to find out who's guest starring in Springfield.
Click to continue reading Glee Kids Get the Simpsons Treatment
Read More

| E! Online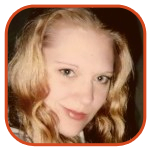 Posted by K.C. Morgan Categories: Animation, Comedy, Prime Time, FOX, Gossip,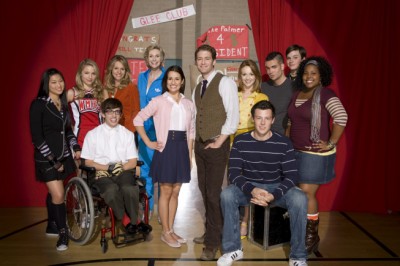 During a recent Simpsons panel discussion at Comic-Con, showrunner Al Jean announced that the cast of Glee will appear during an upcoming episode of the show. The exact cast members who'll be involved - including cheer coach Sue Sylvester (Jane Lynch) - have not yet been announced.
The upcoming season of The Simpsons will feature a number of notables such as Facebook creator Mark Zuckerberg and '60s icons Cheech and Chong.
Comic-Con visitors at the Simpsons session also viewed a preview of October's "Treehouse of Horror" episode, which features killer board games.
The Simpsons is America's longest-running sitcom and the country's longest-running animated program. The historic 22nd season will air Sunday nights on FOX.
Read More

| Los Angeles Times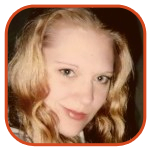 Posted by K.C. Morgan Categories: Movies, Fashion Police, Photos,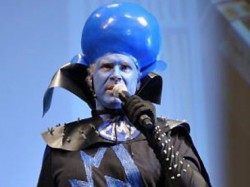 Will Ferrell scored laughs and applause when he appeared on the Comic-Con stage in a blue costume with a large domed head early Thursday morning.
Ferrell wore the get-up in a nod to his character Megamind, the title star in the new Dreamworks flick of the same name.
The comedian brought a box of doughnuts and a jug of orange juice with him - breakfast for 6,500 panel members. "I didn't think there would be so many of you," Ferrel explained.
He was later joined by Megamind co-stars Tina Fey and Jonah Hill. Brad Pitt, who plays the superhero Metro Man, was not in attendance - though he was represented by a large, cardboard cut-out.
Read More

| Yahoo! News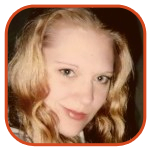 Posted by K.C. Morgan Categories: DreamWorks, Animation, Family, Comedy, Casting, Celebrity Gossip, Upcoming Releases,
Spoiler alert! Maybe.
Reporters recently caught up to former SNL funnyman Will Ferrell, who was on the Comic-Con red carpet to promote upcoming animated flick Megamind. Co-star and former SNL cast mate Tina Fey, who plays Roxanne in the film, walked the carpet with Ferrell. Brad Pitt also stars in the flick.
"My character does defeat Brad Pitt. Finally! I have been chasing that guy for years," Ferrell cracked wise with Entertainment Tonight, potentially revealing the movie's end.
Ferrell plays the title character in the flick, Megamind, the world's smartest super villain. Pitt plays hero Metro Man, who must thwart all of Megamind's plans.
The movie will be released on November 5.
Read More

| Entertainment Tonight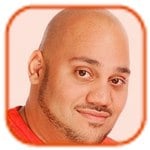 Posted by Andru Edwards Categories: DreamWorks, Action, Adaptation, Adventure, Family, Sequels, Comedy, Box Office, Celeb News, Filmmaking, Upcoming Releases,
While it shouldn't be much of a shock considering the animated film's success, Jonah Hill has confirmed there will be a How to Train Your Dragon sequel.
The actor, who provides the voice to bullying character Snotlout in the 3-D animated adventure, confirmed plans were in motion for a follow-up to the first movie, which grossed $448 million internationally upon its release earlier this year.
"Yeah, we're going to make a sequel. I'm excited about that. I just talked to Jeffrey Katzenberg and he told me we were going to make a sequel. It' going to be fun. Those movies are fun."
The 26-year-old star, who is currently promoting his latest film Get Him to the Greek with British funny man Russell Brand, also admits his long-term plan is to work behind the lens on movies: "I just love films. I love talking about movies. I love watching movies. I want to be a director. That's my ultimate goal and I like writing and producing movies. "Honestly, I just want to look back on my career and be proud of every film that I do and not worry about what genre it is or how people perceive me or if I have fans. That's far less important to me than the quality of what you're doing."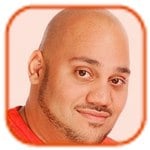 Posted by Andru Edwards Categories: Warner Bros, Animation, Family, Sequels, Comedy, Casting, Upcoming Releases,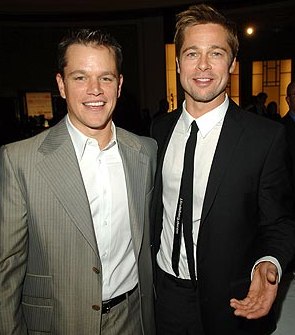 Brad Pitt and Matt Damon will voice characters in Happy Feet 2.
The acting pair - who last starred together in Ocean's Thirteen - have both signed up to star in the animated movie, which follows a group of singing penguins.
The two are reportedly recording their parts this week.
Both Elijah Wood and Robin Williams, who participated in the 2006 original, will return for the sequel as will director George Miller, who plans to shoot the movie in 3-D.
Happy Feet 2 is set for release in November 2011.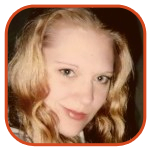 Posted by K.C. Morgan Categories: Animation, Comedy, Prime Time, FOX, Gossip,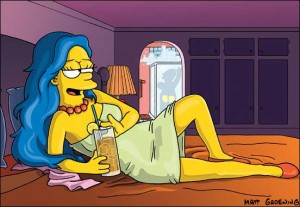 It's not a joke. Marge Simpson will soon be featured in a special three-page Playboy spread that showcases her various charms - and yes, she'll be nude. The November spread will also offer an in-depth interview. It's all part of the 20th anniversary celebration for The Simpsons, which is signed up to run on FOX for the next few years.
Playboy readers will still be treated to the usual, non-animated form of Playmate in the issue - Marge is just thrown in as an interesting extra.
Read More

| E! Online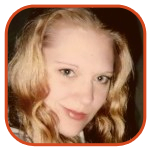 Posted by K.C. Morgan Categories: Animation, Comedy, Prime Time, FOX, Family Guy, DVD, Gossip, Spoilers, Video,
The Family Guy cast gathered recently for a live table read of the upcoming abortion issue, which has already made headlines in the media. So, did FOX's animated prime time comedy tread very carefully around this hot-button issue? If you've got to ask, you just aren't familiar with the show.
The episode, "Partial Terms of Endearment," features a plot in which Lois Griffin (wife to title character Peter) becomes a surrogate mother for two friends. The couple goes on to die in a car accident, leaving Lois to ponder of the mysteries of life and possible abortion for the fetus she's carrying. This story installment wouldn't be dubbed "the abortion episode" if it didn't feature Lois at least considering all her options.
Click to continue reading Sneak Listen: Controversial Family Guy Abortion Episode
Read More

| E! Online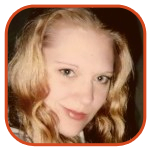 Posted by K.C. Morgan Categories: Animation, Comedy, Prime Time, FOX, Family Guy, Gossip,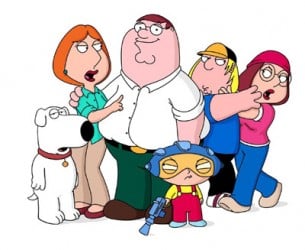 FOX's animated Family Guy is not guilty of copyright infringement, per court ruling, for a song parody featured in one of the episodes.
The episode offered up a new version of Disney's "When You Wish Upon a Star," which subsequently launched a lawsuit from the major corporation in 2007. The ditty originally appeared in the 1940 flick Pinocchio. The Family Guy version, "I Need a Jew," was perhaps a little less family-friendly…but it wasn't illegal.
Despite the content of the song - "anti-Semitic lyrics" - a U.S. District Judge ruled that the lyrics of the song and tone of the piece was "strikingly different" from the original version. Since winning the Academy Award for Best Original Song after its film debut, "When You Wish Upon a Star" has been recorded by more than one hundred subsequent recording artists and orchestras.
Read More

| MSNBC

© Gear Live Inc. – User-posted content, unless source is quoted, is licensed under a Creative Commons Public Domain License. Gear Live graphics, logos, designs, page headers, button icons, videos, articles, blogs, forums, scripts and other service names are the trademarks of Gear Live Inc.