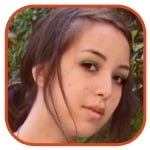 Posted by Robin Paulson Categories: Reality, Gossip, News, Video,
Without a new beauty or fashion line coming out and little buzz regarding her wedding (at the moment, any way), Kim Kardashian has managed to find a way to win back the spotlight. This time, it takes suing clothing retailer Old Navy for allegedly utilizing her likeness in an advertisement (seen above).
Aside from a few references from her reality show (i.e. dentist visit, paparazzi), the fact that the actress -- Melissa Molinaro, who is dating Kim's ex Reggie Bush might I add -- sings and dances in the ad ought to negate any notions of imitating the talentless celebrity socialite. Maybe Old Navy just wanted someone who would actually walk her own dog and could do more than warm-up in a pair of shoes.
In all honesty, I feel like The Black-Eyed Peas have a better chance at suing for their likeness!
Read More

| USA Today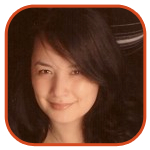 Posted by Veronica Santiago Categories: Comedy, Prime Time, ABC, Gossip, Internet, News, Video,
If you flipped the channel to Modern Family last night, you might have momentarily thought you were watching an infomercial for the iPad. But despite what most of us have guessed, Apple did not ask to be on the program—nor did they pay to be included.
Click to continue reading Modern Family Creator Denies iPad Product Placement
Read More

| The Live Feed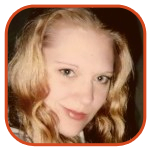 Posted by K.C. Morgan Categories: Commercials, Gossip, Video,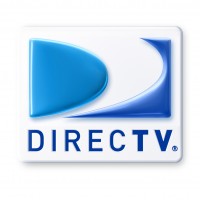 We giggled when Christopher Lloyd talked about the future of DirecTV for a commercial spot. We laughed when Kathy Bates and William Shatner joined the fray. We ogled Baywatch-era Pam Anderson tout the service for her spot. We fell over in hysterics when we saw the Scooby Doo advertisement. But now, DirecTV may have twisted the funny bone of some viewers a little too hard. Their latest ad, just another in a long string of past pop culture references, has inspired some pretty heated controversy.
The ads were drawing attention even before the campaign hit the fan. Using the same actors and scenes but different lines, the service has promoted itself as an alternative to cable by putting us once again back in our favorite movie moments - as if to prove that the second time around really can be better than the first with DirecTV. They're funny, they're clever and they're working. Er…they were.
Click to continue reading DirecTV Out of Line With Newest Ad?
Read More

|
Popeater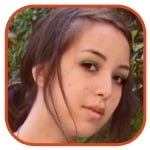 Posted by Robin Paulson Categories: Movies, Music, Television, Child Stars, Style, Charity, Rumors,
And just when I thought that the world could possibly go for at least a week without Miley Cyrus news, the troubled pre-teen is catapulted into the spotlight yet again—thanks to a condom company, at that!
It was reported that Lifestyles Condoms wants the Hannah Montana star to be their new spokesgirl.
"Pop culture proves that teens are more ready than ever to discuss the subject of sex," says the company's VP of marketing, Carol Carrozza. "We believe that Miley is both influential and relatable to this afflicted set — and is the obvious choice to get the message of safe sex out to teens across America."
As hilariously entertaining as this latest Miley Cyrus "news" is, one can never forget about that slightly powerful and daunting company called Disney, which is always shielding their cash cow at every constant news flash. In this case, what are they going to do? Deny everything, of course.
"We never received an offer, nor would she consider the offer," her rep stated, although judging by all of those photos, Miley seems like she would be the best gal for promoting sex!
Read More

|
Fox News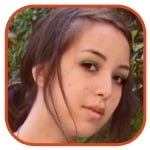 Posted by Robin Paulson Categories: Music, Television, Child Stars, Clothing, Photos, Editorials,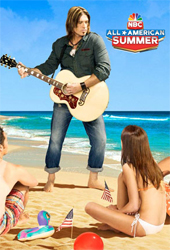 Perhaps I just can't quite shake that disturbing father-daughter pose out of my head. Perhaps something is just a bit wrong in my head? Whatever it is, I cannot quite get over how disturbing this Billy Ray Cyrus ad appears to me.
The ad, hyping up the Hannah Montana star's new gig hosting the talent show Nashville Star (he replaced Jewel, who is now a judge on the series), just comes off as incredibly creepy to me! I looked over at my Pandora tab, and there it was.
Am I just wanting to imagine that the girl in the bathing suit is his daughter, Miley Cyrus, intensely looking at her father as he seductively looks in return? Honestly, if you remove the boy to the left and the flags, could it not look more like a romantic getaway on the beach? Why does it have to be at the beach, where the girl is wearing barely nothing? When I think of an "All-American Summer," I think of the park, barbecues, backyards and such—why the beach?
Okay, so maybe I just need help. I blame the tabloids!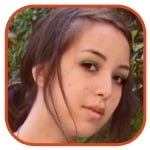 Posted by Robin Paulson Categories: Television, Clothing, Style, Legal Issues, Oops Photos,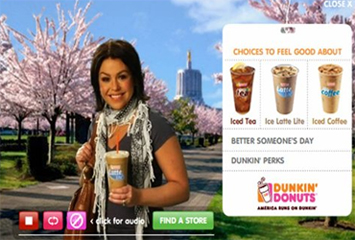 While Food Network favorite Rachael Ray may have a lot of haters, no one has ever accused her of supporting terrorism… until now.
The 30 Minute Meals star was featured in an Internet ad for Dunkin' Donut, advertising their line of iced drinks. Despite what appears to be a very normal, innocent ad, the popular donut chain was forced to pull it due to complaints about her advocating Muslim extremism!
How, might one ask, is this picture (seen above) have anything to do with Islamic terrorism? Well, according to columnist/blogger Michelle Malkin, the scarf Ray wears in the photo resembles that of a kaffiyeh, which Malkin explains, "has come to symbolize murderous Palestinian jihad. Popularized by Yasser Arafat and a regular adornment of Muslim terrorists appearing in beheading and hostage-taking videos, the apparel has been mainstreamed by both ignorant (and not-so-ignorant) fashion designers, celebrities, and left-wing icons."
Click to continue reading Rachael Ray Ad Pulled Due to Political Controversy
Read More

|
Access Hollywood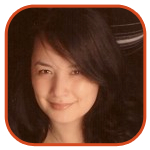 Posted by Veronica Santiago Categories: Warner Bros, Action, Adaptation, Sequels, Upcoming Releases,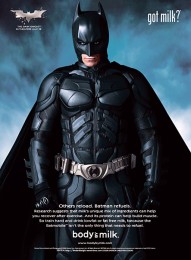 Want to know the secret behind The Dark Knight's success? You can find the answer right on his face.
In this latest campaign for the Milk Processor Education Program, Batman does his best to promote the benefits of the white stuff:
"Others reload. Batman refuels. Research suggests that milk's unique mix of nutrients can help athletes recover after exercise. And its protein can help build muscle. So train hard and drink lowfat or fat free milk, because the Batmobile isn't the only thing that needs to refuel."
Click to continue reading Batman Sports His Milk Mustache
Read More

|
Entertainment Tonight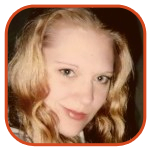 Posted by K.C. Morgan Categories: Music, Prime Time, Reality, FOX, American Idol, Gossip, News,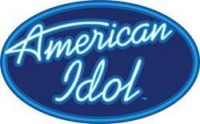 It's the Number One rated series. It gets more press than any other program on TV. Product placement has totally gotten out of control on the show, and promos run almost all year long. How in the world could FOX possibly squeeze even more money out of American Idol?
Thank goodness for partner deals. Idol has inked a deal with Apple's iTunes which will allow fans to buy performances from the Top 24 contestants, which will be whittled down to 20 later this week (so get them while you can). It will cost 99 cents for each song (already available), but for $1 more buyers can also have video of the Top 12 performers belting out tunes (this will be available March 11). You can even pre-order performances in anticipation.
Idol is already chock-full of sponsors, including Coca-Cola, Ford and AT&T (products from whom are featured every single episode). I've got an idea. Forget the show. Just show us sponsored products throughout, forget about pretending to offer entertainment and get on with the business of making as much loot as possible. The three existing big sponsors of the show, by the way, pay a cool $35 million a pop for commercial time.
Read More

|
Hollywood Reporter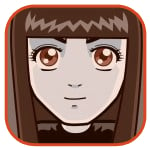 Posted by Sheila Franklin Categories: Corporate News, Misc. Tech,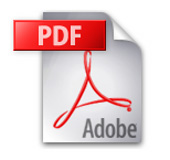 Thanks to an agreement between Yahoo and Adobe, PDFs will no longer be advertisement-free. Legally termed "Ads for Adobe PDF Powered by Yahoo," it is currently in its beta phase. The ads will be located on an adjacent panel and if clicked will open a new window. So far the service is only being used for pay-per-click text and is free for publishers, who can also block up to 200 urls if they don't want it on selected files. On the upside, readers may now be able to obtain files that were formerly available for a charge or not provided online.
Read More

| Daily Tech

Posted by Christopher Sasaki Categories: Culture, PlayStation 3,
Sony has dropped a new television ad, this time hyping up their tilt-sensitive SIXAXIS controller. Again, the advertisements use abstract imagery to promote the system, using rolling eggs to illustrate the control enhancements that motion-sensitivity will offer. While Sony's campaign has done little to give consumers any specific game information, the commercials so far act almost entirely on an emotional level.
© Gear Live Inc. – User-posted content, unless source is quoted, is licensed under a Creative Commons Public Domain License. Gear Live graphics, logos, designs, page headers, button icons, videos, articles, blogs, forums, scripts and other service names are the trademarks of Gear Live Inc.