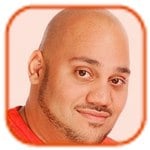 Posted by Andru Edwards Categories: Design, Toys, Videos,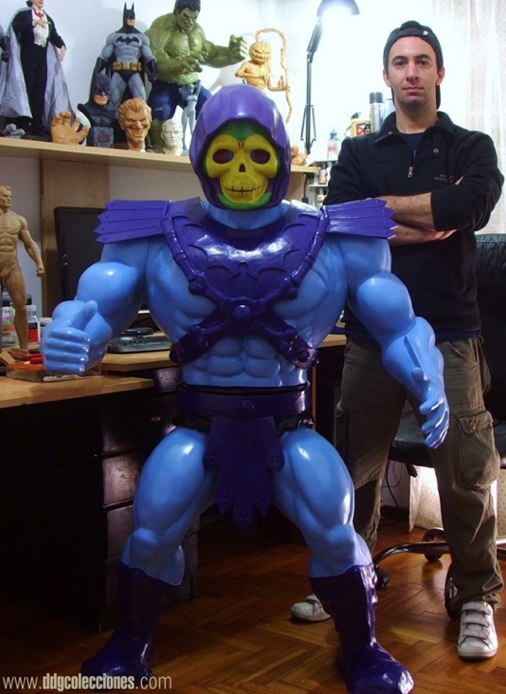 If you were a child of the '80s, you probably remember He-Man and the Masters of the Universe cartoon that was on television every weekday afternoon. He-Man would do his best to rid Eternia of Skeletor. I remember going to Macy's in NYC as a four-year-old and getting to "meet" a life-sized, robotic He-Man that was signing autographs. There was no Skeletor equivalent though, until now. The life-sized Skeletor replica is molded and sculpted based on the dimensions of the action figure. Check out the video after the break for more on the construction of Skeletor.
Click to continue reading Check out this life-sized homemade Skeletor sculpture [Video]
Read More

| DDG Colecciones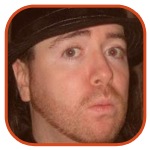 Posted by Adrien Griffin Categories: Drafts, Editorial, NHL,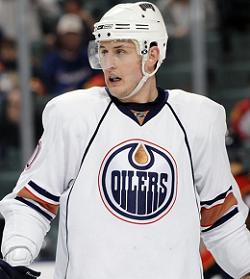 Plan the parade route! The Edmonton Oilers are undefeated in February! Too bad for them that they went winless in January. They picked up two points in overtime losses thanks to the NHL's generous point structure. A 13-game losing streak dropped the Oilers far out of contention and into the basement in the Western Conference. Part of their losses included a pair to the Calgary Flames who, for the first time in history, swept the season series in the Battle of Alberta by easily taking all six games. To say things have never looked bleaker for Edmonton may be an understatement.
Click to continue reading Oilers stop slide, finally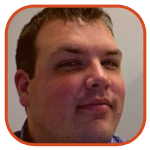 Posted by Aaron Zollo Categories: Accessories, Wearables,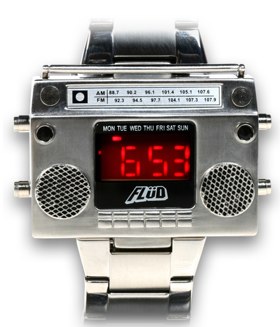 You miss the 80s and you want people to know it. With the new Boombox from Flud, you can flaunt your love of big hair, break dancing and a more simple time, which required large music generating boxes to rest upon your shoulder. Understanding the need to carry more important things and in an age of portability, Flud has shrunken the Boombox to the wrist and given you a watch to go along with it. The watch, unfortunately does not feature a working boombox, but does use an LED display, giving a nice red vintage glow. The watch is available for $90 in silver or gun metal.
Read More

| Flud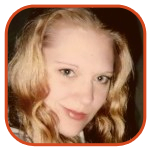 Posted by K.C. Morgan Categories: Music, Prime Time, Reality, FOX, American Idol, Editorial,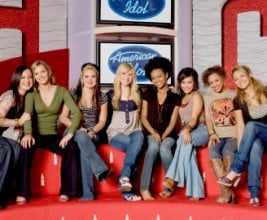 American Idol's Wednesday ladies night started out with the usual nonsensical judge-host banter. Ryan Seacrest asked if Randy Jackson is "too nice" this season, then turned his attention to Paula Abdul. "The 80s was a big year for you," he said. Guess again, Seacrest. The 80s actually encompassed an entire decade - and if you ask me, it was Madonna (not Abdul) who will for ever be the queen of those ten years. Yet, no one sang Madonna. I'm disappointed, ladies.
Click to continue reading American Idol: Top 8 Girls Give it a Go-Go
Read More

|
Baltimore Sun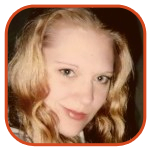 Posted by K.C. Morgan Categories: Music, Prime Time, Reality, FOX, American Idol, Editorial,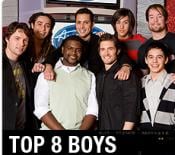 I have been looking forward to 80s week on American Idol with the utmost excitement. Madonna, Cindy Lauper, The Sex Pistols, The Police - the list of great performers from the 80s goes on and on. Instead, the Idol men gave us Wham, Genesis, Celine Dion, Lionel Richie, and a whole host of other tunes that added up for another strange song selection night.
Click to continue reading American Idol: Top 8 Boys Celebrate the 80s
Read More

|
American Idol Official Site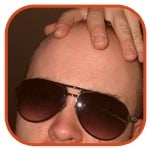 Posted by Johnny Mercedes Categories: Warner Bros, Action, Adaptation, Adventure, Animation, Drama, Science Fiction, Scripts, Upcoming Releases,
Last month, FilmCrunch told you about some up-and-coming movies based on classic cartoons; one of the more exciting endeavors just edged closer to fruition. H-O-O-O-O!
Seasoned videogame art director Jerry O'Flaherty—best known for his work on such games as Gears of War, Unreal Tournament 3 and Command and Conquer—will cut his directing teeth on the big-screen, computer-animated adaptation of the classic 80s cartoon Thundercats. O'Flaherty recently told Variety why he has what it takes to bring the idiosyncratic cartoon to the silver screen:
"It feels like a natural thing for me to step into. Games have come so far now. The last four years of my life have been about bringing the energy of filmmaking into the videogame experience"
The creative but often repetitive (everything's fine; bad guy lures good guy into trap; good guys save the day, thwarting bad guys; it all ends with a moral and a good laugh) television show followed a group of feline/human hybrids fleeing from their destroyed home planet Thundera. Upon their arrival on Third Earth, the Thundercats are met with unclear opposition from the immortal Mumm-Ra and his gang of other … animals resembling humans.
The script, penned by Paul Sopocy, will focus on the leader of the Thundercats, Lion-O, as he grows, trains and comes to lead the crew. IMDB has the project listed with a 2010 release, but at this point no further information has officially been released.
I may be crazy, but I'm really looking forward to this movie. I was a big fan back in the day and gave the series a second glance after its DVD release—a move that ultimately caused my inner child to cry as I asked him, "What the hell were you thinking?!" But the cat-campy animated series will likely share success with the other recent 80s revival Transformers, which relied on a fan base of twenty- and thirty-somethings with heretofore disillusionment and low expectations.
Mediocrity, H-O-O-O-O!
Read More

| Variety


Posted by Paul Hamilton Categories: Accessories, Downloadable Content, Features, Hardware, Microsoft, Music, PlayStation 3, Wireless, Xbox 360,
The Official Xbox Magazine's podcast has an interview this week with Harmonix co-founder and president Alex Rigopulos about their upcoming game Rock Band. In the interview he talks about the game bundles, although light on concrete details he does confirm a band-in-a-box bundle that will include a guitar, drum kit and microphone. However, he goes on to say that the PlayStation 3 version will include a wireless guitar controller while the Xbox 360 version will have to include a wired guitar because Microsoft's wireless technology is too expensive to make the bundle reasonably priced. Since the 360 also has only two USB ports, the 360 Rock Band bundle will also be packed with a USB hub.
Rigopulos goes on to discuss the game's career modes a little, saying there will be both solo career mode that progresses in a linear fashion similar to what Guitar Hero players are used to, but they are also including a less linear band career mode. In this mode you traverse to various venues trying to build up your fan base and in some cases return to previously played locations to maintain your fame there. Also it's worth noting that the solo career mode will not include a bass career track so your options are vocals, guitar and drums in solo career mode. But Rigopulos did reveal that the finale songs for each career path (and therefore likely the difficulty distinctions throughout) will be different for each instrument, and he even said that at this point the drum finale will be The Who's "Won't Get Fooled Again."
Click to continue reading Harmonix Co-Founder Answers Questions About Rock Band
Read More

| KOXM Podcast


Posted by Chris Pereira Categories: Activision, Music, PlayStation 2, Release Dates, Rumors, Xbox 360, Xbox Live Marketplace,
The list of songs that will appear in Guitar Hero Encore: Rocks the '80s has been fully revealed with the announcement of the final eight, making for a total of 30 songs. Overall, the list isn't terrible; it's got a mixture of everything, from A Flock of Seagulls to The Vapors to Dio, but it just seems to be lacking any true flavor. It feels like a completely random selection of '80s songs, as opposed to, say, a really sweet group of '80s songs or one that captures a particular aspect of '80s music.. We still don't have any official word on why Bow Wow Wow's "I Want Candy" disappeared after being seen in earlier builds of the game.
The game is set for release on PlayStation 2 on July 24 at a full retail price of $49.99. Nothing has been announced, but 360 Guitar Hero II owners might be seeing a downloadable content package (read: lots of microtransactions) later this year containing these songs.
The newly announced songs:
Anthrax's "Caught In A Mosh"
Accept's "Balls to the Wall"
Judas Priest's "Electric Eye"
Dead Kennedy's "Police Truck"
X's "Los Angeles"
The Go Gos' "We Got the Beat"
The Vapors' "Turning Japanese"
Winger's "Seventeen"
Limozeen's "Because, it's Midnite"
Click to continue reading Guitar Hero '80s Final Tracks Unveiled
© Gear Live Inc. – User-posted content, unless source is quoted, is licensed under a Creative Commons Public Domain License. Gear Live graphics, logos, designs, page headers, button icons, videos, articles, blogs, forums, scripts and other service names are the trademarks of Gear Live Inc.