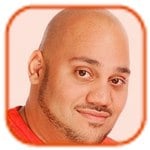 Posted by Andru Edwards Categories: Broadband, Cell Phones, Wireless / WiFi,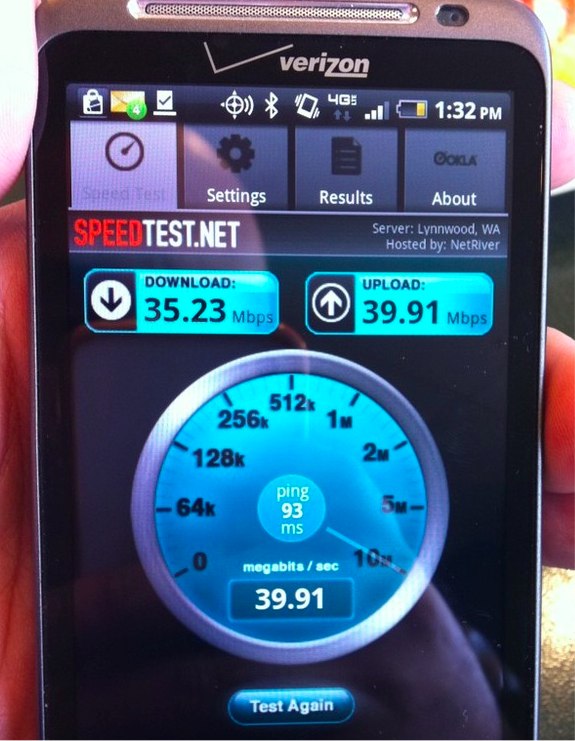 The image above is the result of a speed test using the HTC Thunderbolt on Verizon's 4G LTE network in Seattle. Techinically, Gear Live HQ is about a 20 minute drive north of Seattle, so even well outside the border of the metropolitan area, you still see speeds like this. Now, obviously Verizon isn't able to deliver this kind of speed everywhere that LTE is deployed, and as more devices are sold and the network gets more saturated, things will even out...but it shows the obvious potential that LTE has over other 4G technologies like WiMax. Now you can see why AT&T made the decision to buy T-Mobile. They have no way of competing with what Verizon is rolling out currently.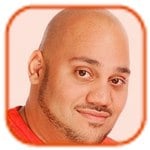 Posted by Andru Edwards Categories: Broadband, Wireless / WiFi,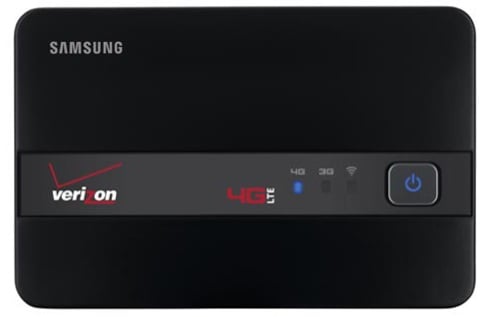 The first dedicated 4G LTE hotspot device is now available, as Samsung has released their 4G unit for Verizon Wireless. The hotspot will let you tether up to five devices over Wi-Fi, and in our 4G testing, if you're in an area with good coverage, you can see download speeds of up to 18 Mbps, and upload speeds of up to 10 Mbps. The devices will sell for $100 after $50 mail-in rebate (yeah, they still do those...) along with a two-year contract. Montly pricing starts at $50 for 5GB of data.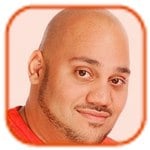 Posted by Andru Edwards Categories: Accessories, Broadband, Wireless / WiFi,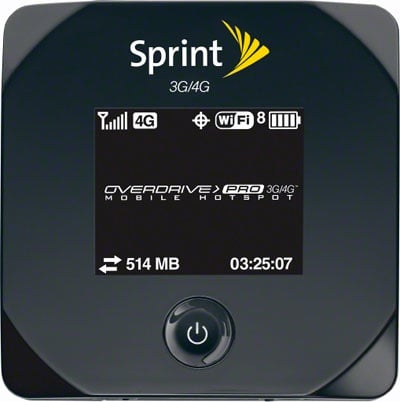 Sierra Wireless has a secret weapon in the hotspot wars: a booster dock for its new Sprint 4G Overdrive Pro mobile hotspot that can truly send its WiMAX reception and speeds into overdrive. Ensconced in the dock, 4G WiMAX reception jumps by 50 percent, a Sierra product demonstrator in the company's booth told me.
The $99.99 (minus $50 rebate) Overdrive Pro is better in every way than the Overdrive hotspot it replaced. It's smaller. It boots up faster. It has a bigger LCD screen to show status information. The back is a grippy, soft-touch plastic rather than the greasy, slick black plastic of the last model. It has easily accessible dual external antenna ports.
And it has that dock. The dock isn't very portable; it's about the side of an iPod dock. It's really made for your desk. Sprint is the only wireless carrier to offer truly unlimited 4G plans, so one of the aims may be for a docked Overdrive to double as an alternative to a home Internet connection.
Pop the Overdrive into the dock, and it can charge, tether to a PC as a modem, and gets that 50 percent signal boost. The dock will be available sometime in May, Sierra reps at the booth said. They weren't clear on the price.
The Overdrive Pro goes up against the new Novatel Wireless MiFi 4082, which I've been using at the show. The MiFi is smaller and classier-looking than the Overdrive; I suspect it will have slightly longer battery life, too, but that's without any real evidence. The MiFi's e-ink indicators don't give you nearly as much information as the Overdrive's LCD display, though, and it doesn't have the dock option.
We'll test both products as soon as we can get hold of them.
Click to continue reading Hands-on with the Sierra Overdrive Pro and booster dock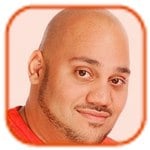 Posted by Andru Edwards Categories: Broadband, Cell Phones, Editorial, Wireless / WiFi,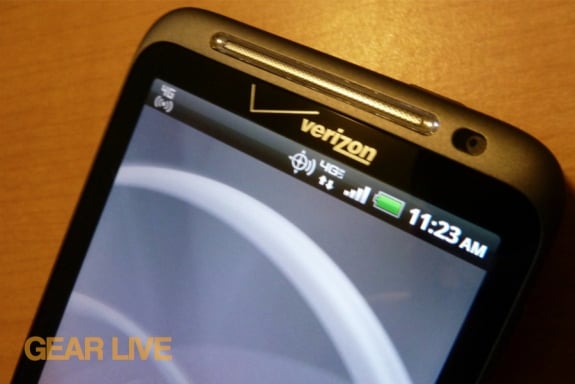 I'm addicted to 4G, and it could happen to you, too.
By now, almost everyone has seen TV commercials advertising 4G phones. Essentially, a 4G mobile hotspot lets you work anywhere as if you were at home or in the office with a fast broadband connection. With sustained average download speeds in excess of five megabits per second, it's likely you won't be able to tell the difference.
Granted, many felt the same way about the first 3G cellular modems released several years ago. But the Web has become much more advanced since then; all that extra AJAX and HTML5 code takes more bandwidth. People are also streaming more music and video these days. As a result, 3G no longer seems like enough.
In addition, the Apple iPhone 4 and Android smartphones running OS 2.2 (commonly known as Froyo) now offer mobile hotspot capability. That means that for an extra monthly fee, you can use your phone as a 4G hotspot for up to five devices—or even eight, in the case of the HTC Thunderbolt. You no longer need to buy a separate cellular modem, which was really just one more thing to carry around, charge all the time, and worry about losing. Mobile hotspot access averages $20 per month across the major U.S. carriers. That's not chump change, but it's a long way from the $50 to $60 per month a separate USB modem normally costs.
Click to continue reading It's official: I'm addicted to 4G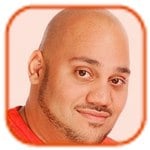 Posted by Andru Edwards Categories: Broadband, Cell Phones, Corporate News, Wireless / WiFi,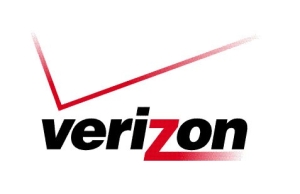 Verizon Wireless on Tuesday announced an additional 59 markets that will have access to its 4G LTE network by year's end, including Tuscon, Sacramento, Indianapolis, Louisville, and Portland.
Verizon launched its LTE network in December with 39 markets, and unveiled 49 more at this year's Consumer Electronics Show, so Tuesday's announcement will bring the total number of cities with LTE access to 147 by the end of the year.
"Aggressively expanding this powerful network beyond major metro areas reflects the reality that the 4G LTE ecosystem is growing quickly," David Small, chief technical officer for Verizon, said in a statement. "Our commitment to reach deep into medium-sized cities and smaller communities by the end of 2011 means the power of 4G LTE can be harnessed and provide advanced services to law enforcement, healthcare workers, educators, and other professionals, as well as to individual consumers, sooner than many thought possible."
Click to continue reading Verizon 4G LTE network to reach 59 more cities by end of 2011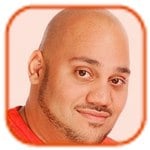 Posted by Andru Edwards Categories: Cell Phones, Features, Galleries, Handhelds,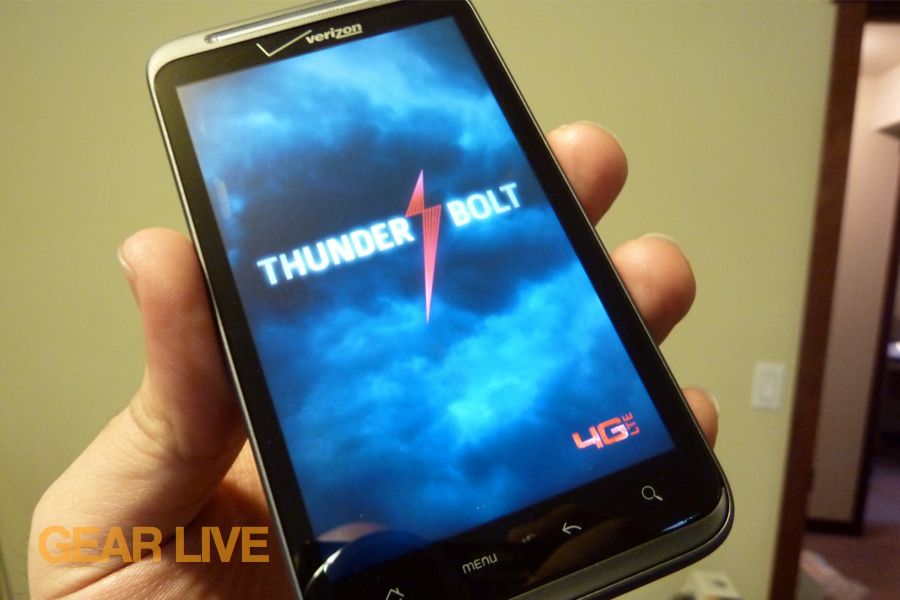 We just got our hands on the HTC Thunderbolt, the very first 4G LTE smartphone, offered by Verizon Wireless, and we're currently testing the thing out. Our review and videos will be coming soon, but let's just say, 4G mobile hotspot on this thing is absolutely amazing. Anyhow, while we finish all that up, we figured we'd hit you with our HTC Thunderbolt unboxing gallery. We put a grip of images together to give you a look at this fantastic device.
Gallery: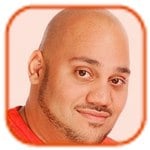 Posted by Andru Edwards Categories: Corporate News, Editorial, Features, Wireless / WiFi,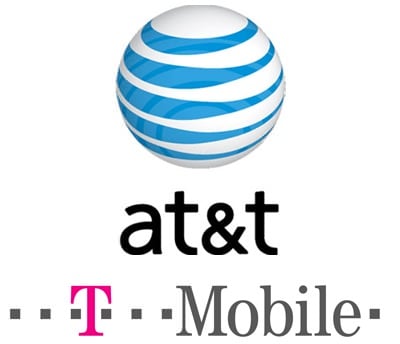 AT&T just announced it will buy T-Mobile USA for $39 billion. If the transaction gets approved by the government and closes in a year as planned, it will create the nation's largest wireless carrier by far.
While this is great news for both companies, it's an awful idea for consumers - and I desperately hope the US antitrust authorities rake this merger over the coals.
An AT&T/T-Mobile merger at least makes more sense than the silly T-Mobile/Sprint idea which was being bandied about. Both carriers use the same technologies: GSM, HSPA+ and LTE. While they're on different frequency bands, radios which use all of the relevant bands are becoming easier to build.
The merger neatly solves T-Mobile's long-term problem of not having enough spectrum for LTE, the 4G technology which will soon be a global standard. It gives T-Mobile's struggling parent, Deutsche Telekom, a gigantic cash infusion. And it lets AT&T once again position itself as the number-one carrier against Verizon Wireless, which leapfrogged AT&T technologically this year with Verizon's 4G LTE launch.
AT&T is ahead of T-Mobile on building LTE. T-Mobile is far ahead of AT&T on building HSPA+, a intermediate 4G technology that fits right between the carriers' existing 3G networks and LTE. Together, they could have a smooth and powerful nationwide network.
AT&T's press release for the merger backs this up. The combined carrier will be able to build out much more LTE Than AT&T could alone, by combining AT&T's 700 Mhz spectrum with T-Mobile's AWS spectrum.
For stockholders, this all sounds great. With reduced competition and the efficiencies of a combined network, the new company will probably be quite profitable.
For phone owners, tech lovers, and American consumers, this is a total disaster.
Click to continue reading AT&T Buys T-Mobile: Good for AT&T, Bad for Customers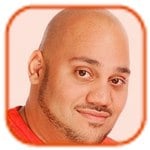 Posted by Andru Edwards Categories: Accessories, Cell Phones,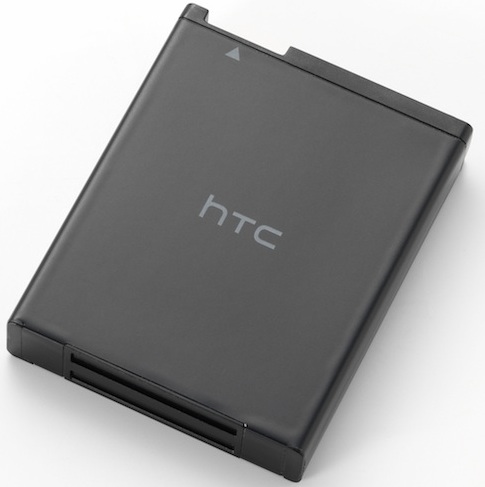 The HTC Thunderbolt has the fastest Internet speeds I've ever seen on a cell phone, but using the 4G LTE network really kills its battery life.
In our tests, I got eight hours of 3G talk time with the Thunderbolt, six hours of video playback time, and only 2.5 hours of LTE streaming. So what's an Internet fan to do?
HTC and Verizon will offer a very high-capacity extended battery, the companies told me. The 2750 mAh battery is nearly twice the capacity of the Thunderbolt's built-in 1400 mAh unit. The big battery will cost $49.99 and will be available very soon, said Pat Bucci, Verizon's director of accessory products.
The new battery makes the phone about an ounce heavier than its existing 6.5 ounces, and it comes with a new back that makes the phone deeper as well, Bucci said.
"We want customers who are power users, that are going to have the hotspot on all day, to just go," he said.
Click to continue reading HTC to offer Thunderbolt extended battery to double power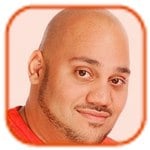 Posted by Andru Edwards Categories: Cell Phones, Videos,
T-Mobile really wants you to know the Sidekick 4G is coming. In a new video, product manager Joe Fernandez shows off the phone's sliding mechanism and Android interface. We've captured some images from T-Mobile's video for your viewing pleasure below.
The new Sidekick interface is definitely based on Android 2.2 and Samsung's TouchWiz, although it has some unique Sidekick touches, like those links on the right-hand side of the screen. Samsung's "Feeds and Updates" social-networking widget appears in the video, though.
Click to continue reading T-Mobile Sidekick 4G video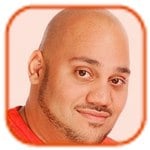 Posted by Andru Edwards Categories: Broadband, Wireless / WiFi,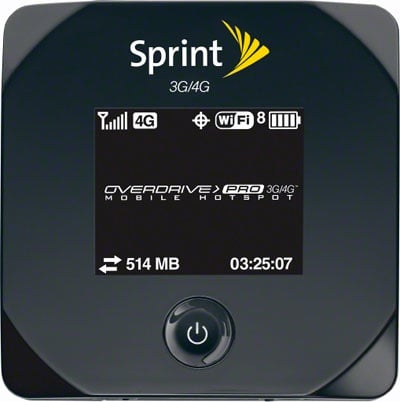 Sprint today announced that the Overdrive Pro 3G/4G Mobile Hotspot by Sierra Wireless will be available on March 20. It is the next generation of Sprint's previous Overdrive 3G/4G Mobile Hotspot, increases the number of shared users from five to eight, and has a 45 percent larger LCD screen.
Sprint claims the Overdrive Pro offers a number of enhancements over its predecessor, focused mostly on performance and usability. There is a 35 percent improvement in power-up and power-down times. The integrated LCD screen is now 45 percent larger to provide a greater viewing area, while the device itself is actually smaller for easier portability. And the LCD can now display detailed connection and device information through additional screens that can be accessed by double-pressing the power button.
The Overdrive Pro allows users to connect up to eight Wi-Fi-enabled devices simultaneously–including laptops, tablets, eReaders, gaming devices, cameras and even smartphones from other carriers–through a single connection (via Wi-Fi) to Sprint's 3G or 4G networks.
Click to continue reading Sprint Overdrive Pro 3G/4G Mobile Hotspot launches March 20
© Gear Live Inc. – User-posted content, unless source is quoted, is licensed under a Creative Commons Public Domain License. Gear Live graphics, logos, designs, page headers, button icons, videos, articles, blogs, forums, scripts and other service names are the trademarks of Gear Live Inc.