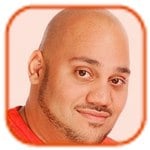 Tweet
Posted by Andru Edwards -
Categories: Portable Audio / Video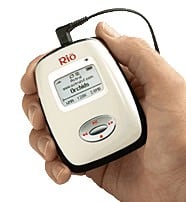 Check it out, instead of Rio letting the details on the much anticipated Chroma out of the bag, they instead made two small product announcements. First, the Rio ce2100. This player is said to be of a similar design as the Carbon, but with 2.5 GB of disc space. This makes it half the size of the Carbon, but it's only $50 less. Yippee. They also let it be known that the Rio Carbon will soon be available in a pearl white color. No changes as far as hardware goes. Not that exciting. It would have been nice to hear about more than these simple "Carbon copies". Heh.
Tweet
Posted by Categories: PC / Laptop, Peripherals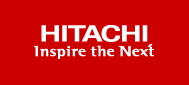 We knew this day would come, but who thought it would come so soon? Hitachi has announced the first half-terabyte hard drive for the consumer. After Hitachi released its first 400 gigabyte drive before any other company, they now also become the first company to release the 500 gigabyte 3.5" desktop drive. These drives can be seen in any of the increasingly common uses for a large quantity storage drive in the household today, such as PVR machines and stereo systems. The 500 gigabyte drive hopes to be released in the first quarter of 2005.
Read More

| CNN Money
Tweet
Posted by Categories: Handhelds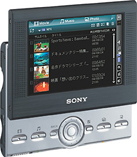 Sony has created a new PDA, the Sony Clie VZ-90 using OLED (organic light emitting diode. OLEDs are made from organic material and are lighter, faster, thinner, and have better contrast than LCD's while using less juice). The 3.8" 480x320 screen has a 1000:1 contrast ratio, check that number again, 1000 1 and 3 zeros. The buttons and controls slide out along the horizontal base of the unit, and can be hidden when not in use. Additional features include integrated stereo speaker, a CF slot, memory stick slot, wifi, IrDA and will play MPEG4 video, MP3 and ATRAC3 audio. It is just a shade over 4 inches wide, and 3 inches long and under an inch thick. It weighs a little more then half a pound. It will run smoothly with the included 64 mb of RAM and 128mb of flash, with a little of each given over to the operating system. According to Palm Infocenter, "Sony has announced they will no longer market or release handhelds for the US and European markets." I guess this means even if you would part with the $820 dollars for a new PDA you would have to take courses in Japanese to use it.




Read More

| Palm Infocenter
Tweet
Posted by Categories: Home Entertainment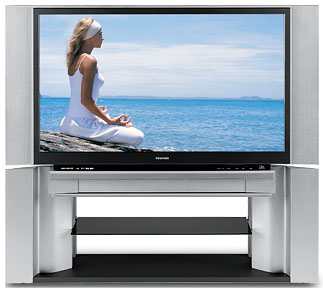 How would you like to be able to buy a flat panel TV that costs less than a Plasma or LCD, and has a better picture? Various companies are trying to perfect the technology that will rely on diamonds or carbon nanotubes to produce images. This type of display would also consume less energy than today's TV's. As quoted from the article:
"The concept of a nanotube TV will give you image quality similar to CRTs (cathode ray tubes), and the best image quality is still found on CRT TVs," said Tom Pitstick, vice president of marketing at Houston's Carbon Nanotechnologies. "All the major display manufacturers are looking at nanotube TVs."
The article goes into depth on how the technology works. A recommended read for all you TV buffs.
Read More

| ZDNet
Tweet
Posted by Categories: Home Entertainment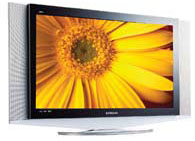 Samsung announced Tuesday that it had developed the largest single-panel active matrix-based organic light-emitting diode (OLED) display for TVs. Recently, Phillips had that claim with it's 20 inch screen. Samsung's 21 inch OLED display offers brightness of 400 nits, a contrast ratio of 5000:1, and color gamut of 75, making the product ideal for viewing HD-resolution video images.
Read More

| EE Times
Tweet
Posted by Hector Martinez Categories: Peripherals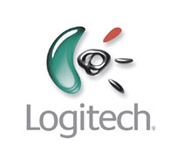 Did you know that optical is different from laser? Anyways, Logitech is looking to pair up their laser mouse with a keyboard for a cordless mouse-keyboard bundle. The relatively new laser tracking technology is the result of an alliance between Logitech, the world's No. 1 manufacturer of mice, and Agilent Technologies, the leader in mouse tracking technology. The nearly singular wavelength of a laser's light is capable of revealing much greater surface detail than the red LED found in optical mice, in fact 20 times more detail. As a result, the laser can track reliably even on tricky polished or wood-grain surfaces. The mouse and keyboard package will be available in Europe around March, and here in the US by April, retailing for $149.
Tweet
Posted by Hector Martinez Categories: Handhelds, Music, Portable Audio / Video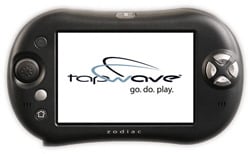 Looks like Virgin and Tapwave are taking steps to establish a bigger presence in the portable audio market. Today's announcement from the CES Show floor indicates that the two are working together to pair up the Virgin music download service with the versatile handheld, which through the help of SD cards, could store up to 2GB of music. Details are still unclear as to how the two devices will work seamlessly, but I can imagine an option on the Virgin service that allows transfers directly to the SD card, with minimal mouse-clicks. Virgin's downloadable songs are going for $.99 each, while the Zodiac sells for $269.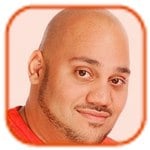 Tweet
Posted by Andru Edwards -
Categories: Features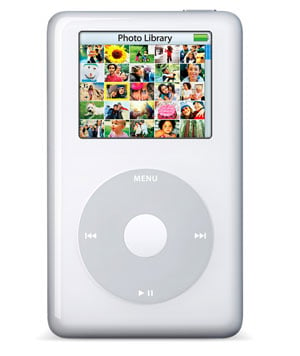 Last week, we asked you to let us know what you felt were the best tech items in a few key categories. You responded, letting us know what you felt outshined the rest as far as audio, home entertainment, video games, and cell phones. One person even walked away with a free Logitech MX1000 Laser Cordless Mouse courtesy of PrizeCube (congrats b_culbert!). You even gave us what you felt was the best item of the year. Full results after the jump.
Click to continue reading Gear Live Best Tech of 2004 Results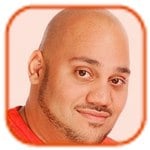 Tweet
Posted by Andru Edwards -
Categories: Video Games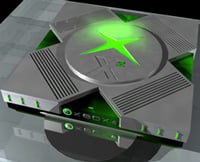 Now, you can take this for what you will, but former co-host of The Screen Savers Alex Albrecht states he spoke with a Microsoft employee who gave him some information on the Xbox 2 console which is set to debut at E3. According to the employee, the new console will sport a flash-based drive giving it an advantage on load times over the hard drive in the current model. The source also said that the Xbox 2 would in fact be showcased at E3, where a price and launch date will be announced. Like I said, take it for what you will.
Read More

| Alex Albrecht

Tweet
Posted by Oscar M. Cantu Categories: Home Entertainment
Canon announced Tuesday that it will start producing rear projection televisions this year. Canon, a Japanese camera and office equipment maker, wants a part of the rapidly growing big screen TV market. Along with rear projection TVs, they will also be working with Toshiba, Hitachi, and Matsushita Electric Industrial Co. Ltd in producing a new type of LCD panel. They plan on offering rear projection TVs on a commercial basis by the end of this year. Rear projection TVs are the second flat-panel TVs that will be offered by Canon, the first being SED TVs which will also be available this year. This comes as good news for the end-user. Bigger variety of TVs to choose from, more competition leads to cheaper prices, and better quality as a result of quality research on the part of TV makers. Be sure to be on the look out next holiday season for these TVs, they are sure to be among many people's wish list.
Read More

| Reuters
© Gear Live Inc. – User-posted content, unless source is quoted, is licensed under a Creative Commons Public Domain License. Gear Live graphics, logos, designs, page headers, button icons, videos, articles, blogs, forums, scripts and other service names are the trademarks of Gear Live Inc.