Find Our Latest Video Reviews on YouTube!
If you want to stay on top of all of our video reviews of the latest tech, be sure to check out and subscribe to the Gear Live YouTube channel, hosted by Andru Edwards! It's free!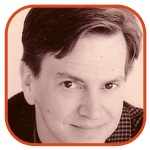 Tweet
Posted by Tom Mason Categories: Editorials, Television,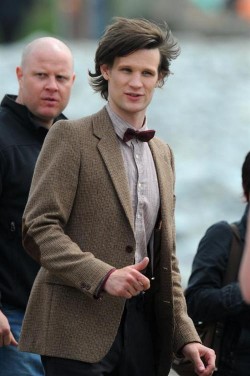 Feel like hoisting a glass for the good Doctor, the Tardis, K-9 and possibly Sarah Jane Smith? Well who doesn't. Fortunately, Dez Skinn, the creator of Doctor Who Weekly back in the day, has gotten himself involved in the third annual Doctor Who Pubcon which'll take place in Manchester, England at the Lass O'Gowrie pub.
You can hit the bar on Sunday, July 18th (so pre-arrange to take the 19th off from work, okay?). According to Dez, "our assembled guests will take us on a journey through their six favorite things about their time with Doctor Who - be it a person, a character, a scene - whatever they fancy really."
Now aside from the drinking and the Doctor-themed party conversation, why should you go? Because it'll be mc'd by John Cooper and the guests (subject to change) include some Doctor Who celebs like: Terrance Dicks, Andrew Cartmel, Graeme Harper, Dez Skinn, Rob Shearman, Sophie Aldred, Chris Achileos and Ade Salmon.
Click to continue reading Doctor Who Pubcon
Read More

| Pubcon Tickets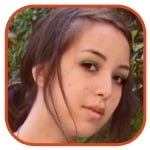 Tweet
Posted by Robin Paulson Categories: Interviews, Television, Marvel Comics,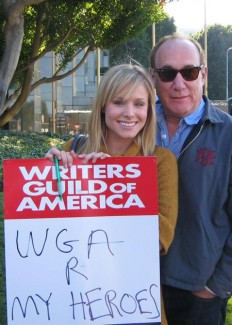 With Disney's dominant force among television airwaves (Disney Channel, ABC, ABC Family), it's no wonder that one of the first moves the company does with its newly acquired Marvel characters is get them on the small screen.
Earlier today, Marvel Entertainment announced the creation of their new TV department, and they've appointed comic book and television writer (Heroes, Lost) Jeph Loeb as the executive vice president. Loeb's duties include "overseeing the development of live-action and animated Marvel TV series."
"I couldn't be happier to accept this new position at Marvel Entertainment, working with both Dan [Buckley] and Alan [Fine] to deliver exciting, cutting edge television projects. Marvel continues to break new ground in storytelling in both their comic book and film ventures, so, along with everyone here, I'm excited to bring the same brand of excitement into homes across the globe," Loeb said of his new position.
Perhaps most importantly, does it disappoint or excite you that this guy penned Commando and Teen Wolf?
Read More

| Splash Page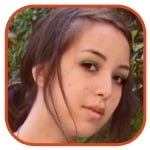 Tweet
Posted by Robin Paulson Categories: Interviews, Television, Image Comics,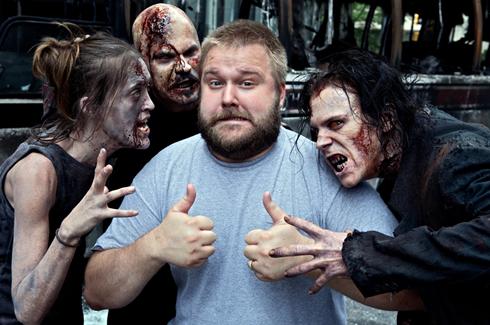 "I was telling my manager that I want to walk around on set and look at all the actors and just be like, 'Oh yeah, I've killed you and I've killed you and you don't last very long in the book. Sorry!' I am seeing a lot of characters who aren't in the book anymore, and I think that's kind of cool."
- The Walking Dead writer Robert Kirkman reflects upon working with old characters on the set of the comic book's television series adaptation.
(Make sure to check out other notable quotes.)
Read More

| USA Today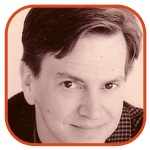 Tweet
Posted by Tom Mason Categories: Editorials, Movies, Reviews, Television, DC Comics, Marvel Comics,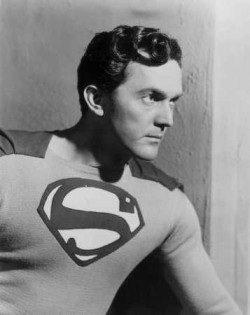 Hey Librarians! Pack up your decimals of Dewey and head out to Washington DC, where all the cool graphic novels are going to be talked about. It's the American Library Association's annual conference, and it's set for June 24-June 29. Early Word has the word on all the graphic novel programming just waiting for you.
Dave Simons: It's been one year since the death of the acclaimed artist Dave Simons and his friend Daniel Best and 20th Century Danny Boy remembers him with stories and quotes, like this one: "Here is my recipe for a winning comic book cover: Flame. Gorilla. Skull. Hot chick. Other elements of interest: Nazis, dinosaurs." I would totally buy Flaming Gorilla Skull Chick Vs. Nazi Dinosaur #1 from any publisher. Even at $3.99. I'll even write it. And I wish Dave was still alive to draw it.
Superman Serials: The Bijou Blog takes a look at those Superman movies that most comic book fans don't care about: the old serials like Superman and Atom Man Vs. Superman, starring Kirk Alyn. "His Superman seems stern at times, then happy-go-lucky, but also happens to take a sadistic glee in cracking two crooks' heads together. The cape appears to give him some trouble. Alyn is seen to push it out of his way several times and he never runs while in costume, doing more of a ballet leap to keep from tripping."
Click to continue reading Weekend Reading: Bob Bolling, Dave Simons, Kirk Alyn and Chuck Jones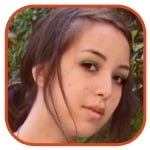 Tweet
Posted by Robin Paulson Categories: Television, Image Comics,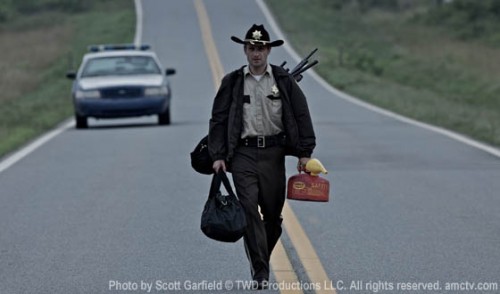 As if we've let The Walking Dead television series slip out of our thoughts, AMC has consistently
reminded us about
reported on the crew's production.
Earlier today, the network posted its first image of Andrew Lincoln as the comic book's troubled hero, Rick Grimes. Although I was really hoping that they'd cast someone who looked a little more like Rick, I must quell such lame fangirl thoughts and put my faith in Frank Darabont and crew (I'm guessing that Lincoln's acting chops must have compensated for it, though).
Do you think that he's a believable Rick? Oh and seriously—check out the zombie school video after the jump.
Click to continue reading PHOTO: The Walking Dead's Rick Grimes Comes to Life
Read More

| AMC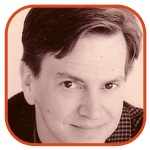 Tweet
Posted by Tom Mason Categories: Conventions, Editorials, Interviews, Movies, Reviews, Television, Independent,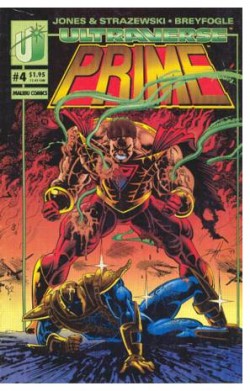 Comic Con International in San Diego is closer than you think. Years ago, I started compiling my own list of convention secrets starting with a great place to go to the bathroom that's tucked away in a corner, just minutes from the convention floor, and no one seems to know about it. Then I read the list compiled by Tom Spurgeon at The Comics Reporter and I am ashamed of my own ineptitude. If you're going to the con this summer, you need to read Tom's list of 135 tips.
After you've finished reading Tom's tips, here are a few other links to brighten your weekend…
Want To Be A Writer?: Of course you do. Who doesn't? Step into any cocktail party or backyard barbecue and it's full of people bursting with ideas, if only they can find someone who could take a few minutes to write it all down for them. The real trick is finding places that might be interested in publishing something once it's all written down. If you feel like writing some stuff down, John Scalzi (the Hugo Award-winning sf author) and Wil Wheaton (yes, that Wil Wheaton) have joined forces to create a writing contest that's win-win-win for all. Maybe even you.
Click to continue reading Weekend Reading: Comic Con International, Tom Peyer, Ultraverse and Paul Cornell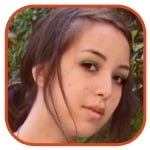 Tweet
Posted by Robin Paulson Categories: Interviews, Television, Image Comics,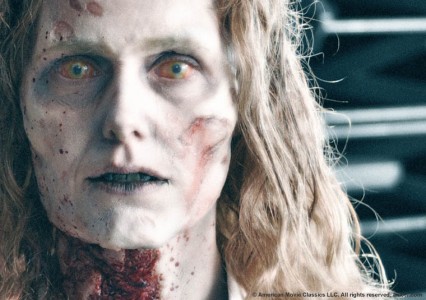 Nearly a year after Robert Kirkman sealed the deal with Frank Darabont, production has finally begun on The Walking Dead television series. As filming commenced in Atlanta, AMC released photos of the zombies ready to walk on set.
AMC also posted a video of director/writer/producer Frank Darabont talking about his interest in the undead story (in case you were wondering how one goes from directing The Green Mile to researching George Romero films). His best line? "We hope to do for zombies what Mad Men has done for advertising."
Check out more zombie photos and the complete video after the jump!
Click to continue reading First Look: The Walking Dead Production Begins
Read More

| AMC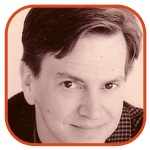 Tweet
Posted by Tom Mason Categories: Interviews, Television, DC Comics,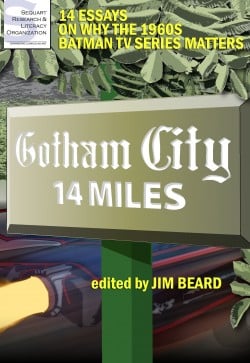 If you're a fan of the 1960s Batman TV show starring Adam West and Burt Ward, then you already know what that phrase means. It's the sign you see denoting the distance from the Batcave to Gotham City. Wayne Manor was way out in the 1960s suburbs! Gotham City 14 Miles is much more than that, however. It's also the title of a new book edited by Jim Beard whose full title is Gotham City 14 Miles: 14 Essays On Why The 1960s Batman TV Series Matters. Essayists include Beard, comics historians Peter Sanderson and Robert Greenberger, and a host of people whose names are being revealed one at a time.
The book will be published by the Sequart Research & Literacy Organization a "non-profit devoted solely to the study and promotion of the artistic and literary medium alternately known as comics, comic strips, comic books, graphic novels, manga, sequential art, and sequart."
Beard says Gotham City 14 Miles is the first book on the old Batman TV series in over 10 years, and I say it's about time. The book will examine the 1966-68 TV series and "quantify its worth and weight in current pop culture. It also intends to shoot down many of the cliches, falsehoods and outright misinformation about the show and illuminate its strengths and, yes, its weaknesses."
Click to continue reading Q&A: Jim Beard, Batman & Gotham City 14 Miles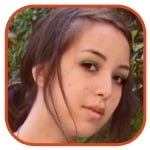 Tweet
Posted by Robin Paulson Categories: Television,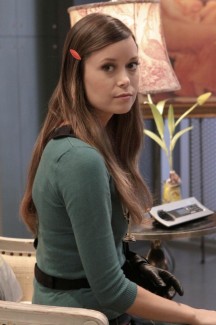 After her short-lived gigs on Terminator: The Sarah Connor Chronicles and Joss Whedon's shows Firefly and Dollhouse, Summer Glau landed another role in a sci-fi, superhero-themed series The Cape.
The pilot centers on a former cop, played by David Lyons, who dons a superhero alter ego to clear his name of criminal charges. Glau portrays "Orwell, a cute and intrepid investigative blogger who fearlessly goes after corrupt cops and costumed bad guys." So… Dollhouse's Bennett meets Kick-Ass's Hit Girl?
Considering all three Fox shows she worked on were cut short, let's hope that moving to NBC will fare better for the actress.
Is this the nail in the Heroes coffin? Bah, I'll still watch it if I can catch Glau being her adorable, geeky-cute self!
Read More

| The Hollywood Reporter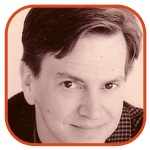 Tweet
Posted by Tom Mason Categories: Editorials, Television,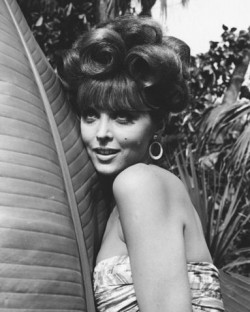 If you're like me, the second you heard there was going to be a Gilligan's Island movie updated for the 21st Century, the first thought that went through your mind was "Ginger-Mary Ann Lesbian Kiss."
After spending about 30 minutes dwelling on that, I started to cast the movie. I've always thought of Gilligan as a live-action cartoon; perfect entertainment for those times when an episode of Scooby-Doo won't satisfy and Batman: The Animated Series seems a tad too challenging.
Who would be Gilligan, The Skipper, The Professor? Who, indeed. Who could take the place of Bob Denver, Alan Hale, Russell Johnson, Tina Louise, Natalie Schaefer, Jim Backus and Dawn Wells? Who would play the Harlem Globetrotters this time? And since vampires are the new black, would they feel the need to bring in Dr. Boris Balinkoff?
Click to continue reading Gilligan's Island: Casting The Castaways
Read More

| Slash Film

© Gear Live Inc. – User-posted content, unless source is quoted, is licensed under a Creative Commons Public Domain License. Gear Live graphics, logos, designs, page headers, button icons, videos, articles, blogs, forums, scripts and other service names are the trademarks of Gear Live Inc.