Find Our Latest Video Reviews on YouTube!
If you want to stay on top of all of our video reviews of the latest tech, be sure to check out and subscribe to the Gear Live YouTube channel, hosted by Andru Edwards! It's free!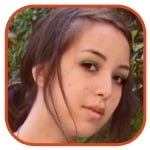 Tweet
Posted by Robin Paulson Categories: Movies, Reviews, Marvel Comics,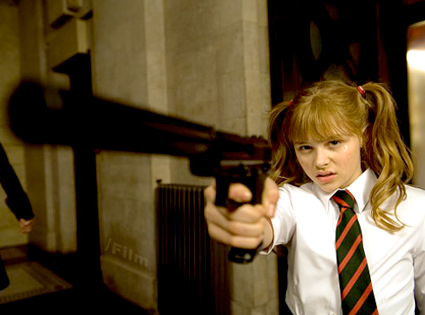 UPDATE: According to THR, Kick-Ass did take the top rank at the box office, despite early Sunday estimates stating otherwise.
Matthew Vaughn's film adaptation of Kick-Ass contains plenty of good, geeky fun: nerds loving comics; Nicolas Cage channeling Adam West; and an adorable 12 year-old girl slicing and dicing grown men four times her size. Why did How to Train Your Dragon seriously beat this comic book movie down to second place at the box office?
Initially, I was ready to leave (without even finishing my popcorn, mind you!) the theater when I had seen how far the film strayed from the comic; however, I decided to give it a chance and left the theater quite pleased with my final decision. Despite all the alterations, the adaptation was a good time packed with Easter eggs that filled my nerdish heart's desire. Besides, everyone went nuts over this at last year's Comic-Con, right?
Click to continue reading Kick-Ass Pleased Fans, Underperformed at Box Office
Read More

| The Wrap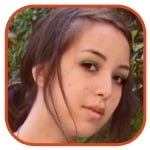 Tweet
Posted by Robin Paulson Categories: Interviews, Movies, Marvel Comics,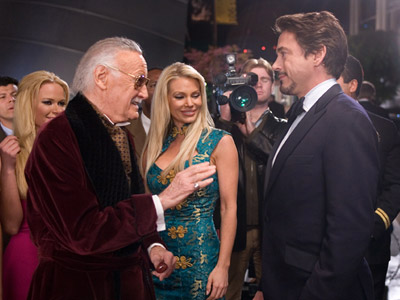 "But I was lucky because I had three girls and the director kept saying, 'Hold them closer!' And they must have taken an hour to shoot it. The four of us were almost engaged by the time we were finished."
- Living comic book legend Stan Lee on his Iron Man cameo.
(Make sure to check out other notable quotes.)
Read More

| IESB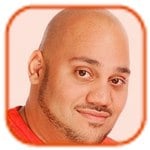 Tweet
Posted by Andru Edwards -
Categories: Movies, Marvel Comics,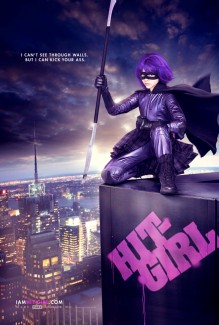 Chloe Moretz injured herself on the set of Kick-Ass. The 13-year-old actress, who has caused some controversy due to her swearing in the action comedy movie, admits she was left hurt when she performed a stunt, but didn't want medics to be called.
"I fell on the edge of a chair, and it kinda broke. I was begging them not to get the medic, but of course they were all like, 'No, let's check it out.' And it was just fine, it was just a cut. I've gotten way worse in real life. My dog bit me once."
The young star also confirms she did most of her own stunts in the film: "Practically all of it is me except for the running up the wall - that was a person who ran up the wall actually, without wires. I was sitting there thinking, 'Are you kidding me? Is this fake?' It's breathtaking."
British-born Chloe recently defended Kick-Ass against criticism from some people who claimed a young girl should not be swearing in a film. She said, "It's a movie. Obviously a little girl can't beat up and kill huge, heavy men. I don't see how anyone would realize it's not real. It is a controversial role, but it was a role I wanted to do. If I said a sixteenth of the words I did in that movie at home, I would be grounded for the rest of my life for sure."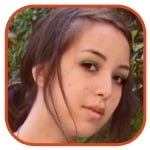 Tweet
Posted by Robin Paulson Categories: Interviews, Movies, Marvel Comics,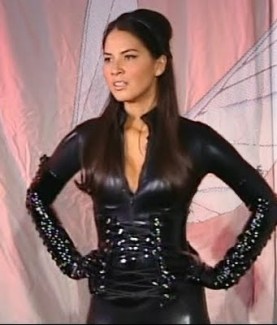 Geeks all over are abound with glee this weekend to read that G4 host Olivia Munn will possibly be donning wings for Iron Man 2.
An e-mail sent by an "old, fairly reliable" source reveals that Munn is set to portray the wealthy Janet Van Dyne, a.k.a. The Wasp.
It has been confirmed in July 2009 that director Jon Favreau had cast Munn in a cameo. Until recently, when the actress admitted that her cameo fell victim to editing Hell and was given another role. So we know that she has a part—it's simply a guessing game at this point. Can she pull off the heavy shoes of an Avenger?
With some minor screen time in the Steve Carrell and Tina Fey comedy, Date Night and now a role in Iron Man 2, this former model is definitely making her name known in the film industry lately.
Read More

| Forces of Geek via Cinema Blend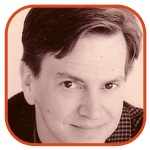 Tweet
Posted by Tom Mason Categories: Editorials, Marvel Comics,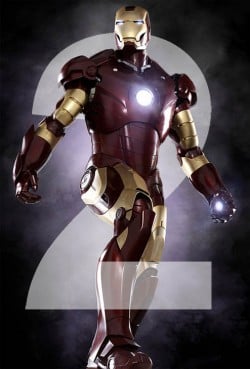 I know it's hard to believe that most comic book jobs that you find listed are not in the traditional creative fields of writing, drawing and editing. It just doesn't happen. Those all go to an editor's girlfriend's brother's cousin at least according to the paranoids. When you do find some nifty jobs in the field, you can bet they're some kind of office gig with Aeron chairs picked up from an internet start-up bankruptcy sale.
Marvel Comics, The House of Mouse That Jack And Stan Built, in New York has a couple of those jobs in their cubicle farm system and they both look like fun. And by that I mean interesting. And by that I mean jobs that pay.
First up, Marvel is looking for a Creative Services Coordinator "to support the Creative Services Department with day-to-day and inter and intra-departmental needs and duties."
So what is a CS Coordinator? The lucky job-holder will "be a key manager of the relationship between Creative Services and all the other divisions within Marvel, as well as outside vendors and business partners…to create, refine and drive processes that will increase the accuracy and efficiency of Creative Services' daily functions, project coordination, intra-departmental communications, network, and launching projects." Whew! Say that three times fast.
Click to continue reading Comic Book Jobs: Who's Hiring? Marvel Comics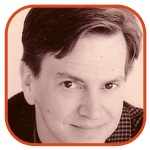 Tweet
Posted by Tom Mason Categories: Editorials, Marvel Comics,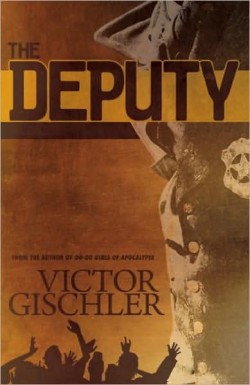 Hey, do you like Victor Gischler's work on Marvel Comics' Deadpool: Merc With A Mouth and the new Deadpool Corps? I do, because I think they're both laugh-out-loud funny while still being good "superhero" action. Did you also know that he's a novelist? I've been a fan of his since Gun Monkeys came out and now he's got a new book that just dropped called The Deputy.
There's not a superhero in sight, but I think fans of Gischler's comic book work will find much to enjoy in his prose. The Deputy is the story of a part-time Oklahoma deputy (see what he did there?) who's called out to babysit a dead body. But when he gets distracted by his 17-year-old girlfriend and the body goes missing, The Deputy's got his work cut out for him.
Sounds like fun and my copy's already been ordered.
[Artwork: Cover to Victor Gischler's The Deputy]
Read More

| Victor Gischler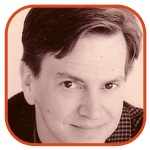 Tweet
Posted by Tom Mason Categories: Editorials, Marvel Comics,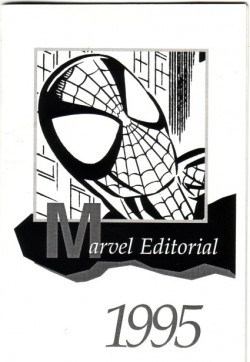 When Marvel Comics made some rapid-fire changes to their business model back in 1995, they called it Marvelution. In addition to pulling out of the traditional Direct Market distribution channels and buying Heroes World so they could self-distribute their books, Marvel divided all of their books into five "families," each with its own editor-in-chief.
They also issued a little booklet to help explain their new world order and to try to answer questions from an anxious public that included retailers, consumers, and their freelance artists and writers.
The little 8 1/2 x 5 1/2 inch black and white saddle-stitched booklet was the 1995 Marvel Editorial Handbook, and there's a part that freelancers of the day might've been the most interested in - how to get a raise under the new system Marvel had just installed.
Here's that section of the handbook:
"Q: Are the processes for establishing and raising rates going to change under the new structure?
Click to continue reading How To Get A Raise From Marvel Comics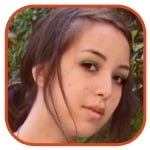 Tweet
Posted by Robin Paulson Categories: Interviews, Movies, Marvel Comics,
Filming for the X-Men Origins: Wolverine sequel doesn't begin until January 2011, but
Logan
Hugh Jackman is openly sharing his approval of the latest script, written by Christopher McQuarrie (in case his name doesn't ring a bell for you, he penned The Usual Suspects and Valkyrie).
The film will be based on Chris Claremont and Frank Miller's take on Logan's experiences in Japan; Jackman confirmed that at least some of the movie will be filmed there.
Jackman was also asked whether or not we'll see this latest X-Men installation in 3D…
Click to continue reading Hugh Jackman Talks Wolverine Origins Sequel
Read More

| Splash Page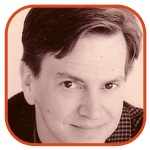 Tweet
Posted by Tom Mason Categories: Editorials, Marvel Comics,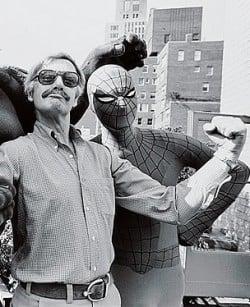 As any regular browser of the internets knows, Stan Lee's POW! Entertainment has pacted with Boom! Studios to launch a line of superhero comic books based on concepts from The Man himself. Here are 10 things that Stan said as he signed the deal.
10. "What a coincidence! A Mark Waid once interviewed me for Amazing Heroes."
9. "'Boom,' huh? Have you thought about either 'Krakadoom!' or 'Bah-bah-boom'"?
8. "Can we work 2099 into the title of something?"
7. "You can still get me a room at San Diego, right?"
6. "How will this affect my cameo in Iron Man 2?"
5. "With great power comes a really great contract."
4. "Apple is talking to me about the iStan."
Click to continue reading Stan Lee And Boom! Studios: Top 10 Things Overheard
Read More

| Boom! Studios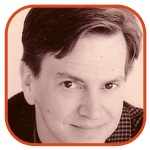 Tweet
Posted by Tom Mason Categories: Editorials, Television, Marvel Comics,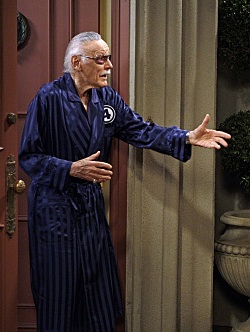 Stan Lee has made a pretty good hobby out of appearing in projects based on Marvel Comics. It's a fun, and not too distracting, game to try to figure out if Stan will be showing up in a crowd scene, a cocktail party, a press conference or other setting where he can do his cameo, fulfill his Screen Actor's Guild obligations, and eat the free lunch at break time.
On March 1, Stan appeared as himself on the fanboy favorite, The Big Bang Theory, probably the best sitcom currently on the air, thanks to creator-producer Chuck Lorre, co-creator-producer Bill Prady, and the rest of their talented staff of producers and writers. In "The Excelsior Acquisition," the cast is excited about Stan's appearance at the local comic book store, but Sheldon misses it when he gets tossed in jail for contempt while defending his traffic ticket. Naturally, when he gets out, he takes advantage of an opportunity to make the pilgrimage to Stan's house. Stan acquits himself quite well and there are laughs galore. It's a great use of stunt-casting and it's packed with jokes that reveal the writers as fans of Marvel Comics, not posers. Well done, all!
Stan liked the experience so much, he Tweeted about it.
Click to continue reading Stan Lee And The Big Bang Theory
© Gear Live Inc. – User-posted content, unless source is quoted, is licensed under a Creative Commons Public Domain License. Gear Live graphics, logos, designs, page headers, button icons, videos, articles, blogs, forums, scripts and other service names are the trademarks of Gear Live Inc.