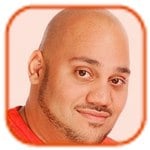 Tweet
Posted by Andru Edwards -
Categories: Household, Misc. Tech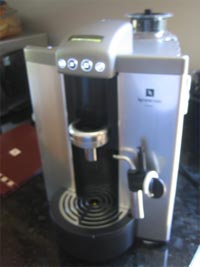 Our friends over at Single Serve Coffee got their hands on the uber-expensive Nespresso Romeo Coffe Maker, and put it through the paces. Now, despite that fact that it's fully automated, and even uses really cool coffee "capsules" which make it even more attractive , I am not one to drop $800 large on a coffee maker. That being said, if you happen to love coffee - or capsules - that much, then check it out. It certainly is a beautiful piece of machinery.
We really like the Nespresso Romeo and the Nespresso coffee. We've seen Nespresso around for awhile now, but had no idea how fabulous the coffee would be. It's also nice to see a well designed, well thought out machine to go with such great coffee. TheNespresso Romeo is easy to use and pleasant to the eye.

Read More

| Single ServeCoffee
Tweet
Posted by Rob Stevens Categories: Accessories, Features, Home Entertainment, Product Reviews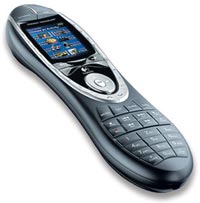 If you're anything like me, your living room is probably cluttered with remotes. OEM remotes, "universal" remotes, and remotes for the air conditioner you left behind when you moved. Men love 'em; there's nothing like the feel of a plastic remote (or five) in your hand to make you feel like you're in control. Women, on the other hand, see the remote as a bone of contention and the more of them there are, the more contentious the bone.
We asked our friends at Logitech if they could solve the problem, and they sent us their top-of-the-line programmable remote: The Harmony 880. Logitech has designed the remote to be used in conjunction with HDTV and PVR devices, and makes the process of doing things like changing the aspect ratio of your HDTV from 16x9 when on a DVD source, to 4x3 Expanded when on a TiVo. Most importantly, they tout the remote as being easy to set up and easy to use. We'll just see about that.
Click to continue reading Logitech Harmony 880 Advanced Universal Remote Review

Tweet
Posted by Jesse Easley Categories: Corporate News, Xbox 360
There are tons of rumors flying around about the Xbox 360 launch right now and one analyst spoke up about what they feel Microsoft will be doing. Anthony Gikas of Piper Jaffray, believes that Microsoft will roll out two different versions of the Xbox 360 for launch, but doesn't try to speculate of what the differences might be. There is the ever so strong rumor of one version will lack a hard drive, or at least come with a smaller hard drive, rather than the larger one Microsoft mentioned previously.
"Microsoft knows $299 is important," Gikas explained. "They know that historically that's been the launch sweet spot, but they also don't want to take such large hardware losses this time. Of the 1 million units Microsoft is expected to have available at launch, I expect 80% of them will probably be the more expensive SKU, because that's what early adopters are going to want."
Read More

| GameDaily
Tweet
Posted by Alex Grahmann Categories: Corporate News, Internet, Music, Portable Audio / Video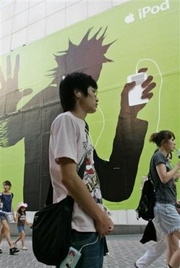 Debuting with prices ranging from ¥200 and ¥300 per song ($1.80 and $2.70), Apple has exploded onto the Japanese digital audio scene by selling over 1 million songs with the new service in under four days. Proudly, Japanese artists grabbed the honors for both the top-downloaded song (Def Tech) and the top-downloaded album (Ulfuls). Steve Jobs was quick to point out that the four-day business enjoyed by the Japanese iTunes dwarfs even a month's worth of business on any other Japanese service. With the struggles that other American companies, such as Microsoft, have had breaking into some Japanese markets, Apples success in this area could bode very well for the company.

Read More

| MacWorld

Tweet
Posted by Sparky Categories: Accessories, Mods / Hacks, PC / Laptop, Peripherals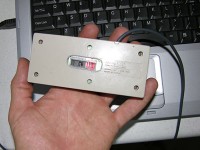 Some creative lads have posted instructions on how to make a Frankenstein creation using a Microsoft optical mouse, and a standard classic NES controller. This DIY project involved taking the guts from the mouse and transplanting them into the controller. Other than a hot glue gun, Dremel, and soldering gun, nothing special is needed. While the NES mouse does not seem to be the most ergonomic option available it sure does seem one of the coolest ideas for that hardcore retro-gamer in your life.

Tweet
Posted by Sparky Categories: First Person Shooters, Portable/Mobile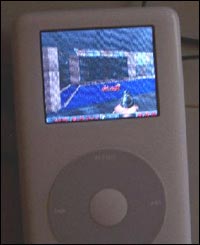 It was bound to happen sooner or later, but Doom, the original cult classic FPS has been ported to the iPodLinux platform. I can't imagine how they get the UI to work with the click wheel, and there are a lot of reports of frame-rate issues, but this is just nifty. Frustrating UI aside, it really is impressive how many platforms Doom has been ported to - I have it on my smartphone right now and can only imagine what portable devices of tomorrow will be able to run it.

Read More

| iPodlinux
Tweet
Posted by Alex Grahmann Categories: Home Entertainment, Music, PC / Laptop, Peripherals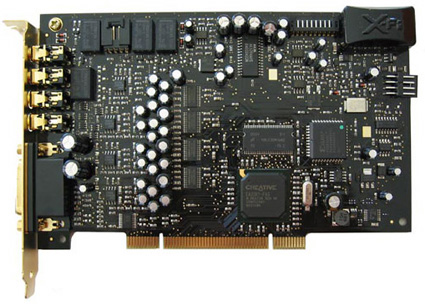 First revealed at this year's E3, the X-Fi line of Sound Blaster sound cards are now ready for the market. The new cards are designed specifically to power Creative's new Xtreme Fidelity audio standard, which promises to hit new heights of audio versatility and performance. Creative has long been the leader in the sound card business, and will release four versions of the new card to Best Buy stores later this month, the Elite Pro ($399), the Fatal1ty ($279), the Platinum ($199), and the XtremeMusic ($129). As is the common rhetoric in the high-tech world these days, Creative is promising that these new cards will "eventually and completely replace the old hi-fi equipment in the home."
Now, the cards seem great, but my question is this: How many of our readers really are replacing standard living-room audio/visual entertainment components with PC upgrades? We'd love to hear from those of you parting with your more traditional home theater elements and what you're using instead.
Read More

| Creative Press Release
Tweet
Posted by Edwin Soto Categories: Music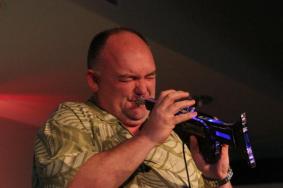 As the resident Gear Live audio freak, this trumpet/MIDI device caught my eye. On an "analog" trumpet, you have to raspberry with your lips to get sound to come out of the bell. More importantly, a skilled brass player must keep their chops by practicing maintaining their ambiture . Although, I wouldn't say that this device instantly makes you a great trumpet player, it certainly makes it easier if you are out of practice (says an out-of-practice trombone player). With that said, Morrison Digital Trumpet allows you to use this trumpet as a MIDI device where you can, of course, hook up to several different types of sources - like you would a MIDI keyboard. The trumpet uses the force of your breath for velocity and has a range of 10 octaves.
Read More

| Gizmag
Tweet
Posted by Edwin Soto Categories: Corporate News, Internet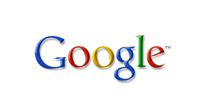 Is Google > CNet? The search engine giant blackballed CNet reporters after the network reported privacy concerns for those being searched. Google's CEO, Eric Schmidt, was searched on Google to prove a privacy point. His salary, neighborhood, and even political donations were publicly displayed. Google's answer: don't talk to CNet for a year. Seems a bit childish to give the silent treatment for something that is publicly available. I mean, if I can't use Google to search all of my old girlfriends, I'm going back to Yahoo! Well, at least for one year.
Read More

| CNN Money
Tweet
Posted by Edwin Soto Categories: Cameras, Mods / Hacks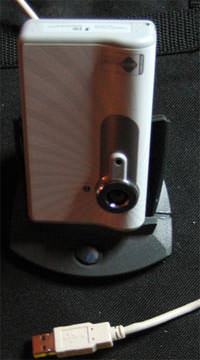 A few months back, the CVS drug store chain introduced the first "disposable" DV recording device. The idea around it is to sell you the camera for 30 bucks, you get about 25 minutes of compressed video, bring it back to CVS, and they put it on DVD/CD for you. This is a great alternative if you don't plan to purchase a DV camera anytime soon, yet want to capture special moments on film. Why not exploit the drug store giant and hack the videos from the camera yourself? I-Hacked.com has taken the time to splice up a USB cable, integrate that with a Palm III cradle - which is apparently hard to find (sadly, I own one) - and use a few Windows commands to format the camera. There you have it.

Read More

| I-Hacked.com via Make
© Gear Live Inc. – User-posted content, unless source is quoted, is licensed under a Creative Commons Public Domain License. Gear Live graphics, logos, designs, page headers, button icons, videos, articles, blogs, forums, scripts and other service names are the trademarks of Gear Live Inc.