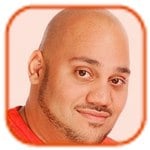 Tweet
Posted by Andru Edwards -
Categories: Accessories, Cell Phones, Hot Deals, Wireless / WiFi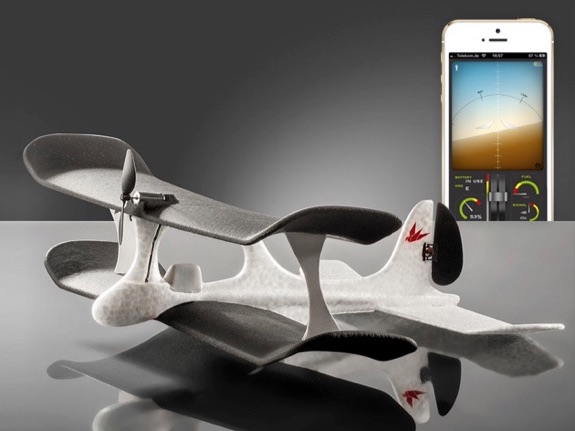 Today in the Gear Live Deals Shop we're offering a 28% discount on the SmartPlane. This is the world's first aircraft that is controlled by your smartphone, making it our Deal of the Day. You can use on-screen controls, or the accelerometer by tilting your device to steet the SmartPlane. It's made of durable EPP material, making it crash-proof, and Bluetooth Low Energy allows it to fly longer distances for a longer amount of time. You'll need an iPhone 4S or newer, 5th generation iPod touch, iPad 3 or newer, or an Android 4.3 device with Bluetooth Smart in order to fly one.
Don't forget, if you're looking for other deals, be sure to check out our Newegg Promo Code thread. Oh, and if you're on Twitter, be sure to follow @TechPromos for the latest deals.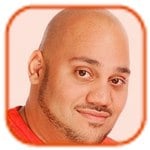 Tweet
Posted by Andru Edwards -
Categories: Fighting, PlayStation 3, PlayStation 4, Xbox 360, Xbox One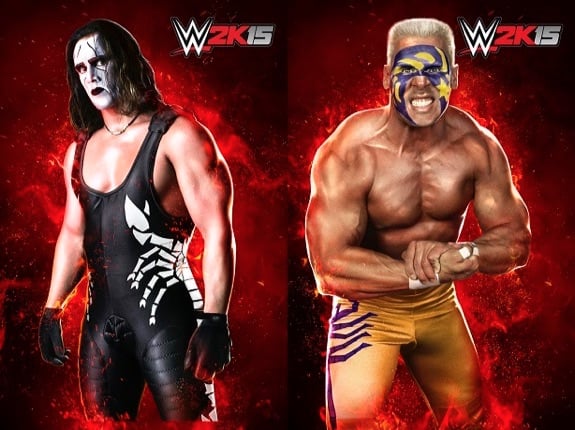 Update: 2K Games has revealed the limited exclusive WWE 2K15 Hulkamania edition!
During the last episode of Monday Night Raw, it was revealed that the pre-order bonus for WWE 2K15 will be a double-dose of Sting. Wrestling fans in the 1980s and 1990s will remember Sting as both a blonde, spiky-haired grappler with colorful face paint, and later, the mysterious black-and-white character reminiscent of "The Crow."
When WWE 2K15 launches in North America on October 28th (and October 31st internationally,) those who pre-ordered will get both incarnations of the Sting character right off the bat, similar to what happened last year with The Ultimate Warrior in WWE 2K14. This will be the first WWE title available for the Xbox One and PlayStation 4. You can order WWE 2K15 now.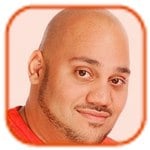 Tweet
Posted by Andru Edwards -
Categories: Microsoft, PC / Laptop, Rumors, Software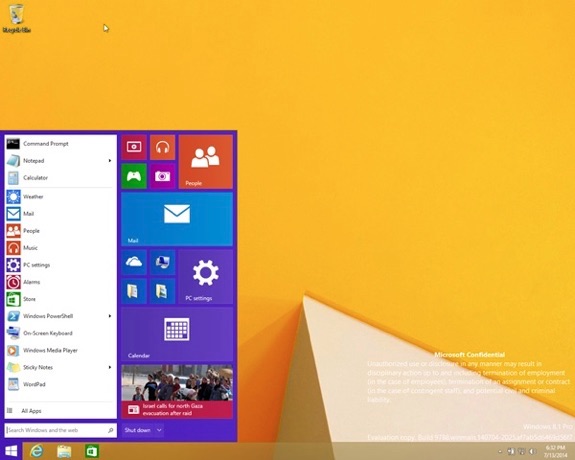 One of the biggest complaints about Windows 8 is the lack of the Start button, but the feature is about to make a return with an overhauled look and feel. In the leaked screenshot above, you see the new Start menu, which incorporates Microsoft's tile design that you'll find it using across its product line in areas like Xbox, Windows Phone, Office, and of course, Windows itself.
As you see in the screenshot, there are tiles embedded into the Start menu for items like People, Mail, PC Settings, Calendar, Xbox, Camera, and more. We'd imagine that you'd be able to rearrange items, pin your favorites, and remove things you'd never use. Bringing back the Start menu could be seen as a big step back, with Microsoft succumbing to users who refuse to embrace change; others may see it as the company finally listening to user feedback and addressing those needs. The Start button is much more usable on a computer that doesn't have a touchscreen than the home screen version of the Start menu. No word on when the change will go public.
What do you think? Have you been waiting for the return of the Start button on the Windows 8 desktop?
Read More

| MyDigitalLife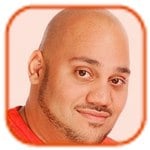 Tweet
Posted by Andru Edwards -
Categories: Cell Phones, Features, Microsoft, Software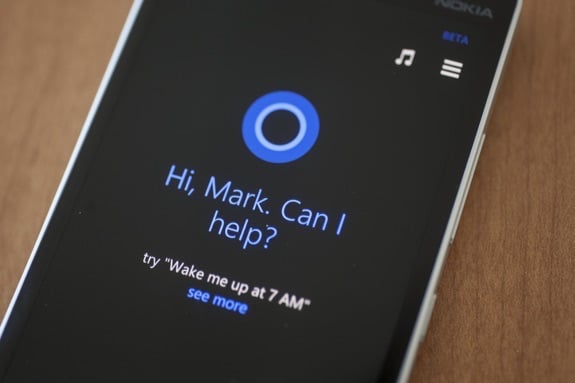 One of the more exciting aspects of Windows Phone 8.1 is the appearance of Cortana, a Siri-like voice-based personal assistant. We spent time talking to Microsoft's Marcus Ash about Cortana, and we asked him about the possibility of Cortana making its way over to other smartphone platforms like iOS and Android. After all, the demo we were given was impressive. According to Marcus, at first it'll be a focus that is part of Windows Phone, and that's the number one priority with Cortana.
To extend Cortana across the entire smartphone ecosystem, that's the part that Microsoft is still mulling over and figuring out. The question is "How do we get Android or iOS users that also use Windows to have a great Cortana experience?" As a company, Microsoft is putting work into solving the question, and it isn't afraid to put its apps on competing platforms. After all, there's Office on Android and iOS, Bing, and others. For our money, it makes a lot more sense for Microsoft to release Cortana across multiple ecosystems rather than tying the service down as a Windows Phone exclusive. It's not the kind of feature that sells phones (similarly, we don't think that Siri on its own sells iPhones, either.) As a cloud-powered service, is Cortana a Windows play or a service play? Time will tell.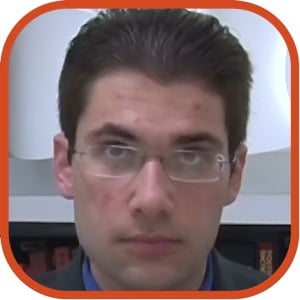 Tweet
Posted by Ariel Levin-Waldman Categories: Corporate News, Internet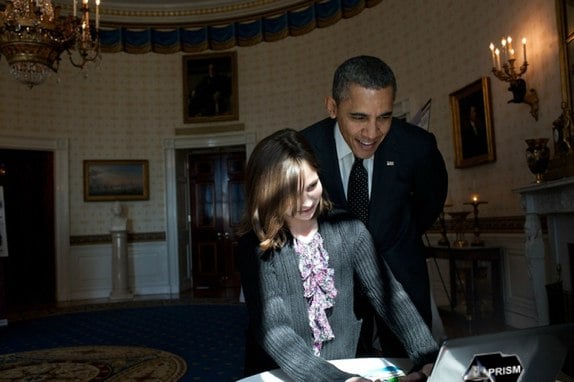 Anyone who has spent any time online has probably gotten a death threat or two. Maybe you were playing Call of Duty and some 11-year-old questioned your sexuality before telling you he'd kill your family. Maybe you offended the legions of desperate Tumblr bloggers in some arcane way and you woke up to a swarm of messages on your dash saying they would hack you and your dog apart with rusty machetes. You probably did what any reasonable person did and rolled your eyes and went about your day.
Statements and threats on the internet aren't usually taken seriously. Both the giver and the receiver are usually anonymous and the threat is usually over the top enough that you laugh and think nothing of it.
Well, the highest court in the United States might be ready to have the final word.
Click to continue reading Supreme Court to drop the hammer on Internet threats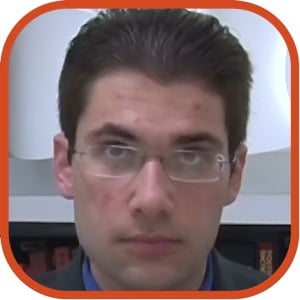 Tweet
Posted by Ariel Levin-Waldman Categories: Cell Phones, Handhelds, Transportation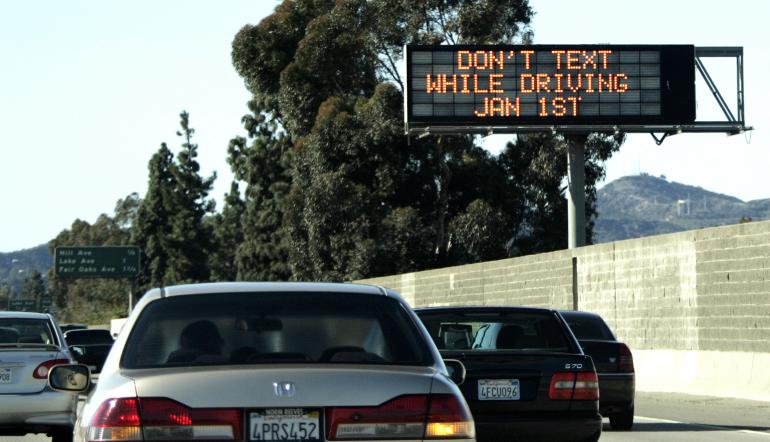 Laws on the books to stop texting or talking on a cell phone while driving are nothing new, in fact I know a guy who just got slammed with five points on his license for doing it. But laws regarding cell phone use while driving leave a gray area, GPS and map aids, programs not within the spirit of the laws when they were made and an uncertainty for courts.
The government is looking to change that.
The Transportation Department has asked congress to give them the ability to regulate map aids and devices as part of their ongoing battle with 'distracted driving.' The measure is part of the GROW AMERICA proposed transportation bill, and would give the National Highway Traffic Safety Administration free reign to set restriction and limits on apps and down the line demand changed to any it deems dangerous.
What does this mean in a practical sense? Apps for maps might start to look like the built in GPS system in your car, where some models make you press a button acknowledging that you will not set the device while the car is moving. It might mean that telling the court you were just checking your map won't get you off.
The measure has support from automakers who have already built those safeguards into their GPS devices. Regulatory agencies maintain that they already have the authority to regulate these apps as vehicle equipment, and only want it written into law.
That means they don't have the authority or they would not be demanding it from congress.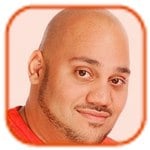 Tweet
Posted by Andru Edwards -
Categories: Apple, Hot Deals, PC / Laptop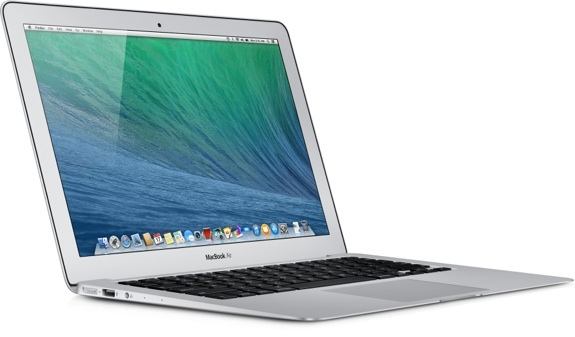 Today in the Gear Live Deals Shop you can enter to win an 11-ich MacBook Air. You can get better than free, so this is our Deal of the Day.
Apple recently released an updated MacBook Air, and that's the one you'd end up walking away with if you win. That means a dual-core Intel Core i5 1.4GHz Haswell processor, 4GB RAM, 9-hour battery life, and blazing fast SSD storage. Ready to enter? Here you go:
Enter our MacBook Air giveaway
Don't forget, if you're looking for other deals, be sure to check out our Newegg Promo Code thread. Oh, and if you're on Twitter, be sure to follow @TechPromos for the latest deals.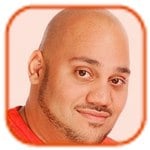 Tweet
Posted by Andru Edwards -
Categories: Apple, PC / Laptop, Software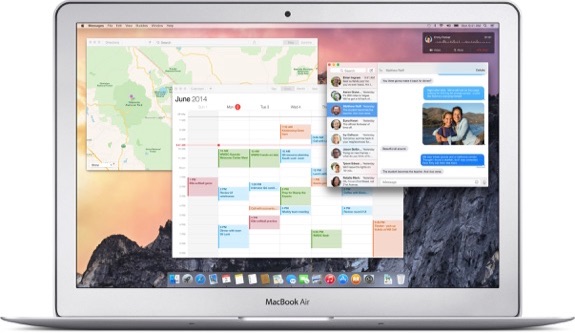 Earlier today Apple released iOS 8 beta 3, and a few minutes later, we now have OS X Yosemite Developer Preview 3 as well. Developers who are already running Yosemite can get the 1.16 GB update through the Mac App Store, while those who are looking to install it for the first time will need to log in to the Apple Developer Portal. As for the rest of the world, OS X Yosemite is set to launch this fall, bringing features like an all-new user interface, Continuity, and more to Apple's desktop operating system.
Click to continue reading OS X 10.10 Yosemite Developer Preview 3 now available, here's what's new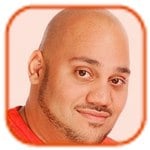 Tweet
Posted by Andru Edwards -
Categories: Apple, Cell Phones, Handhelds, Software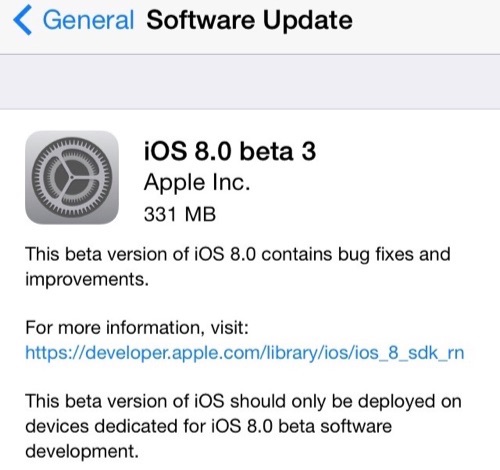 Apple has just released iOS 8 beta 3, which can be found in the Developer Portal right now. iOS 8 beta 3 build 12A4318c works with supported iPhone, iPad, and iPod touch models, and is available as an over-the-air update to users already running a previous iOS 8 beta on their devices. If you're already running iOS 8, you can update over-the-air by going into Settings > General > Software Update. Or you can go and grab the necessary download at http://developer.apple.com. Apple originally showed off iOS 8, and released its first beta, at WWDC 2014. The full release will come in the fall. Apple also released OS X Yosemite Developer Preview 2 today as well.
If you are a paid members of Apple's iOS developer program, here are the links for iOS 8 beta 3 downloads:
iPad:
iPhone:
iPod touch:
Click to continue reading Apple releases iOS 8 beta 3 build 12A4318c to developers, download here!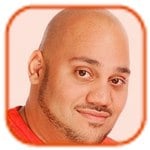 Tweet
Posted by Andru Edwards -
Categories: Features, PC / Laptop, Product Reviews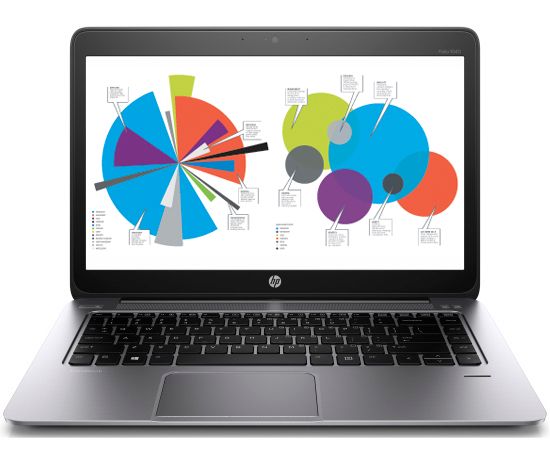 HP decided that it was time to build a business notebook that sports the best features of the top consumer laptops, and the result is the HP EliteBook Folio 1040 G1. Ridiculously long name aside, the thin and light body construction is the right first-impression, and is a stark change from the typical squared-off black boxes that you typically find in a business notebook.
That said, you should never judge a laptop by its cover, and we've been using the HP EliteBook Folio 1040 G1 for the past month to put it through the proper paces in anticipation of this review. Does this PC succeed at accomplishing all the things a business power user needs while maintaining the sexy appearance of a consumer laptop? Join us for our full HP EliteBook Folio 1040 G1 review to find out.
Click to continue reading HP EliteBook Folio 1040 G1 review
© Gear Live Inc. – User-posted content, unless source is quoted, is licensed under a Creative Commons Public Domain License. Gear Live graphics, logos, designs, page headers, button icons, videos, articles, blogs, forums, scripts and other service names are the trademarks of Gear Live Inc.