Tweet
Posted by Edwin Soto Categories: Accessories, Portable Audio / Video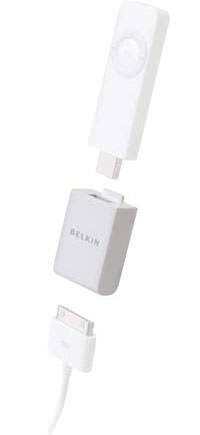 Apple's most popular USB Drive - oh yeah it plays music too - has a new buddy to connect to. This adapter from Belkin is quite useful if you want to use your shuffle with the plethora of accessories for 3G and 4G iPods. For example, a car charger, FM transmitter, or those cool alarm clocks. Look for it in late September at a price of $19.99 USD. Read on for the full release.
Click to continue reading Belkin Dock Adapter for iPod shuffle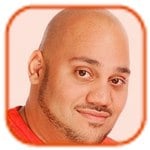 Tweet
Posted by Andru Edwards -
Categories: Cell Phones, Corporate News, Software

Google continues its acquisitions of interesting, forward-thinking companies as they have just purchased Android. Little is known about the startup other than that they are 22 months old and have been working on software for mobile phones. If you check out the Android website, all you will see is a logo along with three Google Maps images of Seattle, Palo Alto, and Boston. Interesting. Google has been working hard on trying to build up their mobile resources. They also bought mobile social software company Dodgeball a few months ago.

Read More

| BusinessWeek
Tweet
Posted by Edwin Soto Categories: Video Games
There are two versions of the Xbox 360 this November: a "bare bones" $299 version and a $399 version that is packed to the tooth. There is no doubt that hardcore gamers are gonna shell out the extra money as all the accessories offered in the "premium" package total to more than a hundred bucks. Here's a price list for the accessories at launch:
• Faceplate ($19.99)
• Hard Drive (20 GB) ($99.99)
• Memory Unit (64 MB) ($39.99)
• Wireless Networking Adapter ($99.99)
• Wireless Controller ($49.99)
• Play and Charge Kit ($19.99)
• Rechargeable Battery Pack ($11.99)
• Controller ($39.99)
• Headset ($19.99)
• Universal Media Remote ($29.99)
• Component HD AV Cable ($39.99)
• S-Video AV Cable (US) ($29.99)
• VGA HD AV Cable ($39.99)

Bold accessories will be included with $399 bundle at launch.
Could this be Microsoft's ploy to compare prices with the Playstation 3?
More Specs

| Playfeed
Tweet
Posted by Edwin Soto Categories: Xbox 360
Start filling those piggy banks, because we now know what to expect for the highly anticipated Xbox 360. Or should we say 360's? There will be two bundles for sale at launch:
For $299, you get:
•Xbox 360 console
•Wired controller
•Detachable faceplate
•Xbox Live Silver membership
•Standard AV cables
For $399 you get:
•Xbox 360 console
•20GB detachable hard drive
•Wireless controller
•Wireless Xbox Live headset
•High-definition AV cables
•Ethernet cable
•Xbox 360 Media Remote Control (limited time)
•Detachable faceplate
•Xbox Live Silver membership
So it seems that the more expensive package is geared toward the hardcore gamers with the HD cables and wireless controllers. Which one do you plan to get?
Read More

| Gamespot
Tweet
Posted by Devin Categories: Corporate News, Internet
I'm sure by now most of you are aware that the Internet Corporation for Assigned Names and Numbers (ICANN) had approved a .xxx suffix back in June. Now the Bush Administration wants to delay registration on domain names until its impact on the internet can be studied. ICANN was expected to give final approval on the domain name Tuesday, but says it would agree to a one month delay allowing some of the concerns that have recently been raised to be explored. While this creation was supposed to "help protect children from exposure to online pornography and also have a positive impact on online adult entertainment through voluntary efforts of the industry" it seems some are concerned that it will encourage more pornography on the internet. Many net privacy campaigners also believe that it could cause many censorship problems for years to come. What do you make of the situation? Do you see a potential problem arising out of the .xxx suffix, or is this just a bump in the road for the creation of a virtual red light district?
Read More

| BBC News

Tweet
Posted by Sparky Categories: Accessories, Peripherals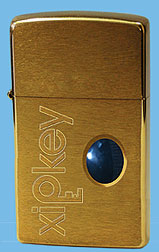 xipkey has released quite possibly the strangest/coolest USB hard drive to date. The xipkey features an ultra-fast flash memory chip that can be used to quickly boot an entire operating system, along with a biometric fingerprint scanner for portable security. The xipkey is designed to take full advantage of the 480MB/sec offered by USB 2.0 while using a new technology to reduce wear on the flash memory chips. The xipkey has a unique Zippo-like form factor that seems practical to both slip into a pocket and to protect the USB 2.0 plug.

Read More

| xipkey

Tweet

Jon's Phone Tool (or JPT) is the first highly evolved voice communications dialer that I've seen for the Mac yet. JPT supports Bluetooth phones, Vonage, Skype, SIP phones, the Asterisk PBX and a slew of other protocols - not to mention support for QuickSliver, AppleScript, the OS X Address Book, Palm Desktop and just about any other PIM/Automation tool you can throw at it. With a powerful tool like JPT it's possible to automate calling friends and family, set up bulk faxing, or even set up your very own high call volume sales center. I've used it for a day now and I'm very impressed with its flexibility and power for both my personal and work needs.

Read More

| Jon's Phone Tool
Tweet
Posted by Devin Categories: Internet, Misc. Tech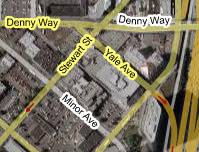 While most of us online enjoy using Google Earth to view our beautiful planet, it seems that quite a few countries are concerned that some of the satallite images provided could potentially be a security risk. Holland is the latest country to jump in on this claim, joining Australia and the United States in their theory that providing images of military bases, government buildings and airports, among other things, could possibly aid terrorist attacks. While Google already blurs images of certain high profile places like the US Capitol, Australia would also like to see images of nuclear reactors and other high risk areas also being blurred. The Australian Attorney Generals' Office however, seems to see things in the same light I do…all the images are public already and if a terrorist really wanted to get their hands on this information they would no matter what. Shutting down Google Maps would not only be a waste of time, but it would rob the general public of the usefulness of such great technology.
Read More

| TechDirt

Tweet
Posted by Sparky Categories: Cell Phones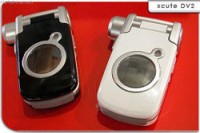 Yet another high megapixel cameraphone has hit the streets in Korea with the Xcute-DV2. The DV2 features a 6 megapixel camera that can record video at 30 frames per second. The DV2's only surprising feature is the measly 20MB of internal memory - I would have assumed they would need more with a monster camera like that. Now I realize that no camera with a small CCD and fixed lens will rival the quality of a solid dedicated camera for now, but with 6 and 7 megapixel monsters like this overseas, it is a bit embarrassing that the US can only pony up with a 1.3 MP camera - and be proud of it.

Read More

| Livingroom.org via Gizmodo
Tweet
Posted by Edwin Soto Categories: Video Games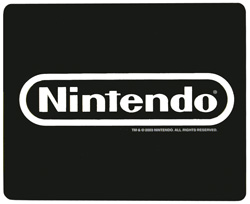 Nintendo has had a busy day with lots of information regarding the future of their most anticipated game, as well as their handhelds. First, they have announced that they have delayed the release of The Legend of Zelda: Twilight Princess. This is definitely a huge disappointment for those looking forward to what was to be the biggest holiday title for the dying Gamecube. The delay is mainly due to the fact that the development team would like more time to spend on the game making it deeper and longer. This certainly addresses the two main complaints with the last Zelda title, The Wind Waker. Expect the title to finally drop sometime in 2006. My guess? It will be right on time for Revolution launch.
On the handheld front, Nintendo has slashed the price of the DS. As of this Sunday, the Nintendo DS will retail for $20 less which brings it to $129.999 USD - half the cost of a Sony PSP. Finally, the company has also announced that the Gameboy Micro, their mini GBA system, will launch on September 19 and will retail at $99.

Read More

| Zelda: Twilight Princess Delayed Past March 2006
Read More

| Nintendo Drops Price of DS
Read More

| Game Boy Micro gets official price and date
© Gear Live Inc. – User-posted content, unless source is quoted, is licensed under a Creative Commons Public Domain License. Gear Live graphics, logos, designs, page headers, button icons, videos, articles, blogs, forums, scripts and other service names are the trademarks of Gear Live Inc.