Tweet
Posted by Oscar M. Cantu Categories: First Person Shooters
Here's a look at the latest Doom movie trailer, featuring more footage than its predecessor. This time you actually get to see the weapons being used in combat, as well as the very cool first person camera shots being put into the movie adaptation of Doom. The FPS shots look awesome, but I can't help but wonder how many people will get dizzy at the watching this one. Remember Blair Witch?

Read More

| Doom Movie Trailer

Tweet
Posted by Oscar M. Cantu Categories: First Person Shooters, Xbox 360
These screenshots of Unreal Tournament 2007 look just amazing. What stands out the most is the level of detail put into the game. It's not clear if these are in-game shots, or if they originate from a pre-rendered version. We'll just have to sit and wait just a little bit longer to find out.

Read More

| ShackNews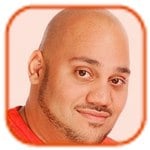 Tweet
Posted by Andru Edwards -
Categories: Portable Audio / Video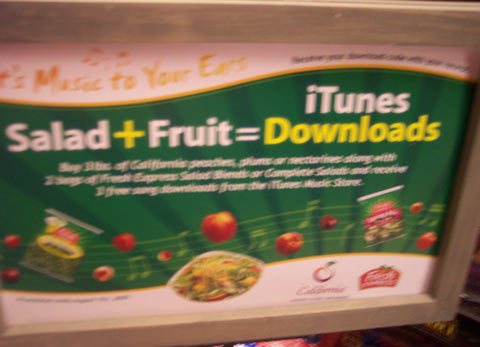 Even more iTunes partnership insanity going on, this time down at my local Safeway, where I snapped the above photo. In an effort to help you get your health on, it seems that Fresh Express wants to lure you to eat your veggies with three free iTunes downloads. All one needs to do is buy 3 pounds of peaches, plums, or nectarines along with two bags of Fresh Express salad for the downloads. This is an interesting one, as most iTunes contests/giveaways normally just give you one download for your efforts.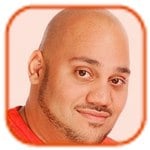 Tweet
Posted by Andru Edwards -
Categories: Corporate News, Home Entertainment, Movies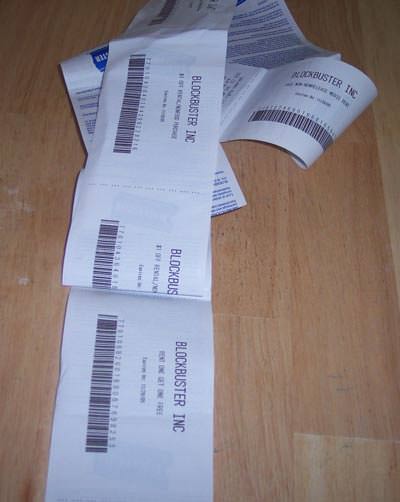 I just walked out of Blockbuster with a total of eight coupons due to the class action settlement from way back in 2002. Apparently, the more late fees you paid, the more coupons you receive. I guess I must have paid quite a bit. This is what I walked away with:
Two Free Non-New Release Movie Rentals
Five $1 Off Rental/Nonfood Purchase
One Rent One Get One Free
It's a nice gesture and all, but the fact is that I am a Blockbuster Online member. This means I get unlimited rentals by mail, plus two free in-store rentals each month. The only coupons that I will likely use are the two free non-new movie rentals. If you paid late fees to Blockbuster in the past, you should also have coupons due if you haven't received them already. Let us know what you get!
Tweet
Posted by Edwin Soto Categories: Portable/Mobile
In a recent survey provided by Info Plant - a online market researcher – 1,000 PSP owners were selected to gather some statistics. Do any of these surprise you?
60% purchased PSP within three months after its release
The average user owns 3.1 titles
Nearly 90% have PlayStation 2
Over 60% own PlayStation One
Just under 50% own a GBA
About 30% own Nintendo DS
Over 10% of the respondents (13.5% of male and 12.9% of female) own at least one UMD
53.2% of male and 59.3% of female, said that they have none and that they do not plan to purchase [more UMD's] in the foreseeable future.
26.2% of the male respondents and 15.8% of the female respondents currently use a Memory Stick Duo
24.9% and 40.3% of the male and female respondents have no intention to use it.
25.9% male and 11.8% female said that they have updated their consoles in the latest firmware upgrade.
25.9% male and 51.7% female respondents have not heard of the upgrade.
Of such female respondents, 22.8% have no plan to update their units soon.
Read More

| Jancorp via PSP World

Tweet
Posted by Sparky Categories: Cell Phones, Handhelds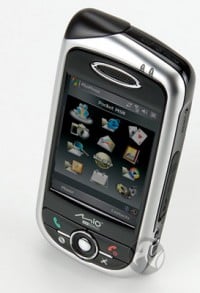 Mio has let the Register in on its A701 Windows Mobile phone. The A701 will be the first GPS enabled cell phone running Windows Mobile 5.0. With a 520MHz Intel XScale processor and 192MB of memory this, sleek phone could be just the thing for the mobile professional. As slick as this phone looks though, I'm a little worried that it has no QWERTY keyboard, a screen with a resolution higher than 320x240, or support for faster internet access than GPRS. For the non-email addict this stylish phone could be the answer. What do you think - form over function?

Read More

| The Register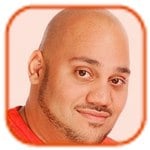 Tweet
Posted by Andru Edwards -
Categories: Home Entertainment, Software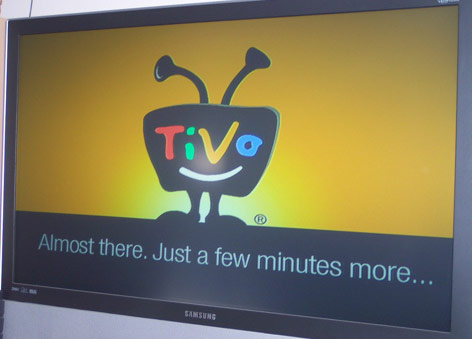 Man, TiVo has been on a roll over the past few days. Ever since TiVoToGo launched back in January, I have been waiting for them to upgrade my Pioneer DVD player with integrated TiVo so that I could use mess around with the feature. A few months later, a newer TiVo Desktop was released, which I could not use due to my TiVo being incompatible. Well, the wait is over, as I finally received a software upgrade during my daily TiVo check-in, complete with the new and more vibrant boot sequence (above). My device was upgraded from software version 5.0 to 7.2. TiVoToGo, HME features, and the new TiVo Desktop 2.2 are all compatible. If you own a Pioneer, Humax, or Toshiba TiVo DVD player, you can request the upgrade using the link below if you don't already have it.

Read More

| TiVo Software Priority Request
Tweet
Posted by Edwin Soto Categories: Accessories, Misc. Tech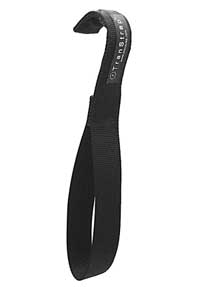 In New York City, "straphangers" is the term used for subway commuters. TranStrap Corp has taking this to the literal, portable meaning of the term and developed this awesome piece of equipment. The simple design is made of plush heavy-duty nylon webbing, aircraft grade aluminum, and high-friction neoprene, resulting hygiene freak's dream come true. Selling for a reasonable $14.95 - 19.95 depending on the model, TranStrap is a must own for the rush hour commuters. Everyone else can use it to play the role of Captain Hook in the next community play.

Read More

| TranStrap via Gizmodo
Tweet
Posted by Edwin Soto Categories: Corporate News, Home Entertainment, Internet, PC / Laptop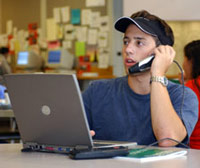 Dartmouth's Class of 2009 will enjoy converged living for the next four years. The Hanover, NH location has an extraordinary wired and wireless network that spans over the entire campus. Students will be able to use their laptops to make phone calls, watch television, email, and access the Internet. All incoming freshmen will be given a security key to use over the various computers, enforcing that security is a priority at the school. I think I would prefer this over a school iPod.

Read More

| Dartmouth News

Tweet
Posted by Sparky Categories: Home Entertainment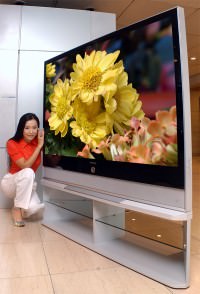 Samsung is really striving to raise the bar for the future of HD televisions with their new 71" DLP Monster, the SVP-71L8UH. The SVP-71L8UH features 1080p resolution, 10000:1 contrast ratio, and 20% more brightness then previous models. Now that DLP is really starting to rival CRT in terms of picture quality, and with it's obvious size advantage (the TV is about 1/2 meter deep), the high end TV aficionado is really going to have to think long and hard about plunking down for another TV before this beauty appears on US shores. With the Sony PS3 supposedly supporting two 1080p displays, I think that two of these would make for the perfect home theater set up - assuming of course that you have a theater-sized room to house them in.

Read More

| AVing
© Gear Live Inc. – User-posted content, unless source is quoted, is licensed under a Creative Commons Public Domain License. Gear Live graphics, logos, designs, page headers, button icons, videos, articles, blogs, forums, scripts and other service names are the trademarks of Gear Live Inc.