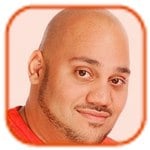 Tweet
Posted by Andru Edwards -
Categories:
Om Malik has a great article up on his blog where he lists his 10 'must have' apps for the Mac. His list includes a few applications that I would recommend for any Internet entrepreneur using OS X. One that I didn't see on his list is Transmit, a great FTP client for the Mac. If you have 'made the switch', you should check out this list of great applications. In additon, let us know which programs you consider to be hidden gems.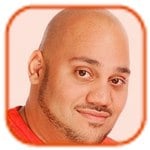 Tweet
Posted by Andru Edwards -
Categories:
I think I learned a few things today about how to better handle my ever-so-daunting email inbox. I am the type of person that feels the need to respond to things as soon as they come in, which unfortunately results in constant distractions since I have my mail client set to check for new messages every 60 seconds. I get so much email that every 60 seconds I stop the work I am doing to reply to something, or read something else. If you find yourself in an email rut, here are a few things you can do to change your ways:
Shut off auto-check - Either turn off automatic checking completely, or set it to something reasonable, like every 20 minutes or so. If you're doing anything with new email more than every few minutes, you might want to rethink your approach. I'm sure that some of you working in North Korean missile silos need real-time email updates, but I encourage the rest of you to consider ganging your email activity into focused (maybe even timed) activity every hour or three. Process, tag, respond to the urgent ones, then get the hell back to work.
Continue reading for more great tips. Do you have any of your own?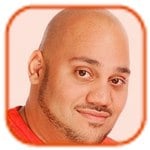 Tweet
Posted by Andru Edwards -
Categories: Portable Audio / Video, Rumors

Gotta hand it to krose, the man with the scoop. Apparently, one of the flash-based iPods that Apple is going to announce on the 7th will be called the iPod Nano. The newest addition to the iPod line will sport a color screen, store 2 GB of music, and will obviously be much smaller and lighter than the current iPod mini. Here's to hoping that Apple will also be doing something in the 4 GB, and 8 GB neighborhood. Of course, it would rock if it looked like the image to the right, but sadly, it's just a mockup. Kevin also states that the Cingular iTunes phone will be announced as well, but we all knew that already, didn't we?
UPDATE: Here is the real iPod nano. Sexy.

Read More

| Kevin Rose

Tweet
Posted by Sparky Categories: Cell Phones, Features, Product Reviews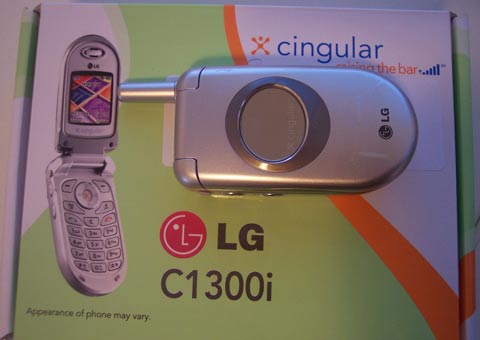 We recently got o ur hands on the LG C1300i, an entry level cell phone available from Cingular. The thought behind this was that not everyone absolutely needs the high-end phones out there, but do need something functional. The C1300i is a fairly low end phone, but has some great features - some of which go unadvertised. Being true gadget fans, we went into this review without high hopes and came away impressed with a few key points on this phone. Read the full Gear Live review after the jump for more.
Click to continue reading Cingular LG C1300i Cell Phone Review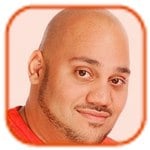 Tweet
Posted by Andru Edwards -
Categories: Announcements

Okay ladies and germs, time to take a time out to address something of grave importance. There are people in our country who are in desperate need of some help. We have seen a disaster of epic proportions sweep over the Gulf of Mexico, leaving cities in ruins. If you have been watching the news and are wondering how you can help, the Red Cross is ready and willing to take your funds and put them to good use. If you want to get something out of it, Bungie is selling Halo 2 Gamer T-Shirts for $20, and $15 of that cash goes straight to the Red Cross. In addition, if you have a website, I urge you to place the Hurricane Katrina relief "dog ear" on it. Big props to Brian Alvey for coming up with the design, and thanks to Jason Calacanis for trying to spread the word. We will be implementing the graphic on Gear Live, Playfeed, and The Andru Edwards Weblog.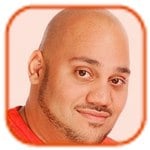 Tweet
Posted by Andru Edwards -
Categories:
- Advertisement -
Cashzfree is a website offering cash incentives to people for signing up for popular services that they would use anyway. If you have been thinking about signing up for unlimited DVD rentals from Blockbuster Online, or unlimited streaming music from Real Rhapsody, why not do it through a service that will put cash back into your pocket? If you like what you sign up for, recommend it to a few friends, and you can walk away with up to $1,000 in your Paypal account for you to spend any way you wish. Check out Cashzfree - you sign up for services, they hit you back with cash.

Tweet
Posted by Oscar M. Cantu Categories: Corporate News, Internet
You've fought the flood in the game, now its time to fight it in the real world. Unless you've been living in a cave for the past week, then you have seen the natural disaster our nation has faced with in Hurricane Katrina. Maybe you've helped in some shape or form in the last couple of days and we thank you for that - if you haven't then here's just one more reason for you to do so. Of course, if you already helped, please do so again. Bungie is now taking donations and giving you a T-Shirt for your generosity. For merely a $20 bill you will be donating to the Red Cross and getting a T-Shirt to show the world that gamers care about the victims of the devastating hurricane. At least $15 of those $20 dollars will go towards that donation. After you purchase one, be sure to tell everyone you know - the more people that buy the shirt, the more of a difference we can make.
Just so that we're clear, of the $19.95 the shirt costs, about $15 in cleared funds will go straight to the Red Cross and directly to the disaster relief. Nobody, not Bungie, the Bungie store, or the distributor will clear a penny profit. That's important. We basically want to get as much cash, as quickly as possible to those in dire need.
Read More

| Bungie.net

Tweet
Posted by Sparky Categories: Cell Phones, Portable Audio / Video, Rumors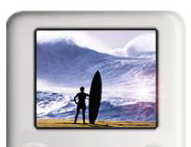 Think Secret has been known to break news days before Apple breaks it with an eerie success rate (and a few lawsuits from Apple to boot). They are now reporting that the big announcement that Apple will be making on the 7th will include the following things:
iPod Phone - the iPod phone will come in a 256MB and 512MB capacity and will launch on Cingular in the US. The phone will be able to sync with a desktop computer as well as buy songs over the wireless data network - a handy feature for when you just have to hear the track a friend reminded you about. No word on battery life, or if you can increase the storage.
Flash-based iPod mini - a significant update to the iPod mini with flash based memory for a smaller size, along with a color screen. The new iPod mini Flash will also be available in 4GB, 6GB, and 8GB storage sizes with the physical device turning out to be 25% smaller. No word if the battery life will also be improved by the removal of the Microdrive.
iPod shuffle - getting a minor, but expected, update. The two existing models will get cheaper and there will be a new 2GB model in the $129-$149 range which will still lack a screen.

Read More

| Think Secret

Tweet
Posted by Sparky Categories: Portable Audio / Video, Software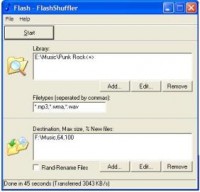 C-Flash software has produced a great application (although their choice of VB6 as a programming language is somewhat suspect) in their FlashShuffler software. FlashShuffler is a simple application that provides the functionality of an iPod shuffle to any UMS (USB Mass Storage) compliant device. It's operation is simple: you select a number of megabytes that you want it to fill, the location of your music collection, and the location of your player once it's plugged in and FlashShuffler will randomly select the correct amount of music and transfer it to your MP3 player. Every day when you plug in your device and run FlashShuffler it will change the selection of music for you automatically.

Read More

| C-Flash via DAPreview

Tweet
Posted by Sparky Categories: Misc. Tech
At the Architektur Forum in Linz, a video was being shown of an interesting new project: Kurt the tattoo-robot. Kurt is attached to a person's arm, then uses a tattoo gun with 4 needles and Chinese tattoo ink to permanently affix a symbol of the victim
user's choice into their skin. This really does seem to fulfill the artists goal of being the ultimate human-machine interface, but for now I personally will keep my beer cold, my tattoos colorful, and my tattoo artists human.

Read More

| John Tokyo Land via We Make Money Not Art
© Gear Live Inc. – User-posted content, unless source is quoted, is licensed under a Creative Commons Public Domain License. Gear Live graphics, logos, designs, page headers, button icons, videos, articles, blogs, forums, scripts and other service names are the trademarks of Gear Live Inc.