Tweet
Posted by Edwin Soto Categories: Software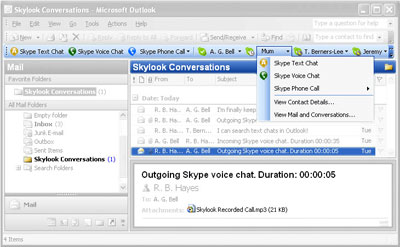 In one of our recent podcasts, we have talked about the Gizmo Project and how it compares to Skype. One of the most unique features about Gizmo that is not found in Skype is the handy recording feature. This plugin for the Windows version of Skype allows you to not only record your conversations to MP3, but integrates them to Microsoft Outlook in an email if you wish. To add to the integration, you can actually view your contact's information, check online status, and connect to someone right in Outlook.
Read More

|Skylook
Tweet
Posted by Alex Grahmann Categories: Features, Internet, Misc. Tech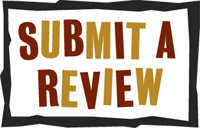 The Wall Street Journal Online has published an interesting article today on the customer review posting practices of several big-name online retailers like NewEgg. The article points toward the growing trend of websites that solicit or otherwise encourage users to submit reviews of their site, products, and business practices for posting. While some tout a very open policy of posting almost any review, the majority have filtering processes to decide which reviews will be made public. The filtering process can be as simple as software that weeds out reviews which include foul language or as complicated as a multi-member staff that read all the reviews. Read on for our thoughts on how these places should handle customer reviews.
Click to continue reading Why Do Shopping Sites Turn Down Negative Consumer Reviews?
Tweet
Posted by Alex Grahmann Categories: Corporate News, PlayStation 3, Xbox 360
An article on the UK's Sony website mentions the fact that although the jury is still out on what OS the upcoming PS3 will use, the Cell Processor is powerful enough to handle either a Linux-based environment or "Apple's Tiger." The article's mention of Apple's OS X has only fueled the fire of fans dying to see Apple strike a partnership with Sony, solidifying an iconic and powerful team to go up against Microsoft's Xbox 360. Whether or not the Apple OS is the right fit for Sony is yet to be seen, but I'm certainly interested in seeing Apple and Microsoft have yet another arena in which to duke it out.
Read More

| Sony.co.uk
Tweet
Posted by Alex Grahmann Categories: Corporate News, Movies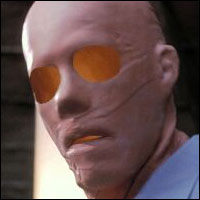 Sony will end up paying over $1.5 million to theater-goers for advertising movies using a fabricated movie critic named "David Manning." Between 2000 and 2001, Manning's name and fake reviews were part of the advertising campaigns for "Vertical Limit," "A Knight's Tale," "The Animal," "Hollow Man" and "The Patriot." Anyone claiming to have purchased a ticket to these movies between August 3, 2000, and October 31, 2001, can join a class-action settlement in which Sony will reimburse the ticket-buyer $5 for every ticket purchased, up to 4 per movie (2 adults, 2 minors). Personally, I got tickets for at least 2 people to "Hollow Man" and "The Patriot," which means I'm in for a cool $20. Plus, seeing how "Hollow Man" is one of the worst movies ever, anyone who called it "One helluva scary ride!" (which the made-up Manning did) should owe me $5 (which the made-up Manning now does).
Click on the link below to read the details of the settlement with Sony and find out how to receive your reimbursement.
Read More

| Official Court Notice of Settlement

Tweet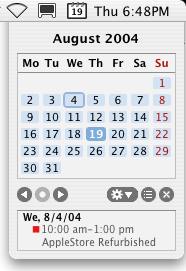 Every once in a while you stumble across a piece of software thats so simple, yet so well implemented that you stop in your tracks and wonder why you didn't think of it. MenuCalendarClock is one of those pieces of software - it adds a mini calendar to your OS X menu bar, with a drop down pane that displays upcoming appointments. I had been using the dashboard iCal widget until I discovered this, but it fails to give you that "at your fingertips" information and the ability to see your calendar events for a couple of days in the future. At $18.95 the price for the registered version seems slightly more than I had hoped for but it's so well writen and useful that I think I'm going to register my copy. The free version adds the date and day of the week to your menu bar, and a drop down calendar for quick reference - Bravo Objectpark Software for such a well implemented and functional application.
Read More

| MenuCalendarClock via Lifehacker

Tweet
Posted by Sparky Categories: Video Games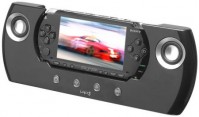 Logic 3 seems to be on the right track with this sub $100 speaker dock for the Sony PSP. The Logic 3 PSP Boombox adds 12 watts of RMS power from it's two small stereo speakers and a small subwoofer. The Boombox runs on 4 AA batteries or on AC power and screams to be used with UMD movies, or videos that have been transfered to a Memory Stick Duo using any of the popular computer programs available. While it does not look like it would be practical to play a game while the PSP was docked in the PSP Boombox, the PSP is proudly displayed for watching content on it's crisp bright screen.
Read More

| DAPreview via Gizmodo

Tweet
Posted by Sparky Categories: Portable Audio / Video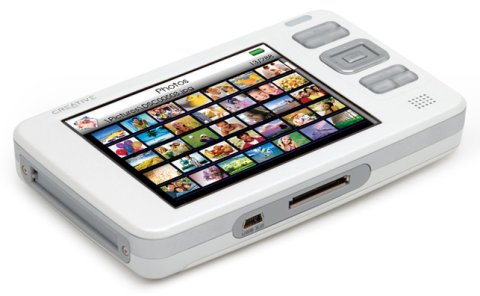 Well the rumors can stop flying, and we can all start saving our pennies - the Creative Zen Vision has finally launched on the Creative website. The specs previously posted to their website, then removed, then posted again, then removed - are correct! The Vision will feature a brilliant 640x480 screen and support AVI, DivX, XviD, MPEG1, MPEG2, MPEG4, WMV9, and Motion JPEG. The first version of the Vision will feature a 30GB drive to store all of your favorite movies, music, and photos. With a light but strong magnesium casing and a rechargeable and removable battery the Vision is aimed at the on the go consumer. If for some reason all this is not enough you can always listen to FM radio, record and timeshift FM radio, or use the Vision as a personal organizer (which syncs with Microsoft outlook). With it's CompactFlash reader the Vision is sure to be a popular choice for digital photographers - not to mention an ideal way to expand the Vision to add wireless technologies in the future. It's availble for pre-order now for $399, but no word on when it will actually ship.
If Apple wants to take the portable video market by storm they had better hurry up and release the video iPod. It's going to be really interesting to see how this and other 2nd generation portable video players change the way consumers interact with their digital media on the go like the iPod and other MP3 players have changed the way we use audio. Will podcasting turn into Vidcasting? Will watching TV on the bus again become cool?
Read More

| Zen Vision

Tweet
Posted by Sparky Categories: Cell Phones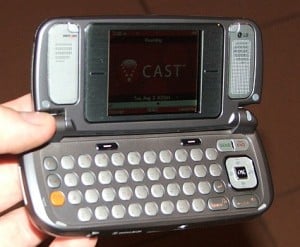 LG gets me all hot and bothered when they release a great piece of hardware and fail to make it as functional as it looks. The LG9800 is a consumer oriented phone aimed at Verizon's V-Cast service. When flipped open a second screen, stereo speakers, and a full QWERTY keyboard are revealed. Behind the QWERTY keyboard there is a 1.3MP camera - a more and more common feature on multimedia phones these days. The thing looks beautiful, but unfortunately will not be a smartphone, and has a 4:3 aspect ratio. This means that it will be neither an email workhorse, or good for viewing movies brought along on a storage card. Now I'll admit that the idea of using EV-DO to stream movies to my phone is kind of cool, but I'm doubting they will be able to get enough quality out of it to really replace the coming generation of portable video players. The LG9800 looks like it might find a niche in the SMS/chat crazed teen market, but without a higher resolution screen or business oriented operating system I just can't see this catching on in face of phones like the Motorola Q.
Read More

| engadget

Tweet
Posted by Sparky Categories: Corporate News, Internet, Software
The Mozilla Foundation announced today that it was reorganizing and forming the Mozilla Corporation. While the Mozilla Foundation will continue to be a non-profit public benefit software development organization the Mozilla Corporation will be a for-profit company aimed at serving other non-profit development efforts. A majority of the Mozilla Foundation employes will be moving to the new Mozilla Corporation. What difference will this make for Firefox users? Very little according to the Mozilla Corporation both Firefox and Thunderbird will remain free products and will stay open source. The primary reason for the switch was to escape legal restrictions placed upon not-for-profit organizations in the United states. TheMozilla Foundation will remain non-profit and be able to continue to accept tax-deductible donations to continue to help the free open source software movement. Both theMozilla Corporation and the Mozilla Foundation will continue to work with developers to improve Firefox, Thunderbird, and other open source projects to benefit the internet community.
Read More

|Mozilla

Tweet
Posted by Oscar M. Cantu Categories: Mods/Hacks, Portable/Mobile
There's many ways to transfer movies to your PSP, but there's not many pieces of software that do it with ease. X-OOM Movies on PSP seeks to provide consumers with the ability to transfer the movies they have in their PC's hard drive or on DVD to the PSP with minimal effort. All you have to do is choose the movie or DVD, choose the size you want and click start. After the whole process is done, the movie file is on the memory stick of your PSP and ready to go wherever you go. You can pick up a copy for $29.99 or download the trial from the website. Be on the lookout for our review soon.
© Gear Live Inc. – User-posted content, unless source is quoted, is licensed under a Creative Commons Public Domain License. Gear Live graphics, logos, designs, page headers, button icons, videos, articles, blogs, forums, scripts and other service names are the trademarks of Gear Live Inc.