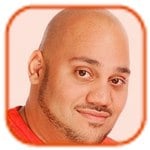 Tweet
Posted by Andru Edwards -
Categories: Misc. Tech, Mods / Hacks, Portable Audio / Video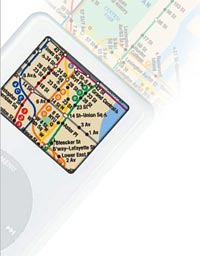 Talk about convenient, my boy William Bright decided that rather than pushing and shoving his way towards a subway map while riding the train, it would be much nicer to break out his iPod and check out the maps on its screen, thus making him the coolest guy in the train car. He is set to collect iPodified maps of other maps, but the NYC MTA maps will never be topped in my opinion. It's just too cool - but what's with the lack of love for Shaolin, man?

Read More

| iPod Subway Maps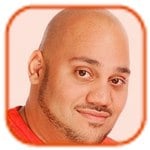 Tweet
Posted by Andru Edwards -
Categories: Home Entertainment, Movies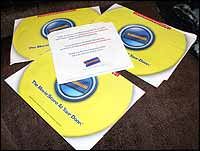 I, for one, am completely tired of all the fluctuating going on in the online DVD rental space. Prices have been raised and lowered more times than I can count on one hand. Yesterday I received an email from Blockbuster stating that my monthly cost would be climbing up from the $15 range to the $18 range for my "3 at a time" plan starting August 19, 2005. In fact, Blockbuster has raised the pricing on all of their plans so that they now cost exactly as much as similar plans on Netflix, those being the 5-out and 8-out plans at $29.99 and $47.99 respectively. The interesting thing here is that while Blockbuster Online has hit the 1 million member mark - and plans on doubling that within the next seven months - the company's "No More Late Fees" mindset has resulted in a loss of about $140 million. I guess that is cause for raising prices wherever they can.
More interesting, however, is the fact that Blockbuster Online will now be giving an added bonus to its members on a monthly basis. If taken advantage of, then you actually come out ahead even with the extra $3 per month hit. For example, this month in addition to the two in-store game or DVD rental coupons that is a standard feature of the Blockbuster Online service, they are also giving out free previously viewed titles to Online members as well. There is a list of about 25 movies that you can choose from. I even had a fourth offer in my account, which allows me to purchase an previously viewed title selling for $9.99-14.99 at the price of $7.99. Not too shabby.
Tweet
Posted by Alex Grahmann Categories: Misc. Tech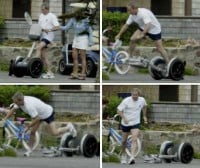 Ten Segways that were stolen on the night of April 24th from a New Hampshire dealership were found in perfect condition in a nearby garage bin. The two-wheeled personal transportation units were completely abandoned, most likely because they were difficult to sell, according to police opinion. While worth over $5,000 each, the Segways were seen as difficult to transport without rousing suspicion. Other industry speculation includes the fact that Segways are not selling up to expectations even in the legitimate marketplace, thus making them an extremely bad candidate for black market profiteering. A note to inventor Dean Kamen - If thieves can't unload your product for a profit, you may need to head back to the drawing board.
Read More

| WMUR
Tweet
Posted by Alex Grahmann Categories: Corporate News, Music, Portable Audio / Video, Software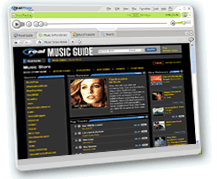 Harmony, a digital rights management translation system created by Real Networks which allows its own music formats to run on Apple iPods, may be the cause of some legal and technical issues for Real in the coming months. The company has admitted that although they believe that their software is completely legal, any disagreement from Apple that runs into a court process might jeopardize their bottom line. The company already expects to pay around $16 million in the coming year defending their software from litigation from Microsoft, but cannot afford any more. Additionally, Real also expects problems as Apple makes moves to update its software in ways that would require tweaking of Harmony's specifications. Basically, it sounds like Harmony may represent Real biting off a bigger chunk than it can chew at this point. Stay tuned to see how these impending challenges pan out.

Read More

| Macworld
Tweet
Posted by Alex Grahmann Categories: Misc. Tech, PC / Laptop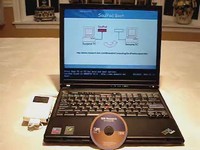 You may soon be able bring your home or office system wherever you go, using almost any USB 2.0 device to carry your computer's "soul." SoulPad, which is being developed by IBM, stores three layers of software and information on the USB device – a base operating system, an encryption system, and a "virtual machine" which hold's the user's software and usage preferences. The entire process of booting any PC from your USB device should take less than 3 minutes. Once the PC is booted, the environment should look, feel, and act exactly like the system from which you took the information.
The creators of SoulPad have put together a short video demonstration of the system in action. While it does, in fact, show the SoulPad booting a PC, it will be interesting to see how the software holds up under the extreme variations of operating systems, user environments, and software packages that fall under the term "PC."
Read More

| New Scientist
Video Demonstration (14MB, WMV)

| IBM Technologies

Tweet
Posted by Sparky Categories: Accessories, Handhelds, Wireless / WiFi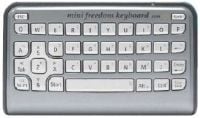 Freedom Input just might be my hero at the moment. They have announced their Mini Bluetooth Keyboard - a credit card sized thumb board similar to those on the Treo, or Motorola Q - the difference being that this is a stand alone unit and could theoretically be used with Bluetooth-enabled smartphones, PDAs, TabletPC's, and other devices. The problem is that it does not support the Bluetooth HID profile, so whatever device you want to use this on will require special drivers. Windows Mobile 5.0 and Windows XP already have support built in. This seems like the perfect solution for someone who does a lot of SMS or email on their phone, and wants a QWERTY keyboard without having a huge handheld to carry. The Mini Bluetooth Keyboard features backlit keys and features an innovative backlighting system for your "after hours" data entry needs. The Mini Bluetooth Keyboard is available for $60 and can run on 120 hours on two AAA batteries. The website says it will be available in Q3 2005 - not soon enough if you ask me!

Read More

| Freedom Mini via MS Mobiles

Tweet
Posted by Sparky Categories: Music, Portable Audio / Video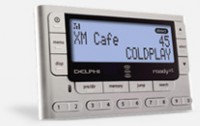 For all you XM radio fans out there, Delphi has released the smallest and lightest XM radio yet for your portable needs. The RoadyXT comes with a car kit, and it's quite easy to integrate it into your home stereo system with an additional adapter. I really wish that with a slim form factor like this they could include a small battery to let you plug in a pair of headphones and carry it around with you. Still - at only $99 this looks like a great option for anyone wanting to add a little XM goodness to their lives.

Read More

| Delphi RoadyXT Page via OhGizmo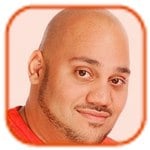 Tweet
Posted by Andru Edwards -
Categories: Driving, PlayStation 2, Reviews, Xbox
At Toy Test 2005 in Seattle I was able to get my hands on the newest demo of Burnout Revenge. There were quite a few more challenges available to try out than there were at E3, and I must have put a good 30-45 minutes or so into the Toy Test version. One thing that has totally impressed me about Revenge is the sense of speed that the game provides. I am a big fan of Burnout 3, and I thought that the sense of speed in that game was unmatched. Burnout Revenge, through its much improved graphics and more realistic vehicles, provides a level of speed that can only be described as insane.
The crashing challenge in Burnout Revenge is a bit different than what fans are now used to. You are graded as the crashes take place, rather than having to wait until all is said and done before seeing the final tally. The different scoring multipliers have been eliminated in Burnout Revenge, which was a bit disappointing to see. In Burnout 3 it was always ruckus when a few friends were gathered together and one person got a 4x multiplier, only to hit the Heartbreaker before the end of their turn.
During the races, you are now able to take down just about any small vehicle on the road, whether they are your competition or your traffic. This was a complaint that I had in Burnout 3, only because it was inconsistent that you could take down your opponents, but if you hit another car of similar size, you ended up in a tragic accident. Very nice to see. The other major addition to overall gameplay is that when you take down a rival, you become marked for "Revenge". This means that driver will target you until they take you down. The same happens when you get taken out. The marker above the rival changes from yellow to red. Take them down, and you get extra points. Burnout Revenge is set to drop on September 13, 2005.
Burnout Revenge is definitely looking good - obviously the Xbox version is prettier than its PS2 counterpart, but the real loser here are those who only own the Nintendo Gamecube. You are missing a real winner here.

Tweet
Posted by Jesse Easley Categories: Xbox 360
We have some great pictures of the new Xbox Guide, previously named the dashboard on the original Xbox. So, we decided to post a nice little run down for all of you to check out so when you finally get your hands on the new Xbox you'll already know what to do. Read more for a breakdown of all the screens and pictures of the screens.
Tweet
Posted by Alex Grahmann Categories: PC
A South Korean man, identified only by the family name "Lee," died in an Internet Café in Taegu after 50 hours of online gaming. Lee's 50-hour game-athon had been interrupted only for trips to the bathroom and small naps. The 28-year-old gamer had recently quit his job to pursue his obsession, but died after pushing himself to the point of exhaustion-induced heart failure. If you're reading this and you haven't been outside or away from your computer in a few days, especially if you're in South Korea – please, take time for a nice, long break.

Read More

| CNN
© Gear Live Inc. – User-posted content, unless source is quoted, is licensed under a Creative Commons Public Domain License. Gear Live graphics, logos, designs, page headers, button icons, videos, articles, blogs, forums, scripts and other service names are the trademarks of Gear Live Inc.