Tweet
Posted by Sparky Categories: Portable Audio / Video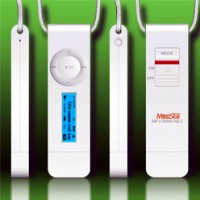 A company out of China called CrownFast Technology has released their latest MP3 player - the MP270. The MP270 of course bears a striking resemblance to the iPod Shuffle, preferring to differentiate itself by adding a small blue LED screen. The MP270 features 7 different backlight colors, MP3 and WMA support, an FM radio + recorder all packed together with a 12 hour battery life. With 64MB on up to 1GB sizes available these things really are aimed at everyone.
While I seriously doubt that this product is ever going to hit the United States without a vicious pack of Apple lawyers to greet it, I must admit that the screen is compelling. How difficult would it be for Apple to make a shuffle Pro with a small screen and touch sensitive strip for scrolling? The FMplayer is a nice touch, but a screen would make the shuffle the ultimate "put in your pocket" MP3 player. You can easily fit a days worth of music on a 1GB player and with enough battery life to keep you rocking all day long and a screen to chose what you want, it's the solution the cries out "Build me Apple - make me a real product".
Read More

| DAPreview via Gizmodo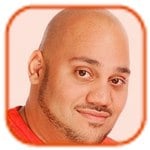 Tweet
Posted by Andru Edwards -
Categories:
The purpose of this article is to give you a window into the lifestyle of an Internet business owner and in particular a home based business entrepreneur. The example below is a typical day in my life. If you are presently considering quitting your day job/after finishing school and starting your own Internet business I suggest you read - Do You Want to Run Your Own Business? Read this First!
Tweet
Posted by Edwin Soto Categories: Wii
Here are some interesting pictures that have emerged on a forum from someone who claims to have a prototype of the Nintendo's next-gen system. Sorry, no scary kid in the picture playing it. The blurred out controller seems that it would be a dead giveaway to the fact that this is a fake. However, if that isn't enough proof, you will also note that the disc slot is on the wrong side, and that the box does not have that SD Card shape.
Read More

| Gamebrink Forums

Tweet
Posted by Sparky Categories: Announcements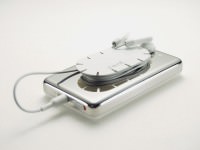 Every once in a while someone makes a product so simple yet brilliant that you kind of have to wonder why you didn't think it up and make your fortune with it. Cordster is a simple elevated disc with some uber-velcro (called Dual Lock) attached to it to make it easy to attach the bottom plate to your MP3 player, mobile phone, or CD player, then snap on the Cordster for when you want to wrap up most or all of your cord. The Cordster has a number of notches spread around the outside of the elevated disc thus making securing your cord wrap at any point a cinch. I know that every day I get my headphone cords tangled, knotted, twisted, and caught on all sorts of annoying things swirling around my life - but no longer as our hat's off to youcordster and problem solved. Cordster is particularly cool at such a great price - under $5 for one, or 5 for under $15!
Read More

| Cordster via Anything But iPod
Tweet
Posted by Edwin Soto Categories: Misc. Tech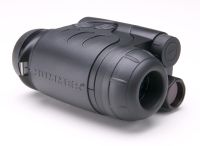 Notice to everyone reading this page: Ask your butler to shine your Lamborghini, and take the Porsche to the nearest Hummerdealer because they are giving these babies away with the new H3. You can also buy one for the other Hummers in your garage, if you want one for the H2 for example. But if you are this rich, isn't the security squad that rolls with you enough? Surely you could hire your own sleuth.
Read More

| Strange New Products via Gizmodo

Tweet
Posted by Sparky Categories: Corporate News, Features, Mods / Hacks, PC / Laptop
A number of sites have picked up the story that Intel Developer kits from Apple include TCPA/TPM DRM in the Kernel. TCPA/TPM DRM is a technical term for a Trustworthy Computing solution that limits what fair use consumers can use with the media they own. Basically it lets an application control what other applications or pieces of hardware can access it's files. For instance a file created in Quicktime could be signed with a quicktime flag meaning no 3rd party applications or other users could view that file. There has been no word on how Apple is going to implement TCPA/TPM DRM yet, but conceivably they could use it to say that no non-DRM'ed pieces of media could be played on a machine making the assumption that if a file does not include DRM then it must be pirated. TCPA/TPM DRM also features the ability to create a secure encrypted channel between a graphics card and a monitor that supports TCPA - this unfortunately not only would help "prevent" piracy by capturing the live stream from the computer to the monitor (something not really done in practice anyway) but would force you to buy a TCPA compliant monitor.

Of course Windows Vista will have TCPA/TPM DRM built in as well - it's one of Microsoft's big selling points. I'm not sure how they are spinning it as a benefit to consumers as this does nothing but hurt innocent users wishing to exercise fair use of their content - pirates will always find a method to getting around DRM solutions. TCPA is a technology that only hinders consumers, and benefits no-one but the MPAA, RIAA, and other large greedy organizations that don't trust their paying customers. With both Apple and Microsoft playing into the media organizations wishes for TCPA to be widely adopted then the consumer loses choice, freedom, and the ability to exercise fair use of the media they both own and enjoy. Check out a possible solution and more information about TCPA after the jump.
Click to continue reading Why Trustworthy Computing Is A Bad Idea
Tweet
Posted by Alex Grahmann Categories: Corporate News, Portable Audio / Video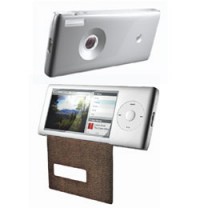 Apple has recently updated the full description of its iPod trademark to include the handling of video files. The old trademark described iPods as "portable and handheld digital electronic devices for recording, organizing, transmitting, manipulating, and reviewing text, data, and audio files." However, the new trademark, as of July 18th, tacks on a few words at the end so that it now reads, "…reviewing text, data, audio, image, and video files." This change could be seen as a direct confirmation of the much-rumored Video iPod, but may also simply be Apple hedging its bets for unspecified future expansion. If I were Apple, I'd go ahead and change the trademark to finish with "…reviewing text, data, audio, image, video, brainwave, metabolic, and three-dimensional files, as well as any file leading to Apple's ultimate world domination." Apple is just that hot right now.
Read More

| Mac Rumors

Tweet
Posted by Alex Grahmann Categories: Accessories, Mods / Hacks, Portable Audio / Video

For those of you still refusing to get rid of your old iPod, Newer Technologies has released its most powerful replacement battery kit to date for 1G and 2G models. The battery, which comes with an installation kit and detailed instructions, is rated at 2200mAh, which is a 78% capacity jump from the batteries shipped with the original iPods. The 2200mAh kit costs $34.95 and along with this newest release, the rest of the NuPower line of batteries has dropped by $10.
Read More

| Newer Technologies
Tweet
Posted by Alex Grahmann Categories: Portable/Mobile, Wireless
Sony has announced that the United States-specific upgrade to the PSP Firmware will become available August 12th. The upgrade can either be directly installed using the PSP Network Update feature (which requires a 802.11b hotspot connection) or downloaded from http://us.playstation.com/psp and installed via USB. Everything that was part of the Japanese release will be included in the American version, from the minor tweaks to the major features such as the web browser and photo sharing program. Additionally, those early-adopters who couldn't wait and have already installed the Japanese version can install the American version directly over the top of their previous upgrade, thus un-voiding the warranty on their PSP, which isn't technically allowed to run "unauthorized software."

Read More

| Sony's PSP

Tweet
Posted by Sparky Categories: Accessories, PC / Laptop, Peripherals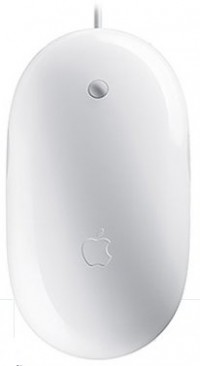 Apple today finally caved to it's millions of users who make daily use of a two button mouse with OSX and introduced the Apple Mighty Mouse - along with some significant improvements to a normal mice of a non-mighty variety. The Mighty Mouse has the look and feel of a normal Apple mouse, but hidden touch sensors record the right and left click events from the mouse. The Mighty Mouse also features a touch sensitive ball at the top enabling scrolling in any dimension easily with the touch of a finger. Finally the Mighty Mouse is pressure sensitive meaning you can gently squeeze the entire mouse in your hand
has two side triggers to zoom in and out in applications such as Final Cut Pro or Photoshop or presumably navigate forward and back in a browser. The Mighty mouse will work with OS X 10.4.2 and above, as well as With Windows 2000, XP, and supposedly Vista. Years ago Microsoft "built a better mouse" when they introduced the scroll wheel - could this be yet another innovative step in the mouse world? I won't know for sure until the one I just ordered to replace my Logitech MX900 Bluetooth two button mouse that I've been using with my Powerbook. What do you think?
Of course, this will change many opinions on why Apple made a one button mouse in the first place.
Read More

| Apple Mighty Mouse
© Gear Live Inc. – User-posted content, unless source is quoted, is licensed under a Creative Commons Public Domain License. Gear Live graphics, logos, designs, page headers, button icons, videos, articles, blogs, forums, scripts and other service names are the trademarks of Gear Live Inc.