Tweet
Posted by Devin Categories: Features, Movies, Product Reviews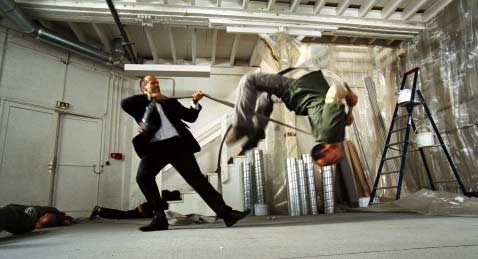 I decided on Friday night that, since I had nothing better to do, I would head to the theater in my little country town and hope that something decent was showing. How pleased I was to see that The Transporter 2 was on. I caught the first showing and was surprised that there was hardly anyone in the theater. From what little I knew about the film, I figured I'd have a good time, and by the time the film ended I knew I had figured right.
Like I had said in last weeks article, if you like to go to movies expecting everything you see to be 100% realistic, you probably won't enjoy this film - but if you're like me, willing to overlook a few slightly unbelievable and unrealistic scenes in hopes of being extremely entertained, you'll have a great time watching this story play out on the silver screen. Statham is great as Frank Martin, the driver for hire who's latest job has him chauffeuring the son of a government official to and from school. When a drug lord kidnaps the boy and injects him with a deadly virus, Frank takes it upon himself to find the antidote, a journey which brings quite a bit of fun to the screen.
Click to continue reading The Final Cut: The Transporter 2 Reviewed

Tweet
Posted by Kristin Wenzel Categories: Misc. Tech, Mods / Hacks, Portable Audio / Video
Think traditional grave markers are a little too "low tech?" Well, you're in luck. A company called VidStone, LLC has just the thing to make your afterlife (or that of a loved one) a little bit more high tech. The company's "Serenity Panel" features a 5-10 minute, multimedia memorial presentation which can include video, music, speech and text. It is solar powered and features a weatherproof LCD panel to display the montage, at the site of the grave itself, built into the tombstone.
The company produces the presentation from material supplied by the client, and provides a proof for final approval before producing the final product, meant to last and provide the living with a way to remember the deceased. The panel can be attached to just about any grave marker, even in a mausoleum.
Creepy? Cool? You decide.
Read More

| Vidstone, LLC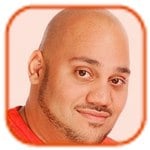 Tweet
Posted by Andru Edwards -
Categories: Announcements, Video Games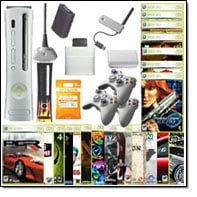 As a reminder, if you haven't already entered our Omega Giveaway, you should go and do that now. The winner, chosen at random, will walk away with a $2,000 Xbox 360 bundle. That includes the Xbox 360 Premium bundle, 20 games, and a ridiculous amount of accessories. It really doesn't get much better than that. All you need to do is let us know which game in the bundle you are looking forward to most, and which you are looking forward to least. Once you do that, you are in the running. Wanna enter? Click here.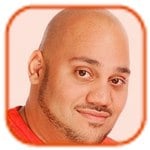 Tweet
Posted by Andru Edwards -
Categories: Household, Misc. Tech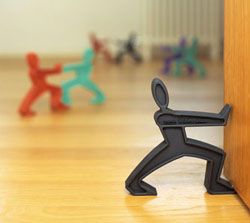 Why use a triangluar, clunky block of wood to keep the door open when you can do it with much more style? James the Doorman is made of 100% rubber, and holds doors open by sticking his foot underneath it, then holding on for dear life. This little guy will cost you $20 USD, and is available in red or black - despite the green and purple ones shown in the image.

Read More

| James the Doorman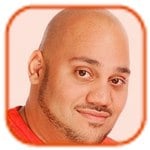 Tweet
Posted by Andru Edwards -
Categories: Features, Portable Audio / Video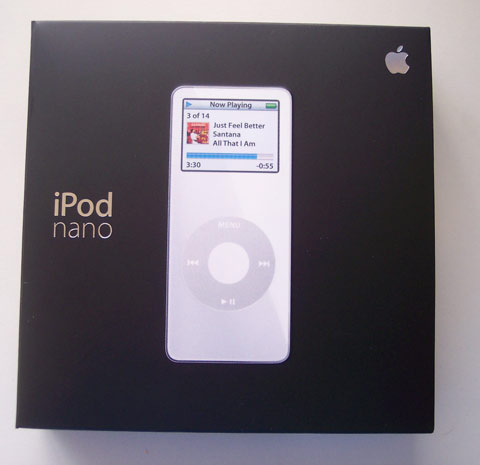 The power that Apple commands over the Internet astounds me. Why else would I have ended up walking out of the Apple Store with a 4 GB iPod nano in tow? Anyway, this thing is nice and thin. I mean, look at its profile compared to that of a 60 GB standard iPod: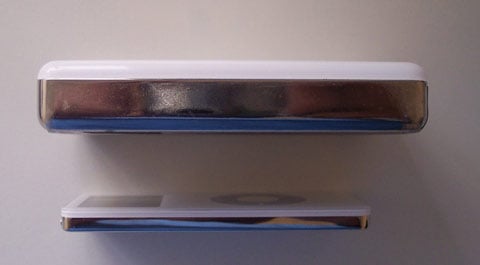 Continue reading, as we have even more images of Apple's new iPod below.
Click to continue reading Opening Up The iPod nano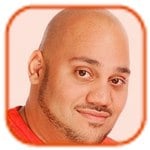 Tweet
Posted by Andru Edwards -
Categories: Corporate News
Ad/Spyware vendor 180Solutions is begging the public to reconsider their opinion of their difficult to uninstall and privacy invading product, blaming all of their problems on "affiliates". The 180Solutions platform offers annoying popup advertisements and an invasion of a users privacy in exchange for "free media, games, and other entertainment". While the battle against spyware and adware wages on, it's amazing that companies like this Bellevue, WA-based company continue to try to install invasive software platforms to pump their sleazy wares.

Read More

| Broadband Reports

Tweet
Posted by Jesse Easley Categories: Internet, Xbox 360, Xbox Live
I was emailed a Press Release from Microsoft today about Xbox Live info for 360. Here's the rundown!
Microsoft Corp. today announced that the next generation of online multiplayer gaming service Xbox Live® will be available in North America on the Xbox 360™ video game and entertainment system starting this holiday. In addition to the free Xbox Live Silver membership available to every Xbox 360 owner, for only $49.99 (U.S.) or $59.99 (CDN)* gamers can amplify their gaming experience with a 12-month Xbox Live Gold membership. Gamers looking for a truly engaging and immersive online multiplayer experience can pick up one of the Xbox Live Premium Gold Packs, which include the new Xbox 360 Headset, Xbox Live Arcade games, Microsoft® Points for use in Xbox Live Marketplace, and mail-in rebates for up to $20 (U.S.) off any Xbox 360 game.

Microsoft also today announced that credit cards will no longer be required to create an account on Xbox Live for Xbox 360, removing one of the biggest barriers to entry. Gamers can purchase 12-month Xbox Live subscription cards via cash or other payment methods at any participating retail store. Subscriptions will also be available for purchase by credit card in one-month, three-month and 12-month increments through the Xbox Live Dashboard.
Get more on the rundown below.
Read More

| Xbox Press

Tweet
Posted by Kristin Wenzel Categories: Music, Peripherals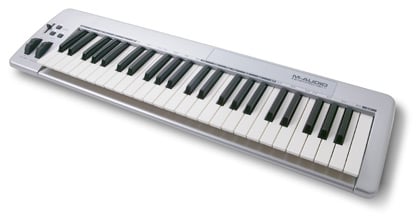 I recently purchased the M-Audio Keystation 49e midi controller and I'm very pleased with it. For the price (129.99) you can't really beat the quality, which doesn't surprise me given M-Audio's impressive track record.

The keys are slightly weighted, making them feel a lot more like a real piano, and they are thankfully noiseless no matter how hard you tend to rock out when you play, avoiding that irritating clicking that can come with some midi keyboards. Another great feature: it's USB powered, so you don't need to plug it in. However, if you feel the need, it takes a fairly standard 9V DC power adapter. For even more flexibility, you can connect via USB or MIDI, so even if you lack MIDI capability on your current system, you can still use the device. That's a great feature for people looking to try out electronic music production without buying a ton of gear. Along with a 49 key spread, it features pitch blend and modulation wheels, foot-pedal input compatibility, the keyboard is velocity sensitive, and has a volume control knob. It includes drivers for not only previous versions of Windows, but also for Mac OS 9, making it a very versatile device.

The Keystation 49e is a great choice for seasoned electronic musicians as well as beginners just looking into having a keyboard to play with. On a scale of 10, I'd give it a 10, for sure.

Read More

| M-Audio Keystation 49e

Tweet
Posted by Sparky Categories: Portable Audio / Video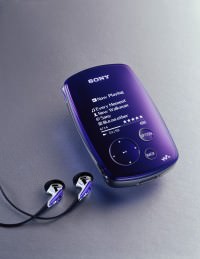 The new Sony Walkman models are sure sweet lookers. They come in 20GB and 6GB capacities, and feature an OLED screen than blends seamlessly with the rest of the unit - violet and silver for the 20GB NW-A3000 version, and pink and blue for the 6GB NW-A1000 version, with matching headphones. The new Walkman's will feature several new shuffle and playback modes and are coming out with a whole slew of docks, speakers, and remotes. With the new series of Sony Walkmans, Creative DAPs, and the new Apple iPod nano and ROKR coming out, we have high hopes for 2006 being a year with a lot of fantastic portable media players with unique form factors, user interfaces, and features.

Read More

| DAPreview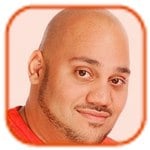 Tweet
Posted by Andru Edwards -
Categories:
I just found a neat little program that aims to give Windows users some time to concentrate solely on their work. Temptation Blocker allows you to set a specified amount of time that it will not allow you to launch a certain program. For example:


So, have a major deadline looming or ripe opportunity closing and just don't have time to waste playing Half Life 2 or checking Bloglines one last time? Well then, add Half Life 2 and Firefox to the list of programs you want to block in Temptation Blocker, set the timer for how long you want to block them and then hit the "Get Work Done!" button.

Now, everytime you try and access Half Life 2 or Firefox, you'll get a dialog box telling you how much time you have left before you can access that program.
Now, if it is absolutely critical that you open up an application that you have blocked from yourself, you just punch in a randomly generated 32 character code. This is to deter you from entering said code unless you really deem it necessary. Being that we showcased a few Mac applications the other day, this one is for those of you on Windows - oh, and it's free.
© Gear Live Inc. – User-posted content, unless source is quoted, is licensed under a Creative Commons Public Domain License. Gear Live graphics, logos, designs, page headers, button icons, videos, articles, blogs, forums, scripts and other service names are the trademarks of Gear Live Inc.