Find Our Latest Video Reviews on YouTube!
If you want to stay on top of all of our video reviews of the latest tech, be sure to check out and subscribe to the Gear Live YouTube channel, hosted by Andru Edwards! It's free!

Tweet
Posted by Kristin Wenzel Categories: Mods / Hacks, PC / Laptop, Wireless / WiFi,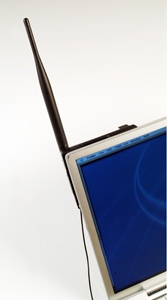 Quickertek is a company I'm keeping my eye on, after reading about their after market antennae built to fit the PowerBook and iBook. Their line of products includes not only range-extenders but also directional and omni-directional antennae that are made to fit your iBook, PowerBook, or any other Apple computer (even the tiniest 12" Aluminum PowerBook G4, the site boasts). And best of all, the parts are made specific to the computer you have, so it seems that their antennae aren't the typical "one-size-fits-all" nonsense that tends to leave notebook users out in the cold.
First to catch my eye:
QuickerTek's Whip Pro antenna gives AirPort, Extreme and Express users that extra boost in signal strength, stability and range. A stronger signal-to-noise ratio grabs and holds wireless signals better. You can use the PC Card [PCMCIA] slot and the antenna at the same time for maximum mobile options.
Rock the hell on. A boost to signal strength and mobility is always welcome on this geek girl's PowerBook. It's about darn time someone came up with some better after-market antenna options for Mac users, and these seem to fit the bill perfectly - especially all the solutions specific to PowerBook/iBook users, who are typically offered very little when it comes to wireless add-on parts. These products look fantastic and I'm already coveting the WhipPro Antenna for the Aluminum PowerBook G4 15".
Another thing that piquéd interest is their iBook antenna, which mentions directional antenna add-ons:
The first antenna for all Apple iBooks with AirPort wireless capability, including AirPort Extreme. Get 5.5dBi of power and improve your wireless range and signal strength. iBook users get connections for other QuickerTek external antennas such as directional antennas for war-driving
Well, I know what I want for Christmas. If I can get my hands on one of these babies, I'll let you know how it goes over, everyone. The prices are somewhat steep but the products seem well made and semi-custom, so I wouldn't mind if I had the cash. At just shy of $100 for the PowerBook and iBook 5.5dBi version, and $70 for the 2dBi version, I'm sorely tempted.
Read More

| Quickertek via TUAW

Tweet
Posted by Kristin Wenzel Categories: Misc. Tech,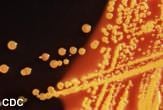 Scientists have been experimenting with bacteria in many forms for a long time, for many applications. Some can transform toxic waste into harmless byproducts. Others have been employed to produce electricity. And now, it looks like science hit the bonus round in discovering bacteria that produce electricity while devouring toxic waste.
"The bacteria are capable of continuously generating electricity at levels that could be used to operate small electronic devices," says Charles Milliken of the Medical University of South Carolina, who conducted the research with colleague Harold May. "As long as the bacteria are fed fuel they are able to produce electricity 24 hours a day."
The overachieving bacteria are called Desulfitobacteria, and they aren't picky eaters - this type of bacteria is already well known for it's ability to detoxify some of the worst man made toxins including many chemical solvents and PCBs. Only recently, though, did research indicate their energetic capability. Could these tiny spores provide a way to clean up some of man's worst messes, and help prevent new ones from forming?
Read More

| LiveScience.com

Tweet
Posted by Kristin Wenzel Categories: Corporate News, Software,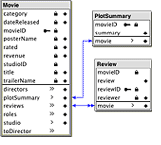 Apple shocked the developer world once again by announcing plans to include WebObjects as a free application, included with OS X 10.4 Tiger Developer tools package. It's a strong tool that is extremely versatile and is the muscle behind Apple's iTunes Music Store, and many other high-profile e-commerce projects. While WebObjects isn't very well known outside the development and design community, those who develop web applications for not only the Mac platform but also the PC, are buzzing about this new announcement. So, you may ask, why all the fuss about WebObjects, and what does it do?
MacWorld UK explains:
WebObjects is a Java-based application-server and builder for Web publishing and internal application building. It's often used for e-commerce applications, and can even produce pure Java applications that can be run on non-Mac platforms.
In other words, this is one hardcore, powerful tool (and very spendy, even after an extreme price drop from $50k to $700 in 2000). Apple previously released the WebObjects deployment software for free with the XServe and OS X Server in 2002 but now plans to offer the powerful tool free of charge with their developer tools bundle.

Read More

| MacWorld UK
More About WebObjects

| Apple

Tweet
Posted by Kristin Wenzel Categories: Mods / Hacks, Software,

A lot of mac users have noticed that Spotlight can seem to take over the system, constantly indexing and reindexing for better search ability. This can cause the system to run slow, and frustrate even the biggest fan of Spotlight as a search tool. Never fear, Mac users, our friends over at MacGeekery have come through again with tips and tricks on how to make Spotlight chill out a bit and give your system a break.
Read More

| MacGeekery.com
Tweet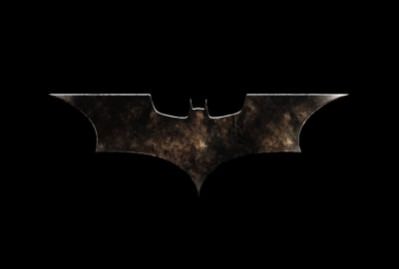 Like some of our readers, I decided to see Batman Begins the day it came out. When I was a child, Batman was one of my favorite superheros, kind of in the way that Spider-Man or the Hulk is to many young children nowadays. I loved Tim Burton's Batman, and I really enjoyed Batman Returns, but when Joel Schumacher's Batman Forever was released I, like many others, lost interest in the Batman series. I didn't even bother to see Schumacher's Batman & Robin, and when I heard that another film would bare the Batman name I was less than enthused. Once I began to see the previews in theaters and on television, the movie began to peak my interest. As I looked closer and saw a new director, a new Batman, a plot that would show me how my favorite superhero came to be and also tie into the 1989 Batman film, I began thinking this film would be well worth a look. I had my Wednesday night planned, and with a package of candy hidden in my pocket, I entered the theater.
Click to continue reading The Final Cut: "Batman Begins" Better Than Previous Attempts To Follow Up The Original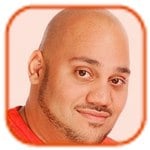 Tweet
Posted by Andru Edwards -
Categories: Business Tools,
Internet entrepreneurialship is a unique thing, and many of us can get too involved in the Internet aspect, often neglecting basic, sound business principles. One tool that I use to keep myself grounded is StartupJournal. It is a site published by the Wall Street Journal, specially formulated for entrepreneurs of all kinds. It is a good idea to brush up on generic business advice both for yourself and your business, as well as to keep tabs on what others might be doing. You never know - a good business tip might spawn your competition into getting online, and may even be enough to encourage them enough to go after you!

Read More

| StartupJournal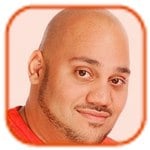 Tweet
Posted by Andru Edwards -
Categories: Marketing,
Let's be serious for a moment - no matter how astounding your website looks, or how nicely you promote the product, none of it means anything if you aren't getting a steady flow of traffic. Many people put up a website, and then sit confused as to how to garner a nice, consistent readership. SearchEngineWorld has a nice, brief tutorial detailing some basic things you can do to bring your readership up to 15,000 uniques per day. From experience, I can tell you that it does work - and that content is king.

Read More

| 26 Steps to 15k

Tweet
Posted by Oscar M. Cantu Categories: Cell Phones, Video Games,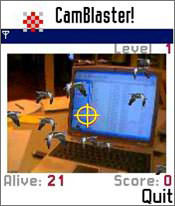 Most of us have played the piddly games available on our mobile phones, but this one is really awesome. Instead of your typical game, this one allows you to shoot targets through your phone's camera. What's even more is that when you move your phone away more targets appear, and then when you turn back the previous targets remain in the same spot. This game really takes a step forward in blurring the lines between virtual and actual reality.
Read More

| Moco News

Tweet
Posted by Oscar M. Cantu Categories: Misc. Tech, Portable Audio / Video,

Finding a good alarm clock is a tough job if you want it to be non wearable. That being said, the iH5 looks pretty neat. This alarm clock radio is brought to us by the iHome division of SDI Technologies. The iH5 allows you to wake up to radio, buzzer, or tunes in your iPod. The best part is that while your iPod is docked and waiting to wake you up in the morning, it is also being charged. The iH5 also has the feature of gradually raising or lowering the sound level when waking and sleeping and has support for 3G/4G iPod, iPod Mini, and iPod Photo. Other non-dockable iPods and audio players may be attached using the line in port. The iH5 is expected to be available in August at a price of $99.
Read More

| iPod Lounge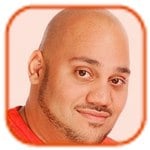 Tweet
Posted by Andru Edwards -
Categories: Misc. Tech,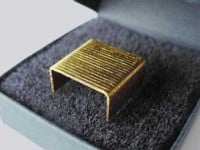 I think we can all agree that the overly bland corporate environment can use any type of excitement boost that it can get, right? Right. Enter these gold plated staples. Has there ever been a smarter way to breathe new life into a product that so many take for granted? Impress your boss by turning in your next report decked out in gold. He will feel you.
Read More

| Oooms via Cool Hunting
© Gear Live Inc. – User-posted content, unless source is quoted, is licensed under a Creative Commons Public Domain License. Gear Live graphics, logos, designs, page headers, button icons, videos, articles, blogs, forums, scripts and other service names are the trademarks of Gear Live Inc.