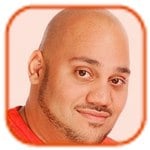 Tweet
Posted by Andru Edwards -
Categories: Video Games
Playfeed has posted a bunch of images of Nintendo's recently unveiled Revolution controller. Our forums have been abuzz since Nintendo took the stage at the Tokyo Game Show and gave the world a look at how they plan on changing the game. What are your thoughts?

Read More

| Playfeed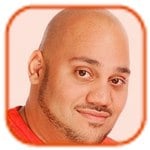 Tweet
Posted by Andru Edwards -
Categories: Wearables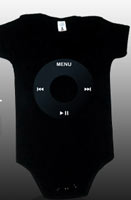 Continuing with news on those hopping on the nano bandwagon, the iPod My Baby folks have just released a "nano Black" version of their baby onesie. If you have a little one that wears 6 month, 12 month, or 18 month clothing, check these out. We have iPodded our baby, and were happy with the results.

Read More

| iPod My Baby
Read More

| Interview with iPod My Baby Founder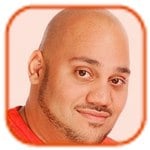 Tweet
Posted by Andru Edwards -
Categories: Accessories, Portable Audio / Video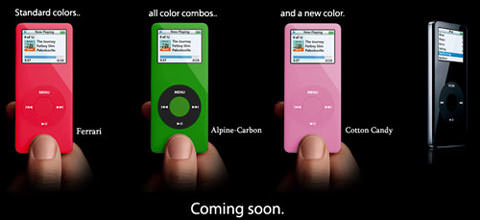 We think highly of the folks over at Coloreware PC, as you can read when we reviewed their Generation 3 iPod coloring service. They are now getting ready to offer iPod nano coloring services, including the option to have the click wheel painted in a different color - something they have only started doing recently. A 2 GB colored nano will run you at least $265, with the 4 GB model starting at $315. If you prefer, you can also send in a nano you have already purcahsed for coloring.

Read More

| Colorware via Gizmodo

Tweet
Posted by Oscar M. Cantu Categories: Action, PlayStation 3, Trailers
The Tokyo Game Show started with a big bang, giving us a look at the trailer to Metal Gear Solid 4L Guns of the Patriots, in addition to the Revolution controller announcement. Got-Next.com was able to obtain a video of the MGS4 trailer, and although it's not the best quality, it does its job in showing that this title is coming along very nicely. This one looks to be a solid hit for the PS3, making us all that more excited for the next generation wars to begin. Check out the video from their website.

Read More

| Got-Next.com

Tweet
Posted by Oscar M. Cantu Categories: First Person Shooters, Screenshots, Xbox
There are new Xbox Half Life 2 screenshots available, and the good news is that its looking as good as it possibly can on the 'Box. Keeping in mind that the Xbox ranks in at 700 Mhz PIII with 64 MB RAM, this game is really pushing the Xbox to its full potential. Bit-tech has some more screenshots of the game running on the Xbox and claim the final version is near completion.

Read More

| Bit-Tech.net

Tweet
Posted by Kristin Wenzel Categories: Product Reviews, Software
I was skeptical at first, but I need to get organized - I'm moving soon. The biggest task is tackling my immense personal media library, from books to games to music. I'd heard some good stuff, and I was ready to pull my hair out, so I finally heeded the advice I'd gotten from some of my colleagues and checked out Delicious Monster to read about their award winning program, Delicious Library.
Get your Mac, a webcam, and Delicious Library and rediscover your home library. Just point any FireWire digital video camera, like an Apple iSight®, at the barcode on the back of any book, movie, music, or video game. Delicious Library does the rest. The barcode is scanned and within seconds the item's cover appears on your digital shelves filled with tons of in-depth information downloaded from one of six different web sources from around the world.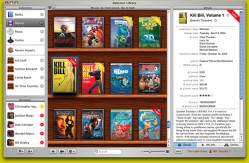 This claim of user-friendliness and siren's call of a more organized life were enough to draw me to Delicious Library, a one-stop media cataloguing program for Mac OS X.
I am anal about organization. However, being the flaky artist that I am, I get a little too distracted and the mess just piles up and then I get too frustrated to organize, and then become frustrated with the lack of organization, and it becomes a vicious circle. However, with the help of Delicious Libary, I may become one. Strong words? Maybe. But I've never had so much fun and been so productive at the same time. This brilliant, seamless piece of software may well turn my organizational life around – and that's no small feat.
Click to continue reading Tasty Reviews for Delicious Library

Tweet
Posted by Jesse Easley Categories: Portable Audio / Video, Rumors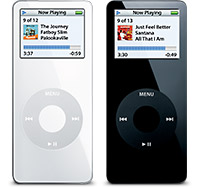 Apple has just recently announced the iPod nano, which has gotten tons of attention from just about everyone. It turns out that this may not be the biggest iPod announcement of the year. A couple of days ago we brought you a story showing that Apple has included a number of hidden Video buttons in iTunes 5, and now we know why. Will there be an iPod capable of playing video? All signs point to yes. We have confirmed with several inside industry sources that Apple plans on making another major iPod announcement in November. Will it just be a 100 GB iPod? Could be - but we think it is something more.
Tweet
This week, The Final Cut takes a closer look at Just Like Heaven with Reese Witherspoon, and Lord of War with Nicolas Cage. Also out this weekend in nationwide release are Cry Wolf, a film about two kids who create a story about a serial killer which turns real; and Venom, another movie starring teenagers, this time being chased through Louisiana by a man possessed with 13 evil spirits. In limited release, look for The Thing About My Folks, HellBent, G, Everything Is Illuminated and Thumbsucker. As always, if you've seen any of this weekends' releases, feel free to leave a comment with your opinion. More after the jump…
Click to continue reading The Final Cut: A Closer Look At Just Like Heaven, Lord Of War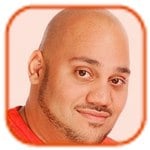 Tweet
Posted by Andru Edwards -
Categories: Accessories, Features, Wii
Okay, so Nintendo filled the world in on what seems like the biggest secret in the history of the game industry. The Revolution controller is already sparking debate the world over - the least we could do is show the thing to you in all its glory. I must say, it certainly is a conversation piece. Check out tons of images after the jump.

Tweet
Posted by Jesse Easley Categories: PlayStation 2, Sports, Xbox
EA announced on Thursday that they will be releasing a new game for the PS2 and Xbox called Arena Football. Now, there are tons of football games out for every system that has ever been in existance, but according to EA this game will be different for a few reasons. Arena Football consits of 8 on 8 gameplay and allows for checking players over the wall (much like Ice Hockey), with a field half the size of an NFL or NCAA version. That's all the information they've released so far, but we've managed to get some screenshots from them for your viewing pleasure. Jump down to check them out!
© Gear Live Inc. – User-posted content, unless source is quoted, is licensed under a Creative Commons Public Domain License. Gear Live graphics, logos, designs, page headers, button icons, videos, articles, blogs, forums, scripts and other service names are the trademarks of Gear Live Inc.