Tweet
Posted by Categories: Wearables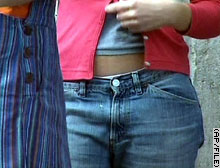 How many times have you gone to the store to get a new pair of jeans, when every single pair you try on doesn't fit? Thanks to Bodymetrix, you will never have to hunt for those jeans again. The new body-scanning technology will deliver the right jeans everytime. Using a complex system of lights and reflections, the machine will scan your entire body and take every possible measurement. Using those measurments, a perfect pair of jeans will be made that fits your body contours exactly. They will even put your name on the label! This technology can be used to create any type of clothing, since it takes every measurement you will ever need.
Read More

| CNN
Tweet
Posted by Categories: PC / Laptop

Does the sound of a 1.6TB (yes, that's terabyte) drive excite you? Me too. Inphase Technologies has developed a method of storing data called Holographic Storage. In essence, this method allows data to be stored on the entire depth of the disk, rather than just the surface. The drives are slated to be released in 2006 in sizes ranging from 200GB to 1.6TB.
Read More

| Web Pro News
Tweet
Posted by Categories: Cell Phones
If you happen to have a high end mobile phone running on Symbian software, you may be at risk for a new trojan that infects your phone and flashes a skull and crossbones on the screen. The new trojan is a variant of existing trojans, and usually infects your phone by disguising itself as a good program for your phone - usually downloaded illegally. The existence of viruses for smart phones and the anti-virus companies that hope to market software to prevent them, according to the article, seems a little fishy. Read on for more details.
Read More

| E-Commerce Times
Tweet
Posted by Categories: Software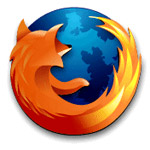 Yesterday, I had to use Internet Explorer for about 5 minutes to do an offer for someone on a freestuff website. After I finished, I closed IE and switched back to firefox. Later that day, I was bombarded with virus warnings and popups—when no browsers were open. I had to run adaware 3 times and reboot twice in order to clear my registry of spyware (and I'm not convinced its gone.) This was after running my computer for 3 months on a fresh reformat and using Firefox exclusively. One final trick I pulled was using system restore in XP to go back to an earlier time—specifically, the day before.
CNet has a great article on things you can do to avoid, prevent, and workaround spyware. They offer several solutions, such as using system restore, Firefox, and SP2 for Windows XP. Check it out, and avoid all that spyware!
Read More

| CNet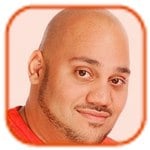 Tweet
Posted by Andru Edwards -
Categories: Portable Audio / Video

Could it be? Rumor has it that the iPod mini's that are currently shipping from Apple have 5 GB hard drives in them, but only 4 GB are accessible by the user. Why is this? Well, the expectation is that at MacWorld, the 5 GB iPod mini will be announced by Apple. Production may have started a bit early, but to keep things under wraps, the firmware is programmed to only recognize 4 of the 5 gigs in the unit. A simple firmware upgrade could give users the full 5 GB after the announcement.
Read More

| Apple Insider
Tweet
Posted by Categories: Cell Phones, Portable Audio / Video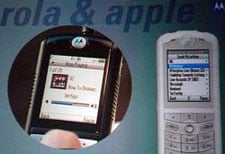 Motorlola has unveiled the first of many devices that will support the iTunes Music Store. The phone is capable of downloading and playing music from the iTunes store, as well as syncing with your PC or Mac. It includes an interface similar to the Apple iPod for navigating and playing music. There is no mention of cost - but if the price is right, you can bet this is another gadget I will own.
Read More

| eWeek

Tweet
Posted by Oscar M. Cantu Categories: Wireless / WiFi

If you thought that 802.11g had an impressive range, check out MAXg from U.S. Robotics. The latest wireless devices allow a range of 225 feet, 802.11g has a range of 150 feet. MAXg is also 40 percent faster than 802.11g. The new MAXg product family is the first to combine all the latest performance and rage enhancements for the home or office. One of the greatest features is that it is able to offer all these new features to current devices that use 802.11g technology. MAXg uses BroadRange technology to allow a device to maintain a high-speed connection up to 50 percent further from an access point. The new product family line from U.S. Robotics will be available in Q1 2005. The following are the product list and its suggested retail price.
Wireless MAXg Router (USR5461) – MSRP $69.99
Wireless MAXg USB Adapter (USR5417) – MSRP $59.99
Wireless MAXg PCI Adapter (USR5421) – MSRP $59.99
Wireless MAXg PC Card (USR5411) – MSRP $59.99
Wireless MAXg Wireless Access Point (USR5451) – MSRP $79.99
If you were thinking of upgrading your existing 802.11b network or setting up your first wireless network, this product family line is definitely worth looking out for.
Read More

| U.S. Robotics
Tweet
Have you held off buying a PDA because they are just too big? If so, you need to check out Fossil's new PDA watch line. A few of the features include a high density 160 x 160 pixel grayscale LCD with touch screen and backlight, a stylus is integrated into the watch buckle, while the 3-way Rocker switch and Back button lets one-handed navigation. The watch also has customizable watch faces to suit each users style. True to the Palm, you can hotsync this to your PC or Mac. Depending on the style you choose, the watch will cost you $199 to $249.
Read More

| TechTree

Tweet
Posted by Oscar M. Cantu Categories: Misc. Tech, Portable Audio / Video

How would you like to subscribe to a satellite video service just as you are able to subscribe to satellite radio? Sirius Satellite Radio Inc. is planing to provide children's video service in 2006. This will allow anyone with a subscription to view children's programs to their automobile's video monitors. No more dealing with scratched DVDs or that same DVD of the Teletubbies playing over and over again.
Read More

| Reuters
Tweet
Posted by Hector Martinez Categories: PC / Laptop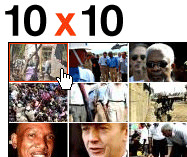 Since we all love to keep on top of what's going on in the world, we thought you might like this. The 10 x 10 website scans the RSS feeds of several leading international news sources, and captures the top 100 words used to present a "snapshot" of news for every given hour. It also takes the images from the news sources to create a 10 x 10 grid (Macromedia Flash 6 required) with a scrolling list of all 100 words on the right margin. Clicking on a word brings up its image along with several related news links which you can follow to read the stories in more detail. Not only is it useful, it's easy and just plain cool. Not surprisingly, the top word as of this writing is "tsunami." Thankfully, words 4 and 7 are "aid" and "relief" respectively.
© Gear Live Inc. – User-posted content, unless source is quoted, is licensed under a Creative Commons Public Domain License. Gear Live graphics, logos, designs, page headers, button icons, videos, articles, blogs, forums, scripts and other service names are the trademarks of Gear Live Inc.