Find Our Latest Video Reviews on YouTube!
If you want to stay on top of all of our video reviews of the latest tech, be sure to check out and subscribe to the Gear Live YouTube channel, hosted by Andru Edwards! It's free!

Tweet
Posted by Kristin Wenzel Categories: Internet, Software,

Opera software unveiled Opera 8 web browser for Macintosh today, to moderate fanfare and a few raised eyebrows from those who wonder whether it can take on Firefox, or Apple's native browser for OS X, Safari.
The features of the new version of Opera were detailed in a somewhat dubious press release:
"With Opera, Mac users can surf fast, comfortably and efficiently using a full-featured browser that is not tied to the operating system (OS)," says Jon von Tetzchner, CEO, Opera Software. "Rather than incurring costly upgrades to your OS to get the newest features, Opera allows Mac users to browse, e-mail, download and chat using one program, requiring minimal system resources due to Opera's small size."
Costly upgrades to the OS to get new features? Since when? Firefox is free, for crying out loud, and as far as I know, Safari doesn't charge per update or anything ridiculous like that. Obviously von Tetzchner hasn't done his homework in this case — I can't think of any browsers, regardless of platform, that require "costly upgrades to [the] OS" for new features.
Click to continue reading Opera 8 Released for Mac

Tweet
Posted by Oscar M. Cantu Categories: Portable/Mobile,
This is not new; however, many people were skeptical this actually works. It's apparent now that this video actually works. While this video will not fix dead pixels, it will fix any stuck pixels you may have. This video is ripped from a DVD stores such as Best Buy give their customers who purchase LCD T.V.s - it rapidly flashes red, green, and blue frames on the PSP screen. The trick is to leave it running in a loop for several hours. Give it a try, after all what do you have to lose?
Download Video

| Stuck Pixel Fix via PSP Hacks

Tweet
Posted by Oscar M. Cantu Categories: First Person Shooters, Xbox,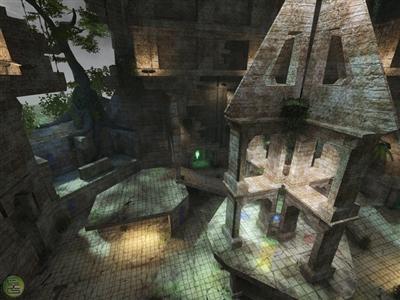 In anticipation for next month's release of the Halo 2 Multiplayer map, Team Xbox has a short movie showing off the Warlock map and its fast action game play. If you don't have Xbox Live, chances are you have not had the pleasure of playing in this extremely fun map. Here's a quick description of Warlock:
Warlock, a small to mid-sized indoor arena set in ancient Forerunner ruins, offers ample opportunities for a variety of game types such as Territories, Slayer, Team Slayer and more.
Check out the short movie and see a taste of what's in store next month.
View

| Warlock Movie

Tweet
Posted by Kristin Wenzel Categories: Internet, Podcasts,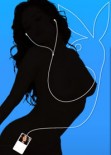 Erotic Podcast Market? Apparently so. The analysts have spoken — podcasting is hot, and the market is jumping for more podcasts. Especially, they seem to imply, "erotic" podcasts. Frank Barnako of Marketwatch writes:
While 40% of the Internet-delivered audio shows focus on music, science, technology and comedy, the most popular category for users is erotica, according to Alex Nesbitt, president of Bella Ventures Inc. 'The supply is not yet meeting market demands,' he wrote in a just-released analysis titled, 'The Podcast Value Chain Report.'"
In other words, we're not sure what category is the most under-served. He also predicts that in the "near future" the market for podcasting tools and accessories will top $400 million. What with the hot trend towards podcasting and the already-booming Internet pr0n business sector, of course "adult" podcasts are popular. However, I wouldn't put my chips on Erotic Podcasting as a sure bet, despite this apparent "popularity."
Think of all the hand-wringing there'll be when there's "too much Porn on the Pods!"
Read More

| MacDailyNews

Tweet
Posted by Kristin Wenzel Categories: Corporate News, PC / Laptop, Software,
Michael Dell, of Dell Computers, has noted that should Apple "decide to open the MacOS to others," they'd be glad to offer it up over at Dell.
Over Steve Jobs' dead body, I'm guessing the answer will be. Some of the panicked mac-enthusiasts, however, are blinded by paranoia after the announcement that Intel will be Apple's new chip supplier starting in 2006, and see a bleak future for the OS. I'm going to put a stop to this here and now, everyone. When are people going to get it through their heads that just because Intel is going to be Apple's new chip supplier, the world isn't ending? It's hardware, the OS is to remain the same. Apple isn't going to offer MacOS on non-Apple computers, they've already said it. I believe MacDailyNews said it best:
It's a processor. A lump of silicon. Would we have preferred to have PowerPC if it could deliver what Apple needs? Sure. But, if Apple thinks they can get better performance in the future from Intel than from International "Where's That 3GHz G5 You Promised Us Last year?" Business Machines, so be it. What's next, are some Mac users going to burst a blood vessel if Apple changes hard drive suppliers?
Seriously. If people really think that just because Apple switched to a different supplier for one of their components, we're likely to see MacOS X running on Dell's computers, I've got a mile of oceanfront property in Nevada to sell them. Ain't gonna happen.
Dell Would Sell OS X

| TUAW.com
Read More

| MacDailyNews.com

Tweet
Posted by Kristin Wenzel Categories: Accessories, Wearables, Portable Audio / Video,

These shirts are totally off the hook. Now your iPod Shuffle can be PART of your outfit, not just a stylish accessory. The iShirt has a magnetic clasp specially made to allow you to firmly attach an iPod Shuffle to the shirt as the "i" in "iShirt," showing everyone your MP3 player of choice. PodShirts also offers a new version with a Lego-style brick man (the star of their PodBrix accessory line featuring mini figurines to keep your iPod company) emblazoned on the shirt, upholding your iPod Shuffle for the world to see, and for your listening pleasure.
Read More

| Podshirt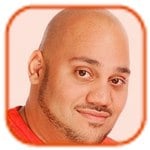 Tweet
Posted by Andru Edwards -
Categories: Misc. Tech,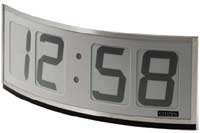 Images can be a bit deceiving, but check out this Citizen clock. If you can't tell, it is actually almost paper-thin. It uses E Ink imaging film, and is malleable. You can bend it, roll it, etc. - not that these practices would aid in your time checking ability, but it's cool nonetheless. Citizen hopes to get this thing out in 2005 over in Japan - no word yet on international availability.
Read More

| 101 Reviews

Tweet
Posted by Kristin Wenzel Categories: Mods / Hacks, PC / Laptop, Wireless / WiFi,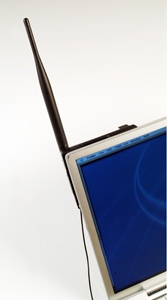 Quickertek is a company I'm keeping my eye on, after reading about their after market antennae built to fit the PowerBook and iBook. Their line of products includes not only range-extenders but also directional and omni-directional antennae that are made to fit your iBook, PowerBook, or any other Apple computer (even the tiniest 12" Aluminum PowerBook G4, the site boasts). And best of all, the parts are made specific to the computer you have, so it seems that their antennae aren't the typical "one-size-fits-all" nonsense that tends to leave notebook users out in the cold.
First to catch my eye:
QuickerTek's Whip Pro antenna gives AirPort, Extreme and Express users that extra boost in signal strength, stability and range. A stronger signal-to-noise ratio grabs and holds wireless signals better. You can use the PC Card [PCMCIA] slot and the antenna at the same time for maximum mobile options.
Rock the hell on. A boost to signal strength and mobility is always welcome on this geek girl's PowerBook. It's about darn time someone came up with some better after-market antenna options for Mac users, and these seem to fit the bill perfectly - especially all the solutions specific to PowerBook/iBook users, who are typically offered very little when it comes to wireless add-on parts. These products look fantastic and I'm already coveting the WhipPro Antenna for the Aluminum PowerBook G4 15".
Another thing that piquéd interest is their iBook antenna, which mentions directional antenna add-ons:
The first antenna for all Apple iBooks with AirPort wireless capability, including AirPort Extreme. Get 5.5dBi of power and improve your wireless range and signal strength. iBook users get connections for other QuickerTek external antennas such as directional antennas for war-driving
Well, I know what I want for Christmas. If I can get my hands on one of these babies, I'll let you know how it goes over, everyone. The prices are somewhat steep but the products seem well made and semi-custom, so I wouldn't mind if I had the cash. At just shy of $100 for the PowerBook and iBook 5.5dBi version, and $70 for the 2dBi version, I'm sorely tempted.
Read More

| Quickertek via TUAW

Tweet
Posted by Kristin Wenzel Categories: Misc. Tech,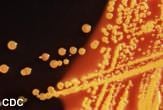 Scientists have been experimenting with bacteria in many forms for a long time, for many applications. Some can transform toxic waste into harmless byproducts. Others have been employed to produce electricity. And now, it looks like science hit the bonus round in discovering bacteria that produce electricity while devouring toxic waste.
"The bacteria are capable of continuously generating electricity at levels that could be used to operate small electronic devices," says Charles Milliken of the Medical University of South Carolina, who conducted the research with colleague Harold May. "As long as the bacteria are fed fuel they are able to produce electricity 24 hours a day."
The overachieving bacteria are called Desulfitobacteria, and they aren't picky eaters - this type of bacteria is already well known for it's ability to detoxify some of the worst man made toxins including many chemical solvents and PCBs. Only recently, though, did research indicate their energetic capability. Could these tiny spores provide a way to clean up some of man's worst messes, and help prevent new ones from forming?
Read More

| LiveScience.com

Tweet
Posted by Kristin Wenzel Categories: Corporate News, Software,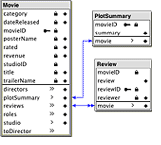 Apple shocked the developer world once again by announcing plans to include WebObjects as a free application, included with OS X 10.4 Tiger Developer tools package. It's a strong tool that is extremely versatile and is the muscle behind Apple's iTunes Music Store, and many other high-profile e-commerce projects. While WebObjects isn't very well known outside the development and design community, those who develop web applications for not only the Mac platform but also the PC, are buzzing about this new announcement. So, you may ask, why all the fuss about WebObjects, and what does it do?
MacWorld UK explains:
WebObjects is a Java-based application-server and builder for Web publishing and internal application building. It's often used for e-commerce applications, and can even produce pure Java applications that can be run on non-Mac platforms.
In other words, this is one hardcore, powerful tool (and very spendy, even after an extreme price drop from $50k to $700 in 2000). Apple previously released the WebObjects deployment software for free with the XServe and OS X Server in 2002 but now plans to offer the powerful tool free of charge with their developer tools bundle.

Read More

| MacWorld UK
More About WebObjects

| Apple
© Gear Live Inc. – User-posted content, unless source is quoted, is licensed under a Creative Commons Public Domain License. Gear Live graphics, logos, designs, page headers, button icons, videos, articles, blogs, forums, scripts and other service names are the trademarks of Gear Live Inc.