Posted by John Goulden Categories: Google, Home Entertainment

"Mass personalization" is name of the game according to Google, and it could change the way you watch TV. The brainiacs at Google have come up with a process whereby your computer listens to the television program being viewed, and then searches out related information. Imagine watching a movie, and having Google pull up relevant data from the IMDB or the Wikipedia, without having to lift a finger. If nothing else, it will help solve the eternal question of "what else have I seen that actor/actress in?" The downside, if there is one, is that the technology could also be used for the purposes of evil
to display advertising that ties in with the program being watched.
Google's technology is not the first of its kind. The Shazam music service allows users to submit a snippet of a song by holding their mobile phone near the source for 30 seconds, minutes later receiving a text message with the artist's name and title of the song. But according to Covell and Baluja, the Google technology requires only five seconds of sound to identify a TV show. Once the program has been identified, the technology scours the Internet for relevant data and media content. "All of this would be done without users ever having to type or to even know the name of the program or channel being viewed," they wrote. "We could collect snippets from the Web describing the actors appearing in a movie or present maps of locales within the movie as it takes place, no matter if users are watching it as a live broadcast or as a recorded broadcast," the researchers wrote. The researchers said the technology poses no threat to user privacy because it does not allow reverse mapping from audio to summary statistics. They also said the technology will not be able to understand nearby conversations.
So when can you expect to have this technology in your hands? Possibly never as Andrew Frank, a Gartner research analyst, points out that "This falls into the speculative category and I think it is important to take this technology for what it is, which is an interesting, speculative experiment to determine what might be possible in some hypothetical scenario," Frank said. "I think the chances of this becoming a product are pretty slim."
Read More

| Top Tech News

Posted by John Goulden Categories: Editorial, Google, Microsoft, Software

Google continues to draw users with its suite of applications that can be accessed from practically anywhere you can access the Internet. One such application, Google Calendar, is especially nice as it helps answer the eternal question that friends and family members inevitably ask - "when are you free?". With a shared version of the Google Calendar they can answer their own question, but its lack of offline use and portability leaves a little something to be desired.
It turns out that there's a solution to the problem for those of us who use Microsoft Outlook as our personal information manager. RemoteCalendars is an open source plugin that allows you to import iCalendar-based files into Outlook, and with the latest release of version 5.61, allows you to perform two-way synchronization as well. RemoteCalendars is still a work in progress, but if you follow the instructions implicitly, there's a fair chance it will work as well for you as it did for me.

Read More

| RemoteCalendars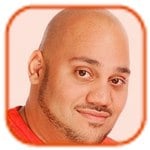 Posted by Andru Edwards Categories: Google, Internet, Microsoft
It looks like Windows Live is continuing it's quest to be your one-stop destination on the web for all your needs. Today, Windows Live Products launched over at http://products.live.com. Basically, if you have seen Google's Froogle, you have seen Live Products. It is a price comparison engine that allows you to search for items you are looking to purchase, with the goal of finding you the best deal. After trying it out ourselves, it seems to be just as much of a mess as Froogle is. Oh, and the best part:
Windows Live Product Search crawls the web and automatically extracts products available for purchase online. As this is done algorithmically, the name, image, description or price of the products is not guaranteed to be accurate.
Here's to hoping for a much improved shopping search experience.

Read More

| Windows Live Products
Posted by John Goulden Categories: Corporate News, Google, Software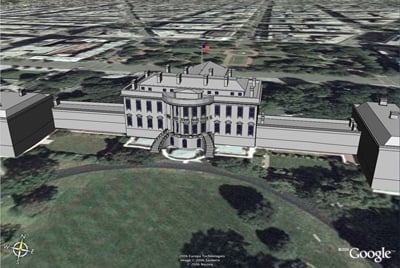 Last month Google acquired @Last Software, makers of a neat piece of software called SketchUp. SketchUp is a 3D modeling tool that is simple enough for just about anyone to use, yet offers powerful tools for professionals as well. Speculation about SketchUp's future pricing began the moment news of the acquisition was released, and true to Google's track record, there's now a free version of the software. The free version, entitled Google SketchUp, is licensed only for non-commercial use and is missing a few features compared to the standard version, which is now called SketchUp Pro and provides the full feature set and naturally the full price tag of $495 USD.
Sure, there are differences between the free and Pro versions, but for someone just looking to dabble with 3D modeling, or thinking about creating some buildings for Google Earth, the free version will do nicely. The differences are summed up as:
• Pro users are able to print and export raster images at higher-than-screen resolution.
• Pro users have access to the following 3D export formats: DWG, DXF, 3DS, OBJ, XSI, VRML and FBX.
• Pro users are able to export animations and walkthroughs as MOV (Mac) or AVI (Windows) files.
• Pro users get the Sandbox Tools (for organic modeling of terrain, etc) and the Film & Stage Tools (for pre-viz work).
• Pro users have access to free email tech support for two years after they buy SketchUp Pro.
• Finally, only SketchUp Pro is approved for commercial use; the Free version is licensed for personal use only.
Currently available only for Windows-based machines, a Mac version is in the works.

Read More

| Google SketchUp via Ars Technica
Posted by Jared Hislop Categories: Google, Internet, Rumors, Software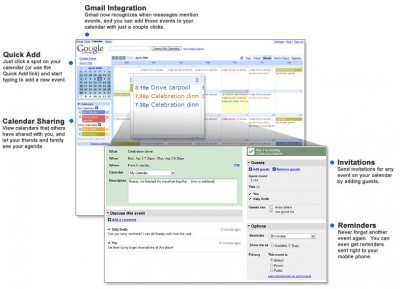 Google Calendar has gone beta to the public.
Simplify. Organize. (And relax.) Organizing your schedule shouldn't be a burden. That's why we've created Google Calendar – our free online shareable calendar service. With Google Calendar, it's easy to keep track of all your life's important events – birthdays, reunions, little league games, doctor's appointments – all in one place.
The feature set on this free service is quite impressive:
XML/ICAL feeds for public and private calendars.
Share your calendar
Auto-add invitations.
Notifications via email, SMS and Pop-up (No GTalk notification?).
Import iCal or CSV (MS Outlook).
Gmail Integration
Mobile access
Event publishing (share your organization's events with the world).
It was only a matter of time before Google added a calendar feature to their impressive list of services. The fact that you can share a RSS feed of your calendar with the public seems to have a lot of potential.

Read More

| Google Calendar
Posted by Jared Hislop Categories: Google, Internet, Misc. Tech, Science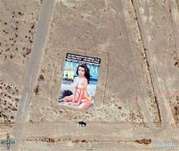 Users of Google Earth have yet another sweet Easter egg to scout out. In celebration of their 100th issue, Maxim has reproduced one of their magazine covers to the measure of 75 feet by 100 feet, featuring a scantily-clad Eva Longoria. The headline reads "The only magazine big enough to be seen from space—and only in Vegas!" This is one, um, big publicity stunt.

Read More

| CNET
Posted by Jared Hislop Categories: Corporate News, Google, Internet, Music, Rumors
Google is preparing to launch a music download service, according to research firm Caris & Company. It is rumored that Google has been meeting with leading music executives for "networking opportunities." The new site is expected to gain support from the music industry, as iTunes does not offer flexible pricing or a subscription service. Rumors were also confirmed at a recent analyst meeting where Google highlighted plans to expand into downloadable media.

Read More

| Forbes

Posted by Oscar M. Cantu Categories: Google, Internet, Rumors

"Pin All Your Romantic Hopes on Google" - That's right ladies and gents, Google wants to help you find that special someone (or at least, that regular someone) all for free. Finding your soul mate can be hard work, but everyone knows that Google can find anything you look for, so why not your soul mate? Best of all, searching is a very simple process:
What is Soulmate Search?
Here on the Google Romance team, we follow the philosophy "Don't be medieval," so we brought only the latest psychographic and search algorithms to bear on the problem of hooking up our users. First you fill out an extensive personal profile carefully designed by a team of both married and single Google engineers for the express purpose of gathering and analyzing romantic information. Then you fill out an equally obscure and elaborate profile describing various attributes of the person with whom you wish to spend the rest of your life and click 'Search Romance.' It's that simple.
What are you waiting for? Take the tour now! Remember to read the FAQs before committing to any life changing decisions.

Read More

| Google Romance
Posted by Jared Hislop Categories: Corporate News, Google, Internet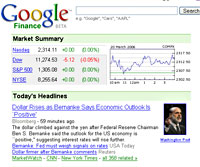 Google has introduced a new feature, Google Finance, which promises to provide up-to-the-minute quotes, financial news, charts, data, and groups. Once again Google, goes head to head with rival Yahoo!, and while Yahoo!'s finance portal offers a few things that Google Finance does not, the product is still in beta. Google Finance still lacks the polished look we have come to expect of Google's pages, but the information supplied there is formatted in a pleasant manner. Google does not plan on coming up with its own information about financial matters, rather opting to rely on sources such as Reuters, Hoovers, and Morningstar, to provide charts and data.

Read More

| Google Finance
Posted by John Goulden Categories: Cell Phones, Corporate News, Google, GPS, Portable Audio / Video, Transportation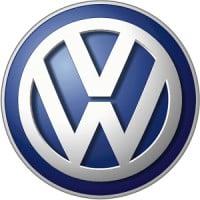 Convergence. It's been one of the holy grails of the electronics industry for quite some time. The idea is simple enough - empower one device to act as a central point of reference for multiple devices and/or incorporate those multiple devices into one mega unit that does it all. Depending on what portion of the industry you look at, the ideal concept of convergence might be a single point of control or reference, for multiple devices. By approaching convergence as a many-to-one scenario, it allows individuals to choose their own devices according to preference or need. Instead of being forced into using an all-in-one device that may not have all the features desired, a control device would simply make use of what devices the user has brought with him or her.
As a case in point, Volkswagen has been working on an automobile computer that takes devices such as the iPod and Treo, and provides a single point of control for them. The concept, named Gypsy, is a separate project from the in-car media center project that Microsoft and Volkswagen introduced at CeBIT. Volkswagen's Electronics Research Lab (ERL) is working with Google to utilize Google Earth as the mapping system of choice, and sees the system as being extensible through the use of widgets. C|Net has an interesting, if lightweight, video of the Gypsy product in action. It only scratches the surface of what is possible, but it brings to mind what will one day be possible. The roadblocks to successfully implement such a wide-reaching device are abundant, but given a common set of communication standards, and a lot of luck, we can hope for the best.

Read More

| C|Net
© Gear Live Inc. – User-posted content, unless source is quoted, is licensed under a Creative Commons Public Domain License. Gear Live graphics, logos, designs, page headers, button icons, videos, articles, blogs, forums, scripts and other service names are the trademarks of Gear Live Inc.