Posted by Yuan Zhao Categories: Apple, Corporate News, PC / Laptop, Portable Audio / Video, Rumors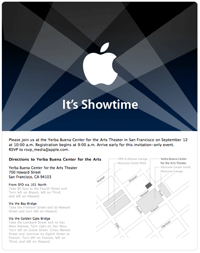 For days now, rumors about the new "Merom"-based Core 2 Duo MacBook Pros and iMac as well as the mysterious video iPod/iPhone have been making rounds on the Internet, in anticipation of an announced and unverified Apple release event. Unverified, that is, until now. The company has sent invitations to "select members of the media and others" to attend a "special event" on September 12, 10:00 AM Pacific Time in San Francisco, California.
While nothing is known about the nature of the event or what products will be released (for surely, Steve Jobs must have some new gadgets up his sleeves), it is a good bet that Core 2 Duo MacBook Pros will be exhibited, especially now that Dell and other PC manufacturers are already shipping laptops with the chip. A Core 2 Duo iMac was also expected, however those were just announced earlier today. Of course, let's not forget the possibility of full-length movie downloads available via the iTunes music store.
The event is to be held at the Yerba Buena Center for the Arts Theater.
Read More

| Macworld

Posted by Yuan Zhao Categories: Apple, PC / Laptop

Apple has just released three new advertisements to complement their already expansive and controversial lineup of Mac ads. With competition fierce in the computer market, especially now that Apple is utilizing the same hardware as PC manufacturers, any edge can prove vital for the Cupertino-based company. The three clips, entitled "Accident", "Angel/Devil", and "Trust Mac", continue the same trends established in previous ads by elevating Mac features and playing down PC's.
Read More

| Apple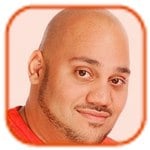 Posted by Andru Edwards Categories: Apple, Microsoft, PC / Laptop, Software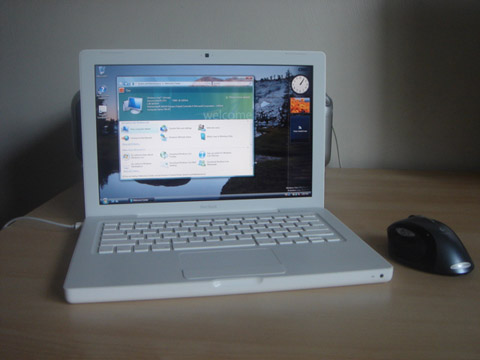 Finally it looks like Windows Vista will not only play nice with Boot Camp-enabled Macs, but it will do so while supporting all of the new Aero effects as well. According to a few, the new pre-RC1 build of Windows Vista, Build 5536, works on Intel-based Macs. The installation procedure is exactly the same as if you were installing Windows XP SP2, so it should roll along without a hitch. The only downside for now is that not all the drivers are Vista-capable, which means your iSight and Apple keyboard will not work until that issue is resolved. Still, this is the closest we have to full Vista support on the Mac. If only the Parallels guys would get it together a little quicker so that we can run Vista alongside OS X.
Read More

| Kerim's Blog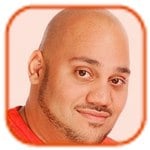 Posted by Andru Edwards Categories: Apple, Corporate News, PC / Laptop
Now, we bet a few Apple fanboys are going to be feeling a bit sheepish over this one. A couple of weeks back, Dell issued a sweeping recall of laptop batteries, garnering a few point-and-laughs from the non-PC using side of the fence. Of course, Dell was just acting responsibly here, as it is actually Sony who manufactures the faulty batteries for Dell. The thing is, they also manufacture the batteries for Apple, and thusly, Apple has issued a recall of 1.1 million iBook and PowerBook batteries. If you would rather not have your G4-based Apple portable burst into flames, you may want to click on over to the US Consumer Product Safety Commission page, detailing the recall.
(Thanks Veronica!)
Read More

| US Consumer Product Safety Commission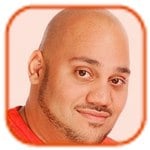 Posted by Andru Edwards Categories: Accessories, Apple, PC / Laptop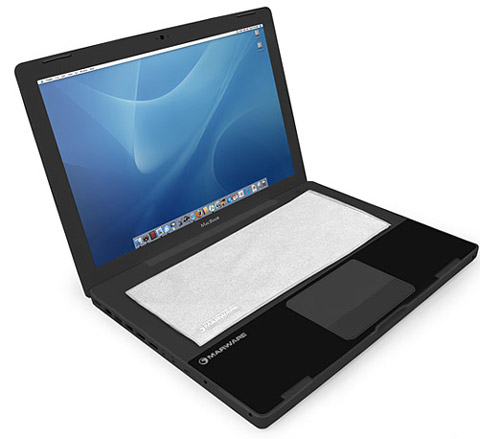 We have heard quite a few stories from many a Gear Live reader as it pertains to the Apple MacBook and how some discoloration starts to set in after a while (although previously, it was after a very short while.) Enter in the Marware Protection Pack, built for the MacBook. This is essentially an inexpensive two-piece approach to protecting your MacBook. One piece is a removable wrist rest that both protects the area that easily becomes discolored, and also gives you cushion under your wrists. The set also includes a keyboard cover that doubles as a screen protector and wiping cloth. We will be hitting you back with a full review soon, but for now, you can pick one up for $19.95 USD - they are available in both black and white colors to match whatever MacBook model you own.
Read More

| Marware Protection Pack Product Page

Posted by Yuan Zhao Categories: Apple, Corporate News

According to Macworld, Apple shareholders have filed a suit against the Cupertino-based company in light of the ongoing investigation concerning Apple's stock scandal. According to the suit, Steve Jobs and other executives changed their option-grant dates in order to "reap millions of dollars in unlawful profits." Recently, Nasdaq has put Apple on notice for not complying with the exchange's rules and is demanding that the company submit its latest financial report. If the company were to be taken off the stock exchange, stockholders would likely lose out. Until this latest development, Steve Jobs had not been implicated in the matter. We'll just have to watch how this one plays out.
Read More

| Macworld UK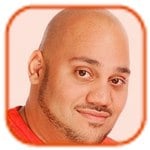 Posted by Andru Edwards Categories: Apple, PC / Laptop
It seems that Apple was pretty quick about shipping out those new Mac Pros like they promised, as unboxing images of the sexy product have already started popping up. One particular user on the MacRumors forum was even so kind as to post benchmarks along with his images. Truth be told, this is one fast machine. Anyone else out there pick one up yet?
Read More

| MacRumors Forums via Unboxing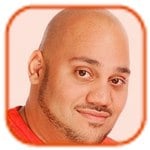 Posted by Andru Edwards Categories: Apple, Corporate News, Internet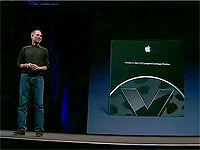 So, in case you weren't able to get into the WWDC, and were quickly refreshing your Apple website of choice for all the live-blogging coverage of the keynote, you can now sit back and enjoy the show. Apple has just made a downloadable video of the Steve Jobs keynote from earlier this morning available on the Apple website. Since it just became available, you might have a bit of trouble downloading it at first - but be diligent, as the features of Leopard are pretty cool, and that Mac Pro is super sexy.
Read More

| WWDC Keynote Video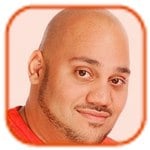 Posted by Andru Edwards Categories: Apple, Corporate News, PC / Laptop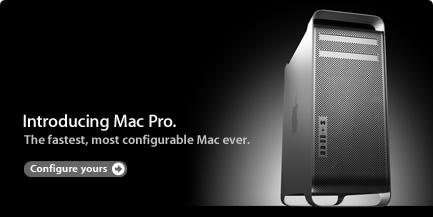 This morning at the WWDC, Apple introduced the new Mac Pro. The Mac Pro takes the place of the PowerMac, and completes the Apple transition from IBM to Intel (along with the new updated XServe boxes.) So, while it was obvious that these things would likely run Intel's new Woodcrest Xeons, Apple confirmed all that and more. The Xeons are 64-bit chips and will run at up to 3 GHz and have a 4 MB shared L2 cache, and a vector engine that is speedier than the Velocity engine. The Mac Pros will sport two Xeon processors, which Apple is affectionately calling the Xeon Quad. The machine now has four hard drive bays, supporting up to 2 TB of storage, along with what Apple says was the most requested feature - two optical drives. YOu can also expect FireFiew 800, front and back USB ports, and a slew of other options. Apple introduced a standard configuration, which features Dual 2.66 dual core Xeon processors, 1 GB DDR-667 RAM, 250 MB hard drive, 16x SuperDrive, and 256 MB nVidia GeForce 7300GT. The best thing here is the price - just $2499. While pricey at first glance, a similarly built Dell would cost about $1,000 more.
For those who can't wait, there is no need to. The Mac Pro ships today.
Posted by Dave White Categories: Accessories, Apple, Home Entertainment, Music, Peripherals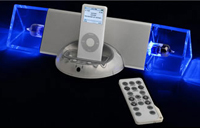 We see a laser light show in this device's future. It's the iBlueTube from Thanko, and it is an iPod dock that has two full-on vacuum tubes, one sticking out each side of what is an extended docking mechanism.
The middle part of the dock looks normal enough, with the iPod resting in a small circular dock populated with buttons and cord slots (including hookups for real speakers, and even viewscreens). Zoom back out again and you'll see a triangular backlighting system that lights up blue via the LED vacuum tubes.
The main appeal of this item seems to be the cool factor, although the speakers are said to pump out 12 watts of power, which is more than your average iPod dock. Plop one of these docks down on your mantel and have a few friends over, and you're sure to have some appreciative audience in no time flat. Of course, you'll pay for the privilege: The iBlueTube, which is scheduled for release in Japan sometime in the next few weeks, is projected to cost the equivalent of $566 USD.
Read More

| New Launches via Gizmodo
© Gear Live Inc. – User-posted content, unless source is quoted, is licensed under a Creative Commons Public Domain License. Gear Live graphics, logos, designs, page headers, button icons, videos, articles, blogs, forums, scripts and other service names are the trademarks of Gear Live Inc.