Find Our Latest Video Reviews on YouTube!
If you want to stay on top of all of our video reviews of the latest tech, be sure to check out and subscribe to the Gear Live YouTube channel, hosted by Andru Edwards! It's free!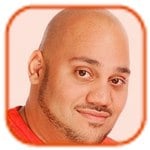 Posted by Andru Edwards Categories: Accessories, USB, Broadband, PC / Laptop, Peripherals, Wireless / WiFi,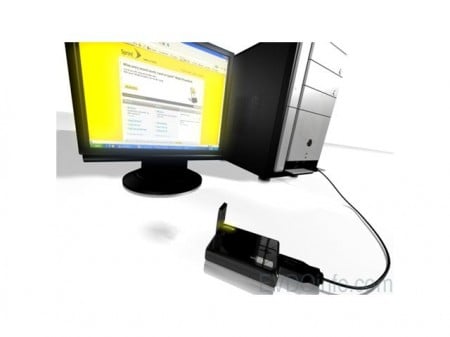 We have been waiting for months on end to hear about an EVDO solution for the new Intel Core Duo portable computers. Finally, word is making rounds that Novatel is going to be the first to market with the goods. First up is their USB 720 EVDO modem from Sprint, aimed at both Windows and Mac OS X users. Interesting to note here, you can either plug in the USB modem directly into your notebook's USB port, or you can connect it to a USB cord. The thought process here is that by placing the modem 12 inches away from your computer, you get less interference, and a signal that is increased by as much as 3 decibels - and it will perform better than embedded or card-style EVDO devices. What's more, the Sprint USB720 is a Rev. A EVDO device, so if you have a need for speed, this is the device you want.
We are going to keep an eye on this one. Expect it to hit the market in Fall 2006.

Read More

| EVDOInfo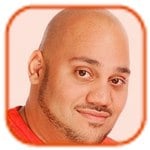 Posted by Andru Edwards Categories: Accessories, USB, Portable Audio / Video,

Toshiba has announced that they will bundle a cute fish shaped MP3 player with their new Dynabook CX notebook.' The device plays both MP3 and WMA files, but is currently unable to play WMA files with DRM.' Under the tail fin of the fish hides a USB 2.0 connector and the belly of the fish hides a LCD panel.' Also hidden under the belly of the fish are the play, pause, track skip, and volume controls.' This device sports 512MB of memory, and can double as a flash drive.' A lithium ion battery powers the fish, and recharges through the USB port.' Unfortunately this bundle is only available in Japan.' Although I don't think you could pay me enough money to be seen sporting the fish.

Read More

| NewLaunches
Posted by John Goulden Categories: Accessories, USB, Storage,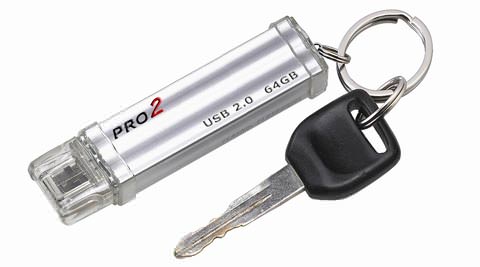 The largest flash drives available to the average consumer is 16GB in capacity and requires you to sell an arm to afford (MSRP $1,499). It seems as though BUSlink may have upped the ante as they have a 64GB USB flash drive clearly pictured on their website. To quote from BUSlink's website - "BUSLink was first to introduce the 8GB and 16GB flash drive to the world, now we're proud to introduce the first 32GB and 64GB flash drive ever." If it is for real, then be prepared to sell off your spare kidney to be able to afford one. Of course, it could also be that someone at BUSlink gets their jollies by watching the collective geek world drool in lust.
On a side note, you'd think they could find a nicer looking car key to attach to such an expensive flash drive.

Read More

| BUSlink via Engadget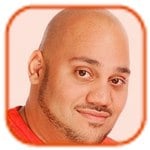 Posted by Andru Edwards Categories: Accessories, USB, Storage,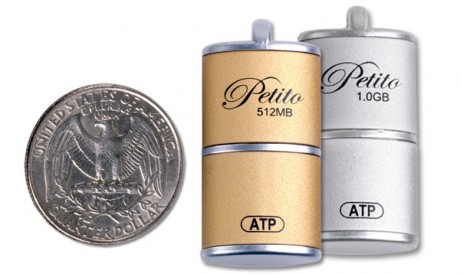 ATP is announcing their new USB 2.0 flash drive, which they are calling '.' The new drive is primarily designed for mobile professionals, but as we all know, these days everyone wants larger storage capacity in a smaller device. This is where Petito shines, featuring 30 MB per second transfer rate and storing up to 1 GB of data. The drive measures in at 1.65"x0.8" and weighs less than 8 grams, making it small enough to
lose
carry on a keychain without it being awkward. Petito is available in gold and silver colors, with dark blue and titanium coming in April. Storage capacity ranges from 256 MB to 1 GB. ATP will exhibit the Petito at CeBIT 2006 in Germany.

Read More

| Petito Product Page

Posted by Frank Bisono Categories: Accessories, USB, Cameras, Cell Phones, Portable Audio / Video, Storage, Video Games,
Big news coming out of Sandisk Headquarters today with three new announcements: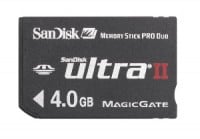 1) SanDisk Announces 4-Gigabyte Memory Stick Pro Duo Cards For Digital Photographers: - This is great news for both pro and pro-am photographers. We can never have enough memory and this little gem is going to provide plenty of room for those RAW images. As far as we can tell this card should also work on the Sony PSP. We are getting ever-so-close to that PSP being really functional with hard drive sized capacities approaching rapidly.
The Ultra II cards are primarily targeted to advanced digital photographers with high-resolution digital cameras that require fast, large-capacity digital film cards to quickly shoot many high resolution images. Each SanDisk Ultra II card features a minimum write speed of 9 megabytes per second (MB/sec.) and a minimum read speed of 10MB/sec. These fast write speeds are designed to take advantage of advanced digital camera features such as rapid fire, continuous-shooting modes or to capture digital video clips.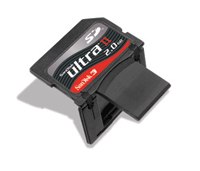 2) SanDisk Doubles Capacity of Innovative USB-Flash Memory Combo Card: Here's one for you mobloggers and camera phone freaks. Now you can get a tasty 2GB SD card for that Treo 650 of yours. This is one killer SD card. With the ability to fold in half and be inserted into any standard USB slot, we give this SD card mad props and high marks on the "gotta have it" scale.
The SanDisk Ultra II SD Plus line features write speeds of 9 megabytes (MB) per second and read speeds of 10MB/sec. The cards are targeted at enthusiast and prosumer-level digital photographers with 5 mega-pixel or higher resolution digital cameras that require significantly faster flash memory film cards. The faster cards allow photographers to shoot images in rapid sequence and minimize the lag time between shots.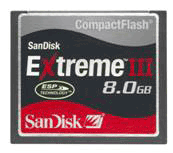 3) SanDisk Doubles Capacity Of Its SanDisk Extreme III Cards: Its Fastest Digital Film Cards For Professional Photographers - Rounding out the triple whammy is the killer announcement of them all. Doubling the previous 4GB capacity, Sandisk has introduced one wicked fast 8GB CF card that will be making it's way into every professional photographers gear bag that I know. This one is a killer folks.
SanDisk Extreme III CompactFlash and SD cards have minimum write and read speeds of 20 megabytes per second (MB/sec.) Memory Stick PRO Duo cards have minimum write and read speeds of 18 MB/sec. 2 The SanDisk Extreme III cards, which range in capacity between 1- and 8GB are among the world's fastest working cards in many of today's leading digital single lens reflex (SLR) cameras.
Not a bad day for Sandisk if we do say so ourselves. Now off we go to find that fourth job so we can pay for all this new memory our digital habbits are requiring these days.

Read More

| SanDisk Press Room

Posted by Frank Bisono Categories: Accessories, USB,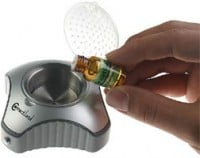 Ok, now this comes from the land of strange USB gadgetry, but this could actually be somewhat uselful. If you happen to work among some stanky peeps, or in a less-than-pleasant aromatic environment, this gadget is definitely for you. This little device has a 4cm hot tray where you can add your favorite oil-based scent. The aroma is supposedly spread evenly and comes with a convenient On/Off switch, with an LED indicator light. Additional features are a fire-free design with a see-through safety cover. Pretty nifty indeed. This little flatulance fighter retails for a mere $19 USD.

Read More

| USB Geek

Posted by Frank Bisono Categories: Accessories, USB, Design, Peripherals,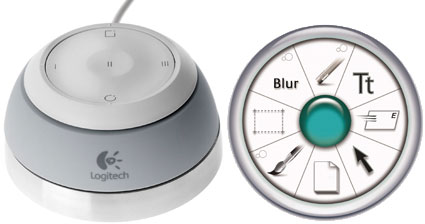 Holy gizmos Batman, Logitech has gone loopy. Check out this new designers tool:
Logitech (SWX: LOGN) (NASDAQ: LOGI) and Adobe Systems Incorporated (NASDAQ: ADBE) today announced the results of a collaboration to provide creative professionals and design enthusiasts new levels of control when using Adobe® Creative Suite 2 (CS2) and standalone CS2 applications: the NuLOOQ™ Professional Series. The new Logitech product line comprises the NuLOOQ navigator™, an innovative device used in conjunction with a mouse and a keyboard to manipulate images and documents, and the NuLOOQ tooldial™, customizable on-demand interface software that provides quick access to design tools. Both are designed for use with the Mac® versions of Adobe Creative Suite 2, Adobe Illustrator® CS2, Adobe InDesign® CS2, and Adobe Photoshop® CS2.
So here's the breakdown. Think of this as the Adobe super-gizmo. I'm not really sure what the heck Logitech is thinking here, but they have some good intentions. Most of us that are designers already use a mouse/trackball, keyboard and a tablet. So to add yet another tool to the arsenal seems like a bit of overkill, but I can see what they are trying to accomplish. Similar to how there are devices for video editors, this would be akin to a Countour Shuttle Pro (used by video peeps), but for designers. This is essentially a 2-part device. You have the actual hardware piece which can be used on it's own, but it also works with software that is specifically designed for use with the Adobe CS2 Suite of apps. NuLOOQ tooldial software is completely customizable and configuration is pretty straight-forward. My only concern is that it will be a bit overwhelming for most people. If you have been used to doing things by using the toolbars and menus and keyboard shortcut's, this device may actually slow you down, which defeats it's purpose. Hard to really say without testing one out in a production environment for a while.
The NuLOOQ Professional Series (which is the harware and software package) has a suggested retail price in the U.S. of $149.99 and will be sold beginning in March. The NuLOOQ tooldial can be purchased separately online for a suggested retail price of $49.99. A 30-day free trial is also available for download at the NuLOOQ Web site.

Read More

| Logitech
Posted by John Goulden Categories: Accessories, USB, Household,
Of all the stupid
great ideas out there, the USB Air Purifier is one of the latest. One more USB device isn't going to kill your computer, but it might help clean the air around it. There's no mention of how it cleans the air, but since there's not much room for a filter, we can surmise that it operates as an ionic model. If that's the case, in exchange for supposedly cleaner air, your little air purifier will be sitting on your desk happily churning ozone into your immediate vicinity. Excess ozone is bad for you, but whatever it's method of air purification, we can all use cleaner air, and for a small area this tiny critter just might do the trick. Priced around $27 USD.

Read More

| Product Page
Posted by John Goulden Categories: Peripherals, USB,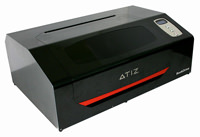 So you have this burning desire to commit every one of your hundreds of books into electronic form? Instead of wasting the better part of your life scanning the books one page at a time, or practically destroying them in order to accomplish the task faster, turn your sights to the Atiz BookDrive Book Scanner. The $35K scanner will automatically turn the pages of the inserted book and scan in whatever you request of it. Need to quickly plagerize a few pages for that school project you have coming up? Pop in the desired book, tell it how many pages you want scanned and away it goes.
Obviously the intended market for this scanner isn't your average home user. Government institutions, libraries and schools are the intended recipients, and the BookDrive should help save countless hours of tedious work. Other book scanners exist on the market, but one of the main selling points of the BookDrive is that it's portable. Rather than drag a huge pile of heavy books to a stationary book scanner, tote the scanner to the books.
Posted by John Goulden Categories: Accessories, USB, Peripherals,
Flash memory USB drives are a dime a dozen these days, at least until you start getting into sizes larger then 2GB. Once past that "magical" barrier, the price escalates enormously due to manufacturing costs for such dense flash memory. Hard drives, even very small ones, are typically lower in cost per megabyte than their flash-based cousins. Therefore we can postulate that Elecom is trying to capitalize on that cost savings with their newest product - the MF-DU204G. The MF-DU204G is a USB memory stick with a hard drive instead of flash memory. With a size of 68x30x13mm at 44 grams in weight it's not as small as a flash-based drive, but extremely tiny for a disk-based model. Software is included to password protect the drive in case it should fall into the wrong hands, and should it fall (literally) the durability of the drive is certainly questionable. The nice thing about flash memory is that it almost thrives on abuse, whereas hard drives do not.
No word yet on pricing or availability but we can presume that the price will be below a flash drive with an equivalent capacity or Elecom's new product has zero advantage going for it.
Read More

| Elecom (jp) via Akihabara News
© Gear Live Inc. – User-posted content, unless source is quoted, is licensed under a Creative Commons Public Domain License. Gear Live graphics, logos, designs, page headers, button icons, videos, articles, blogs, forums, scripts and other service names are the trademarks of Gear Live Inc.