Find Our Latest Video Reviews on YouTube!
If you want to stay on top of all of our video reviews of the latest tech, be sure to check out and subscribe to the Gear Live YouTube channel, hosted by Andru Edwards! It's free!

Posted by Frank Bisono Categories: Wearables, Internet, Transportation,
In the spirit of all things gadget related, we thought this would qualify as something you would want to see. This Evil Knievel Female just happened to have her video camera running when Mr. Fast and Furious wannabe decided to get sideways in front of her. Needless to say, she didn't have much room to maneuver and here's the result. A quick warning - we don't recommend you try this at home kiddies, it could leave a mark or two if you know what we mean. At least she was sportin' some leather and a helmet for the ultimate in safety gadgetry. You go girl…
Posted by John Goulden Categories: Misc. Tech, Transportation,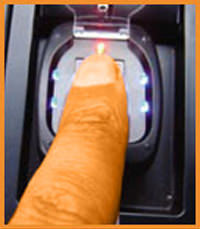 Biometrics do have their disadvantages, but the technology is undeniably cool. Automotive Technology Research and Development (ATRD) has brought biometrics into your car as an aftermarket option to help deter vehicle theft with the Biometric Immobiliser. The premise is simple enough - you have a fingerprint reader that is placed in an easily accessible location and positive identification of your finger is required before the car can be started. The brains of the Immobiliser are in a steel enclosure designed to be hidden away within the car, and the unit is capable of working as a stand-alone device or in conjunction with an existing alarm system.

Read More

| ATRD via Coolest Gadgets
Posted by John Goulden Categories: Design, Transportation,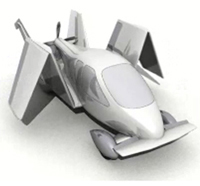 Flying cars aren't exactly science fiction, but they certainly aren't something you see every day either. While there have been many attempts, and many failures, some concepts have had rudimentary success at least in function if not in sales (Moller SkyCar as an example). A start-up company called Terrafugia is determined to create a flying car that is street legal, flyable as a light sport craft, has practical value, and is marketable to a wide audience. Known as the Transition, the car currently only exists on paper and in the minds of it's designers, but is slated to be available in prototype form by 2008. With heavy backing from MIT, Terrafugia appears to be aware of the pitfalls associated with the concept of flying cars, and plans on marketing the Transition by telling prospective buyers both the pros and cons.
With the need for a sport pilot license and an estimated street price of $148,000 the Transition won't be for everyone, but may open the doors to future concepts that are.

Read More

| Terrafugia via C|Net

Posted by Frank Bisono Categories: Apple, Mods / Hacks, PC / Laptop, Transportation,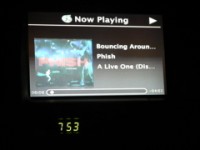 No, that's not a go-kart sized version of the Prius, it's a Mac mini running through the on-board display of a Toyota Prius! Nice hack by a post from a member of the MacVroom forums. Dr. FrankenMac has almost brought this beast to life, but still has a few bugs to iron out…
So my goal was to get a mac working on my Prius's MFD display, and be able to use it's touch screen to control the front end (currently Front Row)

I don't have audio hooked up, figured the video would be the hardest part.

I'm going through a Can-View which normally is just used for display the car's CAN data http://hybridinterfaces.ca/, but has RGB+S in and outputs the MFD's touchscreen through a serial cable.

I tried using SwitchResX to output the 640x480 at 15.75khz with no luck (got it working with powerstrip on a pc) Ended up buying a used scan converter off of ebay that outputs RGB+S.

Wrote a perl script to listen to the serial port (keyspan USB->serial converter) and sends Front Row commands through apple script. Broke the screen up into a 3x3 grid (9 boxes) Up, Down, Left, Right, center for enter/play/pause, and left top for menu/escape.

Here is what I have so far. This is just the prototype phase. I need to figure out audio, and then I'll actually get a mac mini and try to hide all the components.
You can check out some of the images on his website. For the full scoop, check out the post on MacVroom.com.

Read More

| MacVroom.com

Posted by Frank Bisono Categories: Accessories, Transportation,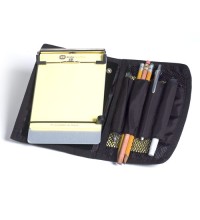 For you fellow pilots reading Gearlive, here's a treat for you. If you fly some of the lighter, single-engine bad boys, they can get pretty cramped in there. If cockpit space is at a premium, sometimes using the standard knee-board just tends to get in the way. Zuluworks has come up with with their miniZ kneeboard as a solution to our problems.
Made out of the same high-quality materials and superb craftsmanship as our regular boards, the Economy Mini-Z comes with no Zulucards and a blank flight pad. Standard model adds Five Mini Zulucards and 3 in 1 flight pad

* Repositioning clipboard system
* Rugged ballistic or stylish waxed canvas exterior
* Durable anodized aluminum back plate
* Clean, low profile clip aluminum clipboard
* Organizer post keep everything on your lap
* 50 sheet blank flight pad
* Breeze cheater strap keeps papers flat
* Multiple pen pockets
* Ventilated elastic knee strap
* Stable 4-point knee strap mounting
* Replaceable knee strap

DIMENSIONS

Closed: 5.5" x 7.5" x 1.25"
Open: 11.25" x 7.5"
Clipboard: 4" x 5.9"

Read More

| Flight Essentials

Posted by Frank Bisono Categories: Internet, Transportation,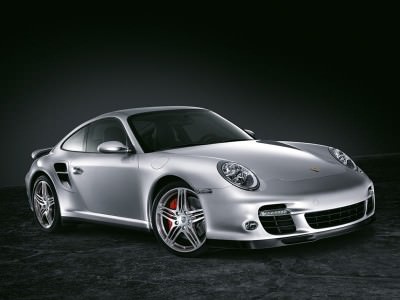 Yeah, we know…you have all the coin from that big IPO just laying around doing nothing but burning a hole in your pocket. But damnit, the Porsche site sucked so you just refused to buy a new 911 based on principle. Well fret not my wealthy technorati gurus, Porsche has a smokin hot new site, "the Masterwerk", just for your viewing (and drooling) pleasure. It is quite a symphony of technology, detailed information, and visual seduction. Whatever you do, do not forget to check out the gallery, the new pics are most excellent, large and quite tasty for that big honkin monitor sitting on your desk.

Read More

| Porsche
Posted by John Goulden Categories: Design, Transportation,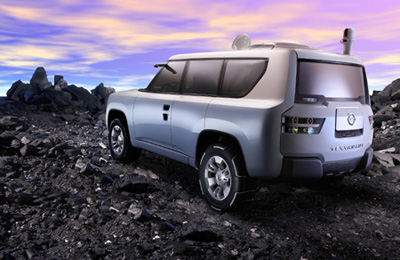 When you absolutely, positively have to take the laboratory with you, then the Nissan Terranaut is the way to go. Okay, it's the way to go, if you want to go in style. Nissan recently unveiled the SUV and aimed it squarely at scientists, explorers, and the true geeks at heart. Despite it's size, the Terranaut only seats three people because of the center seat which swivels 360 degrees into a lab/communications center which can only be described as something out of Star Trek. Only a concept vehicle for now, and given it's limited target market, not likely to ever reach production. Still - we can dream.

Read More

| Transport Trends

Posted by Frank Bisono Categories: Transportation,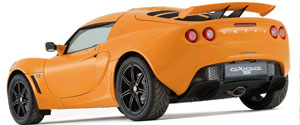 On Friday Lotus announced the new 2007 Lotus Exige S, the newest addition to their line of bad-to-the-bone overpriced go-karts. This is one sweet looking ride folks. With a 0-60mph time clocking in at 4.1 seconds, it makes this the fastest production Lotus to date. Fuel economy is an impressive and respectable 31mpg City / 39.2mpg on the highway. For those of you in the UK, pricing is expected to chime in at £33,995. For those of us in America, we will have to watch with envy as our friends across the pond enjoy the priviledge of ownership - this puppy will NOT be available in the US as of this writing. More details and pics await at Leftlane News.

Read More

| Leftlane News

Posted by Frank Bisono Categories: GPS, Transportation,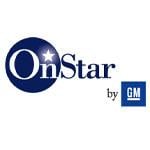 GM announced an upgraded feature for their OnStar service yesterday at the Chicago Auto Show. OnStar has been around for over a decade and is actually a pretty decent service for those folks who own a GM vehicle. You can do everything from gett live, real-time directions, make restaurant reservations and even have your email read to you all via a live operator. OnStar is now looking to make that process simpler by allowing you to download the information to your vehicle. How they plan to accomplish this is not entirely clear though.
"With some software changes in our module, and without a screen in the vehicle, the OnStar advisor can download the information to the system in your car," said OnStar president Chet Huber. "As you drive and approach the next turn, the radio will mute and the driving instructions come on to tell you to turn right or left"
We say any upgrade to this service is a good thing. If you have a GM vehicle and haven't used the OnStar features lately, you should get re-acquainted.
Read More

| Information Week

Posted by Frank Bisono Categories: Portable Audio / Video, Transportation,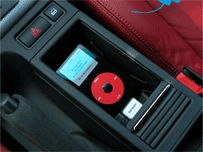 I've been in the market for a new car for some time now and I have pretty much narrowed it down to the 2006 BMW 330i. The decision hasn't been easy as the Lexus IS 350 gave BMW some stiff competition, but that review is for another time. In my quest for some new wheels, there have been some absolutely essential features that I have to have. One of them is the ability to integrate the iPod into my cockpit fairly seamlessly. Up until now, the Harmon Kardon Drive+Play has led the quest with their slick integration with just about any vehicle. One thing is still bugging me though, I hate the idea of installing yet another gizmo with a screen and control knob, and something so visible that makes it tempting for those nefarious types to do a smash and grab on my new ride.
DICE Electronics has a nifty solution to my woes. There's not a whole lot of info available, but from what I can see, their iPod Integration Kit just might be what I'm looking for. According to DICE:
Our hard-wired kit connects right to the cd changer port usually found on the back of your factory radio. The DICE module transfers information between the iPod and radio through a dock cable or dock cradle.
BMW is one of the many vehicles listed as being compatible with the iPod Integration Kit. My biggest question is, does that mean it actually interfaces and works through the BMW iDrive system? Could this be the device all of us have been waiting for? I dunno…sure would be nice to test one and put it head to head against Harmon Kardon. If we manage to hook up a head to head test, we'll be the first to let you know, otherwise, I may just have to make a blind decision and hope for the best. Either way, looks like there are more options than ever for us iPod touting technorati.
© Gear Live Inc. – User-posted content, unless source is quoted, is licensed under a Creative Commons Public Domain License. Gear Live graphics, logos, designs, page headers, button icons, videos, articles, blogs, forums, scripts and other service names are the trademarks of Gear Live Inc.