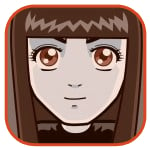 Posted by Sheila Franklin Categories: Transportation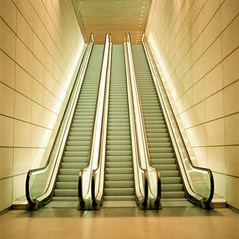 You will never have to wear velcro tennies again when you shop at the mall. Mitsubishi Electric has improved upon the standard escalator and designed a new Series Z with balustrade lighting and LED indicators. The escalator is said to be "safer through superior design improvements" with its use of a screwless inner deck and comb-shaped exit ramp. What's more, it will issue an "audible warning" when it automatically detects you leaning over the railing or getting close to being caught up in its tracks. The Series Z will be available later this month for ¥1,660,000 (~$13,881.)
Read More

| Mitsubishi Tech-On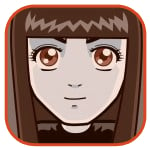 Posted by Sheila Franklin Categories: Movies, Music, Portable Audio / Video, Transportation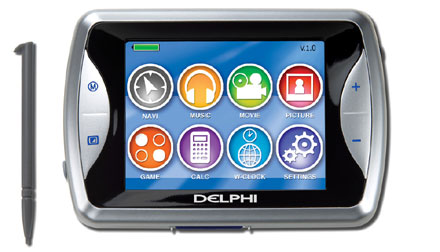 You thought you were confused. Take a look at Delphi's NAV200. This portable navigation system not only finds your nearest Taco Bell, it also houses a PMP. Just pop it onto your windshield or dashboard, and the pre-loaded NAV is good to go. Once your route is set, built-in speakers provide you with voice-guided directions. Features include a touch screen based on MSN's Windows CE, a 400mHZ processor, a SIRFstart III GPS chipset antenna, a NAVTEQ mapping database, and a DVD backup for its 1.5GB SD card.
Utilize the 3.5-inch LCD screen to watch a movie through AVI, view JPG, GIF, and PNG images, or listen to WAVs or MP3 tunes with the built in rechargeable
3-hour battery. The NAV200 also features games, a world clock, and calculator. Optional is TMC (Traffic Monitoring Channel) programming, a subscription service that provides traffic info via radio stations. NAV200 is due for release in October at retail outlets or preorder at Delphi for $349.
Read More

| Delphi NAV200 Product Page via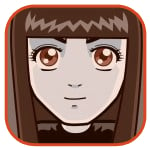 Posted by Sheila Franklin Categories: HDTV, Movies, Music, Portable Audio / Video, Transportation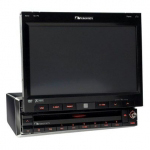 We have more news from Berlin's IFA. Nakamichi introduces the IN-DV7, a DVD/TV/Tuner that they claim will "revolutionize your in-car entertainment experience". The IN-DV7 has a 7", 16:9 Wide-screen as well as a built in 4-channel MOSFET amp.
Other features include:
Active Matrix LCD Panel
Full Automatic Motorized TFT LCD Flip-out/up
Touch Screen Control
DVD-R/RW, CD-R/RW compatible
VCD, SVCD, DVD media Formats
MP3 Direct track Access
60 Sec ESP
At an MSRP of $1699, the IN-DV7 could be the perfect solution to those long LA freeway commutes, but couldn't they just have named it Fred?
Posted by Brian Viele Categories: Accessories, Cell Phones, Household, Peripherals, Transportation, Wireless / WiFi, Gizmatic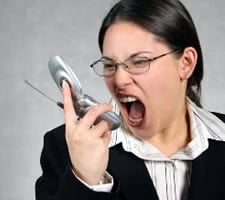 In today's world, land line phones are becoming ancient technology. More and more customers are leaving phone line systems for VoIP systems, while others, myself included, operate solely through their cellular service. It never ceases to amaze me, however, that the quality of cellular service at home leaves something to be desired. I have moved three times in the past two years, and haven't been able to average more than a 2-bar signal in any of my homes. Excessive dropped calls, poor reception and sound quality, and the especially hated voice mail notice from calls that never rang. Sound familiar? Well it may be time to invest in an amplification system to boost cellular signal while around the house.
The setup is simple, intuitive, and available for purchase from several manufacturers. It consists of a pair of antennas, one high gain and one low gain, and an amplification system. The system works best if the large gain antenna is mounted outside of the house, but it is not necessary. The system improves your service by relaying the signals from the high gain antenna, through the amplifier, through a smaller antenna mounted somewhere inside the home and out to your cellphone . Transmitting works in the reverse fashion starting from the cell phone, to the small antenna, then through the amplifier and out the large antenna to the service tower. The benefits to be gained here are two fold. First, the antenna that communicates directly with the tower will have a much stronger response (higher gain) to the signals, both in and out, than the cell phone because of its sheer size. Secondly, the signal is being amplified again through an in-line amplifier. The result is a serious increase in local signal to your cell phone resulting in better battery life, fewer dropped and missed calls, and just plain better quality service. This type of setup is not limited to the home either. There are also systems available for installation in your vehicle which operate on the same principle.
Popular Science has a full length article describing these setups and even points out some manufacturers and models of devices available today.
Images:
Home Configuration
Automotive Configuration
Read More

| Popular Science

Posted by Brian Viele Categories: Design, Mods / Hacks, Science, Transportation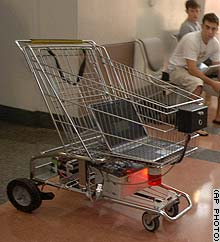 Cart filled parking lots may soon be a sight of the past. A new smart cart created by a college student with all sorts of gadgets called "B.O.S.S" - which stands for "Battery Operated Smart Servant" - actually follows the shopper around the store, avoids obstacles, and most importantly, it can be made to return itself! While that sounds cool and all, we will certainly miss the days of the teenage part-timer running around parking lots to collect stray carts in the rain.
Read More

| CNN

Posted by Yuan Zhao Categories: Misc. Tech, Transportation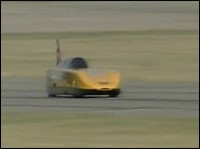 A car - though it looks more like a wingless plane - built by JCB Dieselmax has shattered the previous diesel engine land speed record of 236 mph (380km/h). The vehicle definitely did it's thing, reaching an average speed of 328.767 mph (529 km/h) during two runs in Utah, USA. The Federation Internationale de l'Automobile confirmed the tests on Tuesday, and an attempt to surpass the new record will be made on Wednesday.
Read More

| BBC News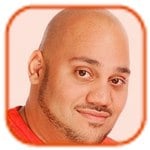 Posted by Andru Edwards Categories: GPS, Transportation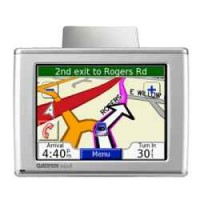 Hinging on what must be a successful nuvi 360 launch, Garmin looks to be gearing up for the holiday release of the nuvi 660. The 660 just received FCC approval, which gives Garmin the go-ahead to start pumping these things out. Some of the new features cited for this one include a 4.3-inch display, GTM20 and GTM21 functionality (to help with driving during heavy traffic periods), and a super-cool FM transmitter. If strong enough, imagine the ability to broadcast your directions to another car that is traveling with you to the same destination. While cool, we somehow don't think that this is the intention. Still, we think we will see this one hit retail sometime this November.
Read More

| MobileWhack

Posted by Dave White Categories: Science, Transportation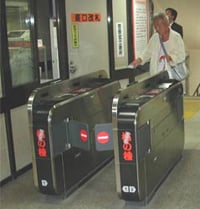 If only there were a way to harness the electricity of the people just walking down the street ...
Researchers in Japan are working on that one, and they might have hit on the answer. Specifically, it's scientists at the East Japan Railway Company, and they're testing the development of a ticket gate that would generate electricity from each person who walks through. That's potentially thousands or even tens of thousands of people each day, and even a small amount of electricity generated by each of these people would be enough to power the station for perhaps the entire day.
The technology involved is piezoelectricity, the same kind of energy used in quartz clocks and computers, which use frequency multipliers to reach the megahertz range. The scientists actually have a device in place, at the railway company's head office in Shibuya; and they are testing it for a week or so. The machine embedded in the gate generates a small amount of electricity each time someone walks through. Assuming that tests are successful and the company can justify the installation cost in eventual savings, piezo-powered gates will begin appearing in train stations sometime later this year.
Read More

| Orgismo via TreeHugger
Posted by Dave White Categories: Accessories, Transportation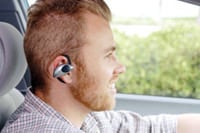 Now here's something we can really get behind. It's a device that will wake you up when you start to fall asleep at the wheel. Insurance companies will love this one, we predict.
It's the Drive Alert Master, and it looks like a Bluetooth headset but is so not for talking on the phone. Rather, it keeps a virtual eye on your head, looking for clues to your level of drowsiness. If your head tilts downward a certain number of degrees (as in when you're drowsy and you do the dunking flamingo maneuver), the headset beeps loudly right in your ear. You can program the number of degrees of tilt to allow, from 15 to 30.
The manufacturers say it doesn't slurp up the battery power very fast, and they certainly have priced it to ship. You can get one for just $14.99 USD.
Read More

| SmartHome

Posted by Dave White Categories: Science, Transportation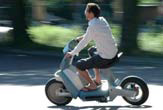 So we have hybrid cars now. Why not hybrid scooters? That's the question that a Dutch student asked and then answered himself in designing the Fhybrid, which runs ons an electric motor powered by a lithium ion battery that can get its juice from a tank of hydrogen. The student, Crijn Bouman of Delft University of Technology, actually has a prototype, which you can see him riding in the photo at right.
The scooter is front-wheel drive, so that when you brake, the machine can take that energy and plug it back into the battery. The current distance capability is 124 miles. That's a lot of trips back and forth to the market.
Oh, yes, Bouman's top speed is 40 mph.
As of now, the scooter is just a prototype, wich a simulated fuel cell to recharge the battery. Hydrogen production is still costly to depend on as a viable fuel source. But a guy can dream, can't he?
Read More

| LiveScience

© Gear Live Inc. – User-posted content, unless source is quoted, is licensed under a Creative Commons Public Domain License. Gear Live graphics, logos, designs, page headers, button icons, videos, articles, blogs, forums, scripts and other service names are the trademarks of Gear Live Inc.