Posted by Dave White Categories: Science, Transportation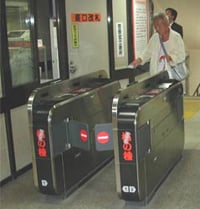 If only there were a way to harness the electricity of the people just walking down the street ...
Researchers in Japan are working on that one, and they might have hit on the answer. Specifically, it's scientists at the East Japan Railway Company, and they're testing the development of a ticket gate that would generate electricity from each person who walks through. That's potentially thousands or even tens of thousands of people each day, and even a small amount of electricity generated by each of these people would be enough to power the station for perhaps the entire day.
The technology involved is piezoelectricity, the same kind of energy used in quartz clocks and computers, which use frequency multipliers to reach the megahertz range. The scientists actually have a device in place, at the railway company's head office in Shibuya; and they are testing it for a week or so. The machine embedded in the gate generates a small amount of electricity each time someone walks through. Assuming that tests are successful and the company can justify the installation cost in eventual savings, piezo-powered gates will begin appearing in train stations sometime later this year.
Read More

| Orgismo via TreeHugger
Posted by Dave White Categories: Accessories, Transportation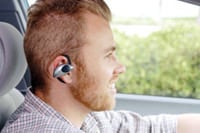 Now here's something we can really get behind. It's a device that will wake you up when you start to fall asleep at the wheel. Insurance companies will love this one, we predict.
It's the Drive Alert Master, and it looks like a Bluetooth headset but is so not for talking on the phone. Rather, it keeps a virtual eye on your head, looking for clues to your level of drowsiness. If your head tilts downward a certain number of degrees (as in when you're drowsy and you do the dunking flamingo maneuver), the headset beeps loudly right in your ear. You can program the number of degrees of tilt to allow, from 15 to 30.
The manufacturers say it doesn't slurp up the battery power very fast, and they certainly have priced it to ship. You can get one for just $14.99 USD.
Read More

| SmartHome

Posted by Dave White Categories: Science, Transportation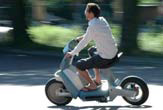 So we have hybrid cars now. Why not hybrid scooters? That's the question that a Dutch student asked and then answered himself in designing the Fhybrid, which runs ons an electric motor powered by a lithium ion battery that can get its juice from a tank of hydrogen. The student, Crijn Bouman of Delft University of Technology, actually has a prototype, which you can see him riding in the photo at right.
The scooter is front-wheel drive, so that when you brake, the machine can take that energy and plug it back into the battery. The current distance capability is 124 miles. That's a lot of trips back and forth to the market.
Oh, yes, Bouman's top speed is 40 mph.
As of now, the scooter is just a prototype, wich a simulated fuel cell to recharge the battery. Hydrogen production is still costly to depend on as a viable fuel source. But a guy can dream, can't he?
Read More

| LiveScience

Posted by Dave White Categories: Misc. Tech, Science, Transportation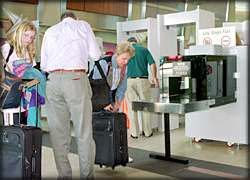 Just when you thought you were caught up on airport security comes a report out of the U.K. of a sniffing dog so small you can't see him with your own eyes. Actually, it's not a dog at all. It's more like a gadget. Okay, it's a nano sensor that is being developed by a team of scientists at the University of Wales. They're just calling it a "nanodog" because of what it does: It "sniffs" for explosives at a level that a live dog can't match, one part per trillion. That renders useless even the most clever bomb-hiding methods and devices.
Read More

| icWales via Engadget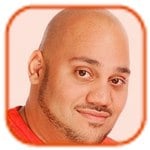 Posted by Andru Edwards Categories: GPS, Portable Audio / Video, Transportation, Wireless / WiFi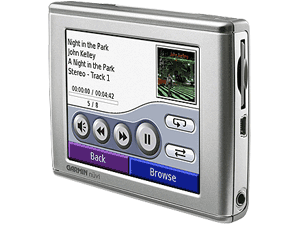 For those out there that have to push it to the extreme just a bit, the Garmin Nuvi 360 GPS device is right up your alley. Rather than opting to be a great GPS unit, the Nuvi 360 also plays MP3s and audio books, and also includes a language converter, picture viewer, world clock, currency converter, anti-theft lock, and has built-in Bluetooth. Oh, and of course, it has maps that will guide you all through the USA, Canada, Puerto Rico, as well as a couple other places in North America. Add to that a super thin form factor, coming in at 3.8 by 2.0 by 0.8 inches and weighing just 5.1 ounces, and it seems we have a winner here. I mean, the touch screen is cool, and SD card support is great for a couple of the add-on features too…but the price - ouch. The Garmin Nuvi 360 sells for a staggering $965 USD, although you can find it cheaper, but not by much. If you have nine hundred bucks laying around, or are looking for what may be the ultimate in portable gear, check out the Nuvi 360.
Read More

| Nuvi 360 Product page

Posted by James DeRuvo Categories: Accessories, Design, Misc. Tech, Transportation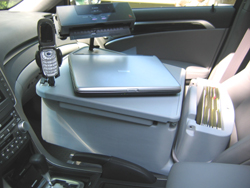 With utilities like a cellphone, Wireless Broadband, GotoMyPC, and a laptop, is it now part of the business plan to spend rush hour on the clock? Well, now with the CarGoDesk, drivers stuck in traffic can boot up that laptop and get to work.
Specs include a large lockable compartment for the laptop, a secondary storage area for necessary files, a non-skid hinged desktop, and several attachment points for cell phone, PDA, etc. The CarGoDesk fits in the passenger seat and is secured with the seatbelt. It's dimensions are 26.87" L X 16"W X 10.66"T and it weighs 13.7 lbs. empty - but don't worry, it's wheels prevent having to lug it around.
Production begins summer 2006.
Read More

| CarGoDesk Product Page

Posted by Nino Marchetti Categories: Transportation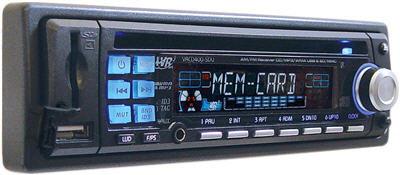 Roadmaster, a maker of in-care entertainment gear, has a new car stereo out today which is priced at $139 and lets one plug a variety of portable audio devices into it for over the car speaker stereo enjoyment. The new VR3 Car Stereo VRCD400SDU is now available.
The VR3 Car Stereo VRCD400SDU sports a SD card slot, USB port and auxiliary audio input port to handle music played from sources like iPods, MP3 players, portable DVD and CD players and more. It also comes with a remote control.
Other features of this car stereo include ID3 tag display support for showing MP3 music information on the stereo's display, 180 watts of total maximum power (4 x 45 watts), 4 x 21 watt RMS, an AM/FM tuner and detachable faceplate.
Read More

| Roadmaster Product Page

Posted by Nino Marchetti Categories: Accessories, GPS, Transportation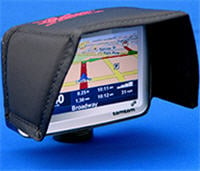 Has after-market GPS device glare got you down? I've definitely found it to be annoying in the past myself. This may solve the glare problem for some: GlareStomper Visors.
Originally designed for Tomtom Go GPS units, the Corona, California based company which makes the GlareStompers announced they've expanded the product line up to encompass GPS devices from Garmin, Magellan, Navman and Sony. This is in addition to now covering every Tomtom device on the market.
The GlareStomper Visors, which are flexible, reportedly block out ambient light which can wash out GPS displays. Sunlight is prevented from striking both the tops and sides of the unit. They are made of black Cordura nylon and priced at under $20 each.
Read More

| GlareStomper Visors Product Page

Posted by John Goulden Categories: Transportation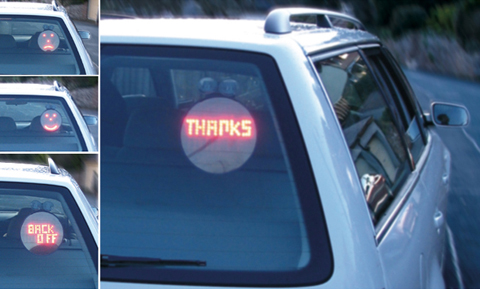 When you drive, regardless of how patient and understanding you are, there are times when other drivers annoy the heck out of you. Stopping short of suggestive hand motions and screaming out an open window, there's not a lot you can do to express your displeasure with their driving habits . . . until now. The Driv-emocion is a remote-controlled display that attaches to an available window via suction cups. Battery powered, the Driv-emocion can display your choice of four different messages - a smiley, a frown, "back off", and "thanks".
My driving habits make the Driv-emocion rather useless for my own use as it's a bit too limited in its, ummm, "vocabulary". For the rest of you, the Driv-emocion can be had for approximately $16 USD.
Read More

| AU-MY via Coolest Gadgets
Posted by John Goulden Categories: Transportation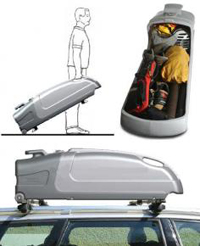 So you've come to the point where you recognize you have a dillema. You went with a smaller car for the fuel savings benefit, but have come to realize that it really doesn't hold very much in the way of cargo. In fact, by the time your and your golfing buddy cram into it, your clubs are more of an afterthought. About your only option, short of getting a bigger vehicle, is some kind of external storage container. Sadly, most cargo carriers look like throwbacks to the Styrofoam hamburger boxes from fast food joints of yesteryear, but not the Gear Tick.
The Gear Tick is brought to you by the crew over at Coil, Inc. on a mission to save you from aesthetic suicide, while simultaneously providing room for all sorts of gear. Unlike a standard cargo carrier, the Gear Tick doesn't require a master's degree in engineering to attach it to your vehicle, nor does it take forever for said process. Rather, it makes use of the roof rack you may already have, and requires less than ten seconds to attach or detach. Yeah, you read that correctly - ten seconds.
At 51" long x 15.5" wide x 15.5" tall it's quite roomy, but is nicely streamlined so that its additional bulk doesn't clobber your fuel mileage. Did we mention sturdy? The Gear Tick is born from the same material kayaks are made of and it should withstand the rigors of daily travel with ease.
The Gear Tick can be yours for $299 from the manufacturer's website.
Read More

| Coil, Inc. via Gizmag
© Gear Live Inc. – User-posted content, unless source is quoted, is licensed under a Creative Commons Public Domain License. Gear Live graphics, logos, designs, page headers, button icons, videos, articles, blogs, forums, scripts and other service names are the trademarks of Gear Live Inc.