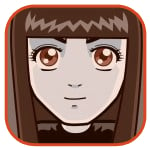 Posted by Sheila Franklin Categories: CES, CES 2007, Misc. Tech, Science, Toys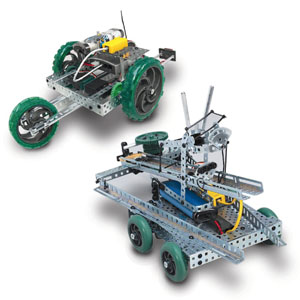 Ignition has been awarded a CES Best of Innovations with its erector set-like Vex Robotics Kit. Developed in cooperation with First (For Inspiration and Recognition of Science and Technology) and the Carnegie Mellon Robotics Institute, the starter kit comes with everything you need to design and build a radio-controlled robot that can lift, throw or just move around in its botty way.
Industrial designer Doug Galleti says that the Vex system can "provide ease of construction at an affordable price point – capturing a larger audience of tech geeks."
Contact Vex Robotics if you have $299.99 to acquire your very own kit and don't want to share with your kids.
Read More

| Vex Robotics via CES 2007 Awards

Posted by Chris Cardinal Categories: CES, CES 2007, Features, Mods / Hacks, Toys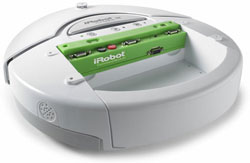 Robotic vacuum manufacturer iRobot has always taken a shine to the modders who hack their Roombas in all sorts of new ways. Delivering an open serial port and full instructions on how to utilize it was a great gesture and a very forward thinking move for them, but their latest, the iRobot Create, might really take off. The Create is essentially a Roomba without all of the vacuuming guts. It's an open platform, with a bunch of expansion and input and output ports on top, and more room to toy with it, since you don't have to worry about a place to put all that dust and cat hair. Add-on peripherals will be available, but iRobot expects and encourages users to build their own to interface with it, citing a hamster-ball-driven navigation system one test group has already delivered.
The Create is available right now and is selling for the completely reasonable price of $129.99, with an 8-bit command module costing an additional $59.99.
I can see a lot of educational robot teams and the like buying into this, straight away.
(A picture of a beer-fetching Create, after the jump.)
Click to continue reading CES 2007: iRobot Create: A Roomba That Doesn't Suck (Literally)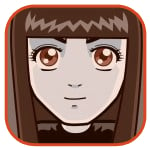 Posted by Sheila Franklin Categories: CES, CES 2007, Misc. Tech, Science, Toys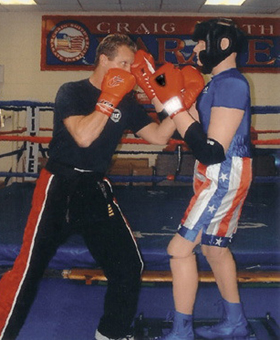 Too bad Rocky didn't have the FA1 Fighting Android for training. SDT (Self Defense Technologies) has created an electro-mechanical fighting droid and boasts that it is the first "true" apparatus that can be used for practicing your boxing, kickboxing, or martial arts skills. The 2007 CES Award Honoree features a human-like shape, size, and appearance as his head moves side-to-side, front-to-back, or rotates. His torso does likewise while his legs stay stationary. Watch out though, as the FA1 hits back and has some sexy-looking legs, in a droid kind of way. Contact SDT for price and availability.
Read More

| SDT via CES 2007 Awards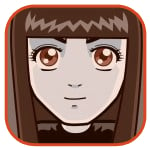 Posted by Sheila Franklin Categories: CES, CES 2007, Design, Misc. Tech, Science, Toys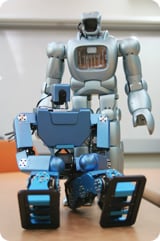 One of the companies attending the 2007 CES is Robotis, Korean makers of the Dynamixel Series high-performance actuator controlled by digital packet communication. For the rest of us there are Bioloids, which were designed for education of the principles of robotics. The kits contain a main controller, a servo-module dynamixel, a sensor module, SMPS, NiMH rechargeable batteries, a software CD, and a manual, just in case you have a part leftover.
The kits are available in dinosaur, bipedal humanoid, hexapod spider, quadruped puppy, and autonomous exploration. The company boasts that the kits are easy to assemble with a Phillips screwdriver and can be changed as your whim permits without the threads wearing out. Click on one of the Comprehensive Kits' images and find out just what these eerie Bioloids can do.
Read More

| Robotis via CES 2007 Robotis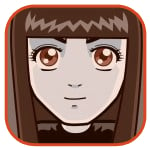 Posted by Sheila Franklin Categories: Misc. Tech, Science, Toys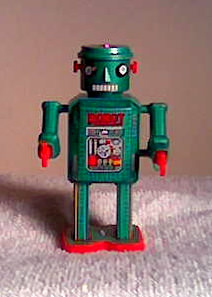 A 2004 World Robotics Survey claimed that 600,000 robots were being utilized in homes. Four million are expected by the end of 2007. They are being used for basic chores, such as the Roomba, to caregiving, as in the case of the 914 PC-Bot. But bots still face some obstacles as they make their way into our lives and researchers claim it will be another decade before they become commonplace.
"You can tell it to go to an X and Y co-ordinate on a map and it will understand. But ask it to `Go to my left' and it won't," says Maria Bualat, leader for the intelligent robotics group at the NASA Ames Research Centre California. As for now, we are content just to have them just as pals.
Read More

| Toronto Star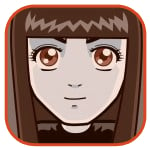 Posted by Sheila Franklin Categories: Household, Misc. Tech, Toys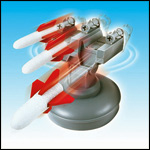 This kewl gadget will cover all those in your office that you have neglected in your gift-buying spree this holiday season. The USB Missile Launcher moves 180º horizontally and 45º vertically, is moveable with your mouse, and even makes sound effects when you launch your missiles. Windows 2000 and XP software is included as are 3 foam missiles, and it requires 3 AA batteries (not included.)
The launchers are available at one of our favorite online shopping sites, Latest Buy, and although they are not the cheapest toy you can find at AU $54.95 (US $44.51,) grab a twinpack for $80.96, give one to your boss, and maybe he/she won't care about the extra long lunch you took last week.
Read More

| Latest Buy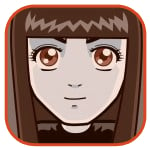 Posted by Sheila Franklin Categories: Toys, Transportation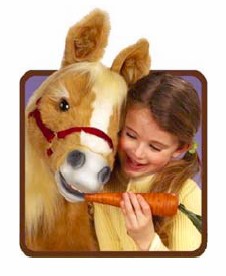 After catching this bot in action on both Letterman and Leno, we just had to share this answer to your "I want a pony for Christmas" plea. The Sega battery-powered Dream Robot Pony has sensors that allow it interaction with its environment. Pet it and it shakes its head and tail, it whinnies when the room darkens, and eats its plastic carrot in a bot kind of way. Unfortunately, the 1.2 m tall pony will not take you for a ride, but will hold any kid weighing less than 80 lbs. The pony carries a MSRP of 68,000 Yen (~US $575.00). If you missed the show, you can watch it perform with Dave for yourself.
Read More

| Pink Tentacle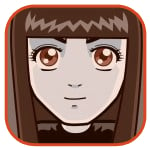 Posted by Sheila Franklin Categories: Accessories, Cameras, Corporate News, Handhelds, Toys, Video Games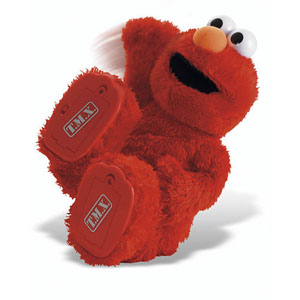 Toys 'R Us has announced that it will be receiving 13,000+ PS3s, 6,000+ Wiis and accessories, and 65,000+ TMX Elmos for these last days of holiday shopping. They also promise more items in demand such as GameBoy Advance and Fisher Price digital cameras. Not to be found online, you will have to hotfoot it to your nearest location to see if they are keeping to their word. Rather than participate in the possibly physical conflict over trying to grab the last Elmo from another customer, we think we will just watch the demo of the hysterical red creature again and wonder what the fuss is all about.
Read More

| Toys 'R Us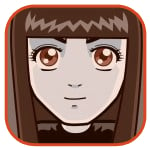 Posted by Sheila Franklin Categories: Handhelds, Misc. Tech, Toys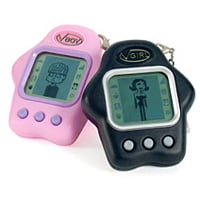 If you are unattached for the holidays this year, Aria's Virtual Boyfriend/Girlfriend games provide you with a choice of up to 8 different dates with distinct personalities. Keep them happy by buying them gifts, complimenting them, taking them out, and even engaging in, what Aria refers to as "a night of hot passion." The more points you amass, the better the relationship becomes. Available for £13.49 (~$27.00,) they measure 7 x 5 cm, fit on a keyring, and come with batteries. Practice enough, and perhaps next year you will be ready for a real relationship with another human.
Read More

| Aria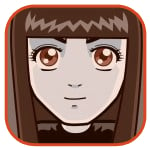 Posted by Sheila Franklin Categories: Misc. Tech, Science, Toys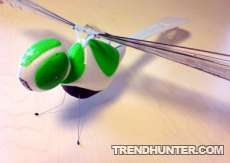 WowWee, creators of the Robosapien series of toys, has released their first winged bot, the Fly Tech Dragonbot. This robot actually flaps it wings, flies around in the air in a 150 foot range, and manages to stay airborne for about 15 minutes. It recharges by settling itself on its remote control. Due to be released in the UK in early 2007, it may be too late to add the winged creature to holiday lists this year, but after viewing the demo, we plan to add it to the top of ours next year.
Read More

| Techopolis

© Gear Live Inc. – User-posted content, unless source is quoted, is licensed under a Creative Commons Public Domain License. Gear Live graphics, logos, designs, page headers, button icons, videos, articles, blogs, forums, scripts and other service names are the trademarks of Gear Live Inc.