Posted by John Goulden Categories: Mods / Hacks, Storage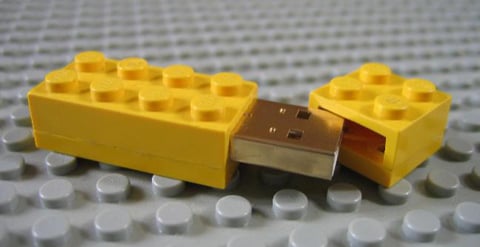 USB memory sticks are practically a dime a dozen anymore, and when you combine cheap with useful, you give rise to all kinds of fun hacks and mods. Plus, many off-the-shelf designs are extremely utilitarian and boring, which is why some of the DIY creations can be so refreshing. An interesting one involves carving up those little LEGO blocks you loved so much as a kid (or may still love as an adult) and cramming some flash memory into them. Sure, it's been done before, but the author was kind enough to document the process for those of you who may be, ummm, mechanically challenged. The author's creation even has the side bonus of having its activity LED glow right through the LEGO brick.
Hmmm, surely my son won't miss a few LEGO pieces . . . will he?

Read More

| Brickshelf Gallery via Techie Diva
Posted by John Goulden Categories: Corporate News, PC / Laptop, Storage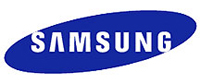 A couple of months ago we talked about Samsung taking their NAND flash memory modules and incorporating them into Solid State Disk (SSD) drives that operate faster than conventional hard drives and use less power in the process. Now they're taking those same 32GB SSD drives and stuffing them into their new Q1 and Q30 portable devices.
The Q1 has a form factor and feature set similar to an Origami device with a 7" 800x480 display and an Intel Celeron M running at 900MHz. The Q30 is a laptop, sporting a 12.1" LCD with a 1280x768 resolution, and an Intel Celeron M at 1.2GHz. Both models feature 512MB of memory and a 32GB SSD drive. The Q30 is said to load Windows XP fifty percent faster and access data three times faster than a hard drive equipped model. Samsung has neglected to mention what the power saving features of the drive translate into for real world use.
All good things come at a price, and the Q1 and Q30 are no exception to the case. They're scheduled for release in Korea next month with the Q1 priced at $2,430 USD and the Q30 at $3,700 USD.

Read More

| Samsung via Ars Technica
Posted by John Goulden Categories: Corporate News, Storage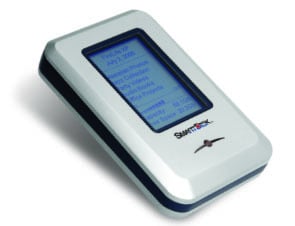 Portable hard drives are terribly common, but drives with LCD displays are still fairly unique. SmartDisk introduces their palm-sized FireLite XPress drive which features a cholesteric LCD display that requires no power to sustain its readout and is always on. Cholesteric LCDs are similar in nature to electronic ink, but have the drawback of slow refresh rates. For something like the FireLite XPress, the slow refresh rate is a non-issue.
From the SmartDisk news release: "The award-winning, always-on display is readable without power, identifies the drive by a user-designated name, indicates the last date that information was recorded and provides a table of contents for the drive. The display provides excellent readability even in direct sunlight, allows for wide-angle viewing and exhibits high brightness and contrast."
The FireLite XPress will be available this June in 60GB and 120GB capacities with list pricing being $199.99 and $299.99 USD respectively.

Read More

| SmartDisk via Rob Galbraith DPI
Posted by Jared Hislop Categories: Accessories, USB, Storage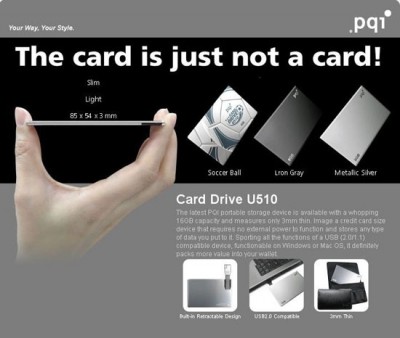 PQI has recently announced the world's slimmest flash drive in the U510. At 3mm thick, this new drive is literally the size and thickness of a credit card. While some people might think that the reduction in physical size correlates to a reduction in storage size, this is not correct - the U510 comes with a whopping 16GB of storage space. Also built into the card is a retractable USB connector. This device is both USB 2.0 and USB 1.1 compatible and works with either Windows or Mac computers. The U510 is available in three color schemes - Iron Gray, Metallic Silver, and a World Cup print. It seems that everyone is attempting to get in on the World Cup with some device that features a World Cup color scheme. No pricing or release date has been set, but we look forward to seeing this little device.

Read More

| Aving.net via Gizmodo
Posted by Jared Hislop Categories: Corporate News, Design, PC / Laptop, Storage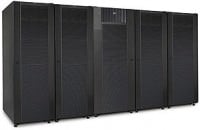 Anyone in Information Technology (IT) that has had to deal with a stubborn HP server has thought of taking the server out behind the woodshed and putting an end to it. Those crazy kids at HP have decided that an HP StorageWorks XP12000 disk array should be able to take a bullet and keep on ticking. The test involves a fridge sized server, a specially mounted rifle, and a .308-caliber bullet traveling 2,900 feet per second. HP's engineers mandate that the array should be able to continue streaming video after a bullet passes completely through the disk array and shatters a fish tank behind the XP.
"Our engineers told me that you could wipe out an entire side of the array and the HP StorageWorks XP12000 Disk Array would keep working," says Scott Edwards, XP product marketing manager.
Um. Good.

Read More

| HP News
Posted by Jared Hislop Categories: Movies, PC / Laptop, Peripherals, Storage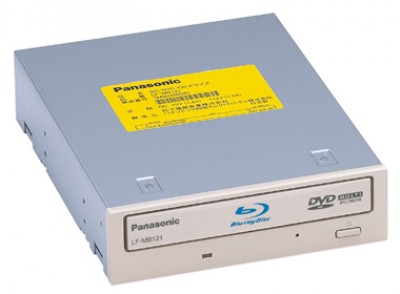 Panasonic has announced that they will ship an internal Blu-Ray disc writer in June. The new device will be able to read BD, DVD, and CD media, and will be capable of writing BD-R, BD-RE, DVD±R/RW (single and dual-layer), DVD-RAM and CD-R/RW discs. This drive will be able to handle 25GB and 50GB Blu-Ray media, and while it will playback DVDs, you will not be able to playback BD movies without special software. Panasonic is not bundling any software to playback BD movies, but said that they will bundle PowerDVD for DVD viewing. There will also be backup software that will enable users to write to BD-R/RE discs. No pricing is set for the LF-MB121JD, but rumors say that it will cost around $851.00.

Read More

| Reg Hardware
Posted by John Goulden Categories: Corporate News, Storage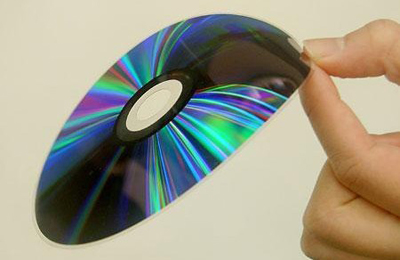 Using an innovative nanoimprint technology, Hitachi Maxell, LTD have succeeded in creating the world's thinnest DVD media at 0.092mm thick. This makes the new disc approximately 1/13th the thickness of existing DVD media, yet allows it to retain the full 4.7GB capacity. Obviously a single disc isn't going to gain you any benefits simply by being thinner, but if you were to take a stack of say 100-discs, make them double-sided (9.4GB), stuff them into a cartridge 2.5-inches thick, and slap a fancy acronym like SVOD on it, you'd have a digital library cartidge with almost 1TB of capacity (940
MB
GB). SVOD, which stands for Stacked Volumetric Optical Disc, really starts to shine when coupled with the next generation of blue laser technology, as a stack of 50GB discs could increase storage capacity to 5TB.
When released the discs will be priced at under $325 for a 100-disc cartridge.

Read More

| Maxell (jp) via Pink Tentacle
Posted by John Goulden Categories: Corporate News, Storage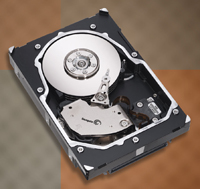 Seagate's Cheetah drives are some of the fastest in the industry, offering rotational speeds of 15,000 RPMs coupled with low seek times. However, it doesn't take a genius to recognize that standard desktop drives long ago surpassed enterprise offerings in capacity if not speed. To help bridge the gap, Seagate has applied the principle of Perpendicular Recording to their Cheetah 15K.5 series drives, bumping the maximum capacity from 146GB to 300GB. With a June 2006 ship date, the 15K.5 is being offered in Fibre Channel and SAS (Serial Attached SCSI) versions only, so non-enterprise users need not apply. However, desktop users can fall back on the blazingly fast Raptor drives to fix their need for speed.
Pricing is not currently available, but is sure to be right in line with typical enterprise-oriented products (really expensive that is).

Read More

| Seagate via bit-tech
Posted by Jared Hislop Categories: Accessories, USB, Design, Storage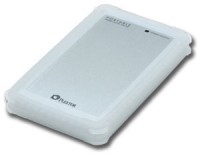 Plextor has just announced the availability of their new PX-SP portable hard drives which are supposedly shock proof. A new silicon cover prevents the drive from crashing and losing data if dropped. The new drives come in 80GB (PX-SP08U), and 120GB (PX-SP12U) sizes, and are said to support Windows and Mac operating systems, but our guess is that they should also work under Linux. A quick start guide, USB cable, and the silicon jacket are included with purchase. While we have our doubts on how well a silicon jacket will protect a drive from the shock of being dropped, it is nice to see some new ideas from Plextor. Expect to pay more for the added protection, the drives retail for $169 (80GB) and $260 (120GB).
"Plextor is rapidly expanding its data storage product line to include innovative devices such as the new PX-SP shock proof portable hard drives," said Michael Arbisi, Vice President, Channel Sales for Plextor, in a statement. "Our goal is to give customers a wide range of options for dependably and securely storing their valuable data, whether at home or at the office. Like all Plextor products, the PX-SP Series drives are designed and manufactured to the highest levels of quality and reliability."

Read More

| Plextor
Posted by John Goulden Categories: Corporate News, Storage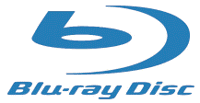 In the neverending quest for bigger and better, TDK is starting their intial R&D process for eight-layer Blu-ray discs with a 200GB capacity. Barely a year ago in May 2005, TDK was showing off prototypes of their 100GB discs which have a total of four layers. Those aren't expected to ship till the middle of next year at the earliest, which leaves the timeline for the 200GB variety up in the air.
The dust hasn't even settled on the single-layer, 25GB BD-R discs of which manufacturers are just starting to ship. Oh, and dual-layer discs that hold 50GB? Nope, they're not available yet either, and aren't expected till much later this year. Innovation certainly is a harsh and demanding mistress.

Read More

| TDK via The Register
© Gear Live Inc. – User-posted content, unless source is quoted, is licensed under a Creative Commons Public Domain License. Gear Live graphics, logos, designs, page headers, button icons, videos, articles, blogs, forums, scripts and other service names are the trademarks of Gear Live Inc.